The Musette: It's still salad time
We're enjoying our Indian Summer on the Cote d'Azur and I'm keen to prolong the feeling as much as possible with plenty of salads. These three are suitable for vegetarians, vegans, fans of clean eating and celebrate great local, seasonal produce.
The first two recipes have been taken from Anna Jones' column and the third from that of Thomasina Meiers, both in The Guardian newspaper. Please note, I've tweaked all three recipes to my taste. Feel free to do the same.
Carrot and mustard seed salad
This salad has a southern Indian vibe and is really refreshing. I bought the sprouted seeds but you can just as easily sprout your own.
Ingredients (serves 4)
50g unsweetened desiccated coconut
2 tbsp. liquid coconut oil
1 tsp black mustard seeds
10 small curry leaves
200g peeled organic carrots
4 big handfuls of organic spinach
50g sprouted beans/seeds (any will do)
small thumb of grated ginger
juice of ½ an organic lemon
handful of toasted raw cashew nuts
sea salt and freshly ground black pepper, to taste
small bunch of coriander, roughly chopped, including stems
Method
1. Soak the desiccated coconut in about 100ml of boiling water.
2. Toast the cashew nuts in a hot oven for 5-7 minutes. Once roasted, leave to cool before roughly chopping.
3. Meanwhile, make your dressing by heating the oil in a pan over a medium heat. Add the mustard seeds and let them crackle and pop. Lower the heat, add the curry leaves and stir for a few seconds, then take off the heat and pour the mixture into a small bowl to cool.
4. Grate the carrots into ribbons with a speed peeler or mandoline, then put them into a big serving bowl. Wash and dry the spinach, then add this too, along with the sprouted beans/seeds. Next add the coconut, which should have swelled and absorbed all the water.
5. Using a microplane, finely grate the ginger into the cooled oil and mustard seeds, squeeze in the lemon juice and season well with salt and pepper. Drizzle the dressing over the carrots and spinach, mix, then finish with the chopped coriander and cashews.
Raw cauliflower salad
Who doesn't love cauliflower? Okay, we're not talking cauliflower cheese here. No, we're talking something that's much healthier. Here its meaty flavour is offset with sweet, crunchy radishes and spiky herbs.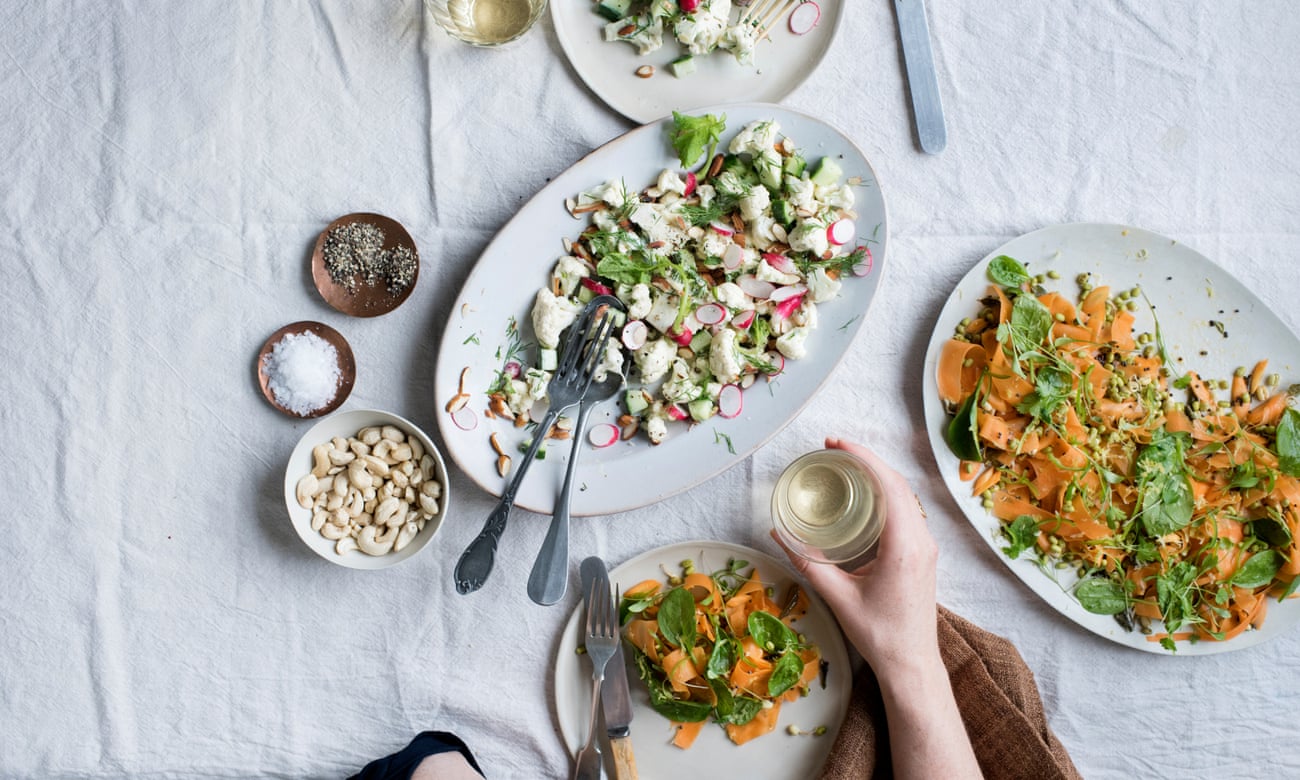 Ingredients (serves 4)
1 English cucumber, seeded, cut into small pieces
1 medium head of cauliflower, finely sliced or in small florets
1 bunch radishes, trimmed and thinly sliced
2 thinly sliced 2 green/red/yellow chillies (deseeded if you're not too fond of heat)
100g toasted raw almonds, thinly sliced
small bunches of dill and parsley, roughly chopped
For the dressing
5 tbsp extra virgin olive oil
2 garlic cloves, peeled and finely chopped
juice of ½ an organic lemon
1 tbsp cider vinegar
sea salt and freshly ground black pepper, to taste
Method
1. First, make the dressing by whisking all the ingredients together.
2. Toast the nuts in a hot oven for 5-7 minutes, then leave to cool before finely slicing.
3. Mix all the remaining ingredients together with the dressing and let it all stand for at least 15 minutes, so the flavours can mingle together and the cauliflower softens slightly.
4. Transfer the salad to a serving platter and top with the almonds.
Warm Corn Salad
I've been having a thing with fresh corn of late, particularly since I made my beloved a delicious frittata with the remains of my vegetable drawer  – fresh corn, red pepper, small red onion, two new potatoes – before heading off to the Vuelta a Espana. Here those buttery corn flavours are replicated in a warm salad.
Ingredients (serves 4)
4 fresh organic corn on the cobs
small red pepper cut into batons
1 tbs liquid coconut oil
4 spring onions, finely chopped
2 gloves of garlic, finely grated on a microplane
juice and zest of 2 organic limes
handful of mint and coriander leaves, finely chopped
1-2 jalapeno chillies, finely chopped (I used tinned)
sea salt and freshly ground black pepper, to taste
Method
1. Shave the corn from the cobs. Heat a heavy-bottomed frying pan on a medium heat and add the coconut oil. Saute the corn, spring onions and red pepper for five to 10 minutes. Add the garlic for the last minute of cooking, then season well with salt and pepper.
2. Once the corn is tender and has taken on some colour, take the pan off the heat and stir in the lime zest and juice. Toss with all the other salad ingredients and top with the herbs.
I promise, just eating these salads will make you feel good!