Sheree's 2020 sporting highlights
Well, what can I say about 2020 that hasn't been already said a million times over?
I am one of those relentlessly positive people, probably somewhat annoying at times. I can always find the best in any situation and that's what happened in 2020. I've rejoiced in what I have.
My annual highlights post typically focuses on sport and this year will be no exception.
It's fair to say the first Covid-break allowed my beloved boys in claret and blue, Aston Villa FC, to remain in the Premiership. Key players came back from injury, Lady Luck shone on them and they hung on – just. Key purchases and borrowings have since bolstered the team and we're riding high. Who'd have thought we'd have thrashed Liverpool FC 7-2? Yeah, me neither!
A limited cycling season, albeit one almost bereft of roaside spectators, saw the youngsters riding high in grand tours and key races which did not lack for excitement. It's the first year since I fell in love with cycling that I didn't see any live racing.
Like cycling, MotoGP had a limited season with all the blue riband races being held in Europe, again largely shorn of spectators. It was a bizarre but strangely exciting season which produced an unexpected victor.
But somehow it's fitting that this year, of all years, I'm going to focus on the actions of two individuals. One in a team I don't folllow and another in a sport I don't follow. Let me clarify.
Two Role Models
On 2 April, the UK Health Secretary Matthew Hancock clumsily suggested highly-paid footballers should help fund the financial protection of their own industry and employers. A similar suggestion was not made about captains of industry! A couple of days later, in a more bizarre intervention, he also suggested footballers should fund hospices. Hancock's clumsy attempts fuelled something new, the rise of the activist sportsperson. Marcus Rashford MBE (Manchester United) stepped up to the plate.
Rashford was already involved with the FareShare charity, helping the campaign to deliver meals to children in Greater Manchester who were missing out because of lockdown. By mid-June Rashford was writing an open letter to the UK government about child poverty, and changing public policy in the process as the following day school meal provision was extended into the summer holidays, and beyond.
Having forced the UK government into two major and embarrssing U-turns on free school meals,Rashford then turned his focus to the social security safety net, campaigning for a £6bn-a-year boost to universal credit payments. This reflects Rashford's increasing interest in the underlying drivers of food poverty and his appreciation of the role of adequate welfare benefits in protecting and feeding struggling families over the longer term.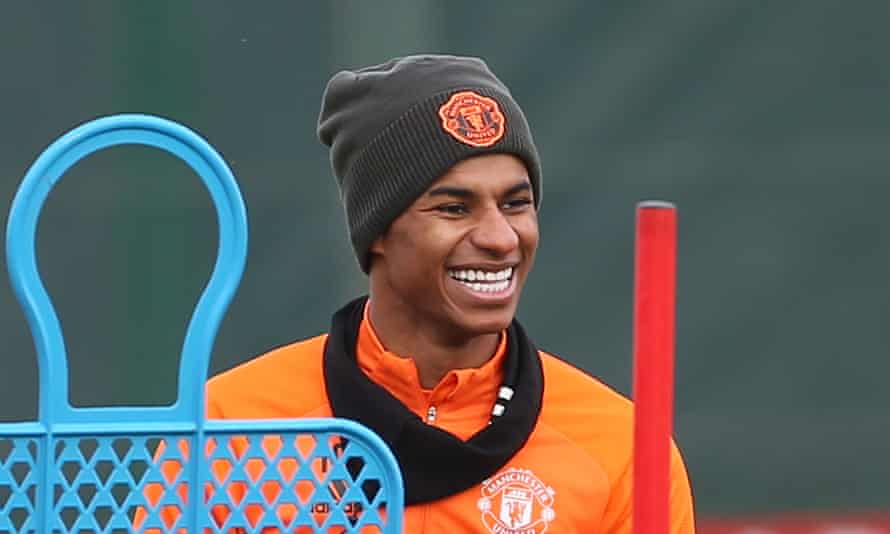 The 23 year old's own experience of poverty as a child has underpinned his campaigning, which has won widespread admiration for its authenticity and raised huge sums for food aid charities. Rashford also wants to see the free school meals system expanded to allow 1.5 million more children from low-income families to access it.
Rashford isn't the only one taking a stand. Unsurprisingly, US sport was the stage for strikes and protests early in the year in the wake of some (more) high-profile cases of police brutality.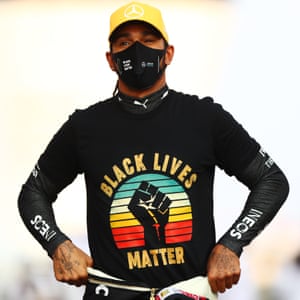 Image: Dan Istitene/Formula 1/Getty Images
Nine-time F1 world champion and recently knighted, Sir Lewis Hamilton has discovered his own powerful political platform and vowed to continue promoting his anti-racism message by drawing attention to incidents of racial injustice. He wrote this on Instagram:
Want you to know I won't stop using this platform to shed light on what I believe is right. This is a journey for all of us to come together and challenge the world on every level of injustice, not only racial.
He is, of course, quite correct. Silent acceptance of the status quo in sport – or indeed anywhere – is political. Sports industries that enrich the top end and leave the bottom to struggle are political. A lack of fair representation is political, whether you protest against it or silently acquiesce.
It all started when Hamilton wore a T-shirt with the statement "Arrest the cops that killed Breonna Taylor" before the Italian GP at Mugello. The 26-year-old Taylor was shot dead in her home by police in Kentucky in March. Hamilton wore the message again for the post-race interviews and on the podium. This prompted the suggestion of an investigation by the FIA for breaking its international sporting code.
The situation is a potential PR disaster for F1. Hamilton remains the sport's only black driver and is the only driver who has a major following in the US. With the full support of his team, he has been at the forefront of pushing F1 to adopt a strong anti-racist stance and it was his vocal condemnation of the killing of George Floyd that led to many other drivers speaking out alongside him.
Hamilton has established a foundation to explore how the sport may improve diversity and has been strident in his support of the Black Lives Matter movement. His stance has been widely admired and for the sport to be seen attempting to silence its biggest star would be potentially very damaging.
These boys have used their fame and fortune wisely, but I know they're not the only ones.