The Musette: seafood feast
If you've ever spent any time in France over the Christmas period one thing you're likely to have noticed is the amount of fish and seafood in the shops, markets and on restaurant menus. We have embraced this tradition with open arms.
The French traditionally have a big seafood celebration on Christmas Eve (Reveillon de Noël), the base of which is always oysters. Exactly what else is on the platter varies according to taste but you will usually see prawns, mussels, cockles, clams, langoustines, sea urchins, maybe a dressed crab or a lobster. The seafood platter is generally served with rye bread, slices of lemon, mignonette sauce (red wine vinegar, finely chopped shallots and cracked black pepper) and a home-made mayonnaise or aïoli and accompanied by champagne.
But where does this tradition come from?
Is it because throwing a few prawns onto a plate is a whole lot easier and more pleasant for the cook than slaving away for most of the day to produce an enormous roast dinner with all the trimmings? Well no, although that is an undeniable bonus if you, like some, are in charge of the catering. In fact the tradition dates all the way back to the Middle Ages and is Biblical in origin.
In the Catholic Church it was traditional for people to either fast or eat a simple meal before feast days and that meant eating no meat. Since tofu was yet to be invented, people generally ate fish on no-meat days – which included Friday and, for the more devout, the whole of the period of Lent before Easter.
Fish was widely seen as a second class foodstuff, and items like oysters were looked down upon as peasant food, a far cry from their status today as an expensive luxury item. We tend to buy 2-3 dozen at Christmas and my beloved will open them just before we eat or I cook them. Yes, as well as being OCD (Officer in Charge of Drinks), he's the Chief Oyster Shucker!
So while to modern eyes it might look like the sort of spread a Russian oligarch would sit down to, in fact your Christmas Eve fish feast represents a simple and humble meal. Just don't expect that to be represented in the prices your fishmonger charges you!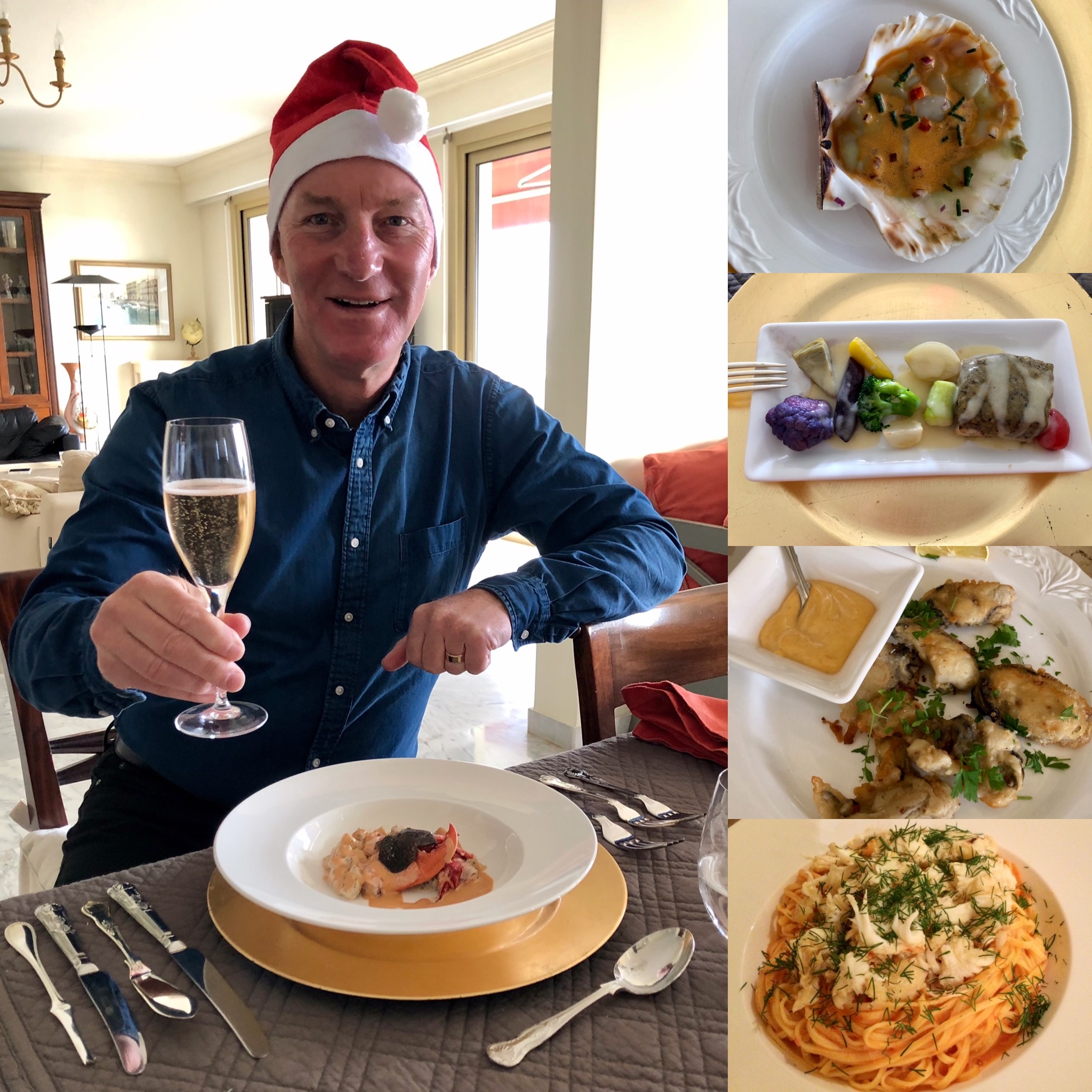 We ate oysters on Christmas Eve, enjoyed a largely fish-based meal on Christmas Day, tempura oysters on Boxing Day and Tagliatelli Langoste on New Year's Eve.
Here's my recipe for tempura oysters, a firm favourite with my beloved, which I serve with spicy mayonnaise (mayo, tomato sauce and plenty of Sriracha) or my tomato and chilli jam.
Ingredients (serves 2, or 6 as a starter)
12 oysters, shucked and cleaned
flour, for dusting
vegetable oil, for deep-frying
For the tempura batter
50g (5 tbsp) plain (all-purpose) flour
50g (5 tbsp) cornflour
1 tsp baking powder
200ml (3/4 cup) ice-cold sparkling water
sea salt and freshly ground black pepper
Method
1.First make the tempura batter. Mix all the dry ingredients in a bowl and add a pinch of salt and some black pepper. Slowly mix in the ice cold sparkling water (the bubbles make the batter light), a little at a time, until you have a smooth batter. It should slowly come off the back of a tablespoon – if it sticks add more water, if it runs off too quickly it's too thin. Transfer the batter to a container and keep it chilled.
2. Roll the shucked oysters in some sifted flour.
3. Dip two – three of the oysters in the batter and carefully place in a deep-fat fryer on its hottest setting. Alternatively, heat the oil in a large wok or pan. It is hot enough when a cube of bread turns golden in 30 seconds. You want the oysters to float, bubbling on the surface, and crisp up. After 20–30 seconds, depending on how hot your oil is, the oysters should be crisp and brown. Remove and place on some kitchen paper while you repeat with the others.
4. When they're all cooked, serve with desired accompaniements.