French Fancies: Mariage Frères
If you thought this series of posts would be about delicious French delicacies then you'll initially be somewhat disappointed because I'm starting with some of my favourite French companies. We're not talking behemoths such as l'Oréal or Danone, but family owned and run enterprises, many of which are now into their third or fourth generation. Equally, I'm going to be looking in more detail at some of my favourite French things, which may or may not be edible!
Regular readers will know that I've been a fan of this company's tea since first drinking it in a hotel in Paris. The French tea company Mariage Frères in Paris was established in 1854, which makes it France's oldest importer of tea. Members of the Mariage family were active in the colonial trade as far back as 17th century. For instance, Nicolas Mariage made several voyages to Persia, the East Indies and the Moghul Empire around 1660. He was part of a deputation dispatched by the French King Louis XIV and the French East India Company to sign a trade agreement with the Shah of Persia.
Today's Mariage Frères tea company was founded by the brothers Henri and Edouard Mariage in Paris on 1 June, 1854. The tea company traded with China and Ceylon, supplied exclusive retailers, delicatessens, tea rooms and hotels but it didn't sell through retail outlets, nor did it have its own tearooms.
There are three Mariage Frères tea rooms and boutiques in the French capital, Paris. Though the oldest tea room in Rue du Bourg-Tibourg in the Marais was only established in 1986. The decor with 19th century colonial and exotic furniture, cash registers, counters and tea instruments is very evocative and most of it comes from the historic former tea office in Rue du Cloître-Saint-Merri.
The last owner descended from the founding family was Madame Marthe Cottin. Born in 1901, she headed Mariage Frères until 1983. The year before, she found two young and enthusiastic foreigners, ready and willing to carry on the company's legacy.
Thirty year old Dutchman Richard Bueno was looking for a fulfilling activity which would earn him a living and allow him to travel. One of his grandfathers had owned a tea plantation in Indonesia. The other young man to join Mariage Frères was Kitti Cha Sangmanee, a Thai student of political science. His father was a doctor and owned some fruit plantations near the Thai capital, Bangkok.
Against the advice of all their friends, these two young men with no previous knowledge of the tea business began to work for Marthe Cottin, who introduced them to the tea trade and its culture, initially as unpaid interns. But their hard work and positive attitude quickly began to pay off as they took Mariage Frères to new heights.
Sangmanee traveled around Europe in search of the famous tea culture. In England, the country which had invented tea time, he was disappointed to always find the same handful of average quality teas. He realised the market potential for the Mariage Frères quality teas. The company viewed tea not as an ordinary daily drink but, rather like French wine, as a luxurious and high-quality product.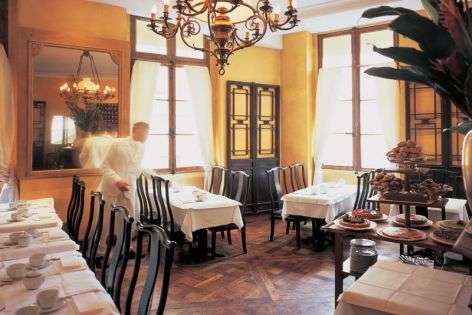 Image © Extrait du livre Thé Français, Flammarion, Francis Hammond.
The two young men enlarged the company's direct contacts with tea producers worldwide – the reputation of Mariage Frères opened doors for them – and since 1982, have enlarged their number of tea blends to some 250 from around the globe. Sadly, Richard Bueno died in 1995 and Kitti Cha Sangmanee now heads the company on his own.
Among the best recent blends created by the team of Mariage Frères is the Sakura, a perfumed green tea. The "Sakura 2004" is a combination of a refined sencha flavored with cherry blossoms. Each year, the formula of this seasonal celebration is slightly changed. Hence, you can only get a "Sakura 2004" as long as the company can provide exactly the same quality of sencha and cherry blossoms.
Image © Extrait du livre Thé Français, Flammarion, Francis Hammond.
Taking the example of  French quality wines and wine culture, Richard Bueno and Kitti Cha Sangmanee have created an unmatched tea universe. The company now operates over 30 Mariage Frères points-of-sale within France, the United Kingdom, Germany and Japan. There are five Mariage Frères tearooms in Paris.The brand is also distributed through a network of resellers in over 60 countries, served in grand hotels as well as being offered to first-class passengers on Japan Airlines. In the early 2000s, an online shop (available in French, English, and Japanese) with worldwide distribution was launched.
In addition, Mariage Frères sells a number of tea-based products, often a happy marriage of the culture of the Far East and the West. The founding family first patented their teaflavoured chocolates in 1860. Since 1982, many new products including poudre de jade (a green tea powder) and tea salt, which can be used as a spice, have been created.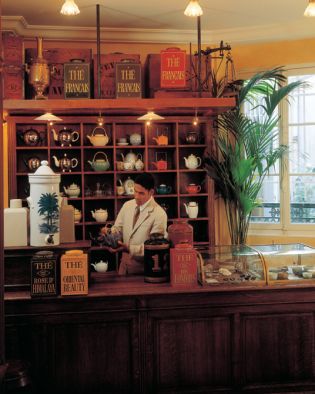 Image © Extrait du livre Thé Français, Flammarion, Francis Hammond.
More importantly, Mariage Frères has revolutionised tea culture. They have established a new vocabulary following the tradition of French wine. Last but not least, they have established guidelines on the art of brewing the finest tea, for all of their hundreds of teas, advising on the selection of water, teapot, temperatures, infusion times, quantities of tea to use, etc. In short, they have successfully established what they call The French Art of Tea. An art form we embrace daily with the company's Maco Polo brand.