A – Z French Food: Part II
The Festive Season is a time for indulgence and while many are contemplating following a plant-based diet for Veganary, let's look at Part II of my pick of some delicious French food. After all, it's a calorie free exercise!
If you missed it you'll find Part I here.
O is for oignon
You don't see many Frenchmen on bikes, wearing berets and striped jerseys with a string of onions around their necks. Shame as les oignons are found in so many French dishes. Soupe à l'oignon is probably the most famous, while here, on the French Riviera, oignon farci, onions stuffed with fine sausage meat is considered a local delicacy.
P is for Puy Lentils
One of my personal favourites! Tiny, nutty and delicious, the tiny dark green lentils from Le Puy-en-Velay go perfectly with stews, salads and can even replace meat in a number of vegan dishes.
Q is for Quiche Lorraine
Another northwest recipe relying on cream! The authentic quiche Lorraine recipe contains bacon and eggs. The cheese is optional however my beloved would soon complain if I left it out. I'll often have one of these lying around in the fridge as it makes an excellent lunch dish with salad. Equally, I make loads of individual ones for summer picnics.
R is for Ratatouille
This vegetarian/vegan feast of summer vegetables is part and parcel of Provençal cuisine and goes wonderfully well with roast Sisteron lamb. I often make a cross between ratatouille and Sicilian caponata which is delicious hot or cold.
S is for soufflé
A word that often strikes fear into the most competent of cooks. French gastronomy is, of course, synonymous with soufflés. Sweet or savoury, this dish has been delighting diners for centuries. I make them frequently for my beloved and am always torn between taking the time to photograph the results and then delivering him a now rapidly deflating soufflé or taking it straight to the table. But here's a fail safe recipe for a hybrid chocolate one.
T is for Truffles: you can never have too much of these!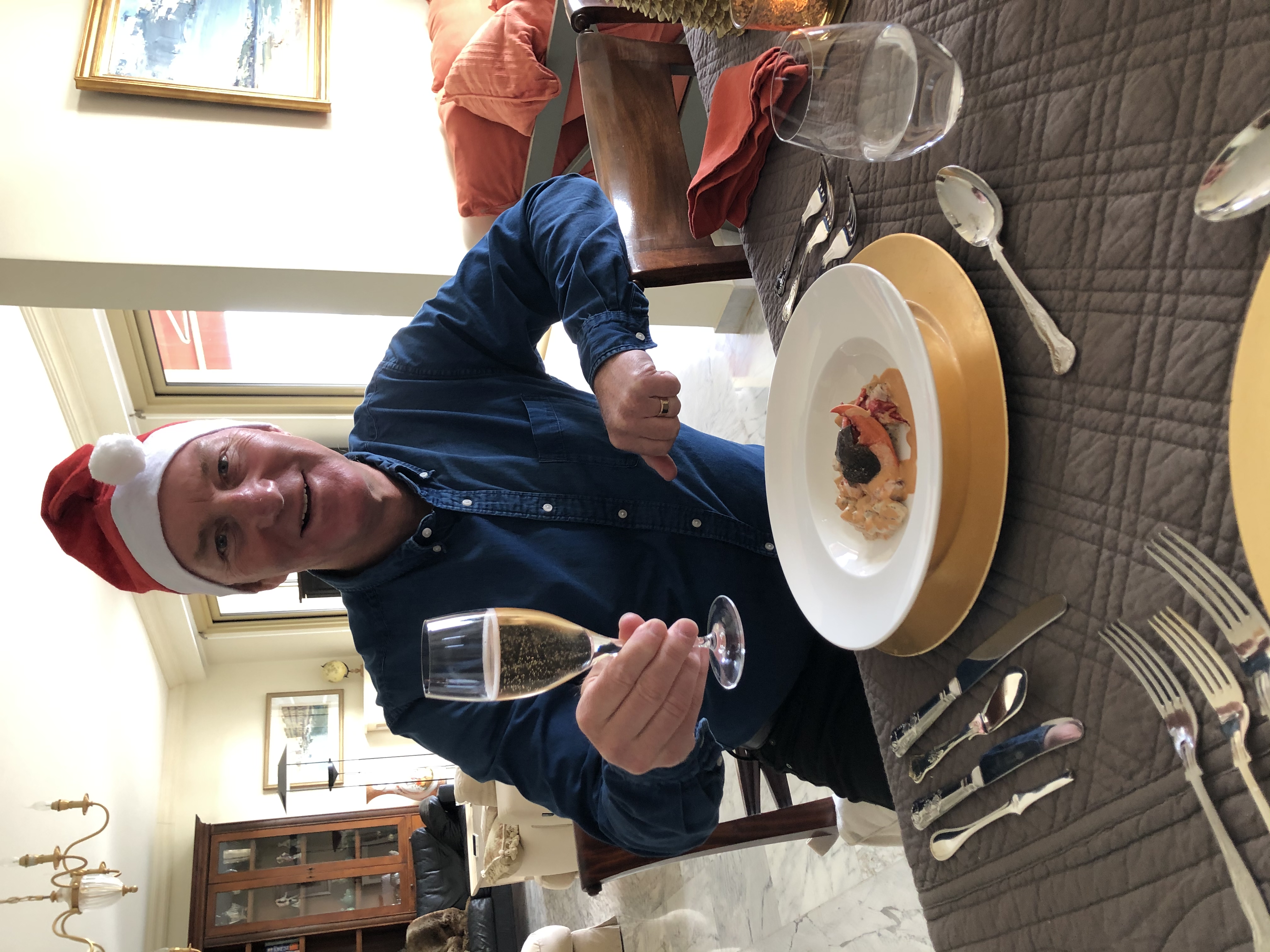 No, we're not talking chocolate ones here. French black and white truffles come from the Périgord in the Dordogne. Gourmet delicacies don't come much better than these rich, earthy truffes, harvested between December and March. Not for nothing are they known as the 'diamonds in the kitchen'. I frequently use truffle salt, truffle butter and truffle oil in my cooking particularly when I'm making something with mushrooms like my vegan paté or risotto.
The eagle-eyed among you may spot that in the photo above my beloved has some precious slices of truffle on his lobster salad!
V is for vin
And where would French gastronomy be without it? An essential ingredient for any number of dishes, French wine – red, white, rosé or sparkling – makes all the difference. And the French don't just add wine to their food. Liqueurs also play their part in many recipes. For example, Bouillabaisse has a dash of pastis and crêpe Suzette wouldn't be the same without a healthy splosh of Grand Marnier.
W is for Waterzooi
As you might have guessed from the name, this dish hails from Northern France in Nord-Pas-de-Calais. It's originally from neighbouring Belgium, but the locals have made it their own favourite Sunday dish. The real thing is made with fish and vegetables with, of course, plenty of butter and cream.
X is for??????
That's right, I couldn't find anything French. Suggestions below please!
Y is for Yoghurt: Why are there so many in French supermarkets?
Well, it's mostly for the children but it's also good for you. French people will eat anything if you tell them it's good for them. However, they eat it mostly for dessert rather than breakfast. In 2018, the annual volume of yogurt consumed in France stabilised at around 19.9 kg per capita by 2018.  The French are major producers of yogurt and dairy desserts at around 1.5 million tons per annum.
Z is for Zeste
Okay, this isn't especially French but think of all those lovely citrus desserts and lemon curd which owe their intense flavour to fresh zest.
This was such fun to do but it was difficult knowing which items to choose. There are so many except, of course, for "X". Maybe I should do more of these………what do you think?