French Fancies: Maille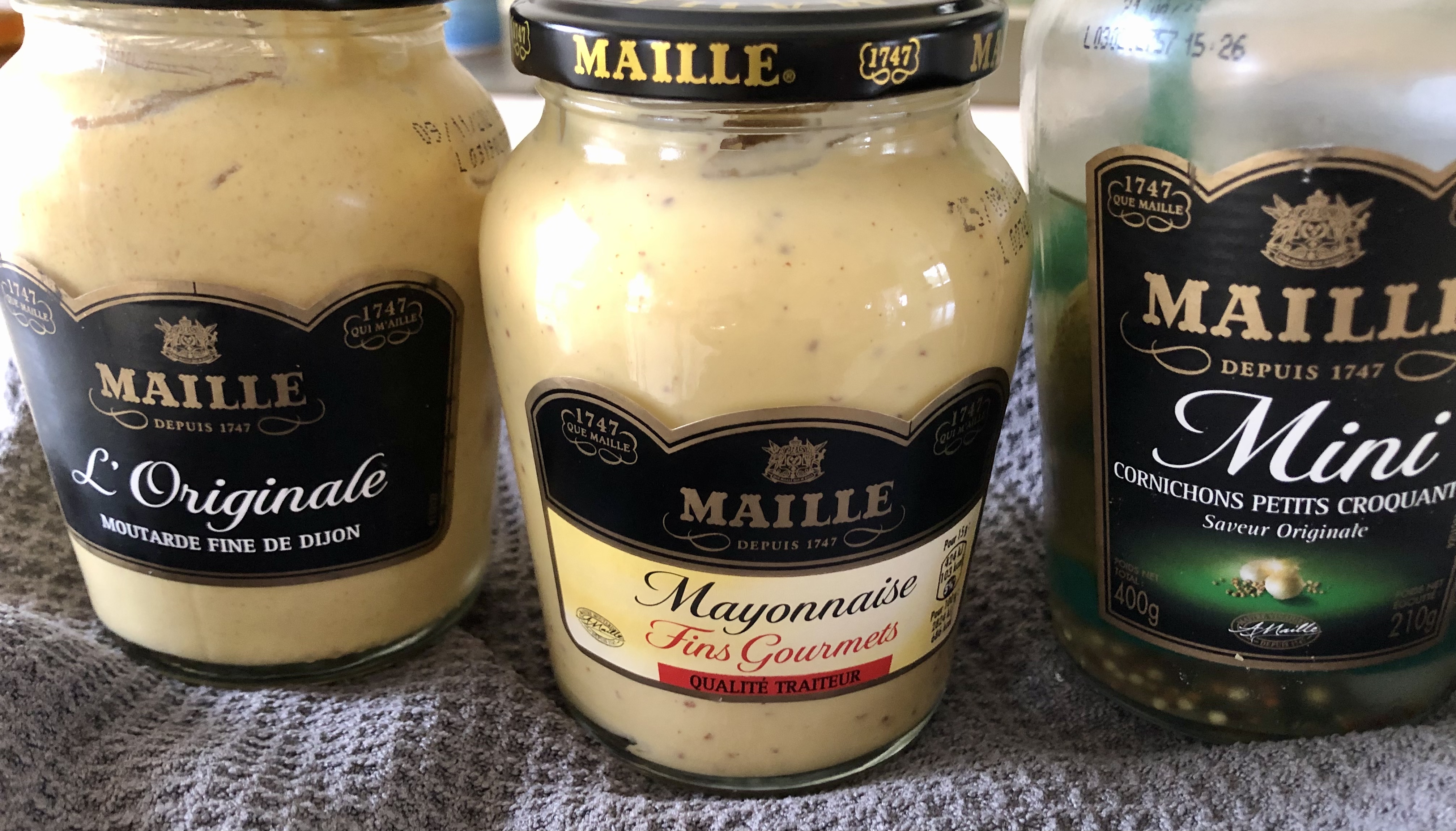 Although this series is intended to celebrate long-established largely family-run firms, it's almost inevitable that some will end up in the hands of multi-nationals. Such is the case with the manufacturer of my favourite mustard, mayonnaise, vinegar and gherkins, Maille, which was acquired in 2000 by Unilever. However, the original Maison Maille continues making traditional dijon mustard available for sale through boutiques operating in a number of locations around the world.
So, how did it all start?
In 1747 Antoine-Claude Maille opened a boutique called La Maison Maille on the rue Saint-André des Arts in Paris and became the official supplier to the court of Louis XV. His father, who shared his name and was also a vinegar maker, had become famous during the 1720s for recommending the condiment as a plague treatment.
In 1760, Mr Maille was named official supplier to the courts of Austria and Hungary. In 1769, King Louis XVI granted him the licence as "ordinary distiller-vinegar-maker" and two years later he was granted a charter as distiller-vinegar-maker to Empress Catherine II of Russia.
Mr Maille sold his business to his associate André-Arnoult Acloque in 1800 and died in 1804. His son Robert and Mr Alcoque's son Andre-Gabriel became business partners in 1819 and were appointed distillers to the King and sole suppliers to the house of King Louis XVIII in 1821. Maille became vinegar-maker to Charles X in 1826, supplier to the King of England in 1830, and vinegar-maker to King Louis-Philippe in 1836. The first Maille boutique opened in the Burgundy region in 1845.
In 1885, Maille was purchased by Maurice Grey of Grey-Poupon, a brand of whole-grain and Dijon mustards which had started in Dijon. Maille was then purchased by entrepreneur Baron Philippe de Rothschild in 1930. Its slogan Il n'y a que Maille qui m'aille, or "Maille alone suits me", was created in 1931. In 1936 the brand advertised itself by spelling out the word 'MAILLE' in lights on the rooftops of Parisian buildings. This scene was depicted in a cinema advert called Quand on en a Paris. These campaigns ended after the outbreak of WWII.
In more recent times
The company began producing Maille whisky glasses (containing mustard) in 1988 and launched its trademark Fleur de Lys jar a year later. It started selling balsamic vinegar in 1991.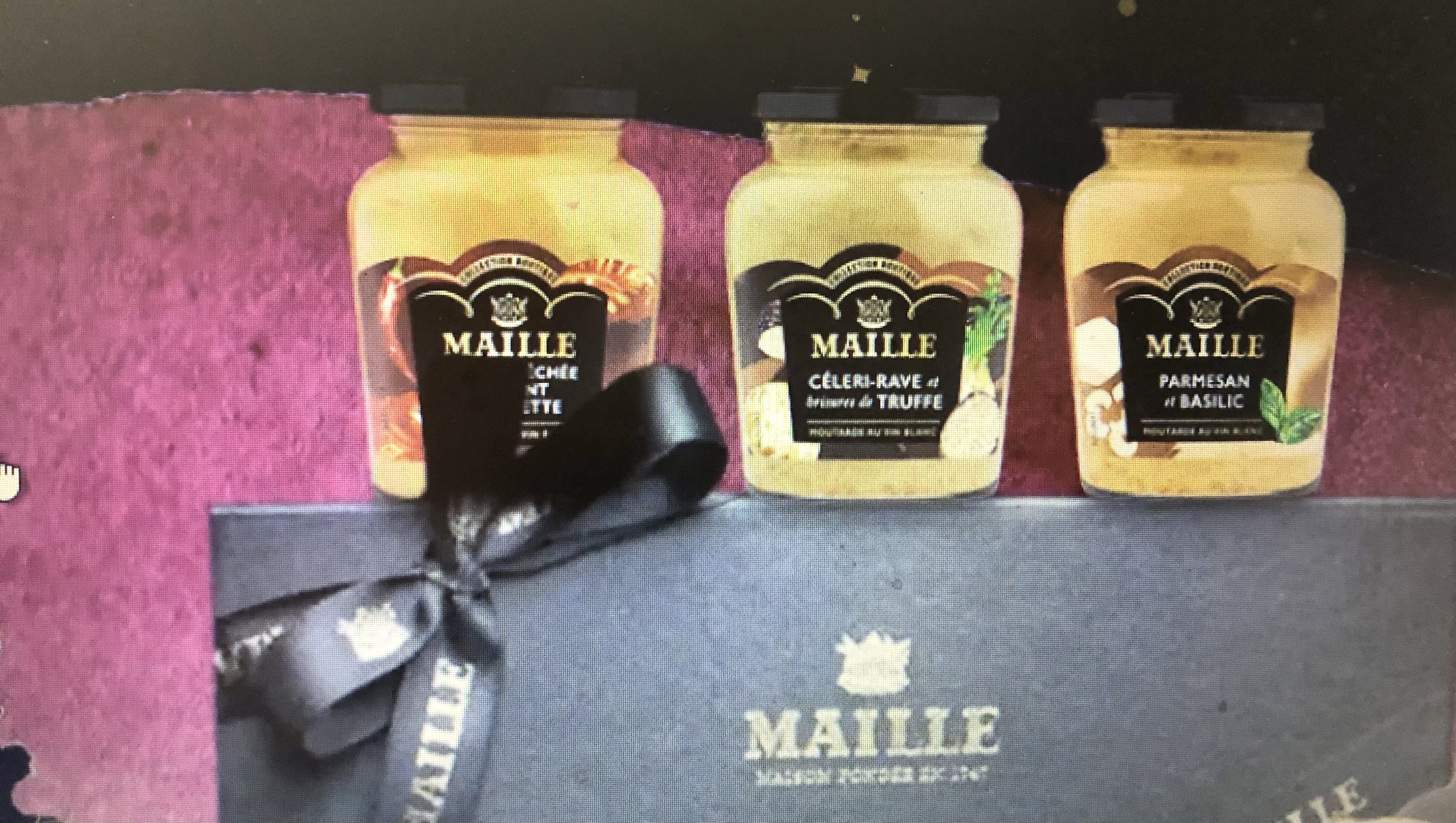 In 1996, the firm celebrated the 250th anniversary of the opening of its first boutique by opening a shop on the Place de la Madeleine in Paris which sells packaged mustards, oils and vinegars as well as mustard straight from the pump. These have also been sold online since 2007.
Maille was sold to Paribas Affaires Industrielles in 1997 and subsequently bought by Unilever in 2000. In 2011 new products were introduced including a Dijon mustard with Chablis "1747", an aged balsamic vinegar and black truffle mustard – a little truffle never hurt anything!
Maille opened a boutique in Piccadilly, London in 2013 and another on the Upper West Side of New York City and one on the Mornington Peninsula (Melbourne) both in 2014. It opened one at the Carrousel du Louvre and another in Bordeaux in 2015 as well as three in-store concessions in Chicago, Portland and San Francisco.
Do go and visit the website which has some delicious recipes and if you're not already familiar with their products, try some of them, you won't be disappointed.
.