The Musette: red wine-poached pears
You all know about my beloved husband's love of desserts. In his mind, no meal is complete without one. Because I always have a large bowl of fresh fruit in the kitchen, it's often that which provides my inspiration. How many recipes have I made with over-ripe bananas? Yes, I too have lost count!
This is another one with pears, a fruit bowl staple in winter months. Sometimes he'll eat them before they soften but, if he doesn't, I'll often poach them in spiced red wine.
In terms of spicing, you're looking to emulate something like mulled wine though I do like to mix it up a bit!
Ingredients (easily serves 5-6)
500ml (2 cups) dry red wine, such as cabernet or merlot
2 tbsp honey or vegan equivalent
1 orange, juice and zest
1 lemon, juice and zest
2 cinnamon sticks
2 star anise
10 rose red peppercorns
bay leaf
4 cardamom pods
4 large, firm, ripe pears
Method
1.In a large saucepan, combine all the ingredients except the pears, bring to a boil, reduce heat and simmer for five minutes.
2. While the poaching liquid is simmering, peel pears, leaving stem intact and being careful not to blemish the flesh of the pears. Slice a sliver from the bottom of the pears to create a flat bottom and gently extract the core (I use a melon baller).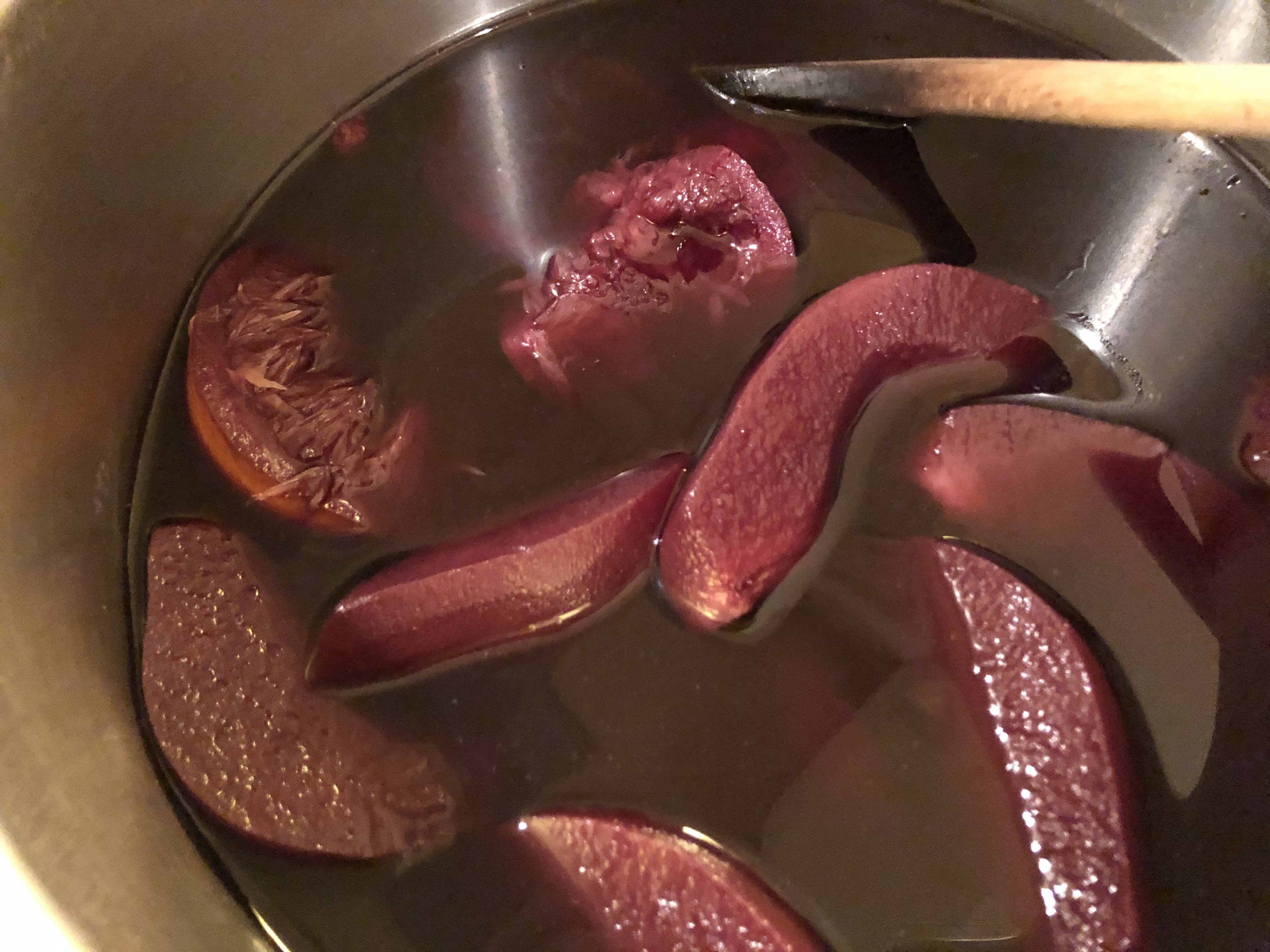 3. Gently place pears in poaching liquid, cover, and simmer for 15 to 20 minutes, turning every five minutes to ensure even colour, until pears are cooked but still firm. If the pears are particularly large, I may even halve or quarter them, removing both stem and core.
4. Remove saucepan from the heat and leave to cool with pears in the pan. Once cool, cover and chill in refrigerator at least three hours or up to 24 hours, turning occasionally, if desired. To serve, gently remove pears from liquid and allow to come to room temperature.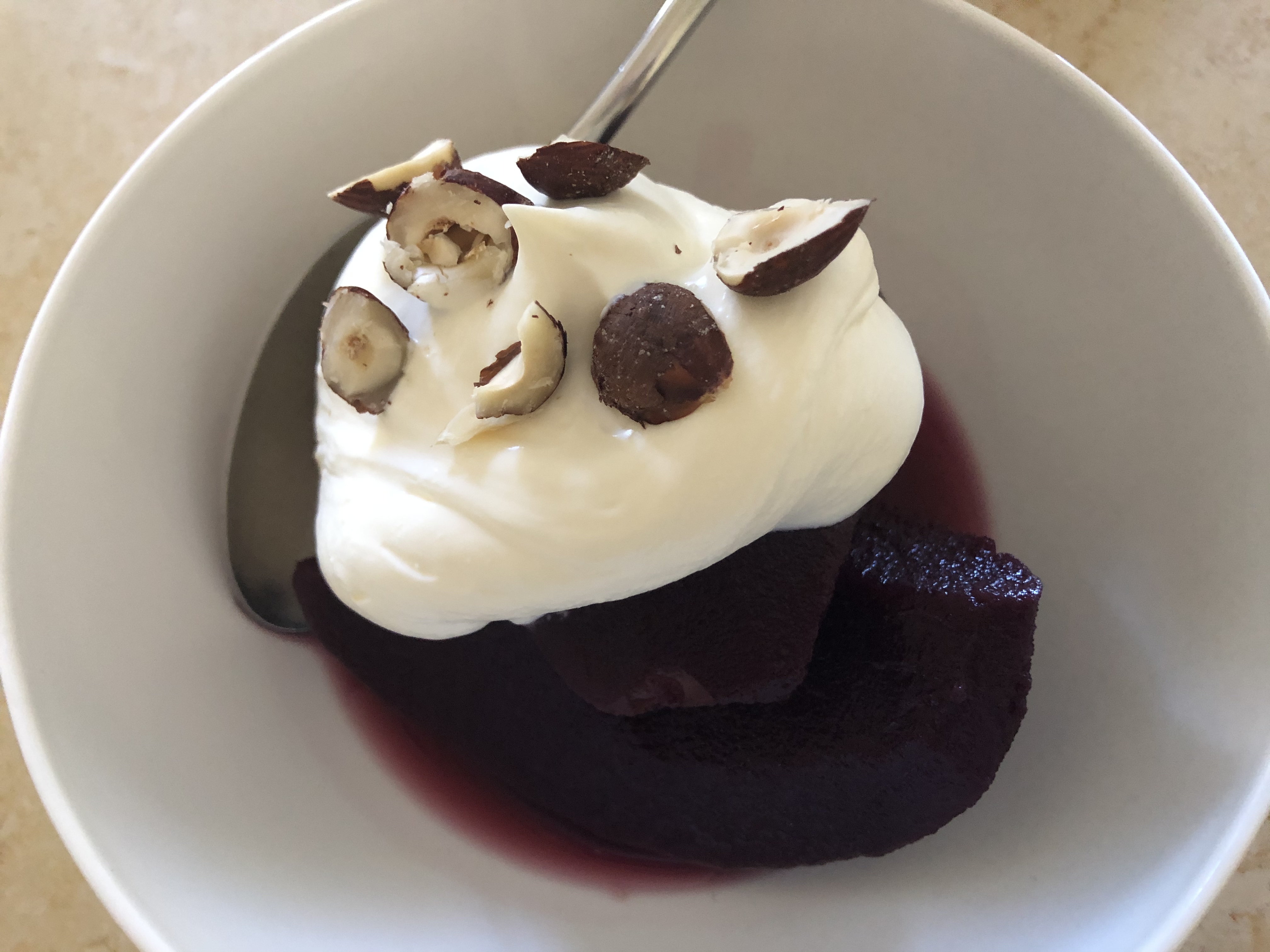 4. Meanwhile, reduce liquid by about half over a medium-high flame for 15 minutes, until liquid is thicker and slightly syrupy. Remove from flame and let liquid come to room temperature. Drizzle each pear with two tablespoons of syrup and serve with some cold thick cream – vegan or otherwise.
5. These will happily sit in their poaching liquor in the fridge for up to 5 days.
Sheree's Handy Hints
1.If I'm serving this dessert at a dinner party or buffet, I'll typically leave the pears whole. However, if it's for my beloved, I'll quarter them. In addition, I won't reduce the syrup as I'll re-use it for the next batch of pears, or some red cabbage.
2. I'll also typically replace part (1/4) of the poaching liquor with ruby port, rather than red wine.
3. Feel free to play around with the aromatics. I don't add cloves but will occasionally add some liquorice stick/powder/syrup.
4. As youcan see from the picture above, I often just juice the citrus and chuck the remainder into the poaching liquid.
4. I've also poached pears in a sweet white wine to which I'd only added lemon zest and thyme, which was also well received!