The Musette: prawn biryani
Biryani has its origins in the Indian subcontinent, where it's popular throughout though it's also prepared in other regions such as parts of Afghanistan, Iran and Iraq.
The exact origin of the dish is uncertain. In North India, different varieties of biryani developed in the Muslim centres and other small principalities. In South India, where rice is more widely used as a staple food, several distinct varieties of biryani have also emerged.
The modern biryani may have been developed in the royal kitchens of the Mughal Empire (1526–1857) and is a mix of the native spicy rice dishes of India and the Persian pilaf. Though many believe the dish originated in Persia, and was brought to India by the Mughals. Another theory claims that the dish was prepared in India before the first Mughal emperor conquered India. According to Pratibha Karan, who wrote the book Biryani, the biryani is of South Indian origin, derived from pilaf varieties brought to the Indian subcontinent by the Arab traders.
So there are lots of original recipes for biryanis, this one's much simplified, contains no dairy, is fairy quick to cook and is extremely tasty.
Ingredients (serves 4 cyclists)
500g (1 lb) medium-sized prawns, shelled, deveined and washed
salt and pepper to taste
Sauce
1 tbsp coconut oil
1 large yellow onion, finely chopped
4 small-medium tomatoes, chopped
8 fat garlic cloves, grated into a paste (approx. 2 tbsp)
thumb-sized ginger, peeled and grated into a paste
1 tsp powdered fennel seeds
1 tsp garam masala
1 tsp red chilli powder or to taste
1 tsp ground turmeric
16 dried curry leaves
big handful of freshly chopped coriander
Rice
1 tbsp coconut oil
2 small onions, very finely sliced
400g (2 cups) basmati rice, well washed
750ml (3 cups) water
1 tbsp fresh lemon juice and curl of lemon zest
cinnamon stick
pinch saffron
10 black peppercorns
10 dried curry leaves
6 green cardamom pods
Topping
small pot of non-dairy plain yoghurt
1 tsp garam masala
Method
1.Season the raw prawns and set aside. (I layer them raw in the dish so that they don't overcook.)
2. Wash the rice really well in several changes of water or until the water runs clear. Leave to soak for around 20 minutes.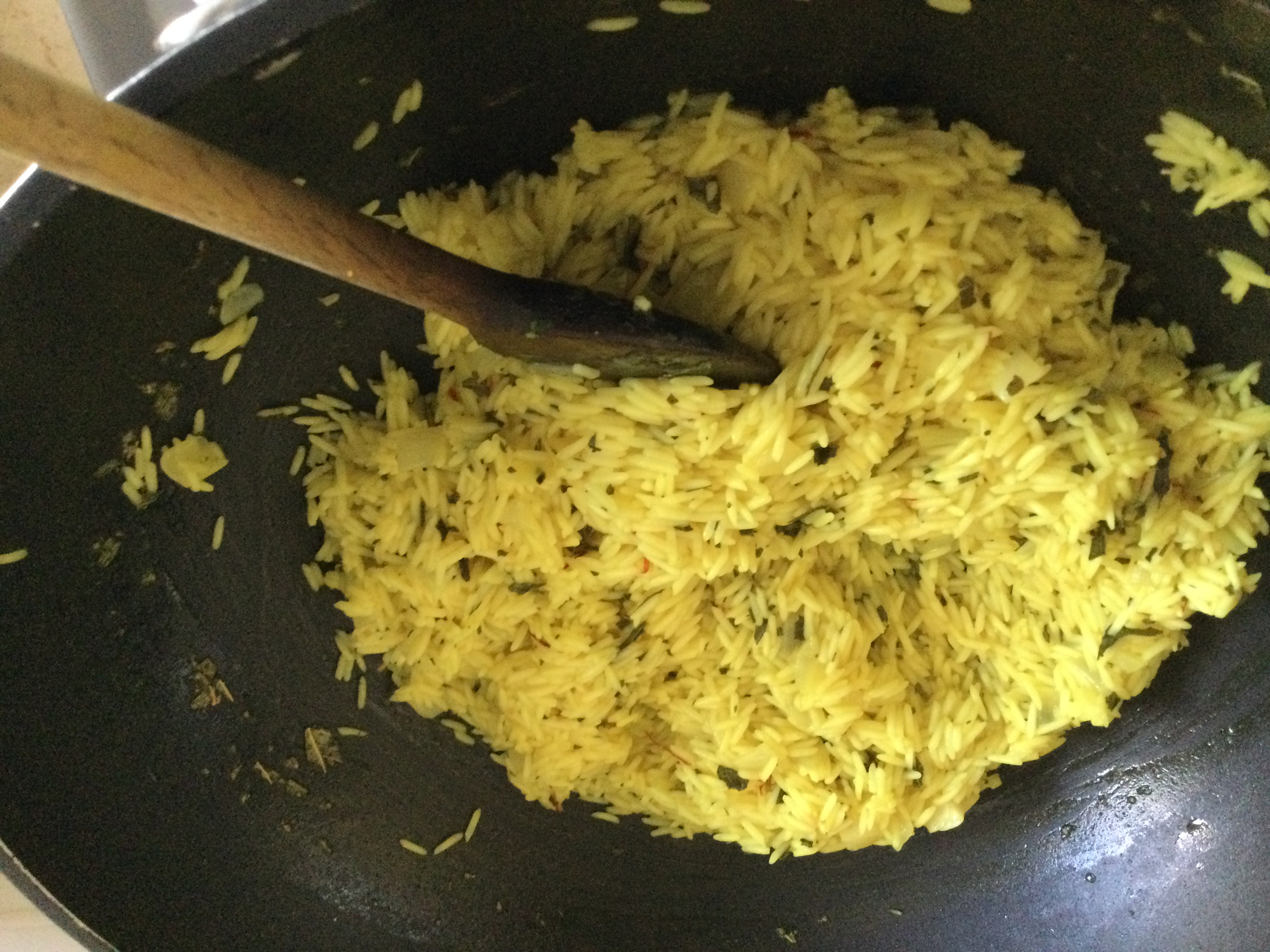 3. Heat the oil in a large, heavy-bottomed saucepan which has a lid. Add the whole spices and cook for 30 seconds or until aromatic. Add the onions and 1/2 teaspoon salt and cook until soft, stirring occasionally, then turn the heat up and cook until golden. Meanwhile, drain the rice and add it into the golden onions. Stir well over a high heat to dry off any excess water and coat the rice in the oil for about 2-3 minutes. Add water to the pan, taste and season well. Note, the water should taste a little salty or the rice will be a bit flavourless. Add lemon juice and zest, and torn curry leaves. Bring to a boil then cover and turn the heat right down.
4. Cook undisturbed for 7-8 minutes then test a grain. If it is done, take off the heat, put the lid back on and set aside for 10 minutes. Tip the rice out onto some open plates to prevent it overcooking. You can use this saucepan for the final assembly of the dish.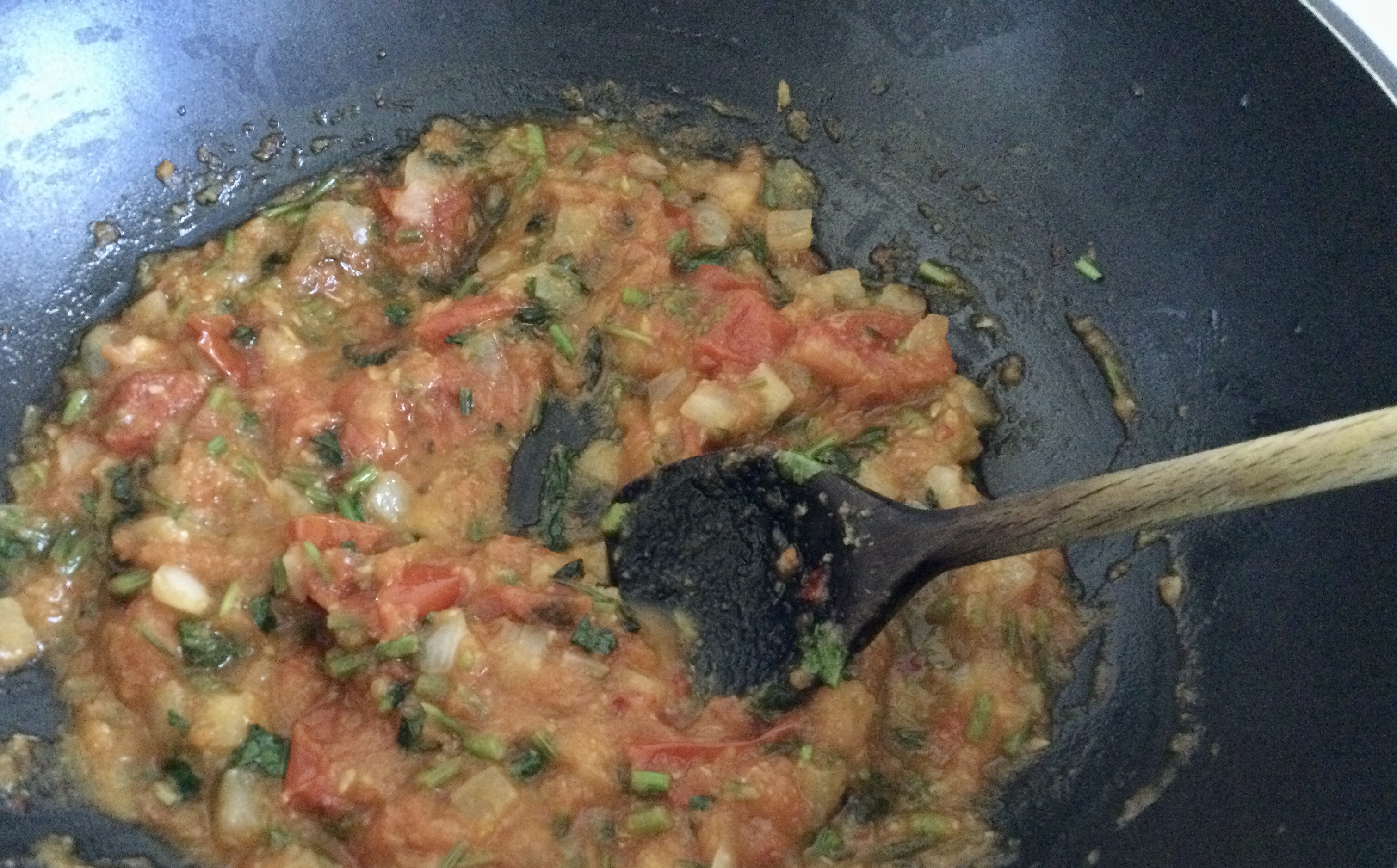 5. To prepare the sauce, add the oil and heat before adding the onions, cook really well until very soft and golden. Add the curry leaves, ginger and garlic paste and sauté over a gentle flame until garlic is cooked through, around a minute.
6. Add in spices, tomatoes, herbs and seasoning and sauté for a few minutes. Continue to cook until the tomatoes have collapsed, darkened and the paste releases some oil, around 8-10 minutes. Taste, it should be harmonious, if not cook a little longer, adding some water if you are worried about it being too dry. Check the seasoning.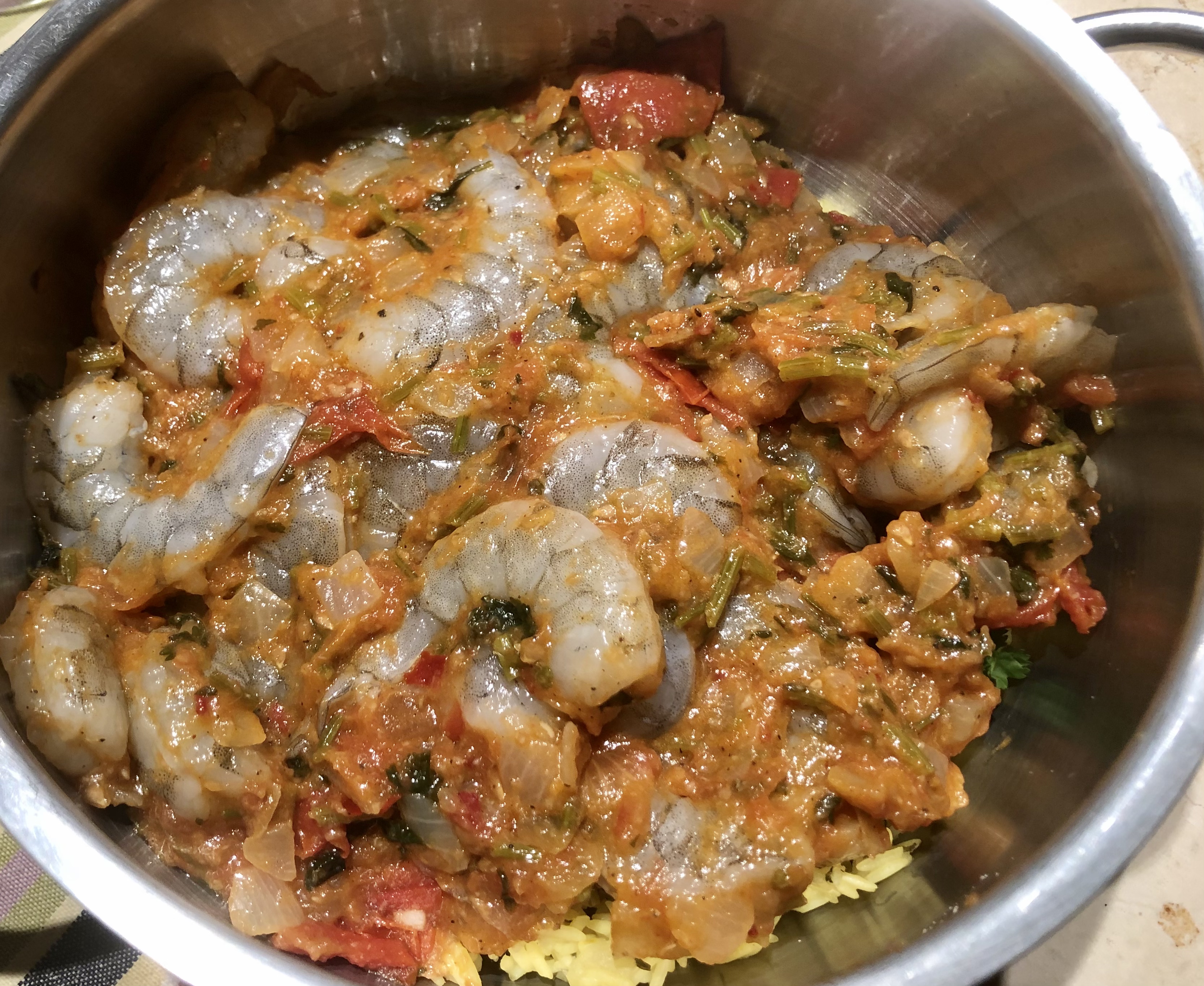 9. Assemble the dish by layering over half the rice, then spoon over half the sauce, all the prawns mixture, the other half of the sauce, finally topping with the remaining rice. Cover with the non-dairy yoghurt and a sprinkling of garam marsala. Cover the sauce pan's contents with a circle of greaseproof paper.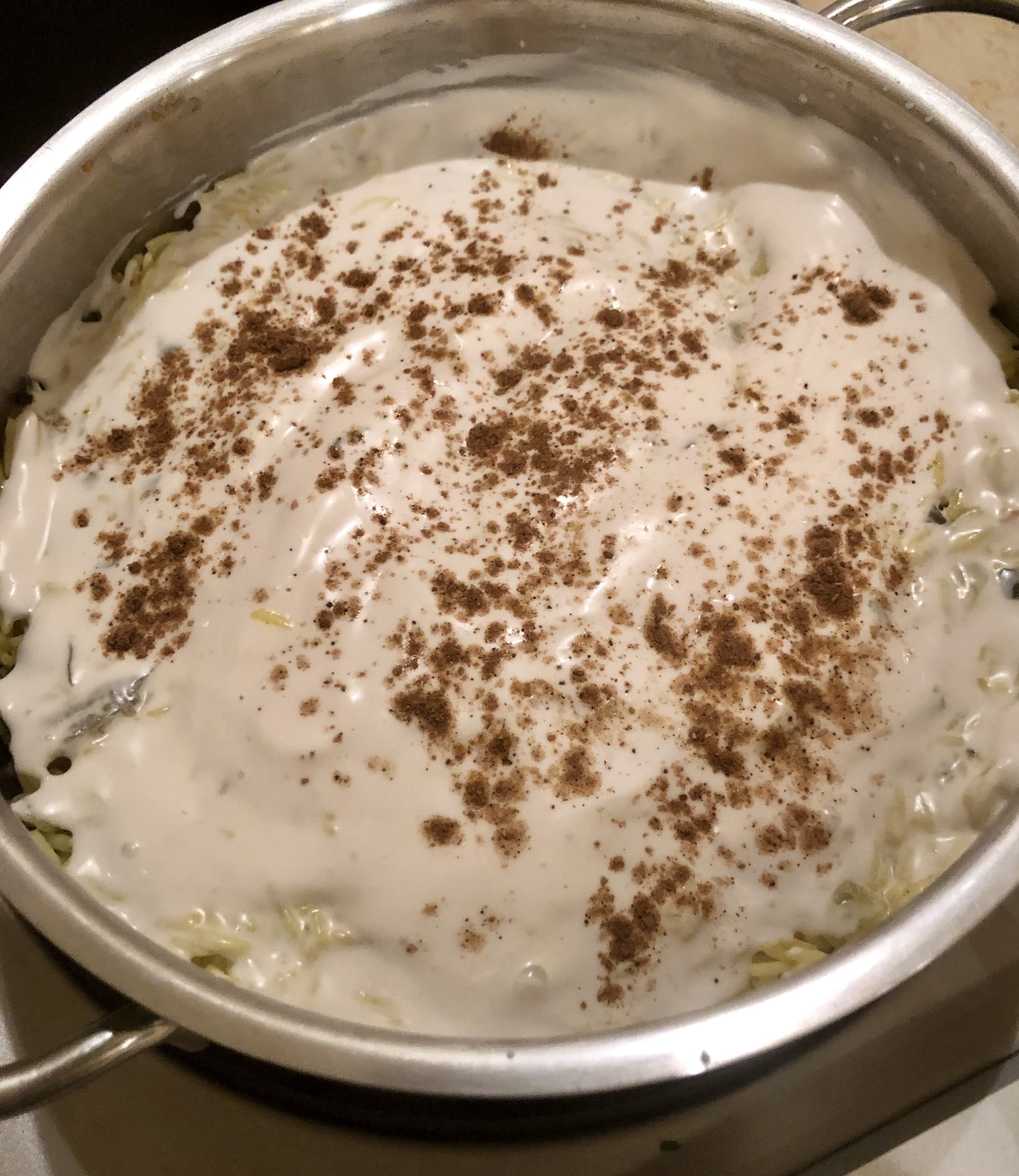 10. Place saucepan over a really low heat for 20-30 minutes or until it steams when you remove the lid. Put the lid back on and rest for 10-20 minutes, off the heat, before serving. Sprinkle on more freshly chopped coriander and serve with a tomato and red onion raita.