French fancies: Vilebrequin
My beloved husband loves this brand of French swimwear, it's his go to for swim shorts and has been buying them since the late 90s. I have lost count of how many pairs he possesses but he'll typically buy at least one new pair every year. During the summer months his at-home uniform is a pair of their shorts worn with a matching colourful t-shirt.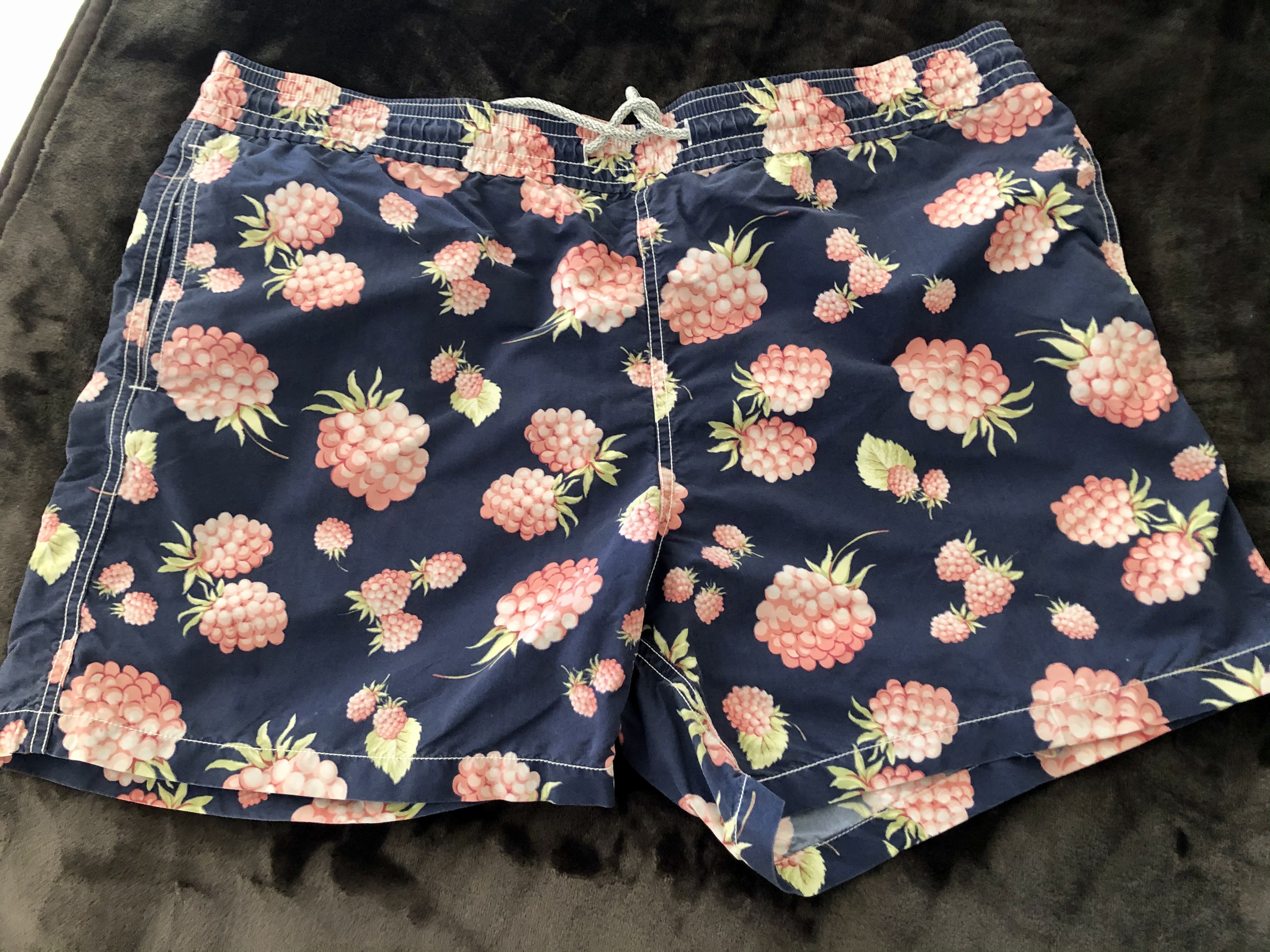 A romantic start
The brand was created in 1971 in Saint Tropez by fashionista Yvette and Fred Prysquel, a photographer and sports automobile journalist,  hence the name which is French for crankshaft!
Inspired by the trunks worn by surfers at the time, Prysquel sketched and cut out a swimsuit design from a paper tablecloth in a Saint Tropez café, creating a longer boxer short style very different to the shorter and fitted swimsuits of that period. Made from from spinnaker-sail cloth, his swimsuit was bright, original and designed to dry quickly in the sun.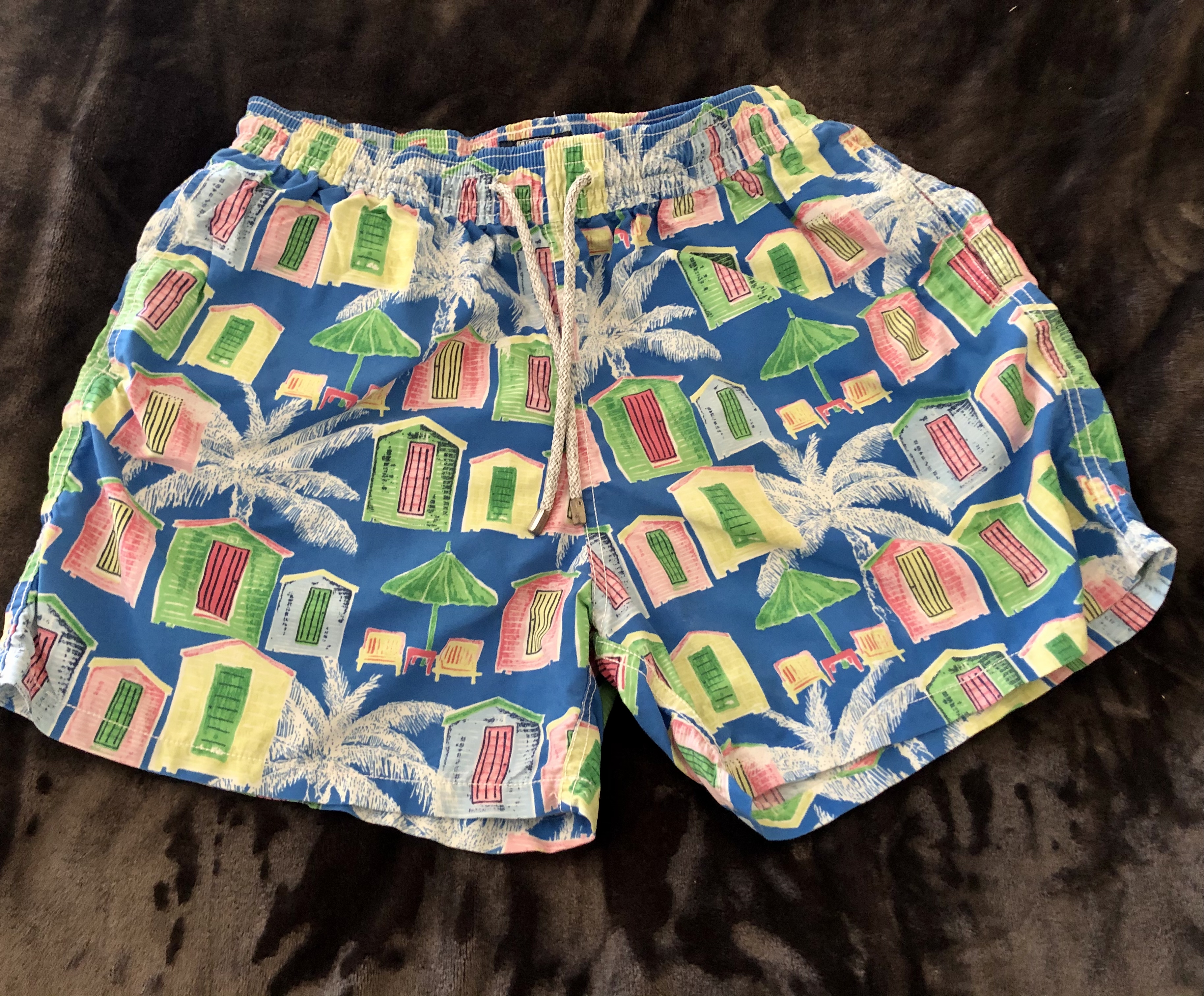 The shorts were an immediate hit. Consequently, in 1976 Prysquel promoted the brand by sponsoring rally driver Jean-Louis Trintignant who was competing in the Rallye du Var with his Opel Kadett GT/E. Bouyed with their success, the couple register the trademark in the USA and set off to conquer the world.
In 1991, fellow Tropezian and textile worker, Loïc Berthet, took over the brand and added new styles and models. In particular to men's swim trunks, he added a back pocket secured with Velcro, eyelet holes made from a stainless alloy, Zamac and a cotton lining. In 1994, Vilebrequin expanded its collection to include boys' garments so sons and fathers could wear matching shorts.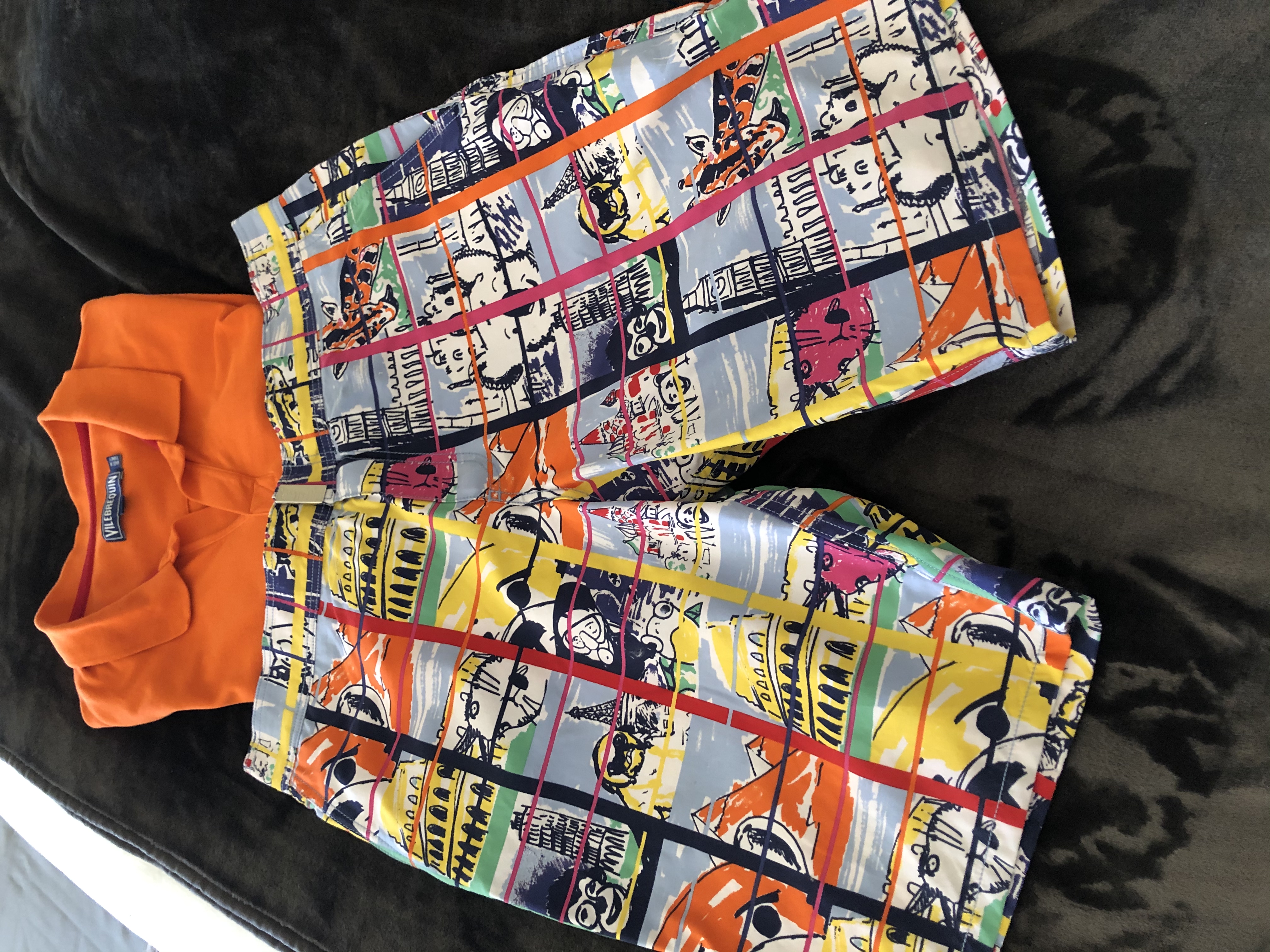 Between 1990 and 2000, the brand expanded worldwide and opened locations in London, Alassio, Paris, Geneva, New York, Hong Kong and Madrid. The brand also developed a network of distribution partners in over 50 countries.
In 2012, Vilebrequin was acquired by the American company G-III Apparel Group, Ltd., which also licenses a number of other marques such as Calvin Klein, DKNY, and Karl Lagerfeld Paris. Roland Herlory, previosly general director for Hermès Latin America and Caribbean, became the new CEO.
In 2013, after more than 40 years in menswear, Vilebrequin launched their first ladies' line and extended their product offering to also include resort wear as well as luxury beach accessories for both men and women.
In 2014, Vilebrequin opened stores with a particular focus on expansion throughout Asia with openings in South Korea, Thailand and Singapore. Thereafter, the brand conquered the Middle East. In fact, it's rare not to find one of their small, jewel-like shops in a resort or shopping mall.
More recent events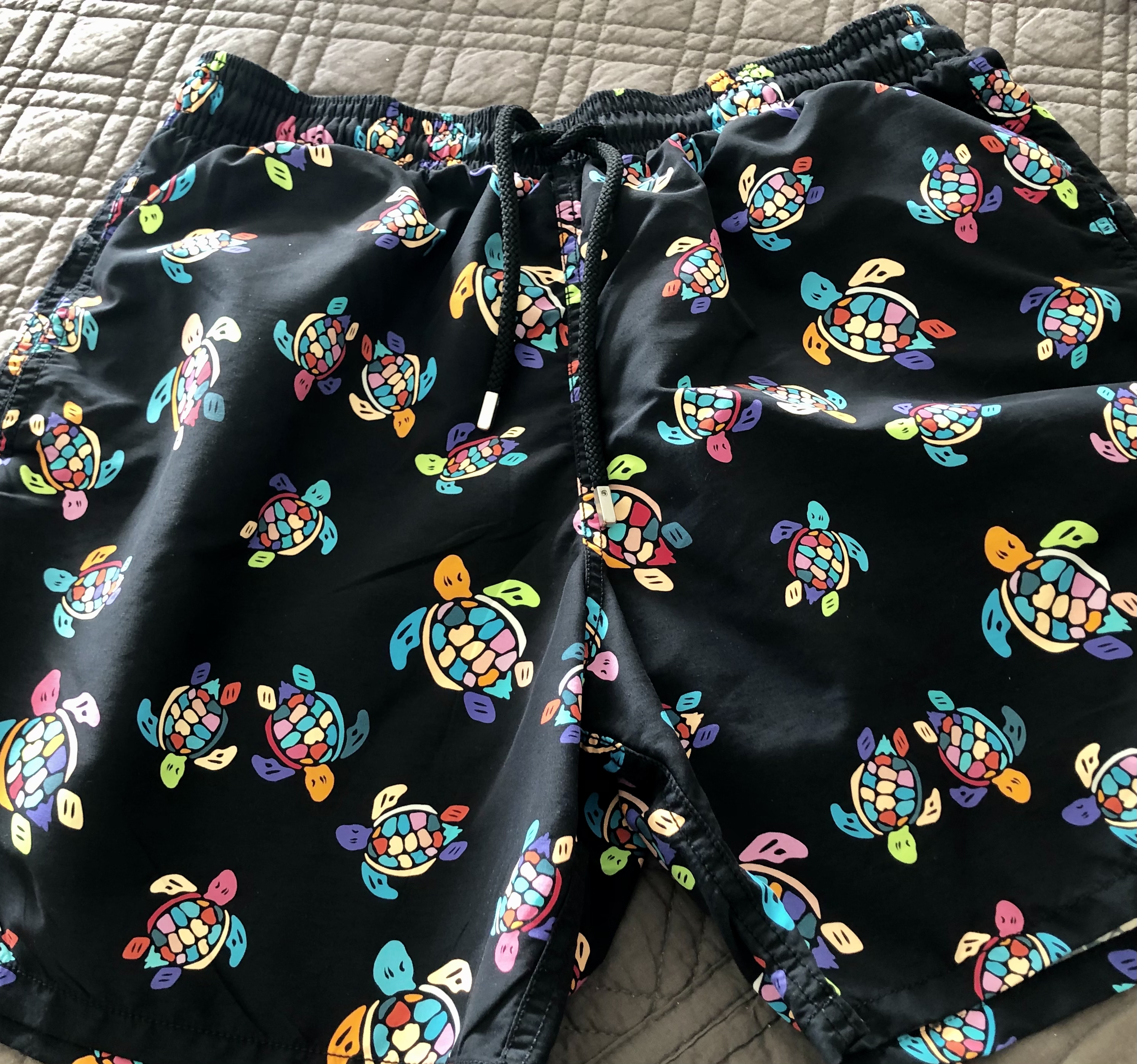 One of my beloved's favourite pair of the shorts has colourful turtles on a black background. Since 2016 the brand has committed  to helping Polynesian association Te mana o te moana save the sea turtles. Every year, the association rescues turtles, providing them with the care needed before releasing them back into the wild. In 2016 and 2017, Vilebrequin donated over US$ 50,000 to the association thanks to sales from that swimsuit.
This is not the company's only act of philanthropy, Vilebrequin is committed to the RED association participating in the fight against AIDS. US$15 from the purchase price of every (Vilebrequin) RED pair swim trunks goes directly to the charity to support work on the ground in sub-Saharan Africa.
The company has pioneered the use of recycled materials. Since 2019, in its range of short, stretchy swim trunks, Vilebrequin uses a 100% recycled polyester filament made of plastic waste recovered from the Mediterranean sea by fishing boat. For every kilo of this 100% recycled polyester yarn, 1 kilo of trash is removed from the sea bed.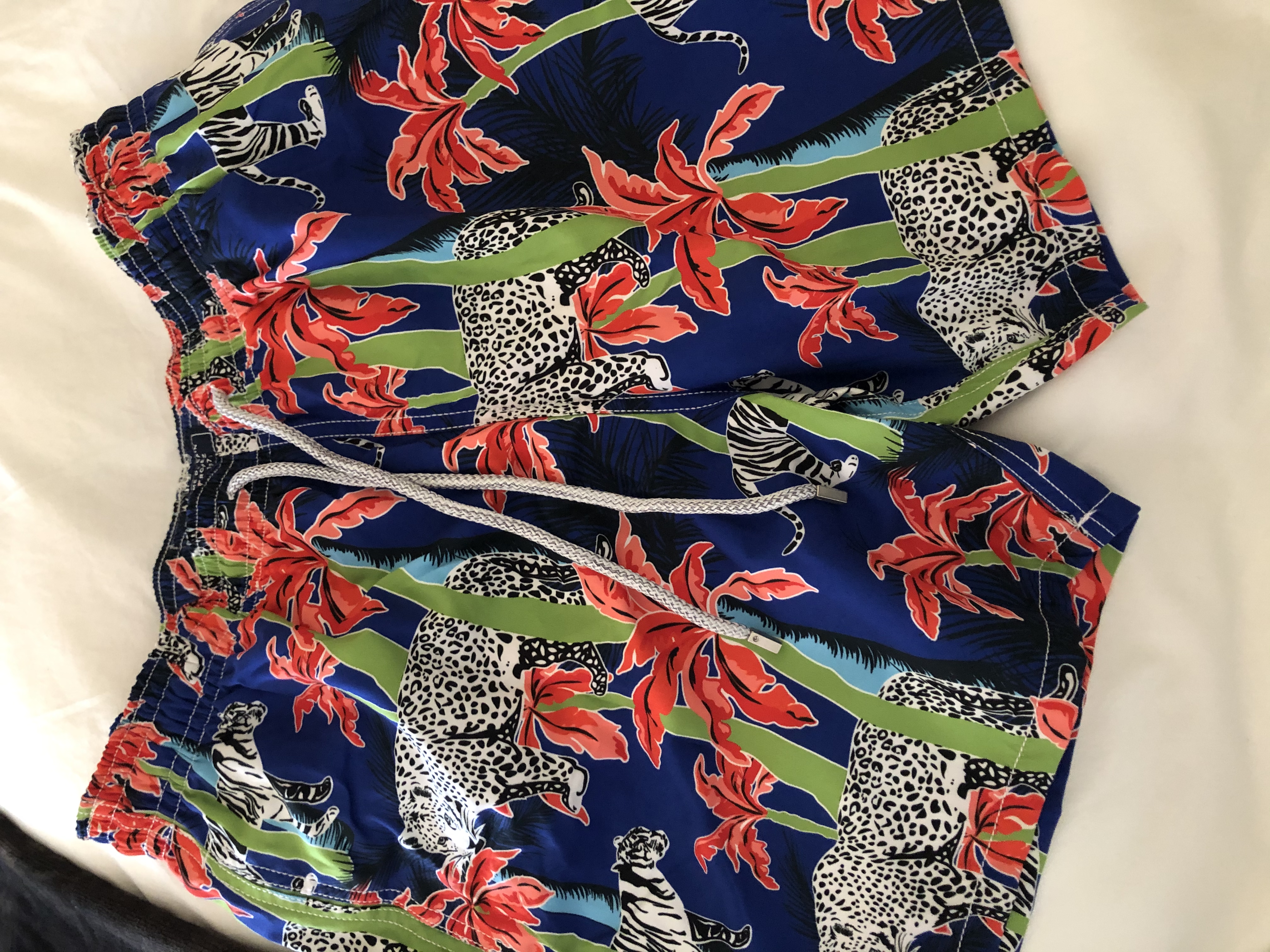 The company has also recently revisited its roots. French designer Jean-Charles de Castelbajac has revisted the fresh and carefree spirit of the 70s – an aesthetic that's never felt more relevant than now.
More recently, Vilebrequin teamed up with Off-White's Virgil Abloh to launch a collection of five swimsuit styles sold only in exclusive point of sales across the globe. The swimsuits highlight the perfectly tailored yet casual charm of Vilebrequin and bold, counter-culture aesthetic of Off-White.
Postscript: While taking photos of just a small selection of my beloved's Vilebrequin stash, which also includes caps, t-shirts, linen trousers and tops, I noted that the last pair of shorts I'd bought him were missing. An exhaustive search of possible locations where he may have left them, rather than in the designated storage, has lead me to conclude that he's lost them. Most likely on our last vacation in Dubai (this time last year). Regular readers will know that my beloved has a habit of losing stuff, these shorts won't be the last!