Favourite French Treats: Part I
I was going to do another A to Z but that would mean a lot of tempting treats wouldn't be included, and we can't have that! You should be aware that, despite its contents, this is a zero-calorie post.
In no particular order, here's some well-known and well-loved French desserts, cakes and treats., with more coming in Part II tomorrow!
Profiterole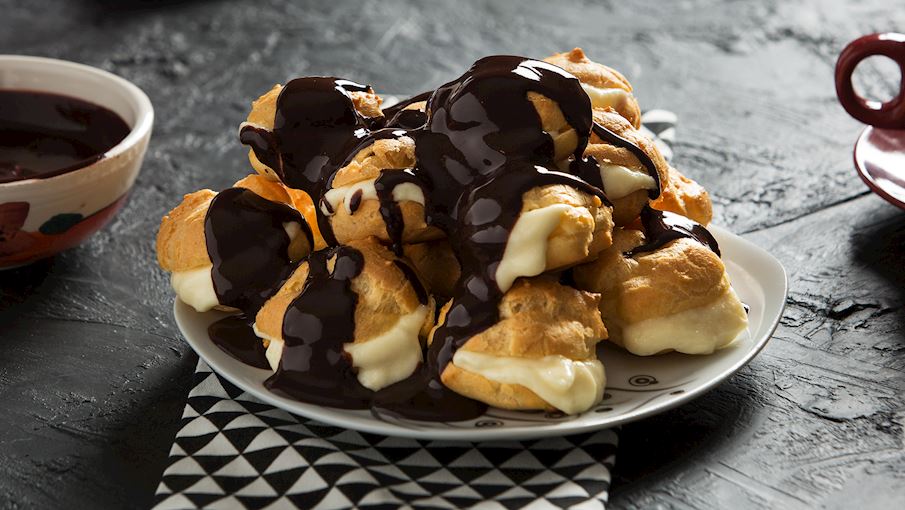 These chocolate-covered choux pastries are filled with either whipped chantilly cream, pastry cream or vanilla ice cream. Many theories exist about the origin of this dessert, but the most likely one traces it back to 13th century, when the chefs who first created  choux pastry in France and southern Germany began filling them with savoury cheese mixtures and herbs.
Crème brûlée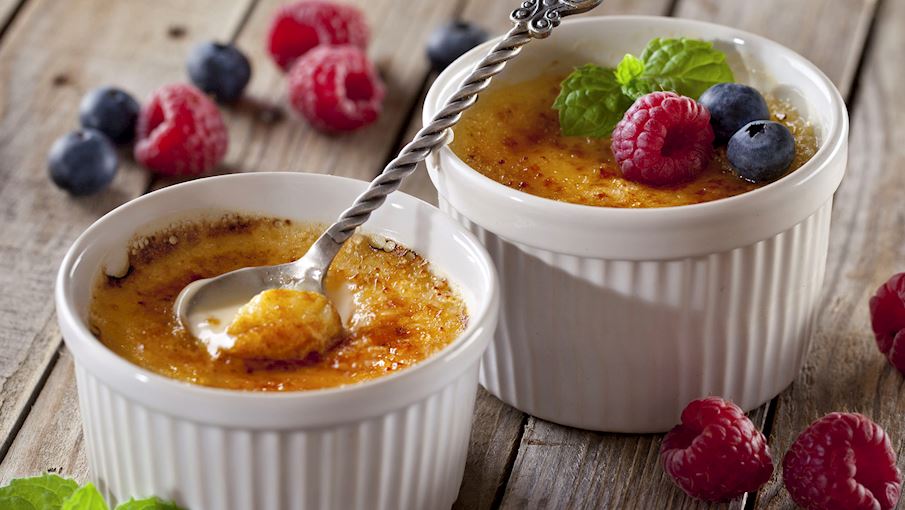 A staple on many a French bistro menu, this traditional egg custard dessert consists of egg yolks, cream, sugar and vanilla, with a crsp, toffee-life crust. The combination is cooked, transferred into ramekins, poached in a bain-marie, then well chilled. The chilled custard is typically set in wide, flat dishes, and is then topped with sugar which is either caramelized under a grill (broiler) or with a blowtorch.
Éclair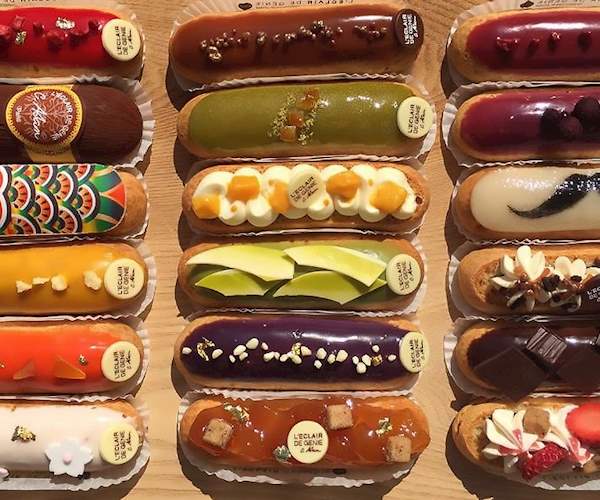 These classic elongated pastries with an appealing glaze, a crispy exterior, a soft doughy interior, and a sweet, creamy centre originated in France at the turn of 20th century. Most food historians believe they were invented by Marie-Antoine Carême, a famous French chef. Éclairs (French for lightning) are believed to have received their name because of how the light would reflect off of them after a coating of confectioner's glaze.
Gâteau Basque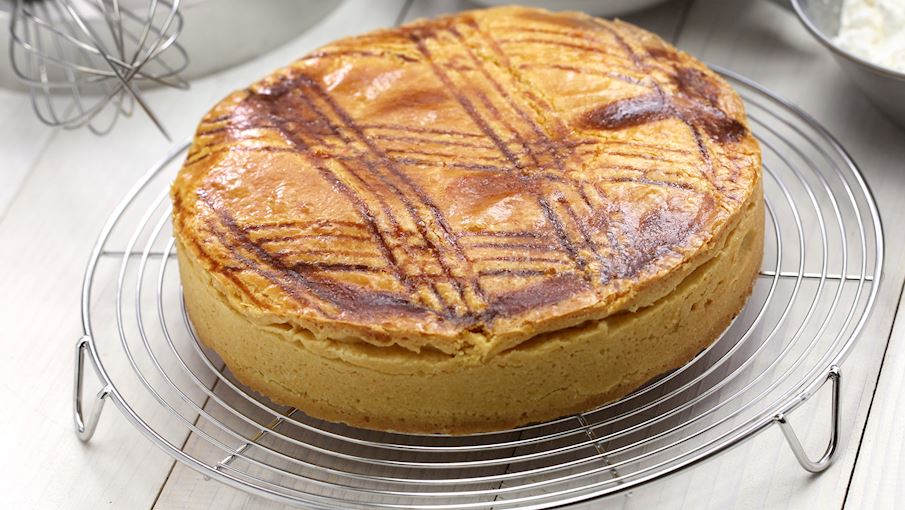 The classic Basque cake consists of two layers of a buttery shortcrust-type pastry and either a filling made with black cherry preserve or, more often, vanilla-flavoured pastry cream. If made with black cherries, the top of the cake is usually decorated with the Basque cross (lauburu), while the version with pastry cream typically comes with a crosshatch pattern. Apart from vanilla, common flavorings also include lemon zest, rum, or almond extract. Although it is traditionally associated with the entire French Basque Country, it is believed that the cake originated in Labourd.
Gâteau au yaourt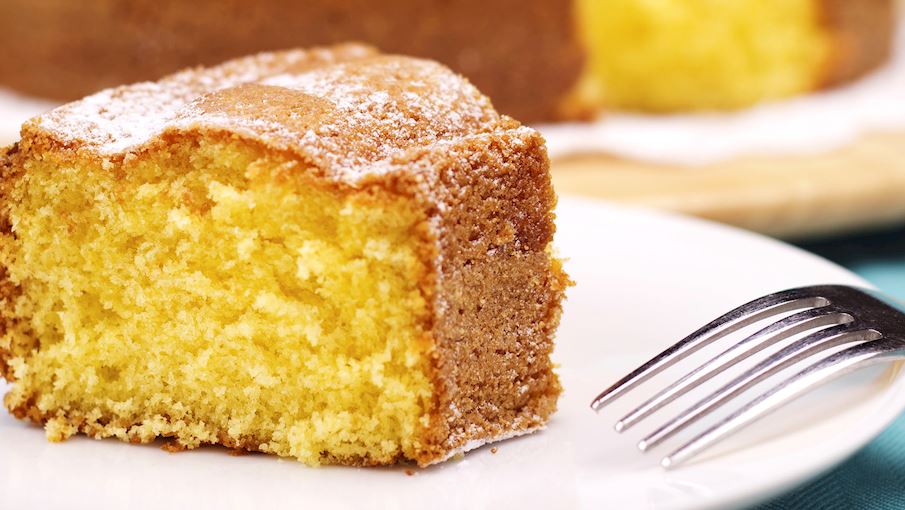 Gâteau au yaourt or yogurt cake is most oft-enjoyed alongside a cup of tea or coffee in many French households. It consists of flour, sugar, eggs, oil and plain yogurt. Its subtle flavour, firm texture and slight sweetness make it very popular and there are numerous variations in the recipes, which first started appearing in France in the 1950s.
Mousse au citron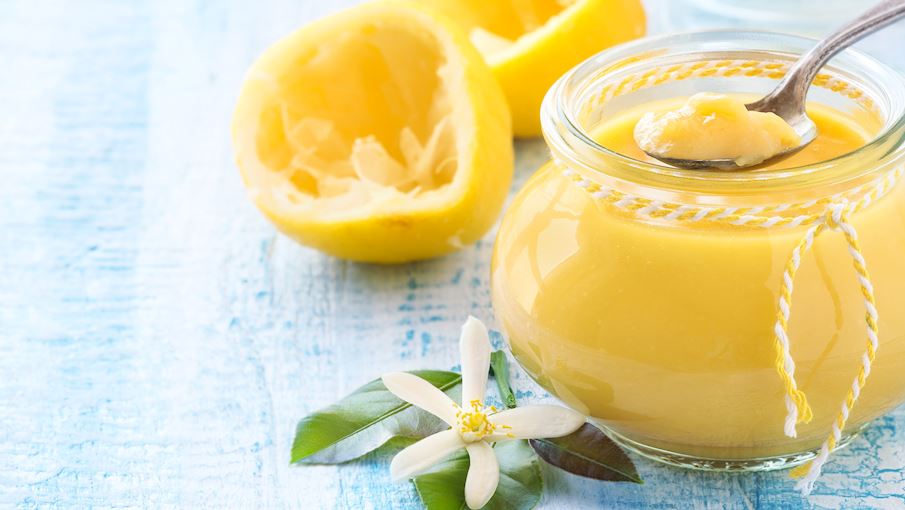 Light, creamy, and tangy, this is a classic, elegant dessert made from eggs, sugar, cream, fresh lemon juice and lemon zest. The mousse can either be spooned into serving glasses and consumed on its own, or it can be used as a key ingredient in a variety of cakes. Fresh berries, particularly raspberries, are my preferred garnish. Light, zesty, and refreshing, lemon mousse can be served at any time of year, but it is certainly best enjoyed chilled on a hot, summer day. Save the rich chocolate and mocca mouses for winter!
Far Breton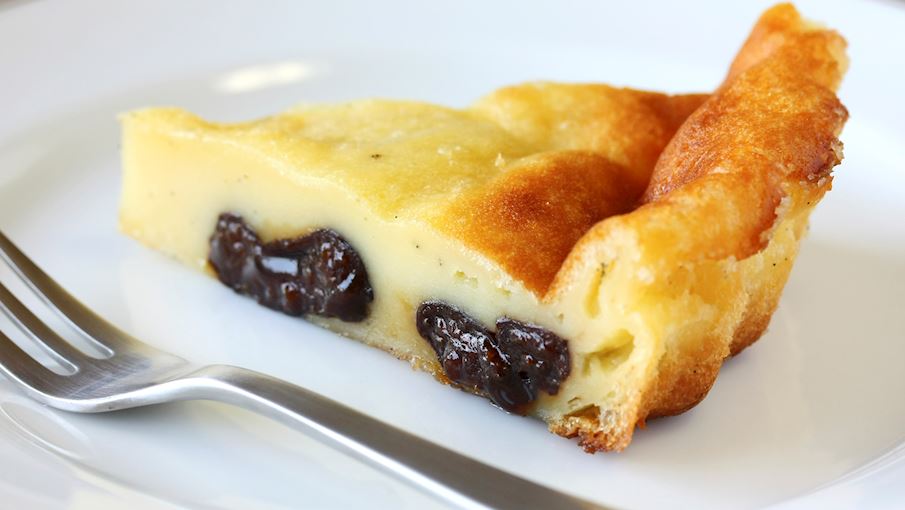 Far Breton is a traditional dessert: a custard flan cake similar to clafoutis, consisting of milk, eggs, flour, prunes and raisins. The cake is a specialty of the Brittany region, and the original recipe dates back to 18th century, when it was made in a savoury version to accompany meat dishes. Over time, more butter and eggs were added to the combination, making it an expensive dessert which was mostly consumed by the upper classes at the time.
Tarte Normande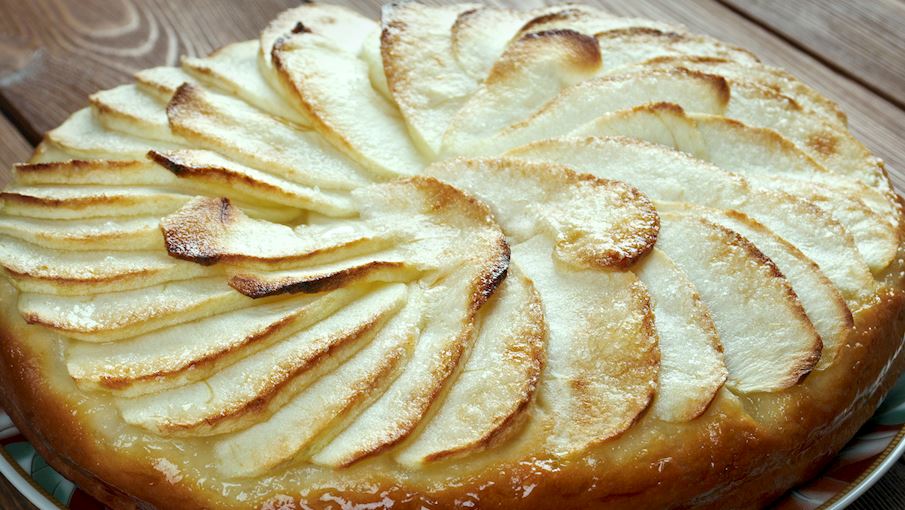 Hailing from Normandy, a region famous not only for apples but also for its Calvados apple liqueur, both of which are essential ingredients in a tarte Normande and make the perfect match for the delicately sweet almond frangipane cream filling, while the base is made with pâte brisée or shortcrust pastry. It is typically served with a dollop of crème fraîche on the side, and it is best enjoyed while still warm.
Gâteau mille crêpes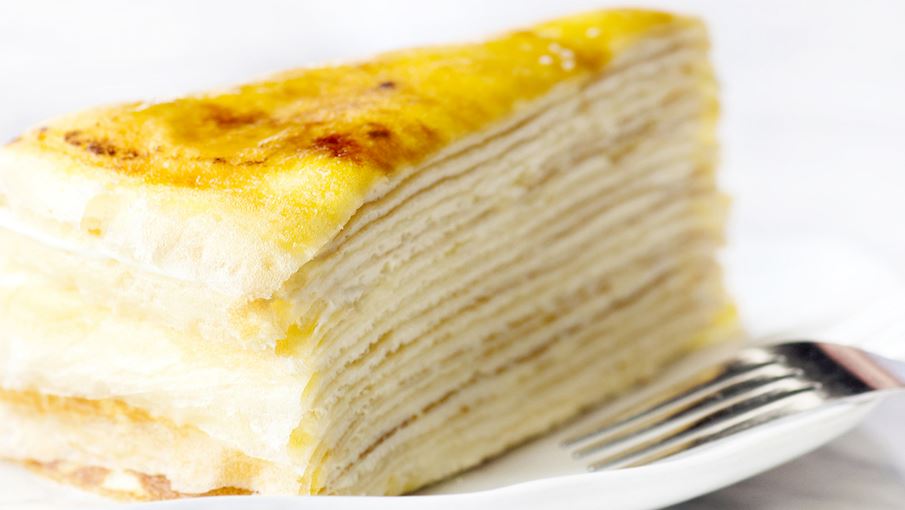 Numerous wafer-thin crêpes stacked on top of each other and layered with pastry cream, while the top of the cake is covered in a thin layer of caramelized sugar. This dense and creamy cake can be prepared with all kinds of different fillings and enjoyed with various fruits, whipped cream or even ice cream.
Friand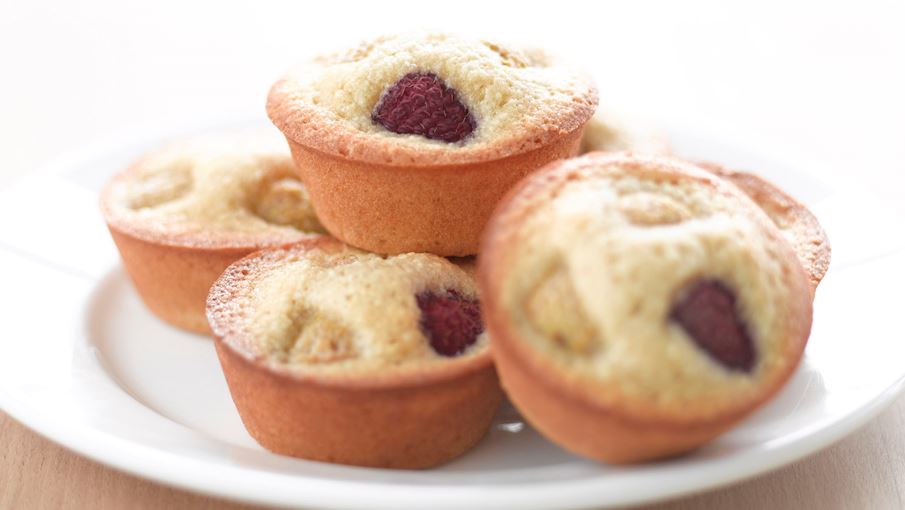 These small, delicate cakes are similar to muffins in appearance but not texture. They consist of egg whites, butter, sugar and almond flour and are often flavoured with various ingredients such as chocolate, more nuts or pieces of fruit. They get their distinct oval shape from the special moulds used to bake them. In addition to being popular in France, friands are also commonplace all over Australia and New Zealand. They are the perfect companion for a morning cup of hot coffee.
Financier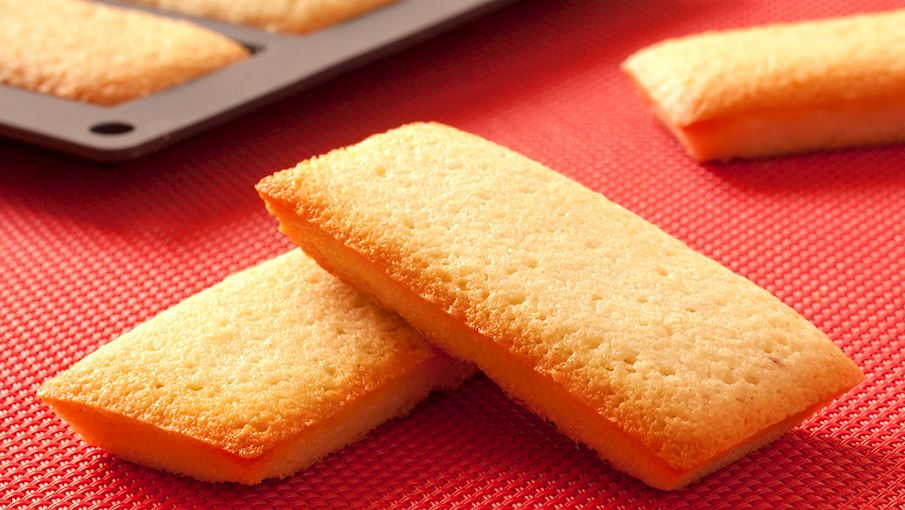 A financier is a small cake baked in moulds and shaped to look like golden bricks known as lingot in French. Financiers are usually made with almond flour, almonds, egg whites, nut-brown butter and sugar. The dessert was originally invented in 19th century by a pastry chef named Lasne whose clients were mostly bankers who didn't want to get their fingers sticky. He invented this moist sponge cake, shaped it to look like a brick of gold, and the financier was born.
Calisson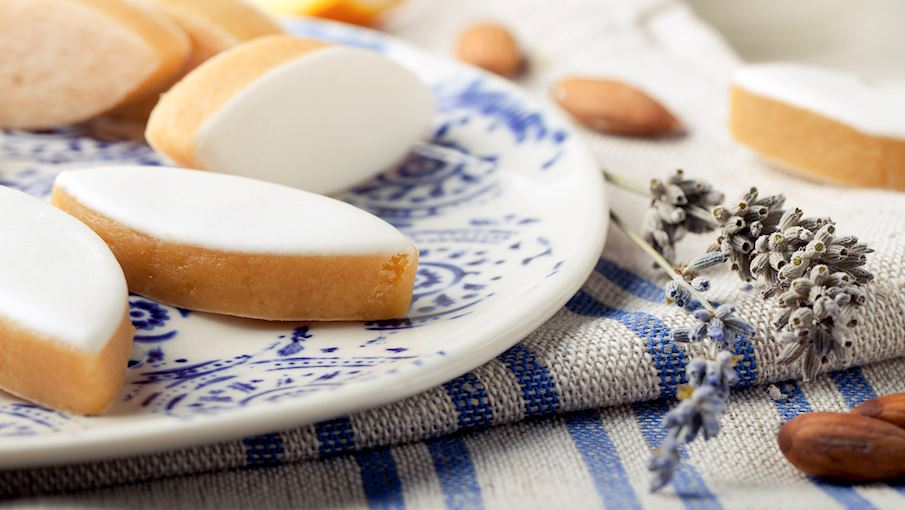 A specialty of Aix-en-Provence, calissons are diamond-shaped sweets made with almonds and candied fruit (typically local melons), covered in icing. The tradition of combining almonds and candied fruits dates all the way back to Greek and Roman times, while some texts from 12th-century mention Italian monks who made cakes from almonds. As almonds became important in the city of Aix-en-Provence, they were combined with Cavaillon melon to make the famous calissons, allegedly for the wedding feast of King René of Anjou in 1454.
Quatre-quarts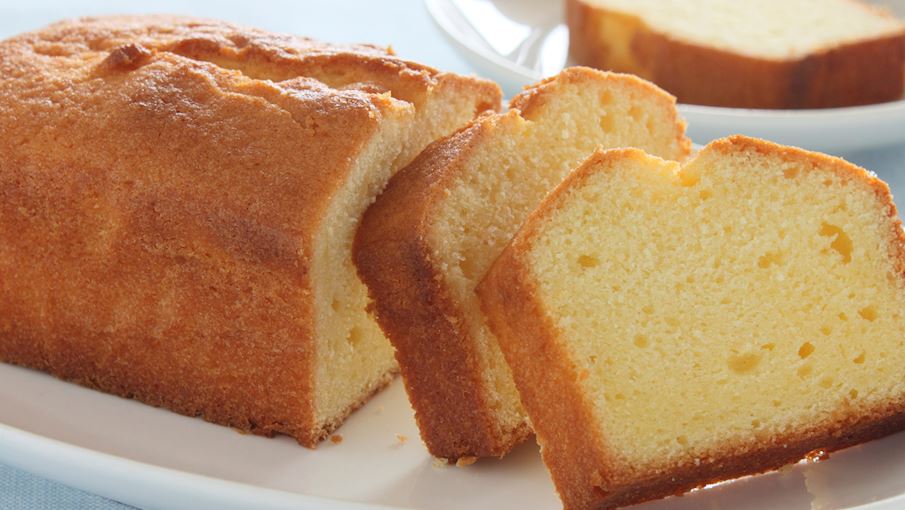 This cake uses the same amount in weight of each of the following ingredients: flour, butter, sugar and eggs, hence the name. There is no leavening agent used in the preparation, except the air that is whipped into the batter. It dates back to the early 1700s, and because many people didn't know how to read, the simple convention made it quite easy to remember the recipe. By the 1800s, the recipes began to deviate from the original, and the ingredients were used in smaller quantities, resulting in a lighter, smaller cakes. Today, it's typical to use a raising agent to make it even less dense, while some like to add chocolate or citrus zest to enhance its flavour.
Fiadone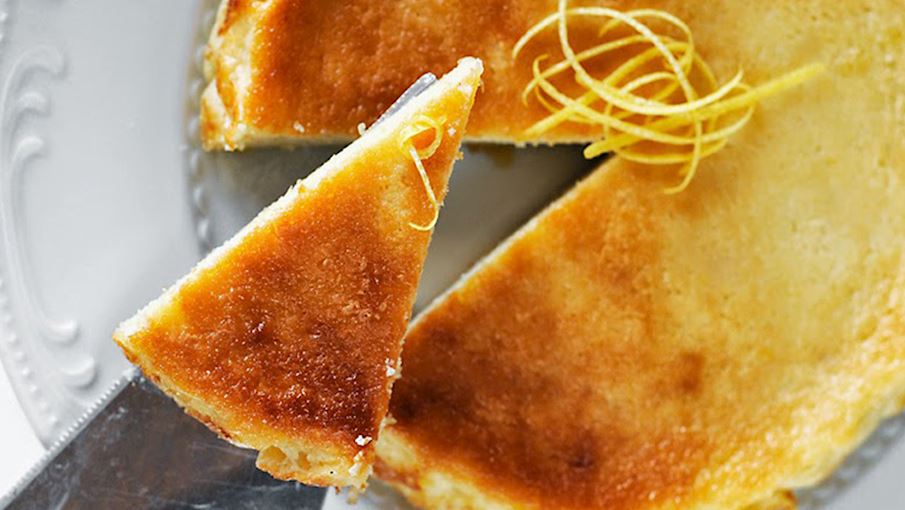 Often dubbed as the Corsican take on cheesecake, fiadone is a traditional dessert prepared with brocciu (fresh whey cheese made from goat's or ewe's milk), eggs, sugar, fresh lemon zest and lemon juice. Occasionally, oranges are used instead of lemons, and the base can be enriched with local liqueurs. The cake was once a staple dish for various special occasions and a typical dessert prepared during the holiday seasons, but nowadays it is enjoyed throughout the year.
Crêpes Suzette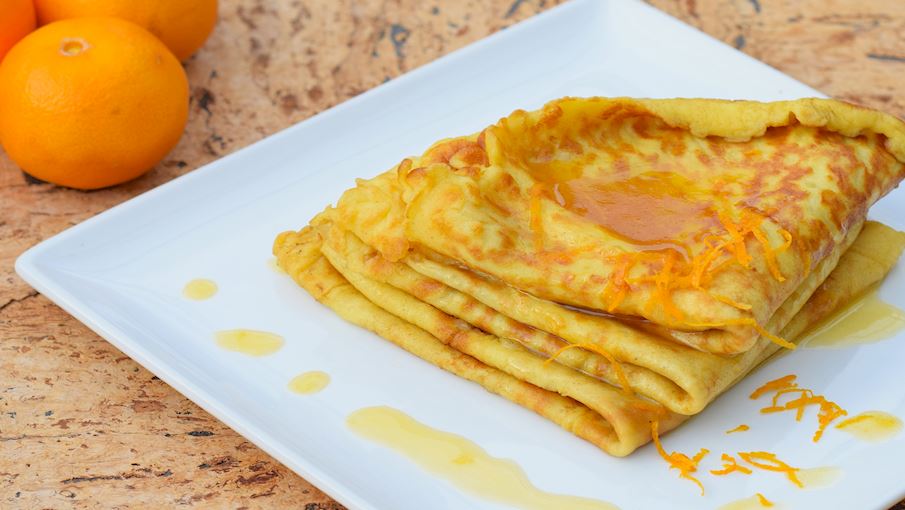 These delectable flambéd crêpes  are are doused in beurre Suzette, a sauce made with butter, caramelized sugar, fresh orange juice, zest and orange flavoured liqueurs such as Grand Marnier, Cointreau or Curaçao. Crêpes Suzette were supposedly invented by Henri Charpentier in 1895 in Monaco who, while working as a waiter at Monte Carlo's Café de Paris, accidentally set fire to a pan of crêpes he was preparing for the Prince of Wales, the future King Edward VII, et voilà!
Baba au rhum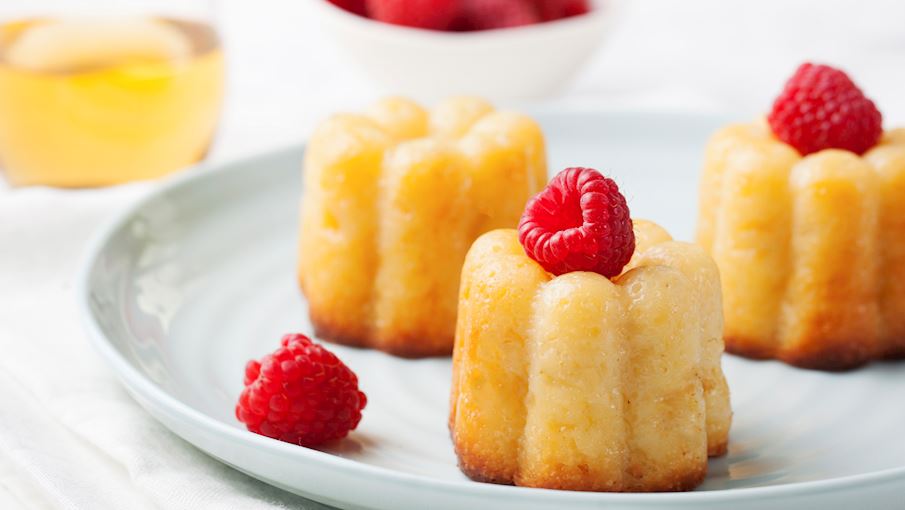 Also known as rum baba, these small yeasted dough cakes are baked in a ring mold, and soaked in rum syrup when served. The hole in the centre of the cake is usually filled with whipped cream. This dessert is believed to have been invented by pastry chef Nicolas Stohrer, who cooked for exiled Polish King Stanislas Lesczyńska when he came to France after his daughter's marriage to Louis XV. Stohrer's pâtisserie in Paris first began to sell baba cakes in 1730, while the addition of rum to the cakes has been noted in recipes since 1835. Some say that baba au rhum was named after Ali Baba, a hero from 1001 Nights and the favorite character of King Stanislas, while others say that the name stems from the Slavic word baba, which means "grandmother" or "old woman".
Kouign-amann
Kouign-amann is a cake that originated in the 1800s in Brittany. Its name comes from the Breton words for cake (kouign) and butter (amann). The cake consists of layers of butter and sugar that are folded into a dough. Bretons claim that the cake is "the fattiest pastry in the world", due to those large amounts of sugar and butter. Although there are many theories about the origin of the cake, the most popular one says that it was invented by accident, when a 19th-century baker from Douarnenez wanted to save a failed batch of dough, so he added butter and sugar to the mix. Whatever, it's delicious!
Gâteau St. Honoré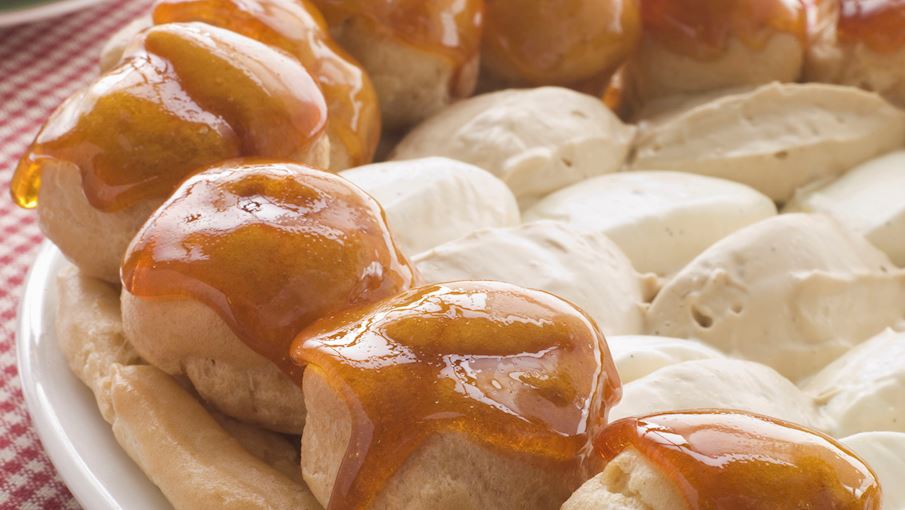 Named after Saint Honoré, the French patron saint of bakers, this intricate dessert is a true representation of French confectionery art. Saint Honoré cake unites all of the fundamental components of French pastry making: puff pastry, vanilla custard, choux pastry and caramelized sugar. A puff pastry base is given a generous piping of vanilla cream custard and topped with delicate choux puffs dipped in caramelized sugar. It's a show-stopping treat!
Tarte au Citron Meringuée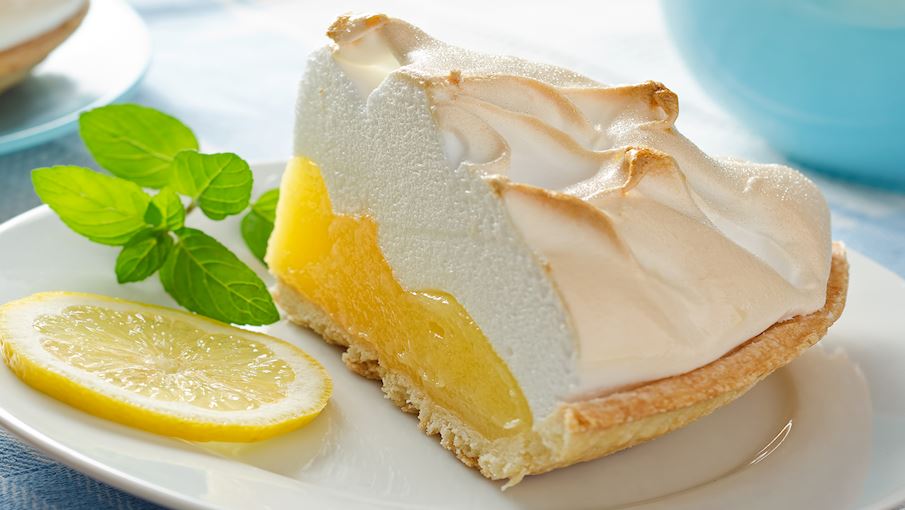 A layer of shortcrust pastry is topped with tart lemon curd and fluffy meringue. The custard is usually made with a combination of fresh lemon zest and juice, sugar, egg yolks and butter. The origins of this sweet treat are murky and mysterious – some credit Elizabeth Coane Goodfellow of Philadelphia as the inventor, but her 18th-century recipe mentions lemon pudding, while the meringue is used in minimal amounts, as an accent. Other sources say that the first recorded recipe was written by Alexander Frehse, a Swiss baker, and some suggest that the botanist Emile Campbell-Browne had a similar recipe in Dorset, in 1875.
Don't foget to come back at the same time tomorrow for more tempting treats!
(All images courtesy of Shutterstock)