Favourite French Treats: Part II
Here's Part II (Part I was yesterday) of my zero-calorie post of some well-known and well-loved French desserts, cakes and treats. Don't forget to let me know in the comments below if I've omitted your favourite!
Fraisier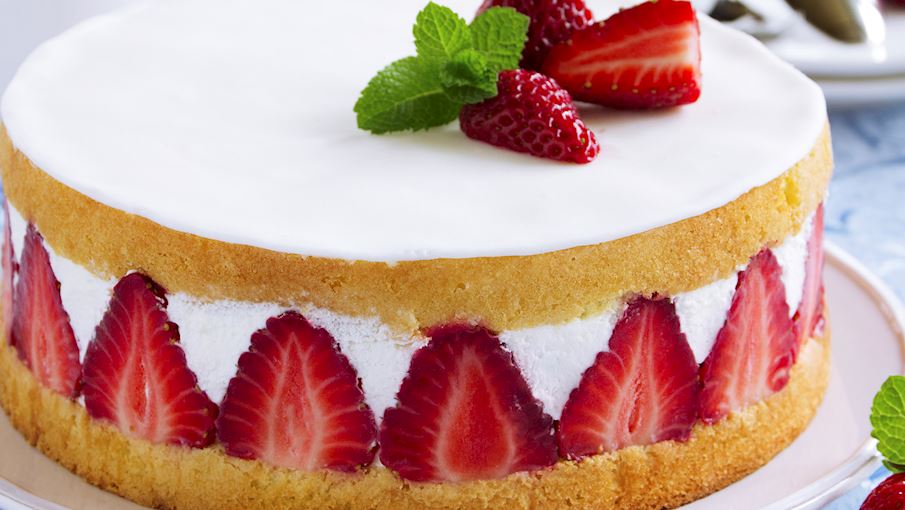 The cake's name is derived from the word fraise, meaning strawberry. Traditionally, the cake consists of layers of genoise sponge, vanilla-flavored créme mousselline, marzipan, and lines of fresh, sliced strawberries. Originally, the fraisier was invented as a tribute to strawberries, since the only available strawberries in France before 19th century were tiny wild strawberries, similar in size to blueberries. In the 1930s, new types of strawberries became available in France and the rest of Europe for use in desserts, and a new cake was born.
Croquembouche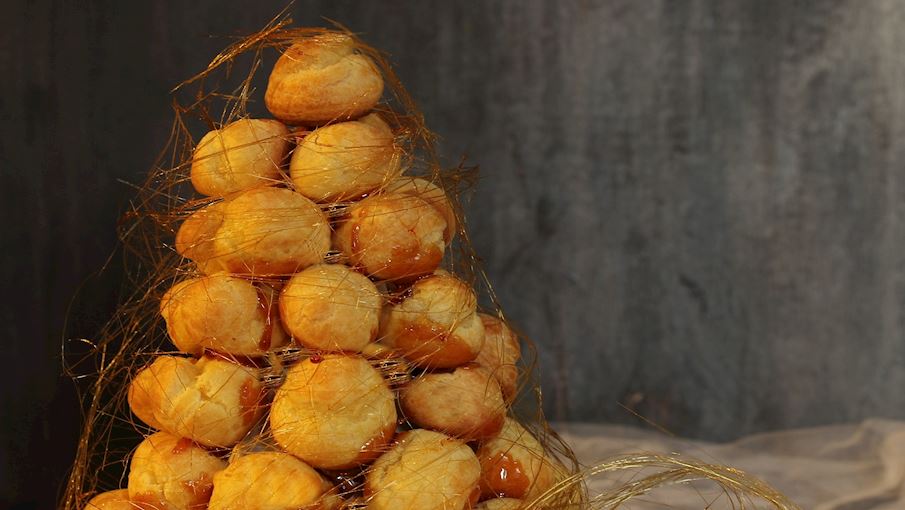 A true show-stopping centre piece, croquembouche consists of choux pastry profiteroles filled with pastry cream and assembled into a cone-shaped tower, glued together with caramel. The final dessert is elaborately decorated with spun sugar, sugar-coated almonds, fondant flowers, fruit, or even macarons. Croquembouche was designed and popularized in the late 1700s by chef Antonin Carême, while its name is derived from the expression croque-en-bouche, which literally translates to crunch in the mouth, referring to the crunchy and caramelized bits and pieces. It's often centre stage at a wedding feast.
Tarte Tatin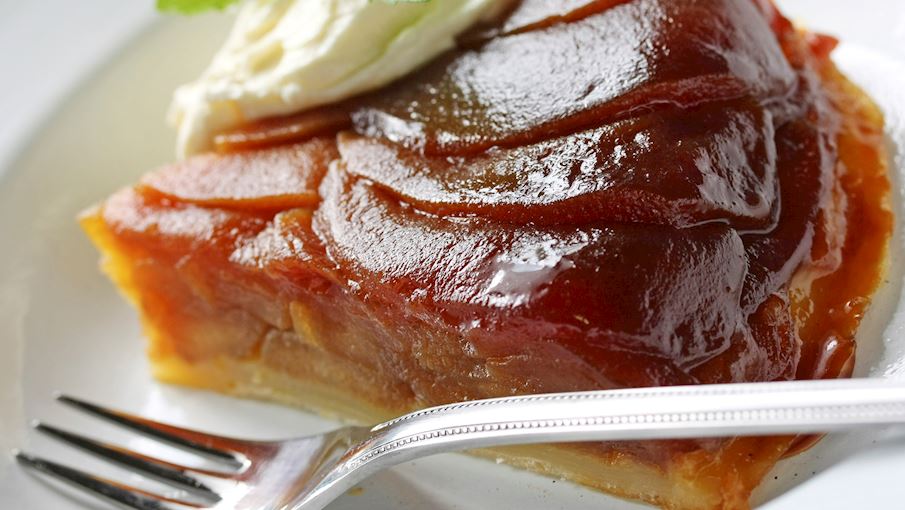 A decadent version of the classic apple pie, tarte Tatin consists of caramelised apples halves, topped with a buttery pie crust pastry, and baked until the apples become golden and syrupy. The whole tart is then inverted upside-down on a serving platter.The name of this dessert honours the Tatin sisters, the owners of a restaurant near Orléans who invented the recipe in the early 1900s. However, the cake gained huge popularity when the famous Maxim's Restaurant in Paris put it on its menu. The tarte can be made with a variety of sweet and savoury toppings.
Palmier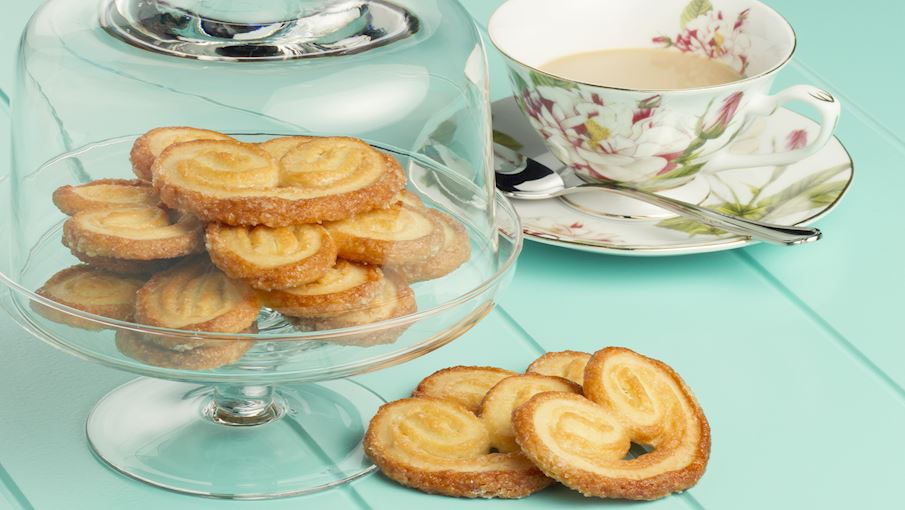 A palmier is a delectable pastry made from puff pastry that's sprinkled with sugar, rolled and then cut into slices. Due to its shape, the palmier has been given a variety of nicknames; pig's ear, elephant ear, glasses and palm leaves to name a few. This delicious pastry goes well with coffee or tea, and can be further enriched with the addition of sweet or savoury spices and fillings.
Galette des rois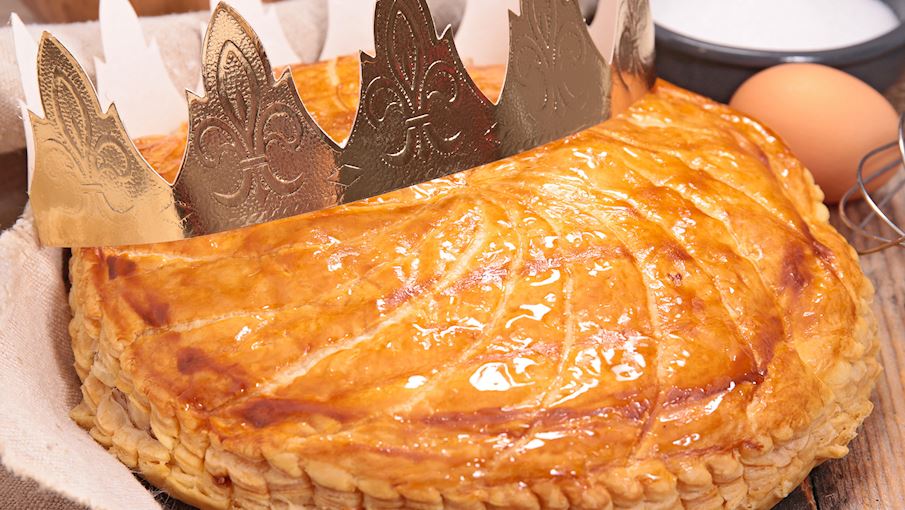 This classic pastry is usually associated with northern and central regions of France and belongs to the wide group of king cakes that are prepared and enjoyed on Epiphany – a Christian holiday celebrated on 6th January, commemorating the arrival of the Three Wise Men into Bethlehem. The cake is assembled with a thick layer of frangipan (almond-based pastry cream) sandwiched between two layers of buttery puff pastry. Traditionally a fève (a porcelain lucky charm) is hidden inside the frangipane, and whoever is lucky enough to find it will become a queen or a king for the day and wear the accompanying crown. These pastries are typically on sale throughout January in France.
Petit fours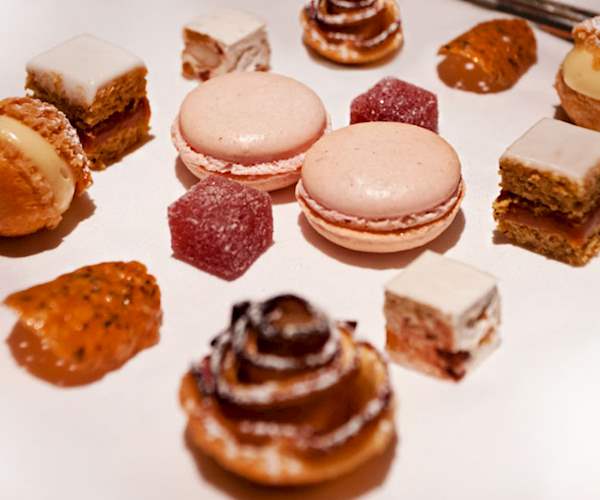 As a child I though these were the epitome of sophistication. I always used to ask for "coffee for two and petits fours for five." It always worked a treat! The name refers to any miniature, bite-sized baked items and they come in an endless variety of flavours, forms and decorations. In my book, no special occasion meal is complete without them and I love serving home-made ones.
Although not nearly as popular as the dessert kind, savoury petit fours salés are also prepared and served as appetisers, preferably at cocktail hour. Invented in 18th century France, they were primarily served during traditional afternoon tea ceremonies.
Canelé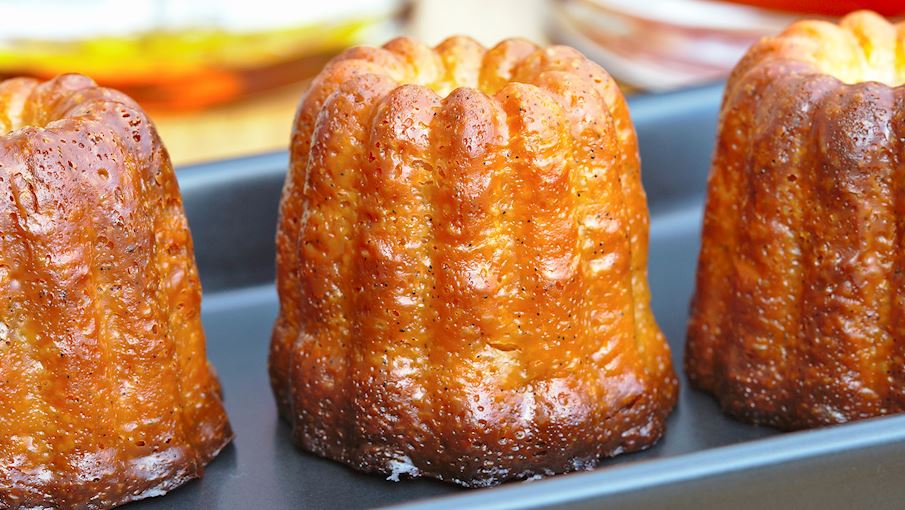 Canelé is a little cake with a rich, custardy interior, and a thin, caramelized exterior, invented by an anonymous cook from Bordeaux in France. There is a theory that the dessert originated in the convent of the Annunciation in Bordeaux, specialising in the production of candied nuts and sweet sticks known as canelets. Canelets were traditionally made by the nuns and given to the poor. In 1790, the nuns left their convent, but the recipe was rediscovered and improved by Bordeaux cooks in 1830. Today, canelé is an emblematic symbol of the city of Bordeaux, kept as the city's specialty, but also be found in numerous pâtisseries.
Charlotte Russe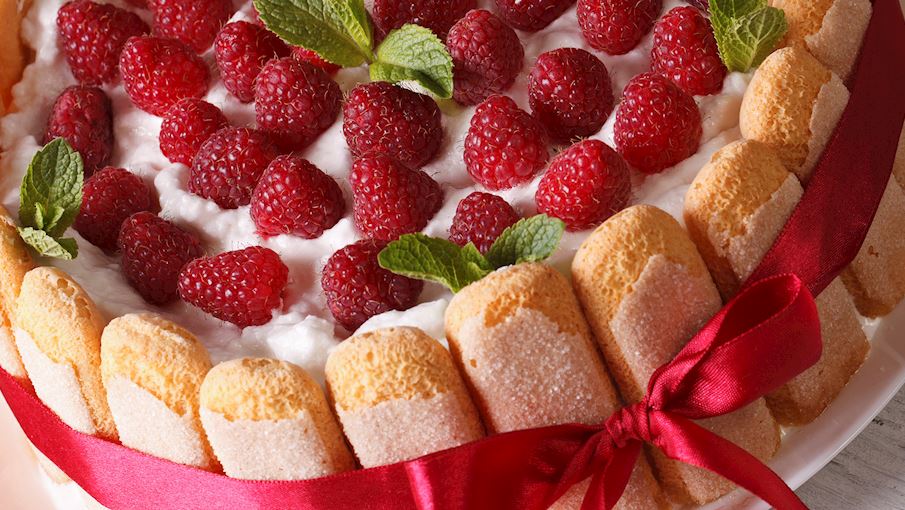 This cake originated in 18th-century France as a sponge cake pressed into an elegant mould, filled with thick custard or crème Bavaroise flavoured with cooked fruit, spices, or brandy. The cake is said to have been invented by a famous French chef Marie-Antoine Carême, considered the father of French cuisine.While the origin of the name Charlotte is often debated, Carême likely named his cake Russe to honor his Russian employer Czar Alexander I, and he also included a recipe for Charlotte à la Russe (originally Charlotte à la Parisienne) in his 1815 cookbook The Royal Parisian Pastry Cook and Confectioner.
Crème caramel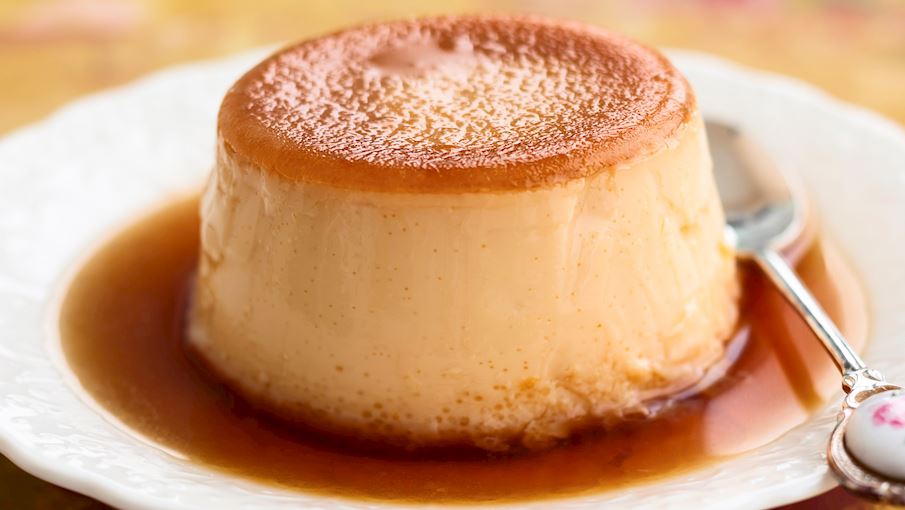 A classic consisting of  an egg-custard base with a caramel topping. The origins of crème caramel are unclear and disputed – the French, the English and the Spanish all claim to be the original inventors of the dish. Although the name is French, some say that the French adopted it from English custard. When the Arabs brought sugar cane to Europe, Spanish cooks also discovered how to make a delicate and sweet custard, a historical exchange resulting in the creation of the famous crema Catalana. However, the French version is made only with whole milk or cream.
Bûche de Noël
This elaborately decorated, rolled and filled sponge cake is frosted with chocolate buttercream and made to look like a tree bark. Decorations may include marzipan sticks, sugar cobwebs and meringue mushrooms. The origins of the cake can be traced back to the old Celtic tradition of celebrating the winter solstice, the shortest day of the year.The Celts would burn a log as an offering to the Sun for returning to Earth. As the tradition disappeared with the arrival of home stoves, the huge log was replaced by a small branch that was traditionally set in the middle of the dining table, surrounded by delicacies and sweets that were given to guests as treats. Of late the dessert has been elevated to greater heights and you'll find numerous iterations in all the cake shops.
Mont Blanc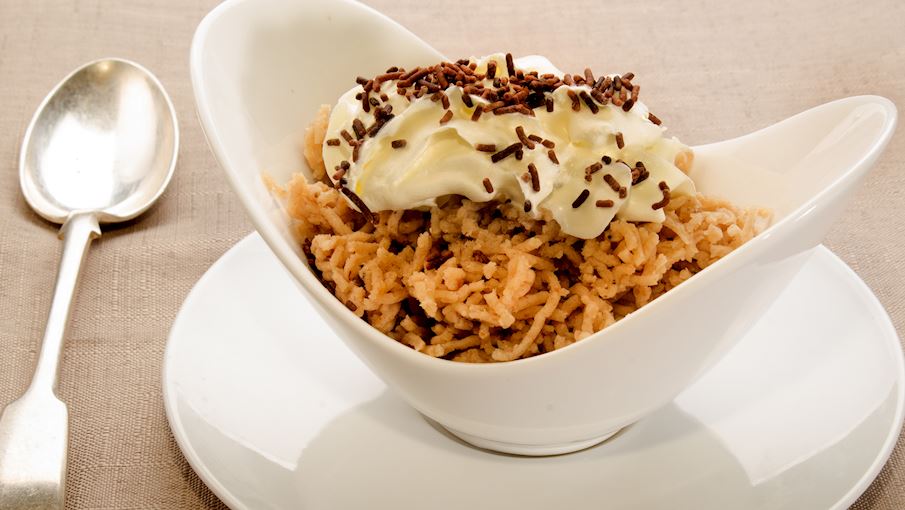 Mont Blanc is made with puréed, sweetened chestnuts, topped with lightly whipped cream. Due to its resemblance to a snow-capped mountain, this dessert was named after Mont Blanc, the highest mountain in the Alps, shared by Italy and France. According to legend, it was a favourite dessert of the Borgia family, and the recipe can be found in Italian cookbooks from 1475. Other sources suggest that it was probably invented under the Kingdom of Savoy, when the Piedmont region and France were united – the Mont Blanc is located right on the border between Italy and France, so the recipe was probably invented in the common territory from where it spread throughout Europe and further. Can I just add that I do not approve of the dusting of chocolate sprinkles in the above photo. Shaved dark chocolate – yes, chocolate sprinkles – no. In my mind there is absolutely nothing that would be improved by the addition of sprinkles.
Dacquoise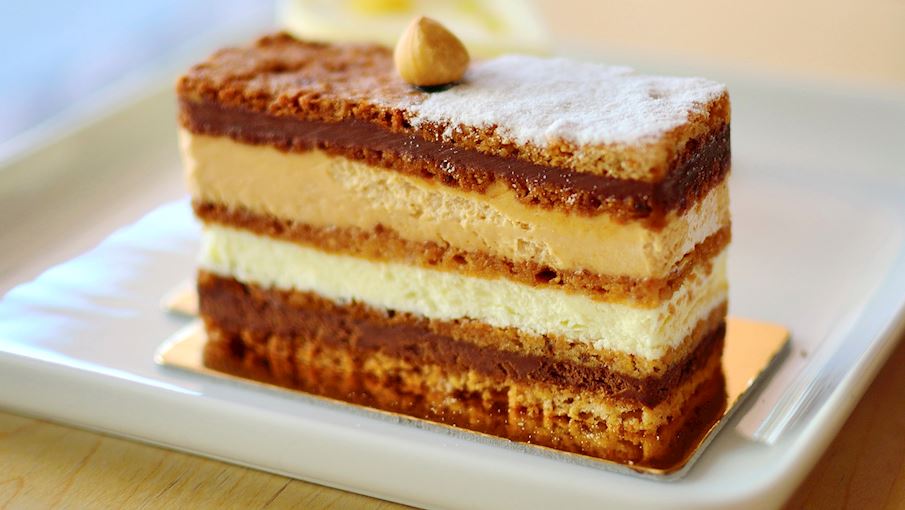 Both crispy and creamy in texture, this French cake is traditionally made with almond or hazelnut meringue sponge cake separated with layers of whipped cream or buttercream. The cake takes its name from the French word dacquois, meaning from Dax, referring to a town located in southwestern France, but the term dacquoise itself has come to signify any dessert with layers of nut meringue sponge cake. The cake is believed to have originated in 17th century, when it was invented as a luxurious dessert for the French court.
Mille feuilles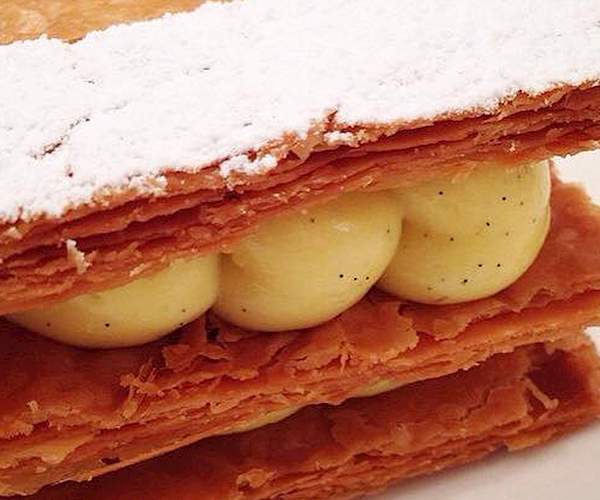 Flaky and delicate, this French dessert can be literally translated as a thousand leaves. Millefeuilles consist of thin layers of pastry and fillings of pastry cream topped with a glaze or icing. The first recipe for this decadent dessert appeared in La Varenne's 1651 cookbook Le Cuisinier François. Millefeuille's alternative name, the Napoleon, refers not to the emperor but to the Italian city of Naples, which is known for its layered desserts.
Sablé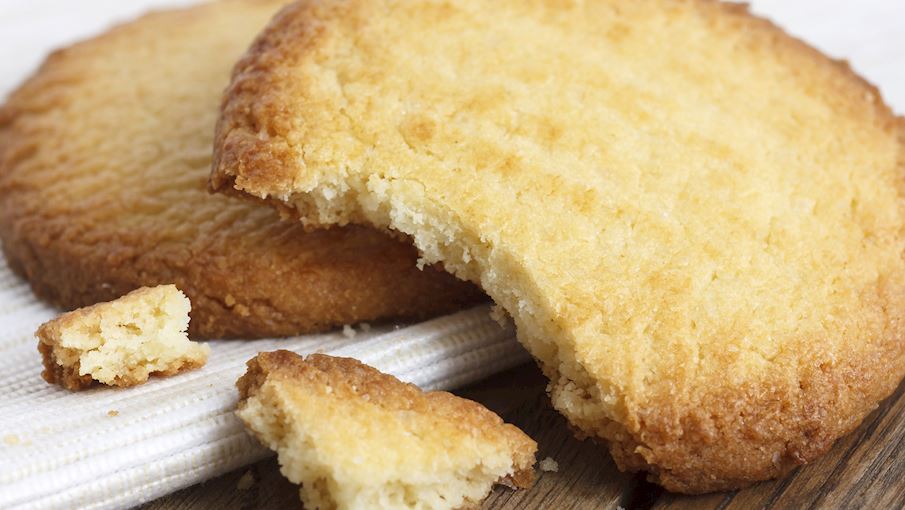 This classic Breton biscuit has a sandy (sablé in French) texture, which is a result of the large quantities of butter and egg yolks used to make them. They were first produced in 1670 in Sablé-sur-Sarthe, when the steward of Prince Condé made him some shortbreads for a party. According to the story, he named them sablé in honor of the Marquise de Sablé, who was also present at the party. The cookies can be flavoured with a wide variety of sweet or savoury ingredients.
Clafoutis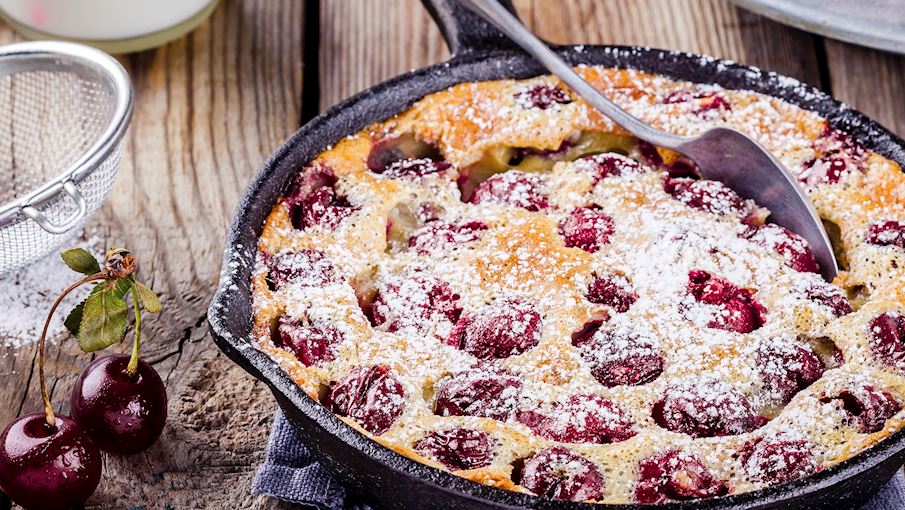 Originating from the Limousin area in France and dating back to at least the mid-1800s, clafoutis is a crustless pancake-like flan studied with fruit. Its name stems from the French word clafir, meaning to fill. It's traditionally topped with pitted black cherries (although some insist that the cherries should be left unpitted), which lend their rich flavour to the clafoutis as it bakes. It is typically served warm, dusted with a hefty dose of icing sugar.
Île flottante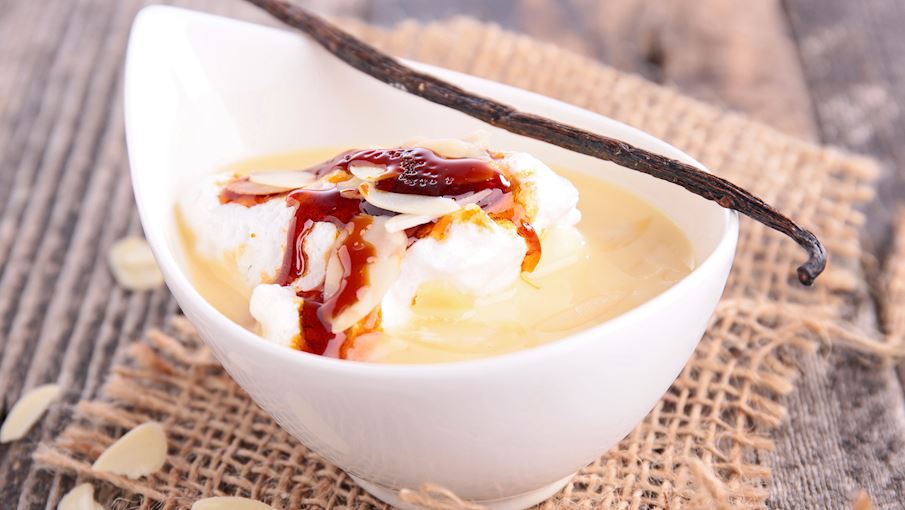 Île flottante or floating island consists of milk poached meringues floating in vanilla custard and topped with caramel sauce and toasted almonds. This classic dessert is one of the staples of French comfort food, although it is popular internationally, in countries such as Austria, Hungary, Croatia and Italy. Its inventor remains unknown.
Paris-Brest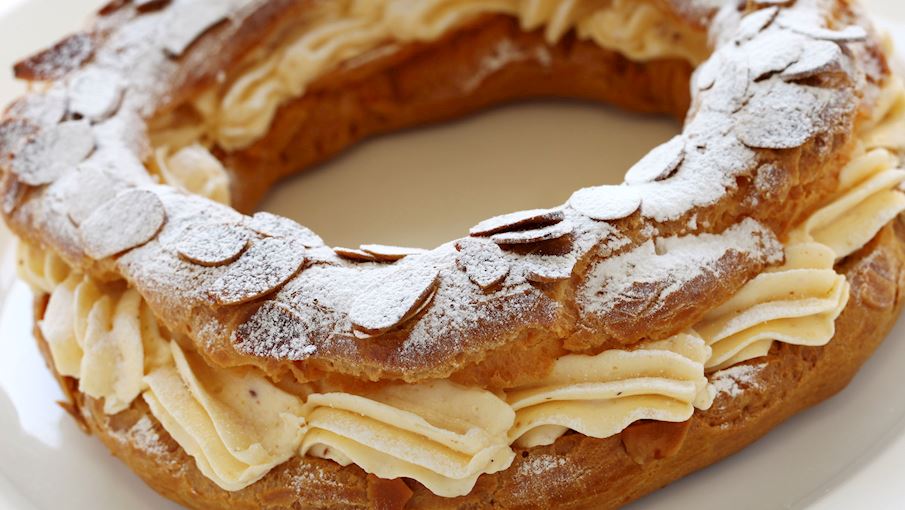 Created in 1910 by chef Louis Durand to celebrate the famous Paris-Brest-Paris bicycle race, which led from the centre of Paris past the door of his pastry shop in Maisons-Laffitte to Brittany and back. This delicious and decadent dessert is a true French classic found in pâtisseries all over the country. With a shape resembling that of a bicycle wheel, Paris-Brest is made with a ring of pâte à choux which is then sliced horizontally and filled with a rich hazelnut and almond mousseline praliné cream, while the upper crust is generously dusted with powdered sugar and sliced toasted almonds.
Riz au lait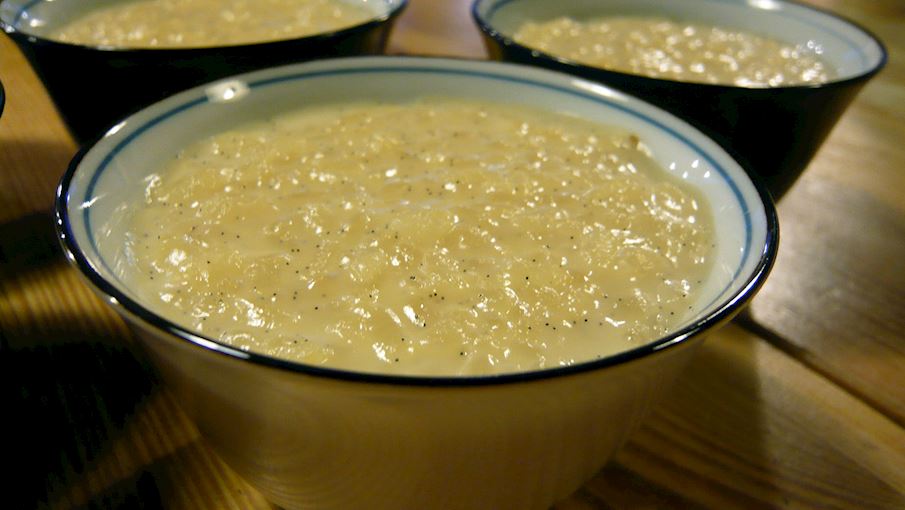 Riz au lait is made by slowly cooking short-grained rice with sugar, vanilla and milk (or cream) until the mixture thickens and the rice is fully cooked. Some recipes date back as far as 14th century, when the dish was made with almond milk. Riz au lait was also often served to the aristocracy, seasoned with sugar and saffron, which were very rare and expensive at the time. Again, this is a dish you'll find in many countries. For example in Spain, it's typically flavoured with lemon peel and served thickly dusted with cinnamon.
Soufflé au chocolat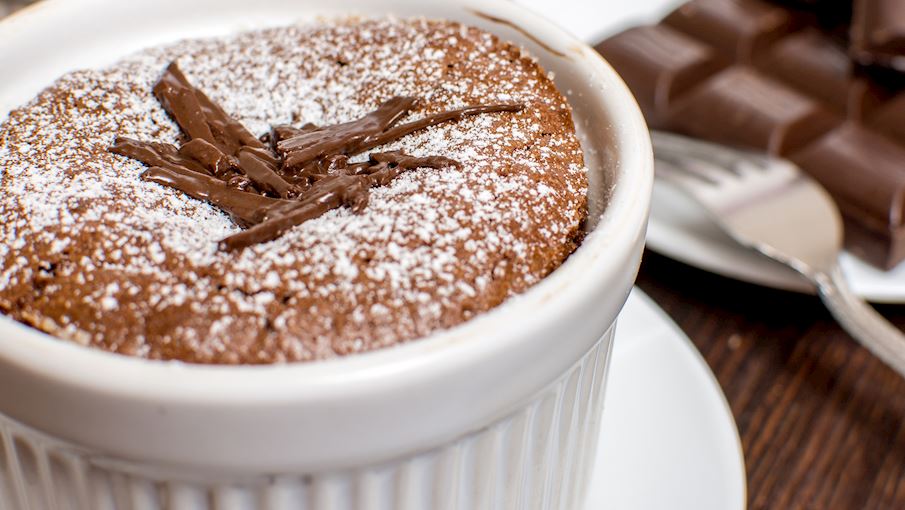 Chocolate soufflé is an exquisite dessert that combines dark chocolate with a creamy egg yolk base and fluffy egg whites. Typically prepared in small ramekins, it should always be lightly baked in order to stay soft and velvety in the middle, with a delectable, crunchy top. Just like other soufflé varieties, the chocolate version is also considered to be technically challenging, but if done properly, it results in a wonderfully delicate sweet treat. Even though it is not considered to be one of the first soufflé versions, which were originally prepared as savoury dishes, today it is one of the most popular interpretations of this internationally acclaimed dessert. It's best served with a quenelle of ice cream in the centre.
(All images courtesy of Shutterstock)