Further Lockdown Measures
While my beloved and I have been playing by the rules, evidently some of the local residents have not and, thanks to them, the lockdown measures have been increased!

Nice and the surrounding area along the Riviera from Menton to Théole-sur-Mer (see map below) are now subject to a weekend lockdown as Covid cases spike and hospitals struggle to cope. Capacity is now 100%, there's no more room in our hospitals!
Following consultations between local and national government, the prefect of the Alpes-Maritimes département announced extra restrictions to try and contain cases of the virus, which are currently three times higher than the national average.
Prefect Bernard Gonzalez announced a series of measures in a press conference on Monday including a weekend lockdown for Nice and its surrounding urban coastal area. He said:
All these areas have a high incidence rate compared to the national average. The epidemic situation has deteriorated considerably. If nothing is done, infections will continue to increase.
The Alpes-Maritimes département will from today be closing all shops of more than 5,000 square metres (500 sq ft) – apart from food shops and pharmacies. It has already closed most of the indoor shopping malls.
Border controls along the Italian border have been stepped up and face masks are obligatory in all busy areas – thought they were already – throughout the whole of the Alpes-Maritimes. Social distancing rules in public places will be reinforced and thousands of extra vaccine doses will be delivered to the area.
The week-end lockdown concerns only the urban area from Menton on the Italian border along the Riviera coast to Théoule-sur-Mer (marked with a red point in the map below) – including Nice, Cannes, Antibes, Grasse and Cagnes sur Mer and will be in force for the next two week-ends initially – bang goes my plans to watch Paris-Nice live!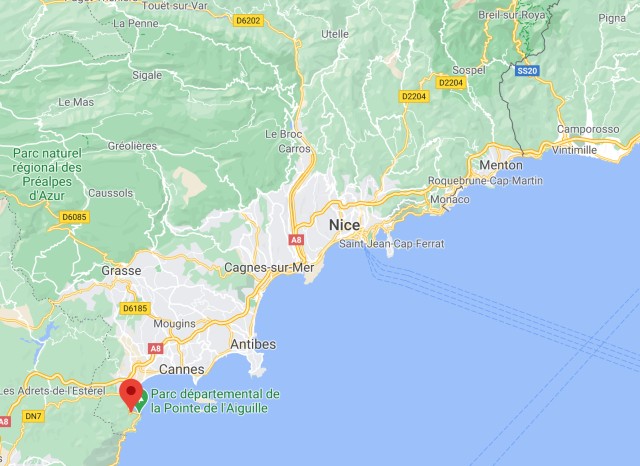 The prefect also warned that a week-long lockdown has not been ruled out if the situation does not improve.
From Friday at 6pm to Monday at 6am, we'll be subject to the same rules as during France's two previous lockdowns – all trips from home are banned apart from a specified list of essential reasons which includes food shopping, medical trips and walking the dog.
Trips out for exercise are allowed but must be limited to one hour per day and  within 5km of our home – a slight relaxation of the previous 1km rule. So no weekend rides on the bike for us!
All trips out of the home will need a self-certified attestation (permission form) stating the reason for being out and about.
The nationwide 6pm curfew will remain in place during the week.
Nice's Mayor Christian Estrosi, who has been calling for extra checks, declared himself 'satisfied' with the new rules.
An extra 4,000 doses of the Pfizer BioNTech vaccine have been delivered to the département and a 'massive' vaccination of people aged between 50 and 64 with underlying health conditions, using the AstraZeneca vaccine, will also begin this week, added Gonzalez.
The Alpes-Maritimes coastal area is so far the only part of France to be subject to additional local measures, something that could become widespread in other hotspot areas, as per below.