Apéro? Yes please…….
Since moving to France, we've embraced with alacrity the traditional French institution of aperitif, called an apéro for short. Typically enjoyed with friends and family before dinner, l'heure de l'apéro is typically an hour of 'apéritif' drinks  –  wine, champagne, cocktails –  with nibbles. But the most important thing is the company. It's about friendship, sharing news, keeping in touch. Since we're currently deprived of company, we've been holding them on line or with just the two of us. So what do we typically drink?
Great drinks and cocktails for apéro
Kir is a traditional French aperitif made from white wine and liqueur, usually cassis (blackcurrant liqueur) or Kir Royale served with champagne rather than white wine. We also make them with peach and raspberry liquers. Possibly because we're close to Italy, Aperol Spritz is a favourite here though I feel you can't go wrong with either champagne, or a cocktail or two. Though we've discovered that our neighbours enjoy spirits, typically enjoyed more as a digestif. Thanks to my late father, my beloved has a wide selection of whiskies which always find favour.
But what I love about an apéro is finding the perfect nibbles to serve. Of course, shops such as my local boulangerie and Picard serve a wide range, but I like to make my own.
The perfect snacks for apéro
The first apéro we ever held was to thank our neighbours for enduring the noise and dust from our renovation. It went down well with everyone asking me where I'd bought my nibbles. I hadn't, I'd made them.I still do though I'm not adverse to buying one or two items. I generally like to serve a mixture of hot and cold, only one bite sized nibbles and nothing that'll dirty fingers!
Firstly, nuts, olives and savoury crackers or crisps are popular snacks with apéritifs. I make my own marinade for the olives, toast the nuts  – generally in a savoury and sweet mixture – and serve socca chips rather than crisps, and maybe some fingers of savoury cake. Last weekend's Musette recipe was Mumbai pastries, these are too hot and spicy for my French friends. However, using a similar method, I'll make bite-sized pastry twists or elephant ears with parmesan cheese, red and green pesto, anchovies or black olive tapenade.
Smoked salmon blinis, foie gras on brioche toast, truffle butter popcorn, slices of really good salamis, shot glasses filled with a cold soup, savoury choux buns,, small squares of foccacia……to be honest much will depend on what I have in my store cupboards, fridge and freezer. When it comes to warm appetisers, I'll do mini quiches or mini tortillas, mini pizzas or pissaladière, cocktail sausages glazed with honey and mustard plus small, juicy agen prunes wrapped in bacon.
Of course, how much I serve will depend on whether it's pre-dinner drinks and nibbles or a full-blown apéro dinatoire party. The latter will require some sweet treats to finish. I'll generally make brownies served in small cubes, calissons, fresh fruit and cheese board.
Online apéro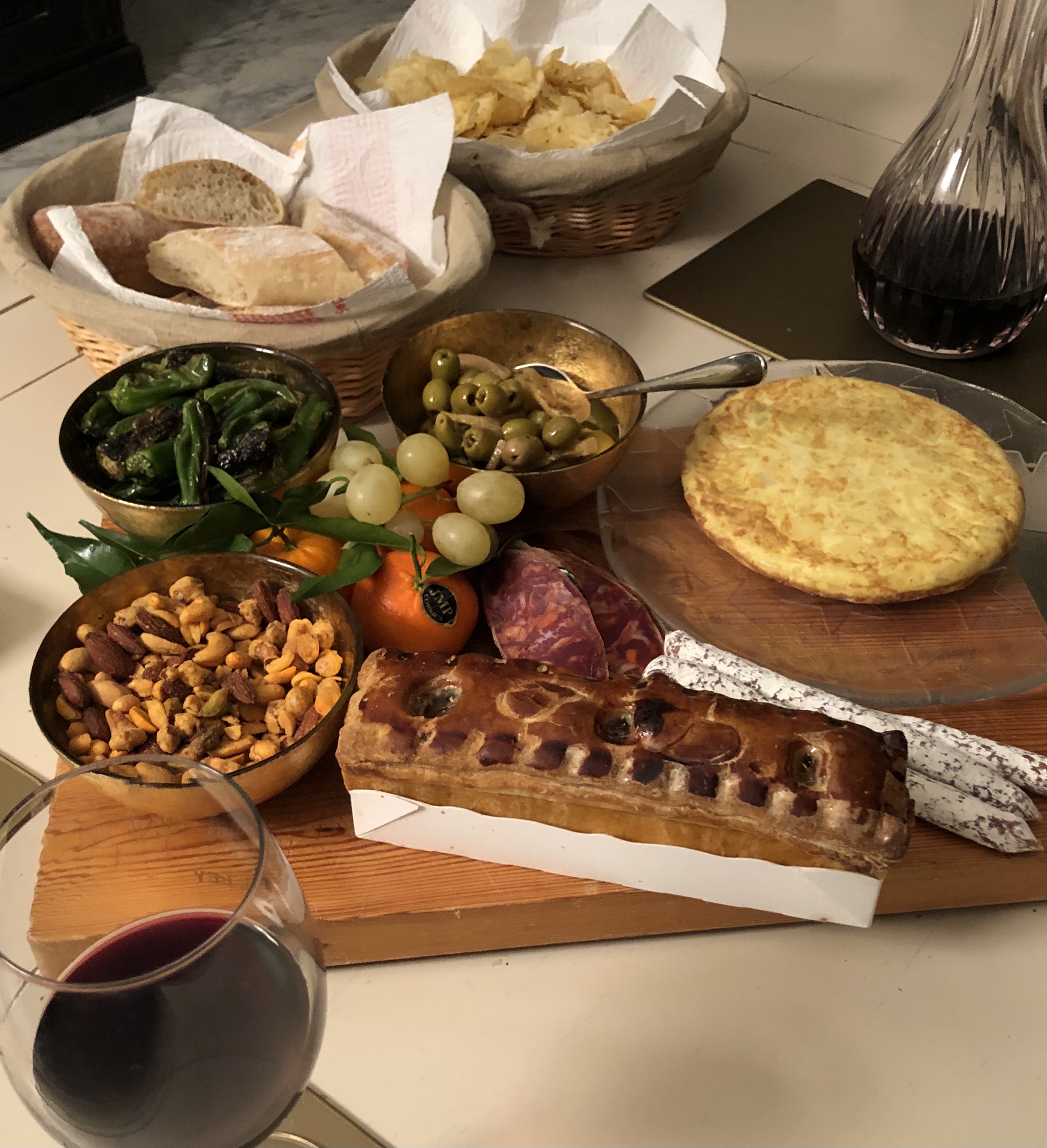 These have been our go to saviours during our various lockdowns, generally held on Zoom. We'll typically try to have a theme say Italian, Spanish tapas or Mexican and pre-agree on what we're going to drink and eat. We've found that it's a great way to inspire new festive traditions with our favourite people – even when we're far apart.
Top tips for hosting a virtual apéro
Create an atmosphere: You don't want this to feel like an online work meeting so set the scene and make this an occasion.
Send out invites in plenty of time so guests are geared up for whatever you've planned.
If you're making cocktails, let everyone know what the ingredients are so they can all join in.
Make suggestions for the nibbles, particularly if it's themed, plus recipes or suggestions where you can buy them. After all, not everyone has time on their hands.
Designate a host to make sure someone takes the lead in controlling the chat, less people talking over each other is good.
Play a little music in the background for greater ambiance.
Steer clear of politics  – that includes Brexit and Covid – as a topic of conversation if you want to keep it fun!
What have you been doing to keep yourselves entertained? Let us know in the comments below.