The Musette: Classic Spaghetti Carbonara
This is one of my beloved's favourite recipes. I confess I have never liked it largely because I found it too rich even before I gave up eating meat and dairy. However, it's an easy dish to make for one so, as a special treat while we were in lockdown, I made it for him.
The whole story of the origins of this dish and its place in cucina romana is vague. The origin of carbonara is much discussed, yet no one really knows. There are several competing theories, but all are anecdotal.
First, although thought of as a typical Roman dish, the name is said to come from a dish made in the Appenine mountains of the Abruzzo by woodcutters who made charcoal for fuel. They would cook the dish over a hardwood charcoal fire and use penne rather than spaghetti because it is easier to toss with the eggs and cheese.
Second, is pretty obvious given the meaning of alla carbonara (coal worker's style), that the dish was eaten by coal workers either that or the abundant use of coarsely ground black pepper resembles coal flakes.
Another story is that food shortages after the liberation of Rome in 1944 were so severe that Allied troops distributed military rations consisting of powdered egg and bacon which the local populace used with water to season the easily stored dried pasta.
There is also a theory that in the province of Ciociaria, in the region of Lazio about halfway between Rome and Benevento, pasta was seasoned in a Neapolitan style with eggs, lard and pecorino cheese. During the German occupation of Rome during the World War II, many middle class families dispersed from Rome into this region to escape the oppressiveness of the occupation and learned about this dish. After the war, Roman cuisine became very popular throughout Italy and this dish, now transformed into carbonara, became a prime example.
Another story suggests that the famous restaurant in the Campo d'Fiori in Rome, La Carbonara, was named after its speciality. Although the restaurant has been open since the early part of 20th century, and does in fact have carbonara on its menu, the restaurant itself denies any such connection.
A highly unlikely story told in Il nuovo cucchiaio d'argento (translated recently into English as The Silver Spoon) is that the dish was originally made with black squid ink and therefore acquired its name as it was as black as coal. The simplest story, and therefore the most likely, is that is was a popular dish in the home and in local osterie before traditional Roman cuisine got its hands on it.
Ingredients (serves 4)
2

large organic eggs and 2 large yolks, room temperature

30g

(about 1/3 packed cup) grated pecorino Romano, plus additional for serving

30g

(about 1/3 packed cup) grated Parmesan

Coarsely ground black pepper and sea salt to taste

1

tbsp extra virgin olive oil

2 fat garlic cloves, smashed

100g (3½oz)

guanciale, pancetta or bacon, sliced into smallish chunks

350g (12 oz)

good quality dried spaghetti (about 3/4 box)
Method
1. Place a large pot of lightly salted water (1 tbsp salt) over high heat, and bring to a boil.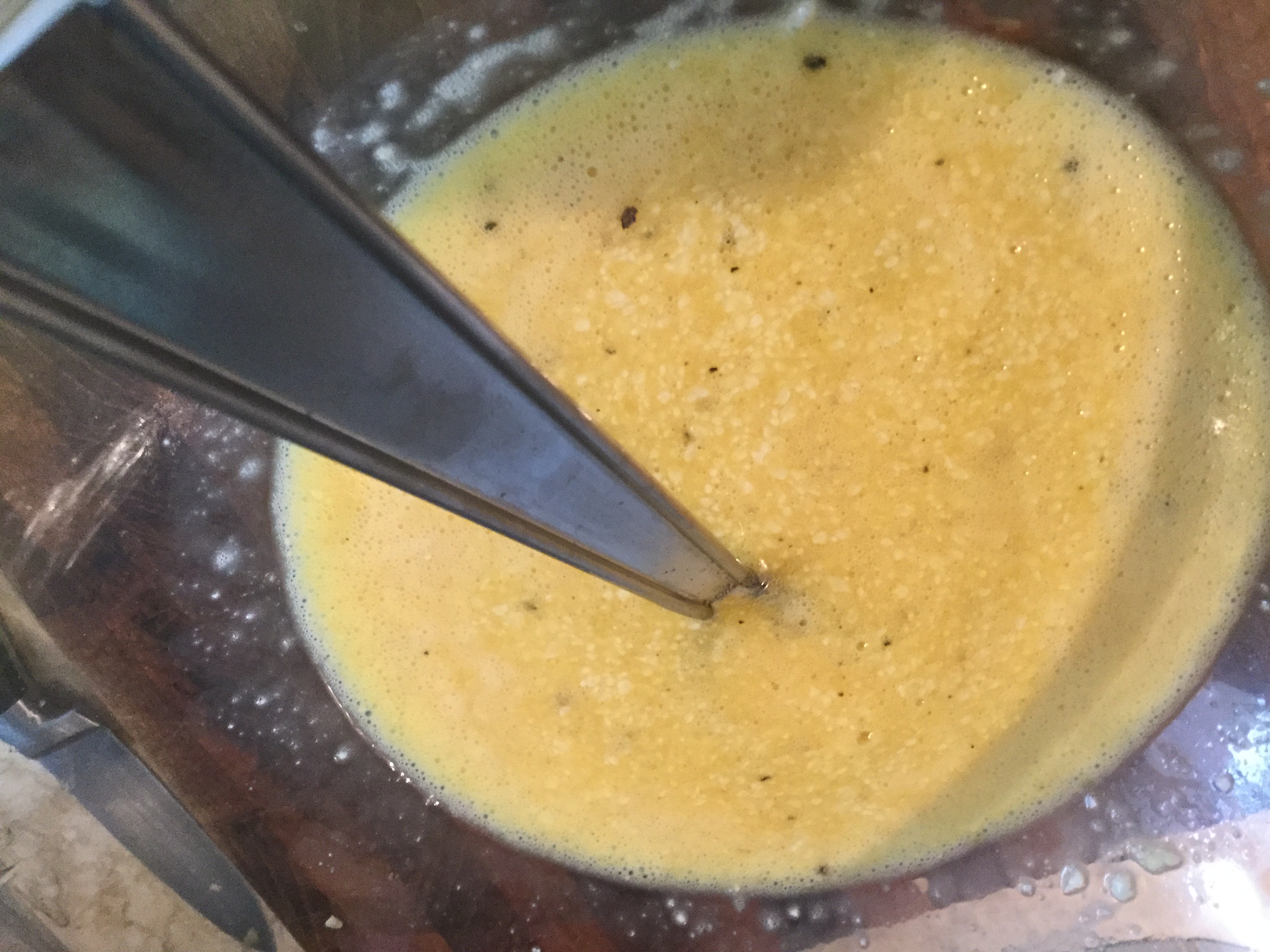 2. In a mixing bowl, whisk together the eggs, yolks and pecorino and Parmesan. Season with a pinch of salt and a generous serving of freshly ground black pepper.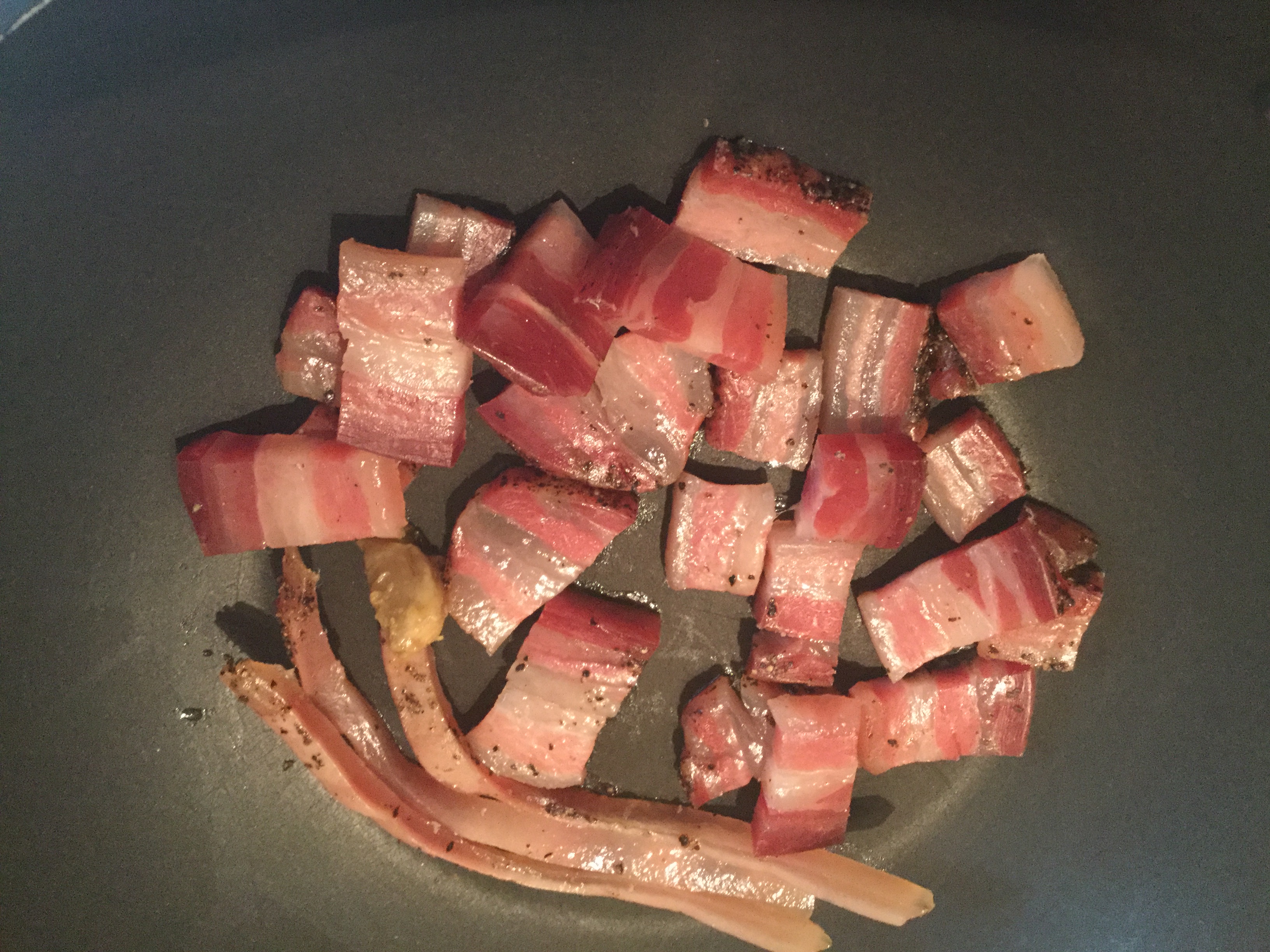 3. While the water is coming up to the boil, heat the oil in a large frying pan (skillet) over a medium heat, add the pork and garlic, and sauté until the fat just renders (5 minutes or so), on the edge of crispness but not hard. The garlic has now done its job and imparted stacks of flavour, take it out with a slotted spoon and discard. Remove pan from heat and cover to keep its contents warm.
4. Add pasta to the water and boil until a bit firmer than al dente. Reserve a cup pasta water, then drain pasta and add to the pan (skillet) over a low heat. Stir for a minute or so to soak up all those delicious porcine flavours.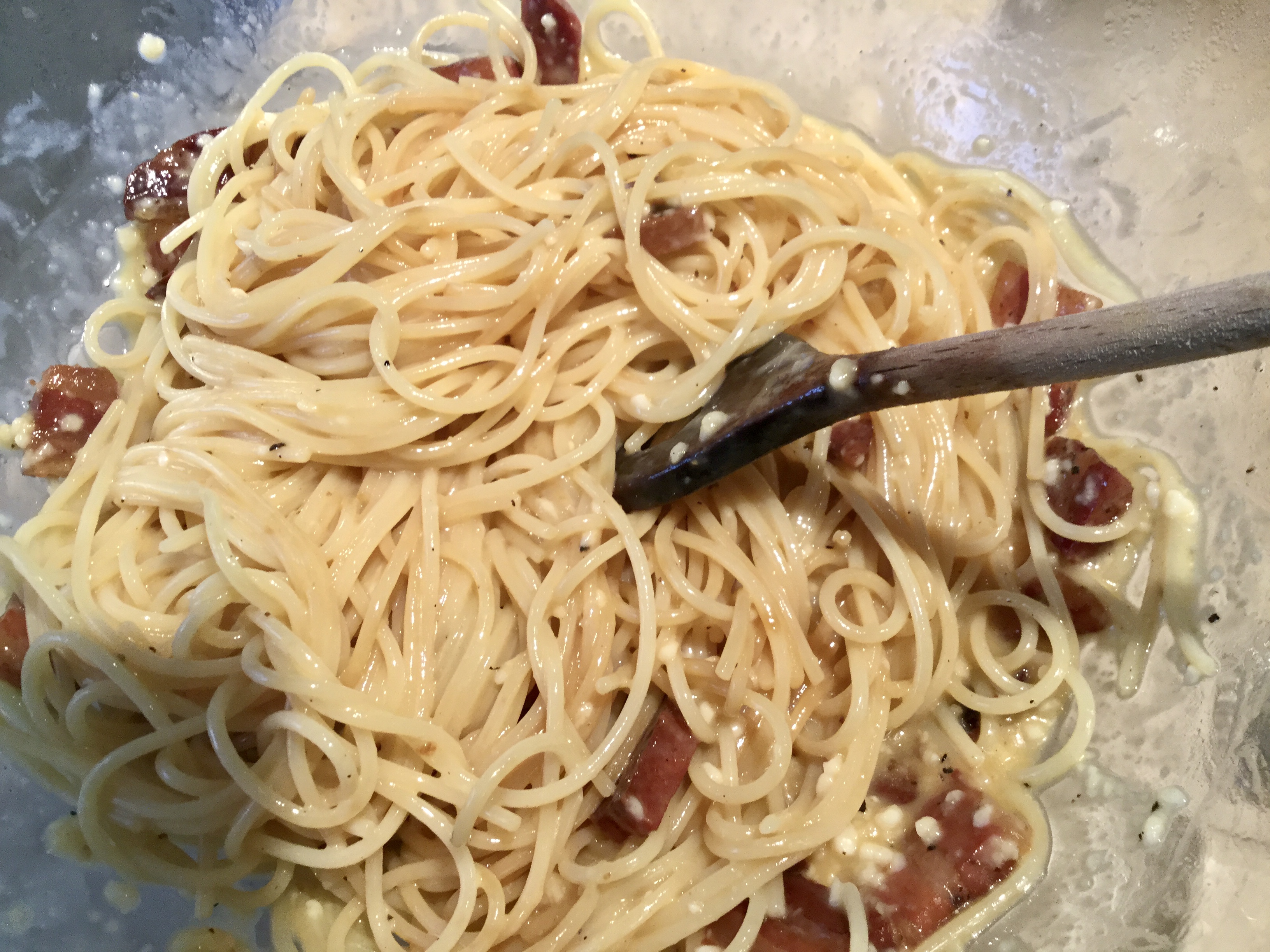 5. Add hot pasta mixture to a pre-warmed serving bowl. Stir in cheese mixture, adding some reserved pasta water. Mix gently for at least two minutes. It should be wonderfully glossy. Serve and consume immediately.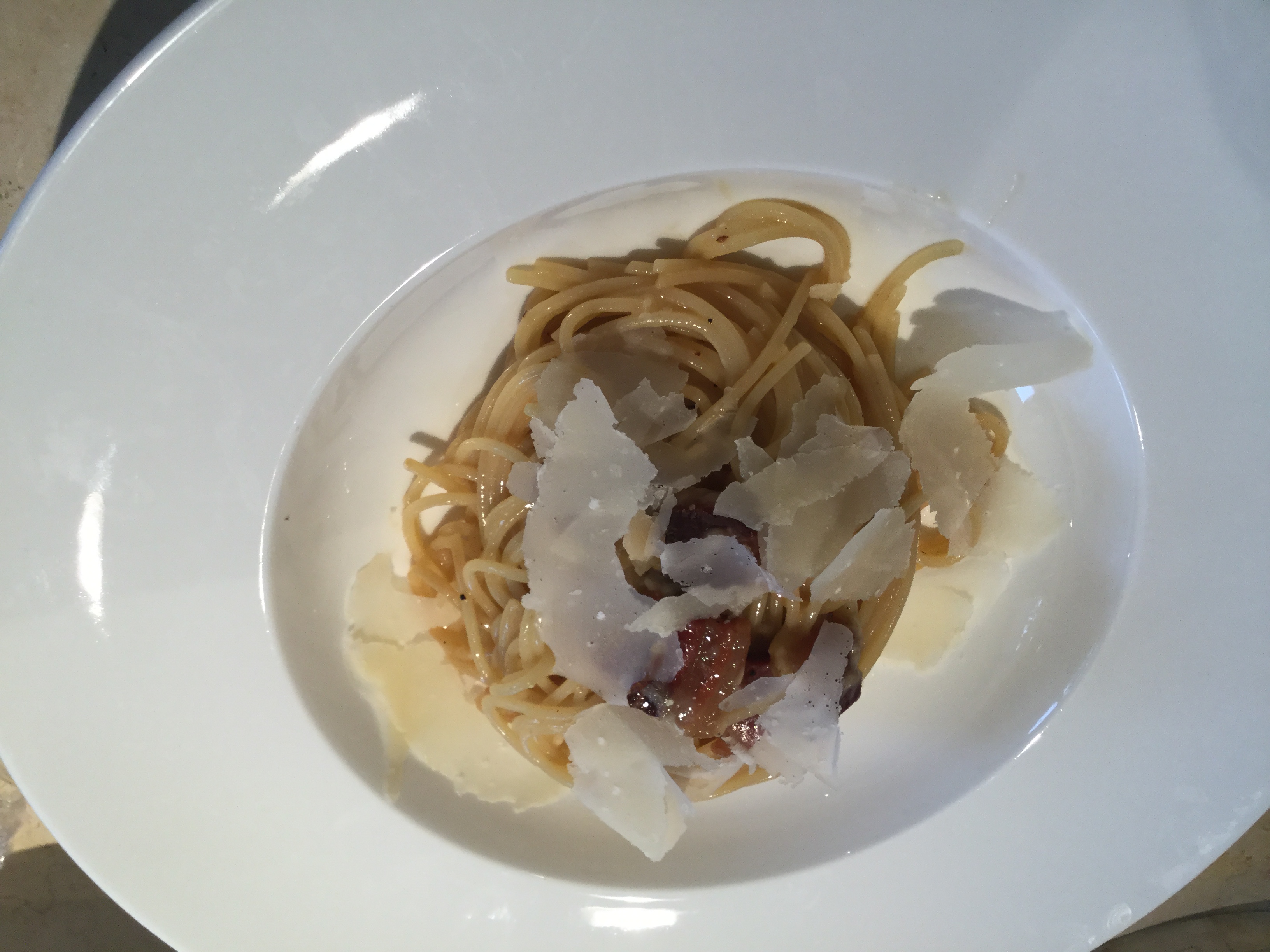 Sheree's Handy Hints
1. Never ever combine the ingredients in the pan you have had on the stove because the eggs will cook and harden.
2. If you're concerned with the amount of fat in the recipe. At Step 3, you can replace the olive oil with 1/4 C. water. I know it sounds crazy, but the bacon will remain tender and flavourful.
3.Don't be afraid to add the starchy pasta water at the end. Doing so makes the sauce smooth and creamy. It may seem a little too wet at first but it will be absorbed and be just right.
4. If you don't have any pecorino, you can just use more parmesan. Just don't tell any Romans!