French comfort food aka fromage: Part II
Here's Part II of  my two-part look at French cheese, the comfort food of choice during lockdown!
The French protect their best cheeses
The AOC (Appellation d'Origine Contrôlée) system was developed in 19th century for wine. In 1925, Roquefort became the first cheese to be awarded an AOC label, and since then over 40 cheeses have been assigned AOC status. Representa­tives from each label inspect the cheese and its production in order to ensure that it follows their strict guidelines. These labels help guarantee consistency and quality. With an AOC cheese, the consumer is guaranteed that the cheese was produced in a traditional way and has a history linked to both a specific place and local population.
AOC cheeses are special because they are part of the French traditional gastronomic and cultural heritage.
The main categories of French cheeses
There are many ways French cheeses can be categorised and classified.
Type of milk. There are three main kinds of milk that are used to make cheese in France: cow milk (lait de vache), goat milk (lait de chèvre), and sheep's milk (lait de brebis), cow milk is the most common.
Hard or soft. A second way French cheeses are categorized is whether they're hard (sometimes called pressed) like Cantal, one of my beloved's favorites, or soft like the well-known Camembert and Brie.
Pasteurized (Fromage au lait pasteurisé) or Unpasteurized (Fromage au lait cru).
Organic (bio) or not.
AOC and/or AOP.  The latter Appellation d'origine protégée is essentially the same thing as AOP but on a European scale.
Fromage de ferme, artisanal or industriel. Another way you could classify French cheeses is whether they're made on a farm (fromage de ferme or fromage fermier), with the milk that comes directly from the animals there; artisanal (fromage artisanal) – made on a small scale with traditional processes, by someone with extensive knowledge of cheesemaking; or mass-produced (fromage industriel).
With all of these different ways to classify and categorise French cheeses, it's now little easier to understand how there are so many varieties in France!
A few of our Favorite French Cheeses
I've previously mentioned that France produces well over a 1,000 different cheeses so shopping at a fromagerie or a market means being faced with shelves and cases of all shapes and sizes of cheese. I generally explain to the shopkeeper/stall holder what I'm going to use the cheese for and when. If it's for a dinner party, I'll often buy one truly fabulous whole cheese rather than a selection. But, if it's for a buffet or picnic, I'll pick maybe 5-6.
I should add that this list was compiled with the assistance of my local fromagerie so the choices are all fairly artisanal,  local and seasonal, plus I tend to buy unpasterised where available. Of course, if I was writing this later in the year, my choices mght be quite different.
Le Beaufort AOC
Beaufort is a mammoth, 20 to 70 kilo (45-154 ibs) hard, unpasteurized wheel of cheese produced in the Savoie region of the French Alps. There are three categories of Beaufort and the more common Beaufort AOC is made in co-operative dairies between November and May from the milk of cows that graze in the lush mountain valleys in the Savoie region of the French Alps.
The cheese is prepared using 11 ltrs (approx. 3 gal) of milk from Tarine or Abondance cows for every 1 kg (2.2 lb) of cheese desired. The milk is first heated and then cast into a beechwood hoop or mold which gives the cheese its distinctive concave shape. It is pressed for 24 hours, taken out of the hoops and then cooled for another 24 hours. Once cooled, it is soaked in brine and then stored on spruce shelves for one to two months. During this part of the process, one side of the cheese is hand-salted each morning, then turned over and massaged each afternoon. Once the cheese rind has reached a level of maturity, the cheese is smear-ripened with a mixture called morge which produces its strong flavour and pale yellow rind.The prepared cheese must then age for 6–12 months, or even longer, in a cool mountain cellar.
Le Rovethym
It's spring, so it's time for our local young goat cheeses to arrive at the fromageries. For a few months of every year, between November and March, when the animals are pregnant and don't naturally produce milk, many farmers stop cheese production completely to respect the breeding cycle. In the early 2000s, the son of a cheesemaker, Pierre Pradier, established his own farm in the Haute-Provence with a small herd of Rove goats, a breed that is native to the region and known for its distinctive twisted, lyre-shaped horns and for producing very rich, concentrated milk. In the hills of Provence, and all along the Mediterranean basin, aromatic herbs such as thyme, rosemary, lavender, and winter savoury grow wild. These woody herbs, known as la garrigue, make up the spring, summer and autumn diet of the goats and sheep that graze on them.
Pradier combined the words Rove and thyme (thym) to create Rovethym. It is shaped by hand into a distinctive quenelle shape that is adorned with a sprig of thyme, so very easy to spot at the fromagerie. This is a young, unpasteurized cheese, best eaten when it's just a few weeks old.
Le Saint-Marcellin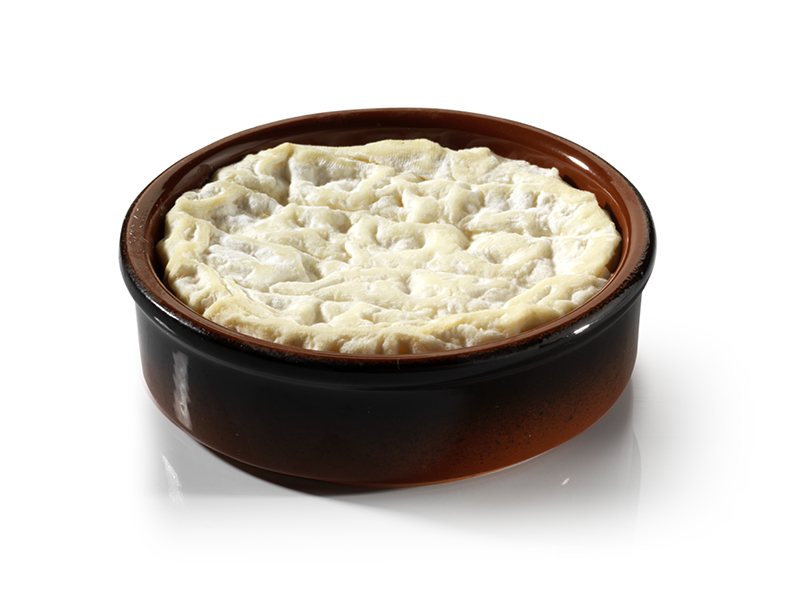 This cheese can be enjoyed in various stages of affinage (ageing). At two or three weeks old it is still firm and sliceable, but at five or six weeks, it becomes delightfully oozy and often sold in small earthenware crocks to keep the runny centre from bursting through its thin rind, which is just how we like it. As you might expect, the flavour of this cheese develops as it ages.  It is produced from both pasteurized and unpasteurized cow's milk (the unpasteurized is better in terms of texture and flavour) in the Rhône-Alps region.
Le Brin d'Amour
This is an unpasteurised ewe's milk cheese that has been produced on Corsica since the 1950s. The prickly looking rind is made up of le maquis, an aromatic mix of native herbs, such as thyme, rosemary, mint, oregano and marjoram, that grow wild on the island. The individual fresh cheeses are hand-coated with the dried herbs, sometimes topped with juniper berries and small chilies, and left to ripen in humid cellars for at least two weeks, or up to several months. It's a sweet but tangy cheese.
Le Bleu d'Auvergne AOC
This is a mild blue-veined buttery cheese made from cow milk, unlike its cousin Roquefort which is made with ewe milk. Named for its place of origin, it was developed in the mid-1850s by a French cheesemaker named Antoine Roussel. He noted that the blue mold on his curd resulted in an agreeable taste, and conducted experiments to determine how these veins could be induced. After several failed attempts,  Roussel discovered that the application of rye bread mold created the veining, and that pricking the curd with a needle provided increased aeration. It allowed the mold to enter the curd and encouraged its growth. Today, bleu d'Auvergne is prepared via a mechanical needling processes. It is then aged for approximately four weeks in cool, wet cellars before distribution, a relatively short period for blue cheeses.
Banon AOC
This cheese is named after a small village located a few kilometres from the Albion Plateau in S E France. It's an unpasteurized cheese made from goat milk and is circular in shape, around 7 cm (2.8 in) in diameter and 2.5 cm (0.98 in) in height, and weighing around 100 g. This pungent uncooked, unpressed cheese consists of a fine soft white pâte that is wrapped in chestnut leaves and tied with raffia prior to shipment.
I don't know about you, but maybe I should attempt a more encyclopaedic look at French cheese. I've barely touched the surface much less scratched it!
Images courtesy of Wikipedia