French fancies: Merci Concept Store
When concept store Colette closed in December 2017, I had to find a replacement. Enter Merci! An iconic hot spot in the Parisian capital for over a decade, renowned for the red Fiat 500 parked in the courtyard. A must-see, must-go and must-be-seen shop for all those who love interior and fashion design. Visiting Merci is like stepping into a magazine editorial.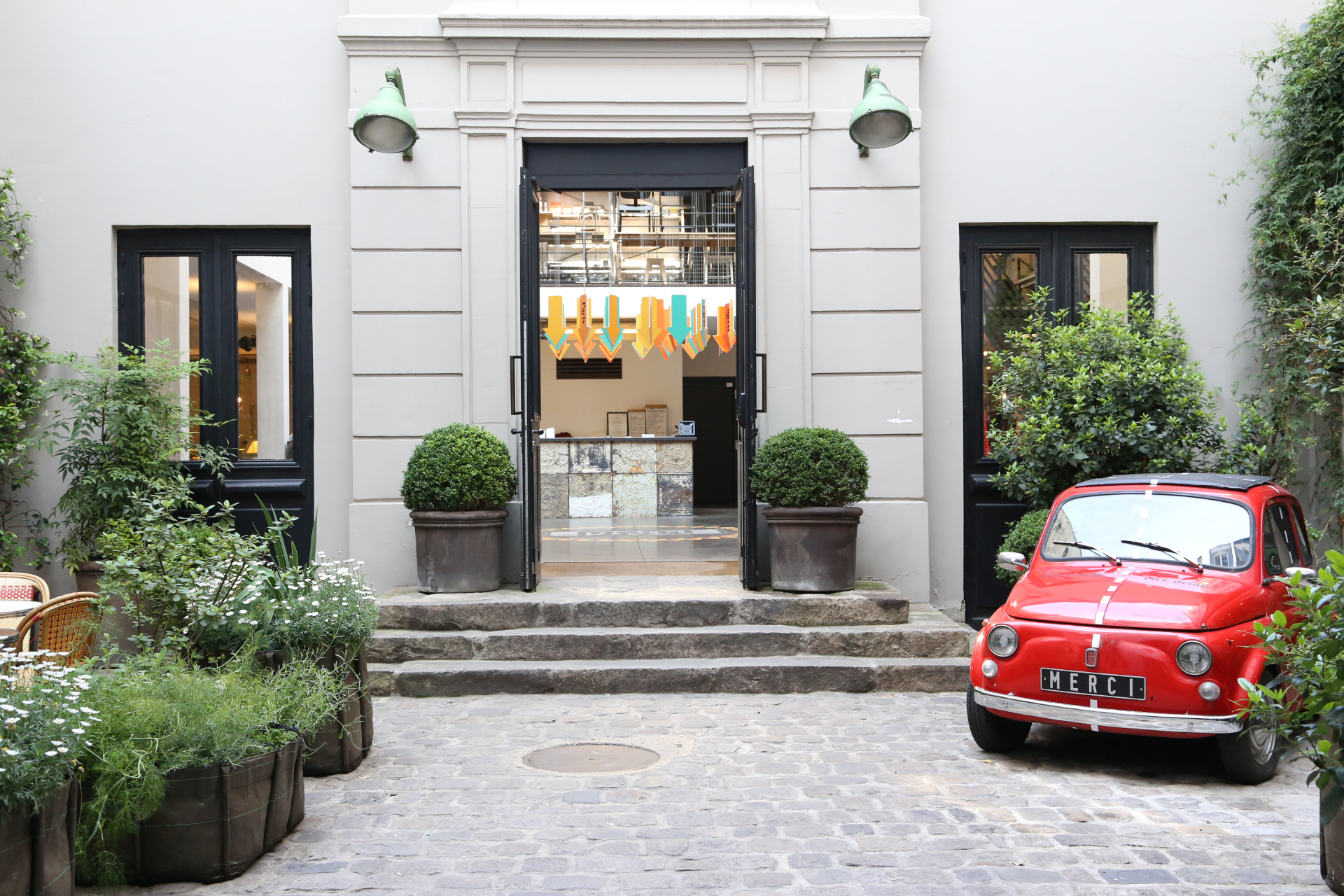 Merci was launched by Bernard and Marie-France Cohen, the founders of Bonpoint (children's wear) and Demode (home decor), in 2009. They opened the concept store at 111 Boulevard Beaumarchais (Haut-Marais district in 3rd Arrondisement) in a beautiful nineteenth-century building positioned between a paved courtyard and a garden, formerly occupied by textile companies Braquenié and Frey. Merci occupies an area of 1,500 square meters (15,000 sq ft) over three levels, with ten-metre-high ceilings that is flooded with light by a magnificent glass roof.
The ground floor houses the gallery, used-book café, a cinema café and a space dedicated to the staging of exceptional installations. On the first level there is women's fashion and menswear; a selection of furniture, vintage or exclusively designed pieces, and homewares; stationery, apothecary, and technology products. In the basement that overlooks a vegetable garden, everyday objects, and tableware rub shoulders with the hardware and canteen cafe.
From vintage furniture to modern accessories. Merci is a subtle blend of rare and everyday pieces reflecting daily and urban life, with pertinence and humour. Showcasing trends, evolving lifestyles, and the phenomena of society through a select selection of fashion and homewares. Merci seeks to develop and explore the art of living with simplicity and sincerity. A place to appreciate the little (and many) pleasures of life.
The store collaborates with many up-and-coming and well-known designers and consequently has gradually established itself as one of the leading ambassadors of Parisian good taste.
In 2019, the concept store diversified further by investing in a nearby apartment, the decor of which reflects the store's philosophy. It can be rented for events, workshops and even yoga classes.
In addition, the founders of the Merci concept store decided from the start that part of the profits (Merci Endowment Fund) would be used to support women and children's projects throughout the world, by working to improve their lives through educational, social, health and cultural projects, particularly in Madagascar.
In 2013, the Cohen family sold the Merci store to the Gerbi family, founders of French brand Gérard Darel. Since then, the store has continued its support for this wonderful venture which has enabled the construction of a primary school and canteen in Belitsaka, a high school in Efoetse, and vegetable gardens in Ankilimivony and Ambola, as well as sewing workshops in Ambola and Ankilibory.
Just one more reason to visit the store.
Images courtesy of Merci