Friendly Friday Challenge: something learned
The Friendly Friday Challenge is now a fortnightly challenge co-hosted by Amanda from Something to Ponder About and Sandy from The Sandy Chronicles. 
Last week Sandy challenged us challenged us to post about SOMETHING LEARNED recently or during the last year. However, she did say that if we're stuck for inspiration on the Friendly Friday Challenge, we can "Make up our own Holiday" and post about it.
I managed to solve the conundrum last week, can I do it again?
Let's look at how I spent last weekend, I was the MotoGP season opener from Qatar.
Maverick Masters the desert
Last weekend saw the opening race in the 2021 MotoGP season which was a cliffhanger!
We are back!
Those were the rousing words of Maverick Vinales  – surely the coolest name in racing – (Monster Energy Yamaha MotoGP) straight after arguably his best premier class performance to date as he claimed victory at the 2021 Barwa Grand Prix of Qatar. And he's not wrong.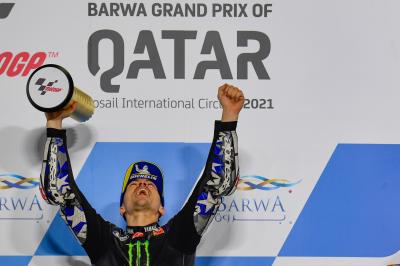 Ducati has won the last two races at the Losail International Circuit in Doha and heading into the opening race of 2021, the Italian manufacturer was favourite to continue the trend. Few expected a Vinales victory. Not because he isn't capable, but because Ducati's straight-line speed and off the mark advantage seemed a bit too much to overcome for the Yamaha bikes. Many were proved wrong as Vinales, after being overhauled by the Ducati's at the start, slowly but surely picked off each rider in front of him to win the race in a commanding fashion.
Yamaha's game, and the victories we've seen from Vinales in recent years, has been to get out in front from the get-go and run their own race, and a lot of the time it has worked, but not often enough. Both Vinales and Yamaha look like improved weapons in 2021, and what was uplifting to see was the Spaniard speaking with such pride in the post-race Press Conference about how happy he is with life at home. He's now a husband and a father-to-be. A stress-free Vinales is obviously a very, very quick Vinales.
It might have only been Round 1 of the season, but I learned a lot from Qatar's opener. To display such a performance that is pretty much the total opposite of what we've seen from Vinales and Yamaha in recent years is a tell-tail sign that the combination is here to stay at the top of the Championship for the foreseeable.
Of course, lots can change very quickly in MotoGP. There's no doubt that every rider will be stronger at the same circuit this coming weekend, but Vinales has rekindled old feelings and winning in such fashion surely sends out a warning shot to the rest of the field.
I say bring on the rest of what will I'm sure be an exciting 2021 MotoGP season.
*********
This year the girls are are opening up the challenge, making its focus not purely on photography but making it a little more varied, a little more open and interesting.
How to join the Challenge
Write a post titled 'Friendly Friday- xxx Prompt name xxx' with tag 'Friendly Friday'
Include a link to the original Friendly Friendly Challenge post on the host's blog
Optionally, you can include the latest Friendly Friday Challenge logo. Download it here.
Comment on the host's Friendly Friday post, so that other readers can find and read your response.
Remember to include a link to your post in your comment. This will guarantee a visit, in the event the automatic ping-back does not work.
Visit other Friendly Friday entries by following their links. It's fun!
Follow the host blogs to see future Friendly Friday Challenges
The Benefits
Increase your exposure in our blogging communities
Inspire and be inspired by diverse blog articles
Challenge your creativity
Make new friends and keep in touch with old ones
Are you joining in this year? Go on……you know it'll be fun!