The Musette: Cabbage Thoran
One of the benefits of being at home pretty much 24/7, is that my beloved has embraced more of my plant-based eating. This means overall I cook fewer dishes.
Yesterday's fumble in the vegetable rack produced a sweet green cabbage and a small butternut squash. I decided to make a cabbage thoran or cabbage fry which is a dry vegetable dish from Kerala. Thoran is basically finely chopped or grated vegetables cooked with shallots, chilies, fresh grated coconut and spices. You can use a variety of other vegetables like beans, beetroot and spinach or, in my case, butternut squash.
I discovered that cabbage thoran is an important side dish in Kerala feast known as Sadya – I like making meals into feasts! Thoran is usually eaten with steamed rice, though we ate it as is.
Ingredients (serves 2 as a main course, 4 as a side)
1

(approx. 200g/8 oz) medium sized cabbage, finely shredded

100g (4 oz) chopped butter-nut squash or potatoes

1

medium sized onion

or 4 to 5 shallots – finely chopped

10 to 12

curry leaves

1

tsp

black mustard seeds

1 tsp urad dal

1

green chili,

chopped

1 tsp

turmeric powder

50g (2 oz) freshly

grated or unsweetened dessicated coconut

1 tbsp

coconut oil

sea salt

, to taste

coriander leaves

for garnishing (optional)
Method
1. Heat 1 tbsp coconut oil in a frying pan (skillet) then add mustard seeds and as they begin to pop, add the curry leaves and urad dal. Cook until the urad dal turns golden.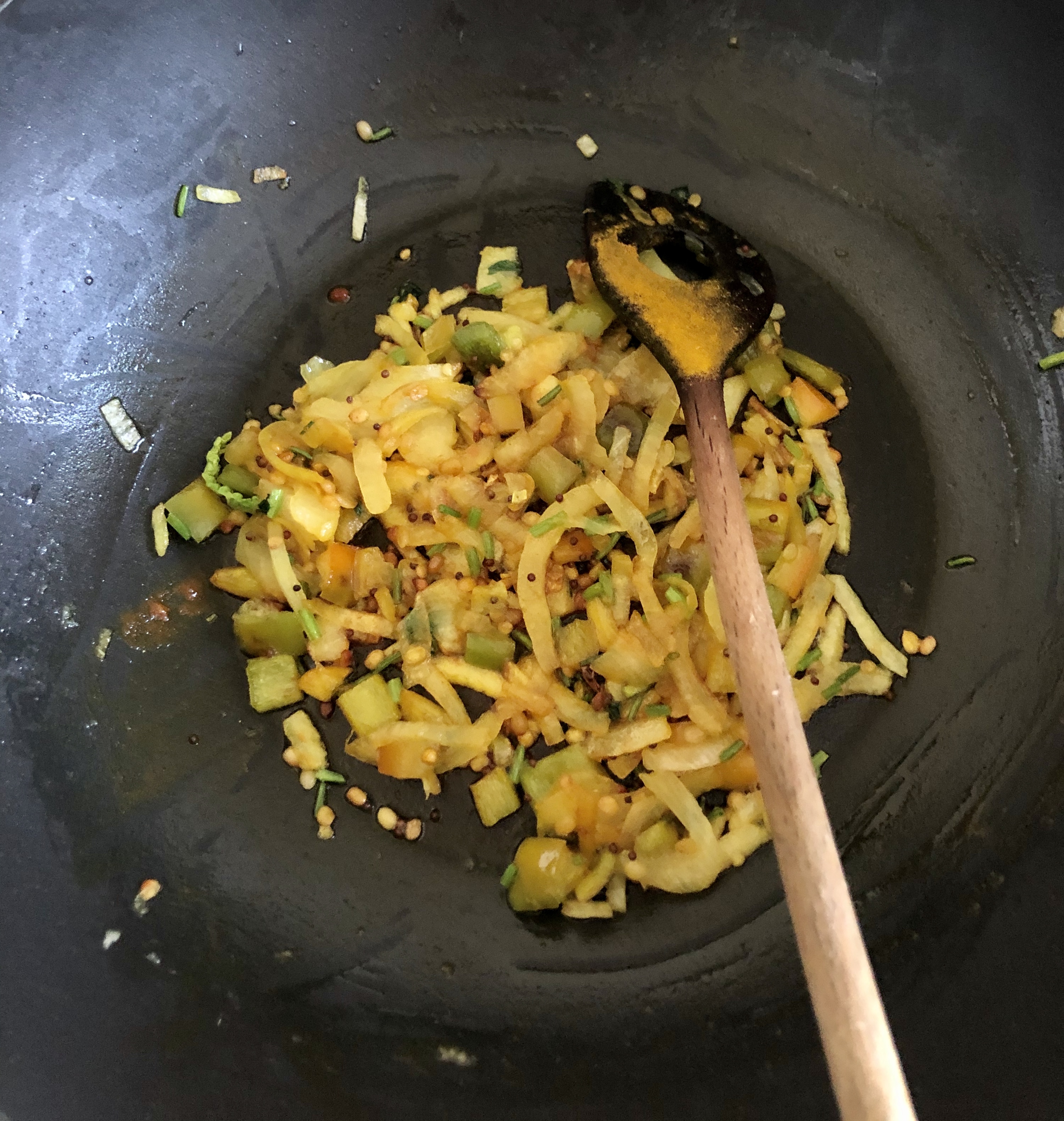 2. Add the onions and green chili and cook on high for a minute or so, then lower and continue to cook until the onion is soft and golden.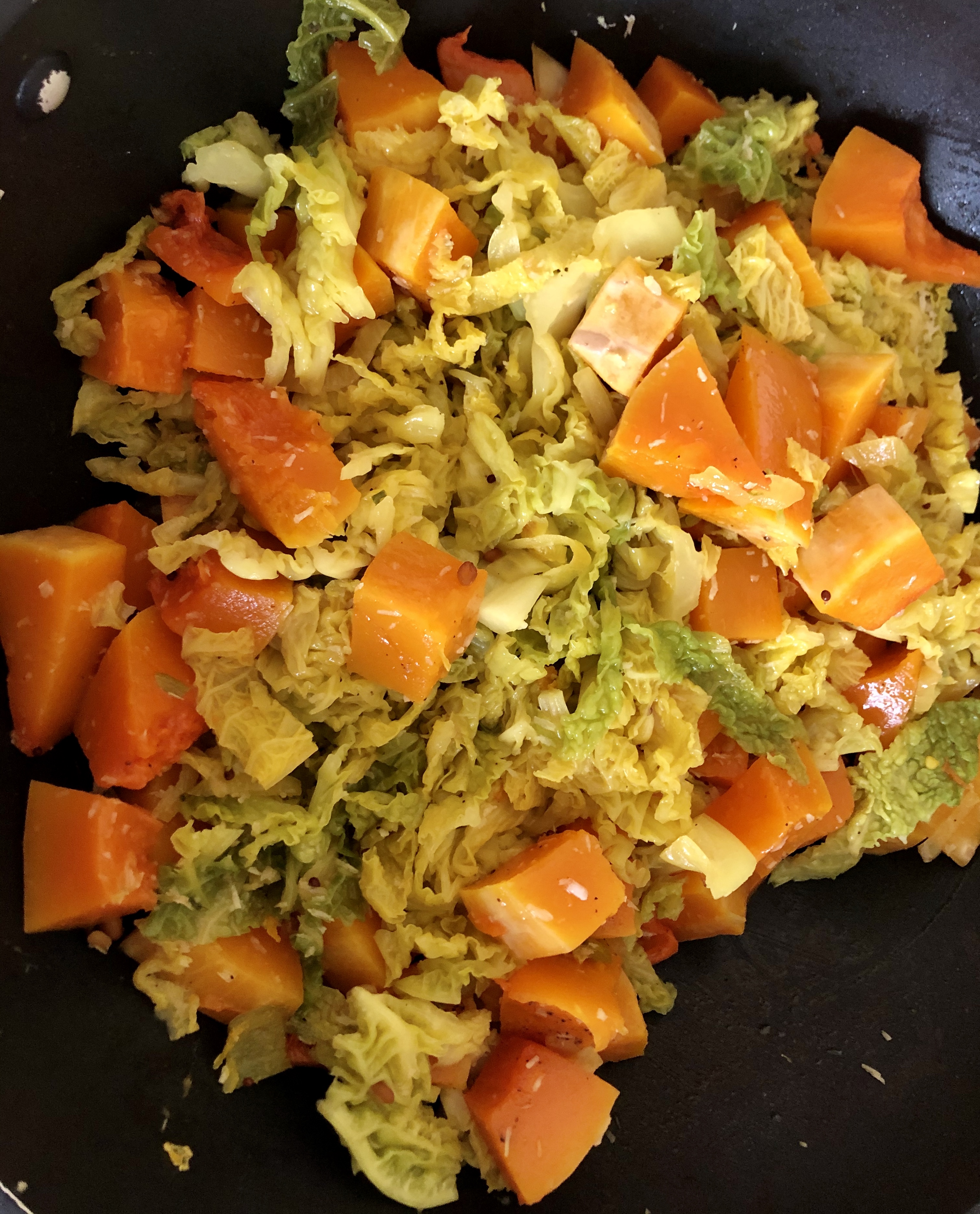 3. Add the turmeric, some salt, the cabbage and butter-nut squash (or potato). Cover and cook over a low heat, stirring occasionally for 15-20 minutes, until both vegetables are cooked.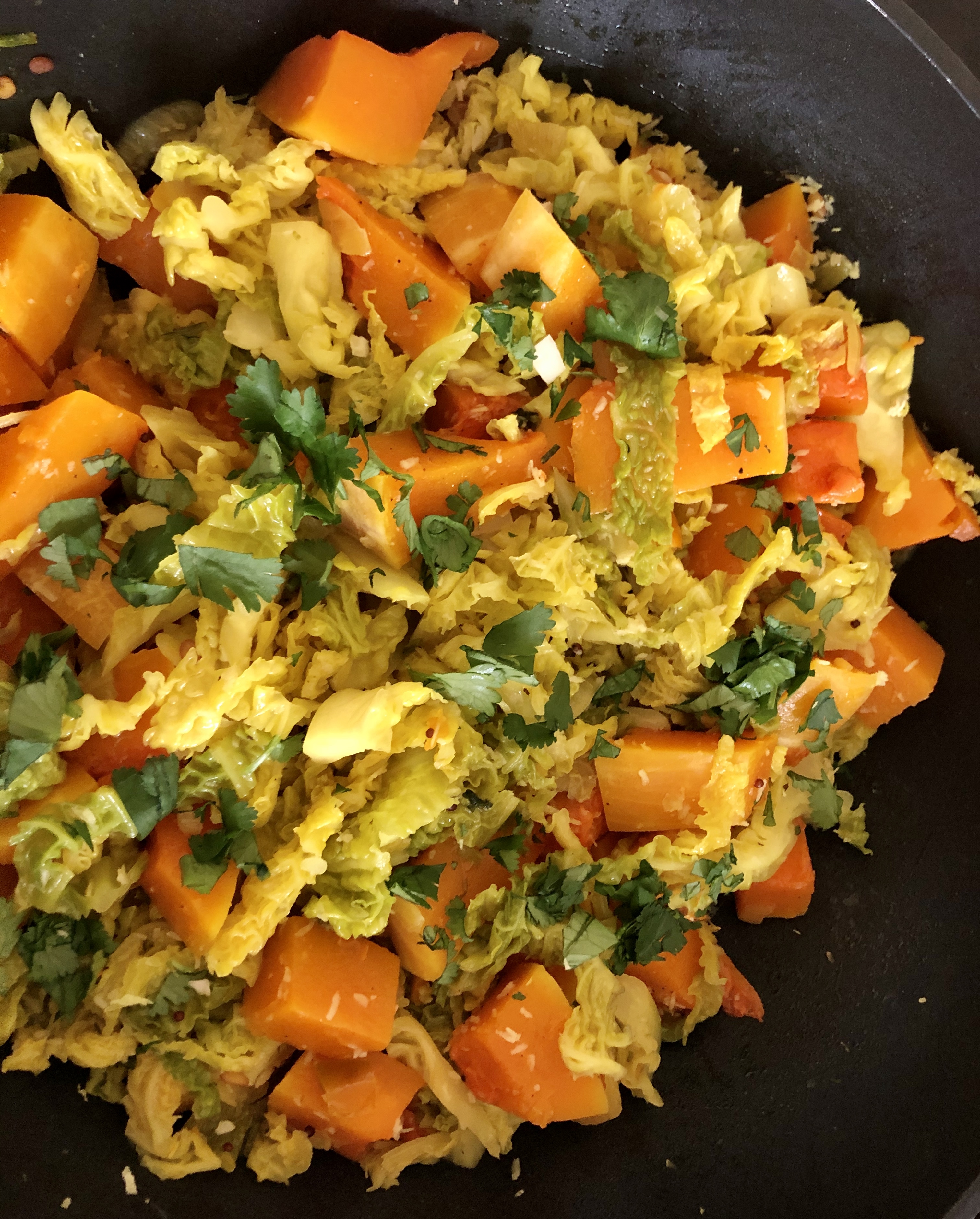 4. Stir in the coconut, sprinkle on some freshly coriander and serve with rice, flat-bread or just as it comes.