French fancies: Confiserie Florian
Today I'm looking once more at one of our well-known and well-loved local companies, Confiserie Florian, which is celebrating its centenary, the French Riviera's ultimate sweet tooth paradise, run by the 4th generation of the Fuchs family.  To some of you that name will be familiar………..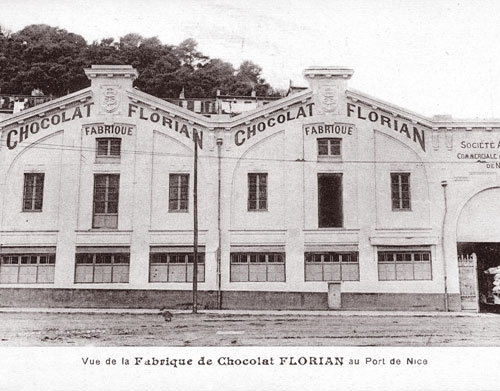 The story starts in 1921 with the opening of the company's chocolate factory in the Old Port of Nice where one Henri Matisse was a regular customer.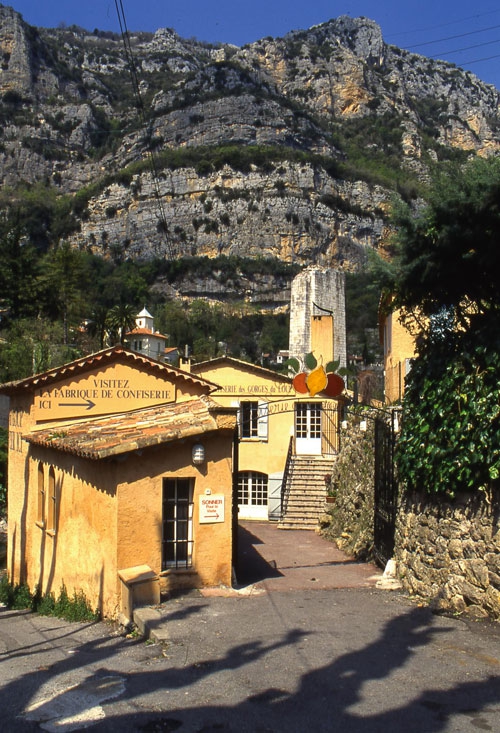 In 1949, the family created "Confiserie des Gorges du Loup" on the Pont-du-Loup site (a former flour mill turned Fragonard perfume factory) which sits in a breathtaking setting along the banks of the Loup river, in the lower hills of Grasse's beautiful hinterland. This was at the initiative of Georges Fuchs, son of Eugène, visionary and great traveler, who bought the copper jam vats and terrines in terracotta from the famous local (and now defunct) Confiserie Nègre. This enabled the family to branch out into candied fruits and jams.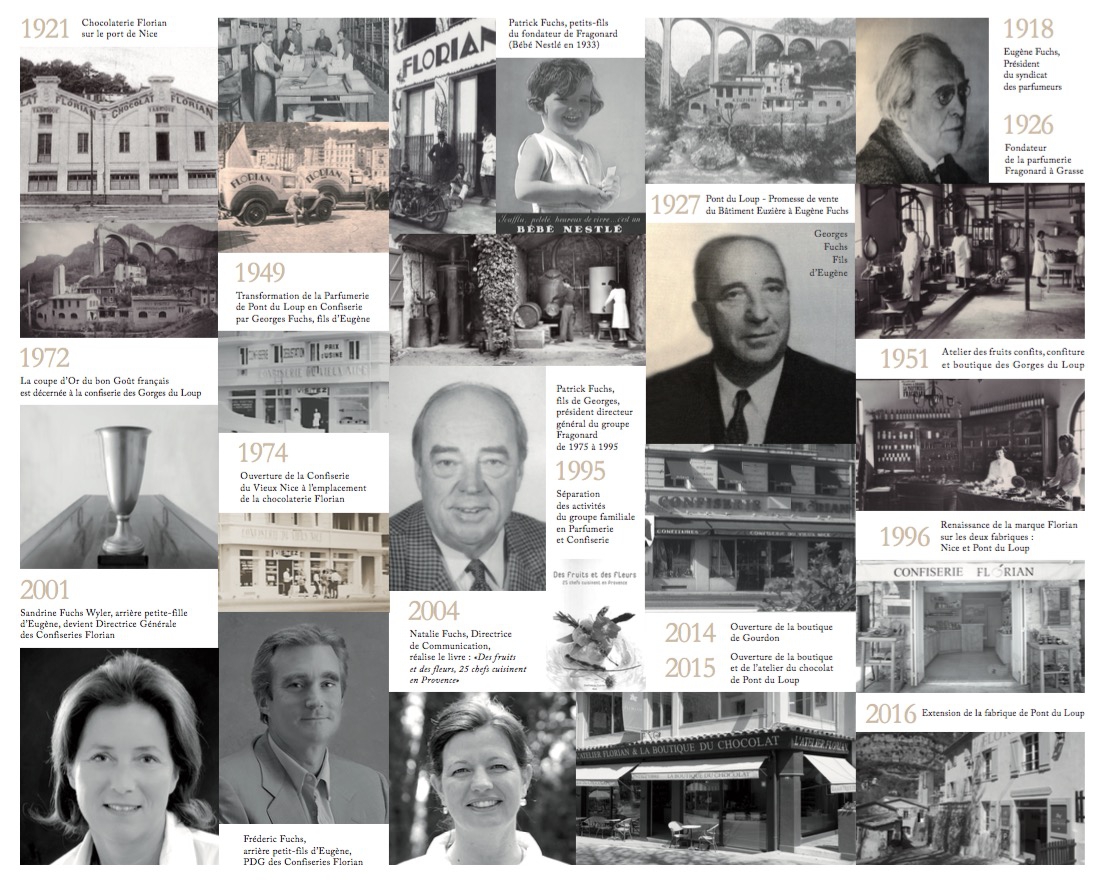 Situated just a stone's throw from France's violet-producing capital Tourrettes sur Loup, visitors are welcome to see where mounds of bitter oranges, lemons and bergamot, plucked from the nearby citrus groves, are sliced, pressed and dipped in chocolate. The family-owned Florian also specialises in confections made from flowers, grown in the same fields near Grasse that serve the perfume industry. The company's floral goodies range from a violet-flavored pastis aperitif to rose-olive paste for hors d'oeuvres. Then there's violet jam which is delicious with pan-fried foie gras, and the newest taste treats of fresh rose or violet tagliatelle. Dessert ideas abound, from crystallized rose-petal shortbread cakes – made with the same May roses that go into Chanel N° 5 – to jasmine and verbena-filled chocolates, along with delicate flower liqueurs..
At its HQ, Florian also offers cooking classes at the Atelier de la Cuisine des Fleurs, where imaginative chef Yves Terrillon teaches budding cooks the culinary secrets of begonia (crunchy and fruity), pansies (velvety and nutty), and nasturtiums (a peppery radish taste) as well as roses, jasmine, violets and saffron.
The quality of the company's products was honoured in 1972 when the company received the Coupe d'Or du Bon Goût Français, (the Gold Cup of French Good Taste). Just two years later, it re-opened the former Florian chocolate factory as a Confiserie du Vieux Nice, a branch of the parent company in Pont-du-Loup. The company continued to expand its range of products with the creation of Califleurs®, Aix calissons with pink or purple icing, Mielôfleurs®, acacia honey with bursts of roses or crystallized violets, and rose nougat with crystallized violet.
In 2014 it received the Award of the Epicures de L'Epicerie Fine Silver Prize, awarded by a jury of journalists, restaurateurs and fine grocers, for its Rose Petals Confit, noted for its unusual and daring packaging.
In October 2019, Sandrine Fuchs-Wyler, Confiserie Florian's managing director, received an Ordre National du Mérite Agricole knighthood. She and her brother, Frédéric Fuchs, are the fourth generation to run the famous Riviera confectionary started by their great-grandfather in 1921.
For a century the family has kept tradition alive, taking it forward over the decades.
The Fuchs great-grandchildren's respective contributions to the family business are different but complementary. Frédéric joined the firm straight from university, whereas Sandrine began her career abroad then in the Fragonard perfumeries also started by their great-grandfather. The two companies became independent in 1996.
I wanted to build my experience and bring back to the family business what I had learnt elsewhere, in particular during my years in London and New York. I'm the first woman in the family to work at Florian, so I couldn't afford mistakes.
Sandrine Fuchs-Wyler's idea was to retain what had earned the reputation of the brand bequeathed by her forebears but to modernise and develop it, notably by extending its product lines, opening new shops and retail outlets.
When my father learnt I was going to receive a knighthood he was very proud, but my children were undoubtedly more so. As a mother I had to make many sacrifices to get where I am, so it's a magnificent reward.
The baton no doubt will be passed onto the upcoming generation to enrich it with their own experiences and adapt the company for their era
Images courtesy of Confiserie Florian