Sculpture Saturday #53
I might have run out of doors but fortunately that's not the case with statues/sculptures. There are a number of local civic ones I want to show case but they're situated on roundabouts and I typically have to dice with death (French drivers) in order to secure their photos.
Meanwhile, here's another one from my beloved's bithday trip to Mallorca two years ago. He's already moaning about spending a second birthday in lockdown!
I've chosen a photo of a work by one of my favourite sculptors Eduardo Chillida (1924 – 2002). This one, made from concrete and called  "Lugar de Encuentro V" (Meeting Point 5), is at the foot of the stairs leading up to Plaza Mayor, Palma de Mallorca.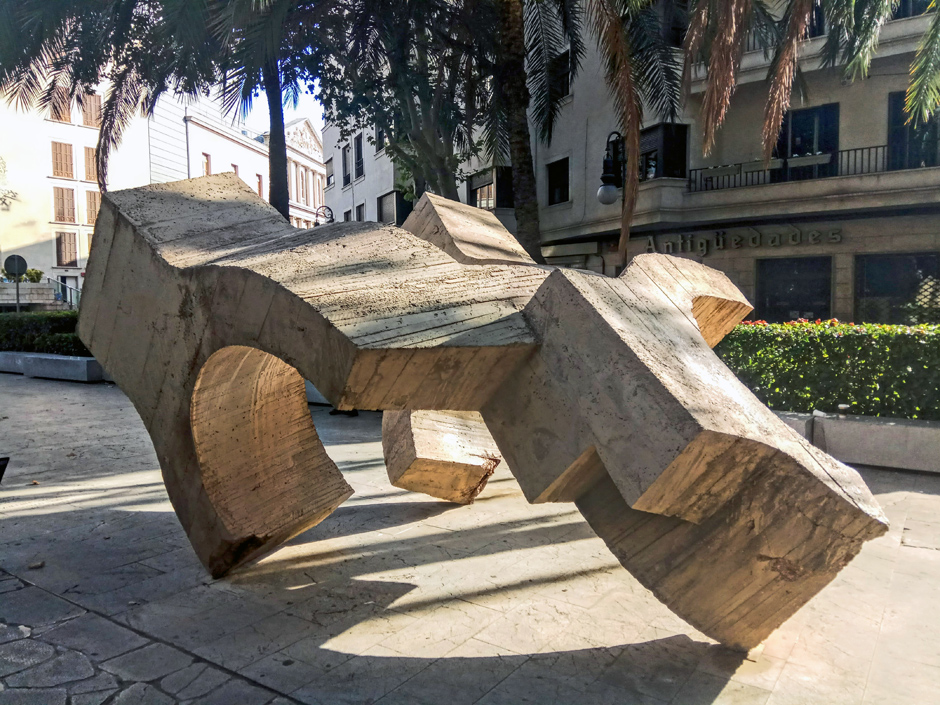 I've already featured a number of Chillida's works, most notably those in San Sebastian, his birthplace. Though, interestingly, he started his working career as a footballer. He was the goalkeeper for Real Sociedad, San Sebastian's La Liga football team, before a knee injury ended his promising career. He then studied architecture at the University of Madrid from 1943 to 1946. But in 1947 he abandoned architecture for art, and the following year he moved to Paris, where he set up his first studio and began working in plaster and clay. He never finished his degree and  reamined in France until his marriage in 1951 after which he returned to the Basque Country, where he remained until his death.
Chillida's sculptures concentrated on the human form (mostly torsos and busts) though his later works tended to be larger and more abstract, and included many monumental public works. Chillida himself rejected the label of "abstract", preferring instead to call himself a "realist sculptor". Upon returning to the Basque Country, Chillida abandoned the plaster he had used in his Parisian studio and he began to work mainly in forged iron.
Chillida's sculptures enjoyed public recognition early on and, in 1954 he produced the four doors for the basilica of Arantzazu, where works by other leading Basque sculptors – Jorge Oteiza, Agustin Ibarrola and Nestor Basterretxea – were also being installed. The following year, he carved a stone monument to the discoverer of penicillin, Sir Alexander Fleming, for a park in San Sebastian.  By the early 1970s, his steel sculptures had been installed in front of the Unesco headquarters in Paris, the ThyssenKrupp building in Düsseldorf, and in a courtyard at the World Bank offices in Washington
At their best his works, although massive and monumental, suggest movement and tension. Much of Chillida's work was inspired by his Basque upbringing, and many of his sculptures' titles are in the Basque language Euskera.
This challenge is kindly hosted by Susan Kelly over at No Fixed Plans.
Share a photo of a statue or sculpture – go on, give it a go, you know you want to!