French Fancies: VEJA
From London to Paris, New York to Newcastle, pavements the world-over are being pounded by white tennis-style sneakers emblazoned at each side with a logo in the shape of a V. Even those that aren't familiar with VEJA will recognise its now-ubiquitous designs; they're the ones worn by everyone from the British monarchy to Hollywood royalty, as well as Instagram influencers, fashion editors, and quite literally, the girl (and boy) next door.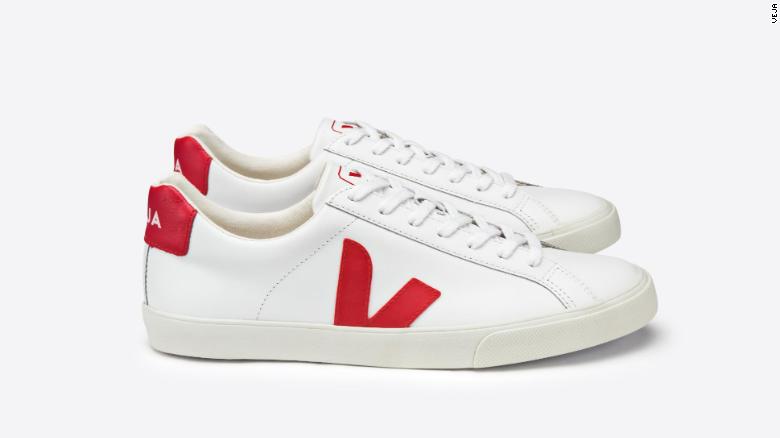 With a minimalist aesthetic and an accessible price point, VEJA appeals to a wide audience, from streetwear kids to suburban moms and the traditional luxury consumer. In the past few years it's carved out a unique niche; its signature V has made the brand recognisable, much like Adidas' three stripes or Nike's swoosh.
The French fashion brand was set up in 2005 by childhood friends and former bankers Sébastien Kopp and François-Ghislain Morillion. The pair were inspired after their visits to clothing and food factories in South America, Asia and Australia while running a non-profit organisation that studied corporate social responsibility policies. During their visits, they became deeply concerned with how products were made and resolved to do something about it.
Aiming to manufacture sneakers made of the most ecological materials and involving ethical suppliers, VEJA was the first fully sustainable sneaker brand — its styles are crafted in Brazil from organic cotton with Amazonian wild rubber soles. VEJA means look in Portugese.
Sébastien said the idea behind the brand was to:
……rethink the creation of a popular product.
The pair took the most symbolic object of their generation, to deconstruct and reconstruct it differently. Sneakers are an interesting product economically because for the big brands, most of their costs are in advertising (70%) while only 30% are in raw materials and labour. This simple equation is at the heart of VEJA. By forgoing advertising, the company could create sneakers 5 times more expensive to manufacture while offering them at the same price as the big brands in stores.
Though even today, many who wear the brand aren't aware of its ethical credentials — VEJA doesn't market it. The company has sold over three and a half million pairs of sneakers, stocked at 2,000 retailers in 60+ countries. In recent years, the privately owned company has experienced significant double-digit growth from its Parisian HQ and employs over 190 people. Not too shabby for a company that started out with €14,000 of self-funding, a €15,000 bank loan and one sneaker silhouette.
Not content with their conquering of the fashion sneaker industry, however, Kopp and Morillion have set their sights, and VEJA's future, on the US$181bn performance wear market; the duo recently unveiled the company's first-ever running trainer. Titled the Condor, it was four years in the making; Veja wanted to disrupt the technical sneaker market by making the first post-petroleum running shoe.
We succeeded in doing a sustainable trainer that you wear for everyday, and we thought OK, the next logical step is sports, as technical shoes are mostly made from virgin plastic.
What Kopp says is logical if actually something of a rarity. While sports sneakers have become a mainstay in fashion circles — Adidas' Stan Smith tennis trainers were made fashionable once again by ex-Céline designer Phoebe Philo — it's much less common for fashion brands to attempt to infiltrate the performance wear market, competing against Nike and Adidas.
Breaking into the running market isn't easy. It's expensive and highly technical. Most fashion brands partner with a big sports label, such as Nike with Junya Watanabe, Puma with Jil Sander, and Reebok with Chanel. Kopp and Morillion soon realised they had entered a whole other ball game. They were like a car company trying to build a Formula One racer.
VEJA's materials [including recycled corn waste, banana oil, plastic bottles and sugar cane] are technical, but their shoes are not that technical because they are very vintage, very plain. Entering this world was much more difficult for them. They spent one year on the rubber sole alone and it was a big failure because it was too heavy, and far too easy to damage. They also discovered that aesthetics were not that important, as every gram counts in a running shoe.
Developing the Condor running shoe was advantageous in other ways, it made the pair realise what improvements they could make to the sneakers less stiff and lighter. The pair also decided to take a step back and appointed outsider Laure Browne as the group's new CEO. Browne, with over 30 years' experience in French and international groups, wanted to join a company that allowed the convergence of her personal and professional values. Her mission at Veja is to support the co-founders on both strategic and operational levels, and to lead the young VEJA talents to the next level.
More recently the company has opened its first Test Hub in Bordeaux dedicated to clean, recycle and refurbish old pairs of VEJA shoes. It will also offer customers prototypes of the brand's shoes that hadn't made the cut to go to market, which will be sold at reduced prices, as well as pairs from old collections.
Meanwhile, VEJA continues to grow independently with no outside investors and it's the intention of the brand and its owners is to keep it that way. Long may they thus continue.