Things about France that surprised me: French Tacos!
You may recall that I'm a big fan of Mexican food. So imagine my delight when I found a Taco restaurant in Nice. Then, imagine my disappointment when I discovered French Tacos have as much to do with the taco as fish fingers have to fingers!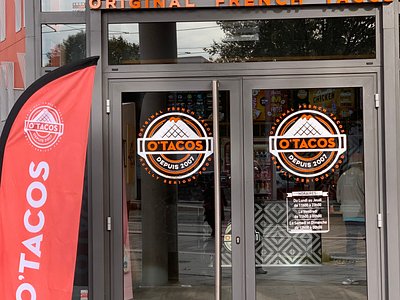 French tacos are not tacos at all. First of all, through some mistranslation or misapprehension of its Mexican namesake, the French tacos is always plural, even when there's only one, pronounced with a voiced "S."
Technically, the French tacos is a sandwich: a flour tortilla, slathered with condiments, piled with meat (usually halal) and other things (usually French fries), doused in cheese sauce, folded into a rectangular packet, and then toasted on a grill.
In short, a rather successful marriage between panini, kebab, and burrito.
The precise genesis of the French tacos is the subject of competing folklore, but it's commonly agreed it was invented sometime around the turn of 21st century in the snack bars of the Rhône-Alpes region. Small independent restaurants offering a panoply of takeout with maybe a few tables. Typically, they sell kebabs, pizza, burgers, and, now, French tacos. The unifying concept is the lack of need for a fork.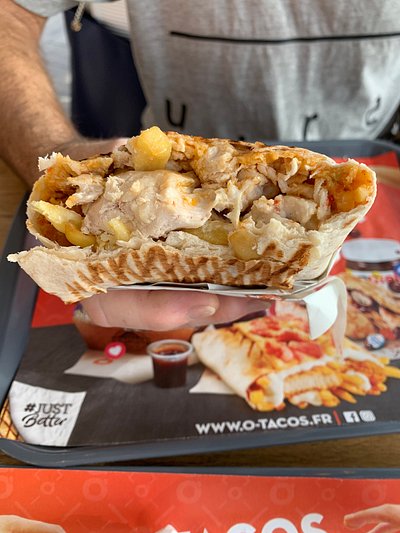 While there are many stories about the origin of French tacos, it's really down to unpredictable cultural mixing. According to Loïc Bienassis, of the European Institute for the History and Cultures of Food:
France is a country that, for decades now, has been urban, industrial and diverse. The French tacos is a mutant product, France's own junk food.
Trade publication Toute la Franchise recently declared  – quelle horreur – that the French tacos is without a doubt the product that will drive the market for dining out for the next ten years. Chain restaurants have proliferated: New School Tacos, Chamas Tacos, Le Tacos de Lyon, Takos King, Tacos Avenue…….and so on.
In 2007, Patrick Pelonero was working as a drywaller in Grenoble. He often ate French tacos for lunch, so, during the construction off-season, he took Euros 30,000 from his savings and opened a French-tacos shop. Eventually, he joined up with a pair of childhood friends to create O'Tacos, which now has two hundred and thirty locations in France, including one in Nice (pictured above).
Pelonero had never been to Mexico and still hasn't. Though he now lives in Dubai since selling a majority stake in the brand to the Belgian investment fund Kharis Capital in 2018. O'Tacos, not to be confused with U'Tacos, outranks McDonald's France on Instagram, where it generates a cheeky mix of tacos-centric memes and plastic-tray portraiture. (A much liked post last autumn featured a photo of Brigitte and Emmanuel Macron, cheering wildly at a soccer match, with the caption: "My mom and me when we see my dad come home with a bag of O'Tacos."
One of the chain's early marketing coups was the gigatacos challenge. The customer pays Euros 18,00 for a massive 2 kg+ (5 1/2 lbs) tacos, filled with five different meats (merguez sausage, ground beef, chicken nuggets, grilled chicken and chicken cordon bleu). It's free if you eat it all in one sitting. A popular French YouTuber recently ingested two gigatacos in one sitting, drawing more than two and a half million views.
It's not that the French don't eat junk food. They do, copiously and I've already written about their love of le hamburger and pizza but it remains a cultural taboo, connoting rapacious capitalism, American imperialism, and just plain old bad eating.
In the case of the French tacos, however, the fast food is the underdog, and it's coming from within. A creation of the provinces, the tacos has, in the past five years, captured the capital, becoming a source of pride for a group of people who cook and consume plenty of French food but don't often get credit for creating it. More than a vessel for meat and cheese, the tacos affirms the cultural power of suburban youth, particularly Muslims, previously relegated, for lack of halal fast-food options, to endless orders of Filet-o-Fish. But the popularity of the French tacos speaks for itself. As the documentary "Tacos Origins" boasted:
The banlieue influences Paris, and Paris influences the world.
The appeal of the French tacos lies in the "triple equation" of being infinitely customisable, highly caloric, and enticingly unhealthy. It's an emblem of suburban pride, but it is a source of chagrin for some Mexican restaurateurs in France, who see it as a form of cultural appropriation, even desecration. It's worth noting that both Mexican and French cuisine were designated an "intangible cultural heritage of humanity" by UNESCO in the same year.
The culinary traditions of Mexico have already been misrepresented in France. What is widely understood to be Mexican food is most often closer to Tex-Mex: burritos, nachos, and chili con carne, associated with the American West, and, in many cases, with stereotypes of cowboys and Indians. The putative Mexican influence, such as it is, is often disfigured or devalued beyond recognition. For example, in Old El Paso priducts, the level of spice is titrated according to perceived national tolerance; an "extra-mild" salsa, for example, will be extra-milder in France than it is in the UK.
It's not often that a wildly popular new food comes flying off the grill with no single progenitor to speak for it, but the definitive inventor of the French tacos may never be identified as it was essentially a collaborative effort, with a cadre of restaurateurs operating in close proximity and quickly adapting their menus to whatever they heard was doing well.
As a trend, the tacos could fade but it seems more likely to meld even further into the mainstream French cuisine. Old El Paso recorded a 37% increase in sales in France since February, 2020. In April of last year, the brand launched a new product, designed exclusively for the French market. It comes in a familiar yellow box, its letters embellished with a mustache and a beret. Inside, one finds six long-lasting, "extra soft" flour tortillas, accompanied by two packets of unspecified "mixed spice." The home cook is instructed to add chicken breast, grated Emmental, crème fraîche and an avocado. Watercress and a red onion are optional. Voilà: French Taco, le kit. (The extra "S" has fallen off as mysteriously as it once appeared.)
After the product's launch, O'Tacos took triumphantly to Instagram, writing, "Never tell us again that we sell 'fake' tacos." The company added a hashtag—#validated—followed by a green check mark. My heart sinks!