The Musette: Baked Chard
I love recipes which are both a main meal for me and a side-dish for my non-vegan beloved husband. We both adore  Swiss chard's dark green leaves with their colourful, sometimes woody, stems.
I particularly like the stems which I'll often use in another dish to the leaves. For example, they make a wonderful gratin baked with cream, wholegrain mustard and parmesan until golden and tender. Or I slice them (very thinly) raw into salads – they work a treat instead of celery in a Waldorf salad mixed with walnuts, apples, grapes and mayonnaise  – or I braise them in olive oil and add some beans to bulk them out to create something comforting, rich and satisfying. And if you ever have leftover cooked chard, it's great re-fried with olive oil, garlic and capers, then stirred into a stew or turned into a pie filling, like this.
Often though I'll use both leaves and stems mixed with white beans, topped with something crispy and then baked in the oven.This makes a great lunch served with bread and a green salad. It also sits equally well as part of a grander offering of mixed plates. It can be served hot or warm.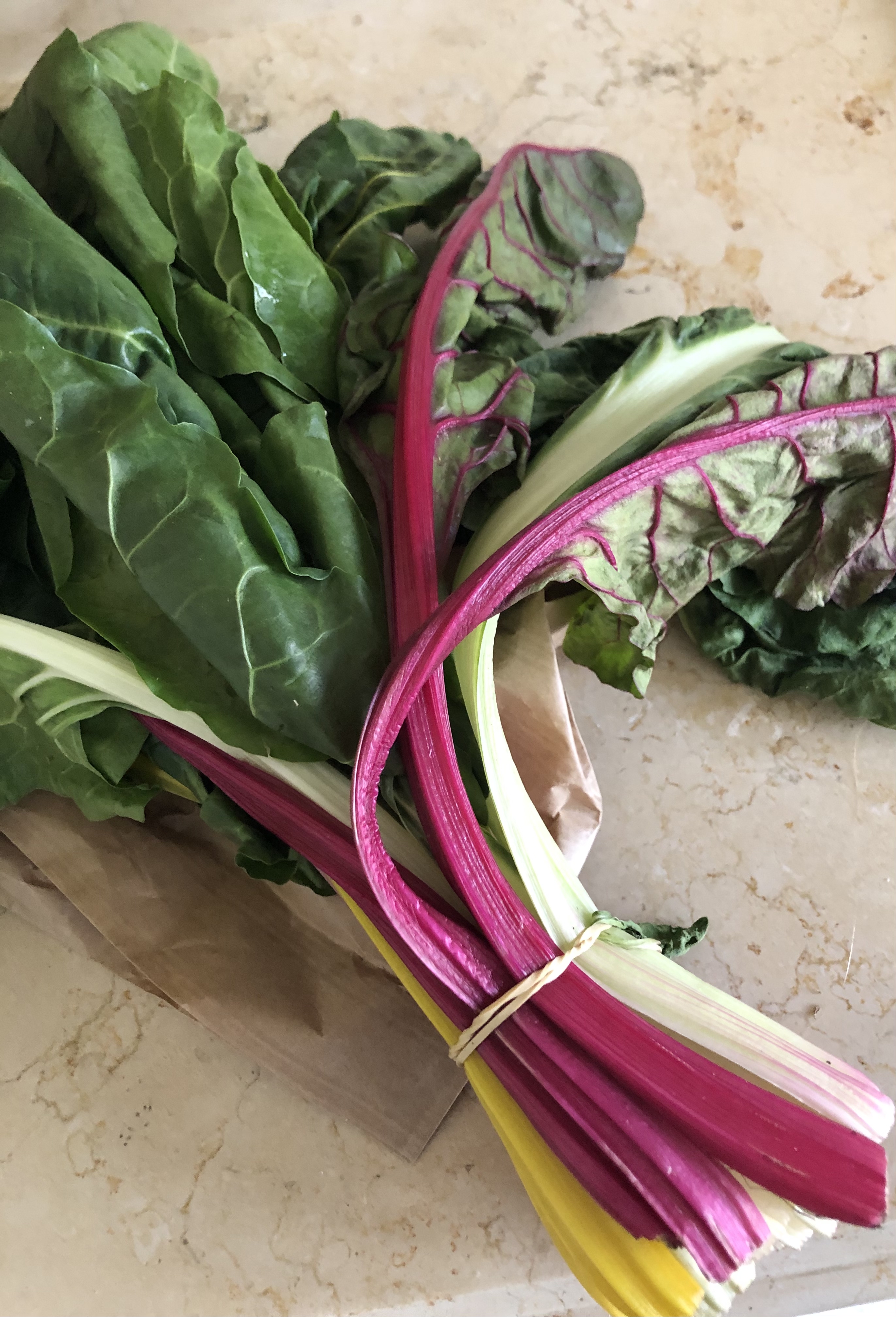 Keep chard fresh by storing it upright in a jar of water like a bunch of flowers, or in a sealed container or plastic bag in the fridge with a piece of paper or a cloth to absorb excess moisture. If you don't manage to use your chard in time and it starts to wither or brown, don't fret: it's still perfectly fine to use.
Ingredients (serves 4 as a main dish)
1 tbsp olive oil
1 medium sized onion, finely sliced
2 fat garlic cloves, finely chopped
1 sprig fresh thyme, leaves finely chopped
1 bay leaf
400g (14 oz) chard (with or without the leaves), cut into 3cm (1 inch) lengths
5 tbsp white wine (or 5 tsp white-wine or cider vinegar)
400g (14 oz) cooked cannellini beans
sea salt and freshly ground black pepper to season
Topping
120g (1 cup) fresh breadcrumbs
1 organic lemon zested
handful freshly chopped parsley
1 tbsp capers (in brine)
1 tbsp extra-virgin olive oil
Method
1.Pre-heat oven to 180ºC/160ºC fan/gas mark 4 (350ºF/320ºF fan).
2. Prepare topping by whizzing ingredients in food processor until combined.
3. Gently heat the oil in a heavy-based pan (skillet) set over a medium-low flame. Add the chopped onion and saute until transluscent, min. 15 minutes.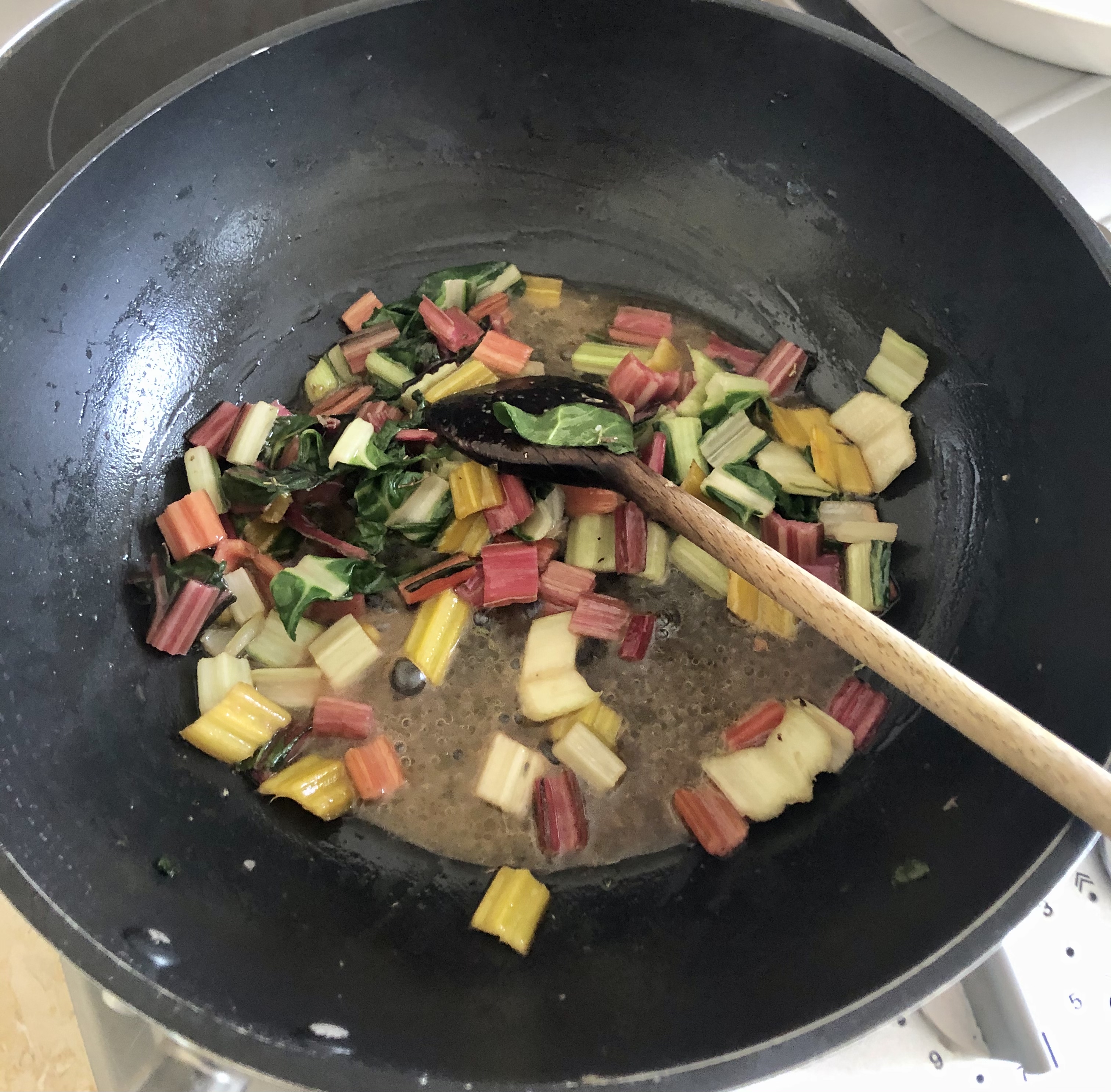 4. Now add the finely chopped garlic and thyme, stir, then add the sliced chard stalks and saute gently for five minutes. If you have an open bottle of white wine (or white port or dry sherry), add 5 tbsp (or, to add a little acidity, 5 tsp white-wine or cider vinegar).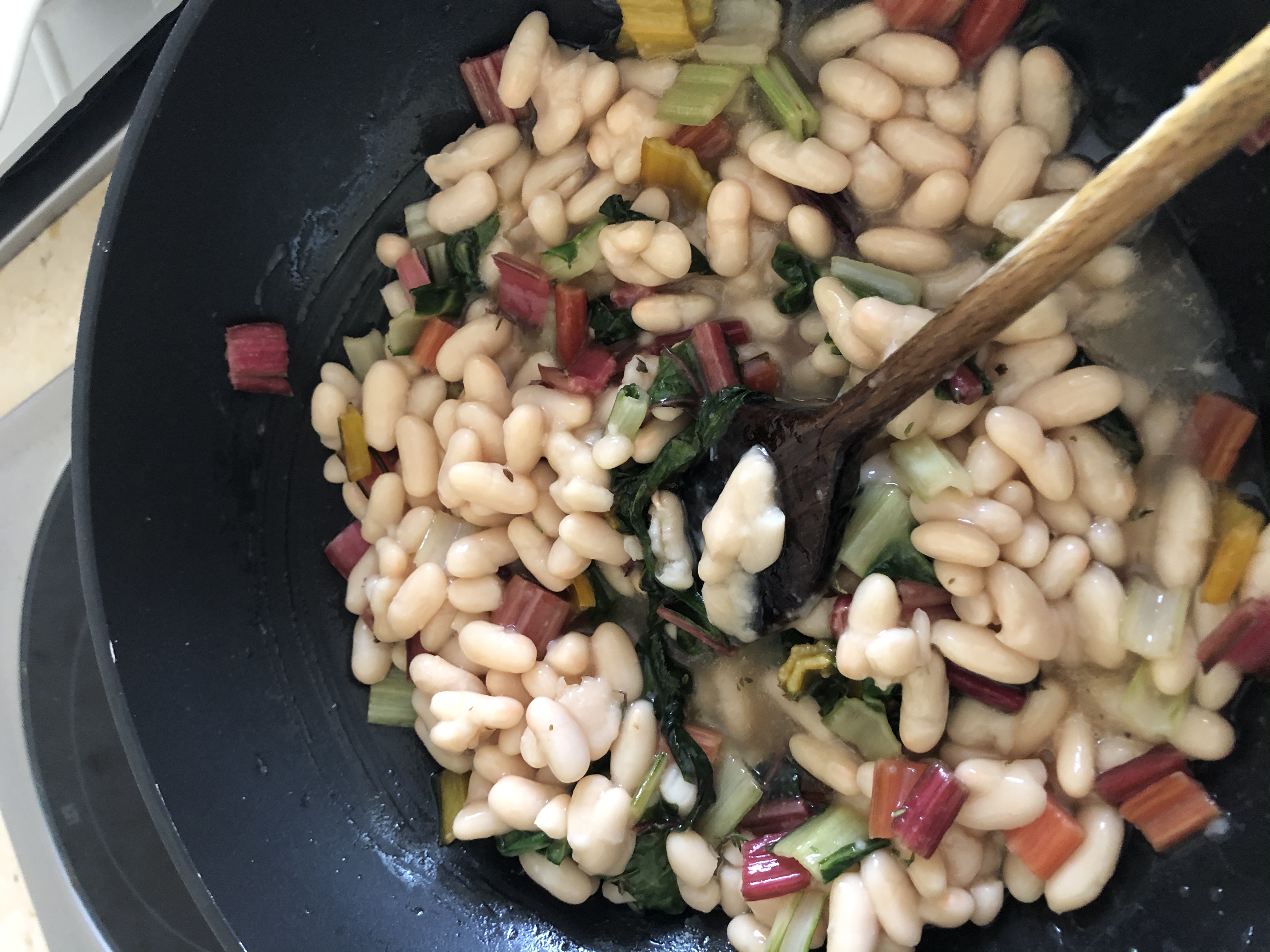 5. Stir in the beans and their liquor (aquafaba) and bring to a gentle boil. Now add the chard leaves and allow them to wilt slightly as you fold them into the other ingredients.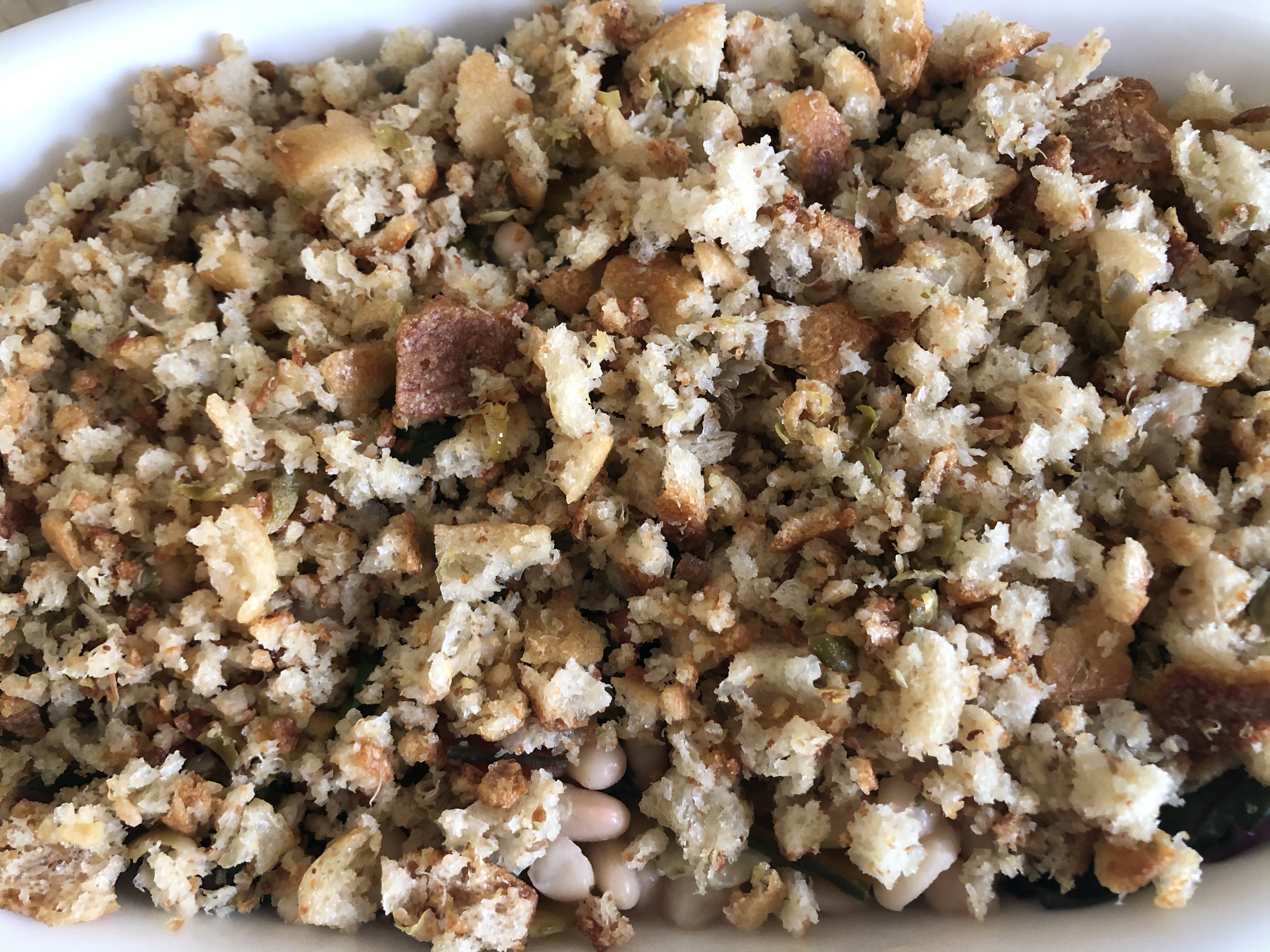 6. You can either cover, turn down the heat and simmer for 5 to 10 minutes, season and add the topping to serve or, I prefer to pop the contents of the pan into a shallow casserole dish, add the topping and cook for 20-30 minutes until bubbling and golden. Serve with crispy bread and a green salad.