The Musette: Curried Vegetable Wraps
Lunch most days is scheduled for 12:30 and I (foolishly) rely on my beloved to advise whether or not this has to be pushed back (or forth) because one of his interminable Zoom meetings. I'm therefore always trying to come up with dishes that are easy to assemble, acceptable both hot and warm, and/ or make use of leftovers.
Here's one of my regular quick lunches. I say quick because both elements, the curried veggies and the carrot and cashew cream sauce, can be made well in advance. This is also a recipe that can easily be amended to fit whatever you have available in the fridge and storecupboard.
Ingredients (serves 4)
Roasted Curried Vegetables
1 tsp cumin powder
1 tsp coconut sugar
1 tsp curry powder (see recipe below)
1 tsp smoked paprika
1/2 tsp coriander
1 medium cauliflower,  cut into florets
1 medium sweet potato, cut into chunks
400g (15 oz) can/jar chickpeas (garbanzo beans), drained (save the liquid aka aquafaba)
1 tsp sea salt
Roasted Carrot Cream Sauce
4 medium carrots, peeled and chopped
150g (1 cup) cashew nuts, soaked for 30 minutes, or overnight
3 fat garlic cloves, minced
60ml (1/4 cup) organic lemon juice
60ml (1/4 cup) aquafaba (see above)
60ml (1/4 cup) filtered water
To serve
4 tortilla wraps
1 avocado
handful fresh baby spinach or rocket (arugula)
sea salt and freshly ground pepper to taste
Method
1.Pre-heat oven to 180ºC/160ºC fan/gas mark 4 (350ºF/320ºF fan).400°F. Line a baking sheet with greaseproof (parchment) paper.
2. To make the curried cauliflower and sweet potatoes, add the cumin, coconut sugar, curry powder, smoked paprika, salt and coriander to a small bowl and stir to combine. Add the cauliflower and sweet potatoes and toss to coat in the spice mixture.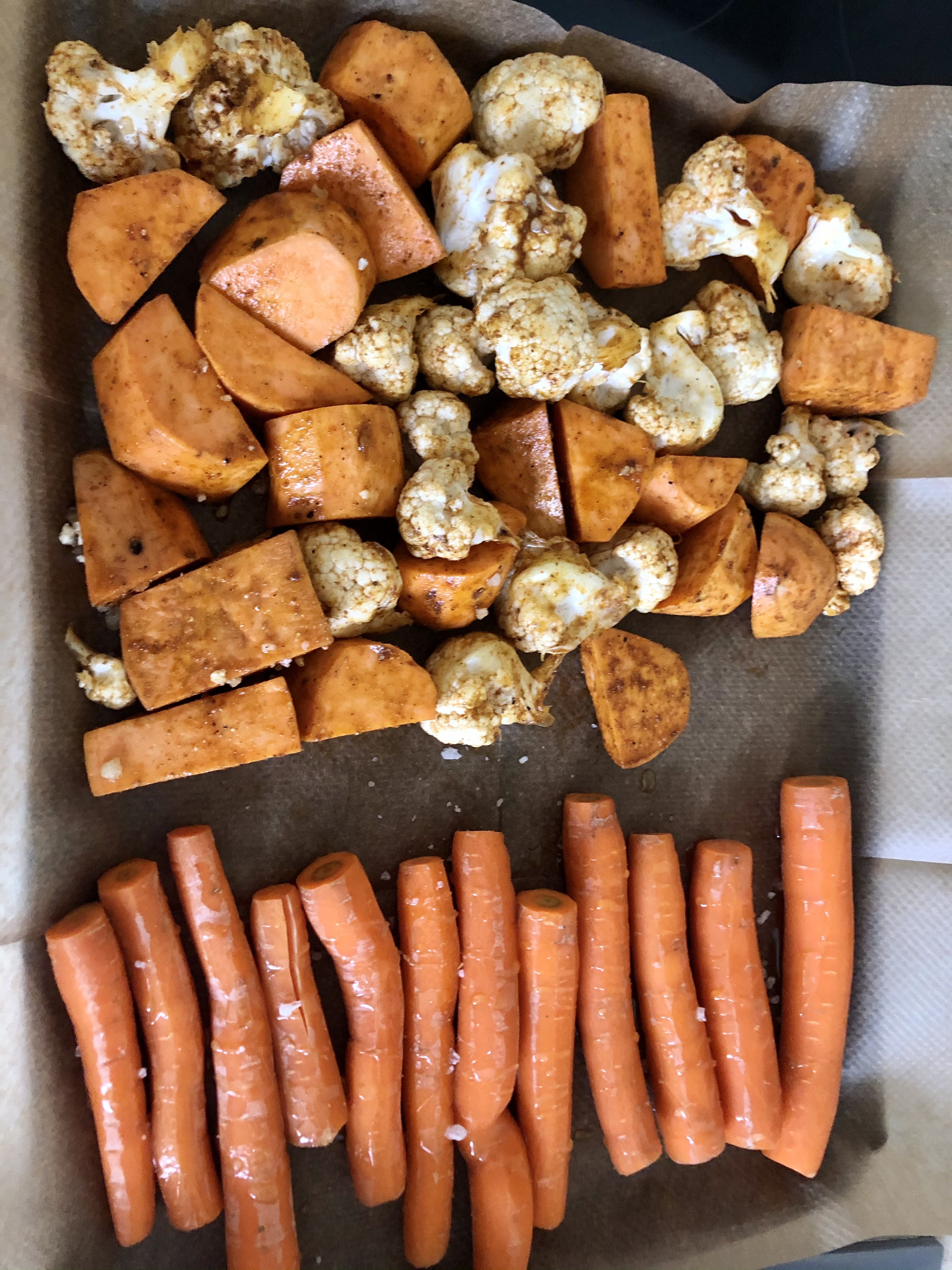 3. Spread the cauliflower/sweet potato mixture on the prepared pan in a single layer. Add the chopped carrots, also in a single layer but on the other side of the pan, along with the chickpeas. Bake until the vegetables are cooked and a light golden brown, about 30 minutes.
4. Transfer the pan from the oven onto a wire rack and let it sit for 10 minutes to cool.
5. Meanwhile, make the roasted carrot cream sauce by adding the roasted carrots to a high-speed blender along with the drained cashew nuts, garlic, lemon juice, salt and aquafaba. While the blender is running, drizzle in water 1 tbsp at a time until you have a smooth sauce.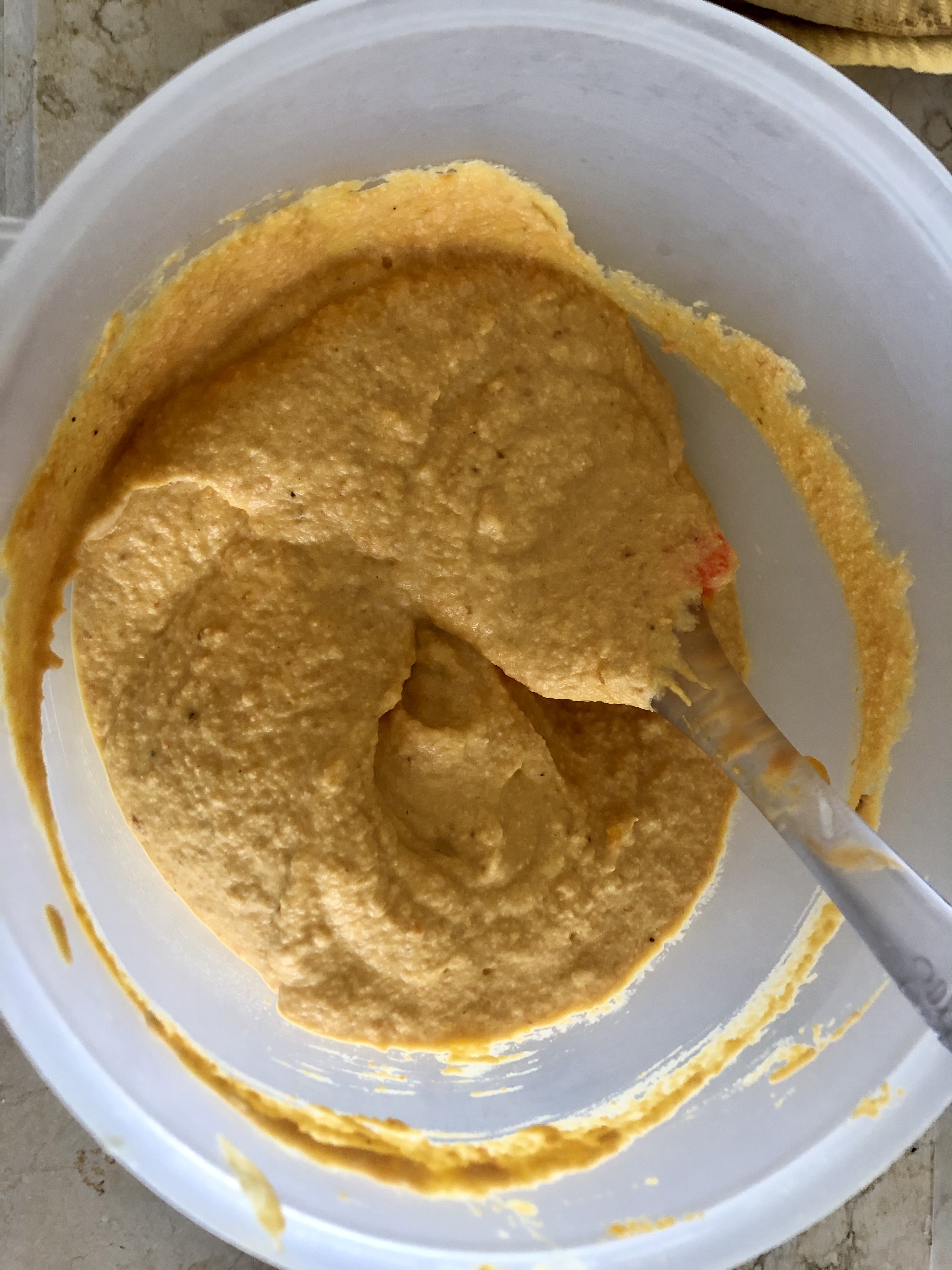 6. Divide the mixture of roasted cauliflower and sweet potatoes into 4 equal portions.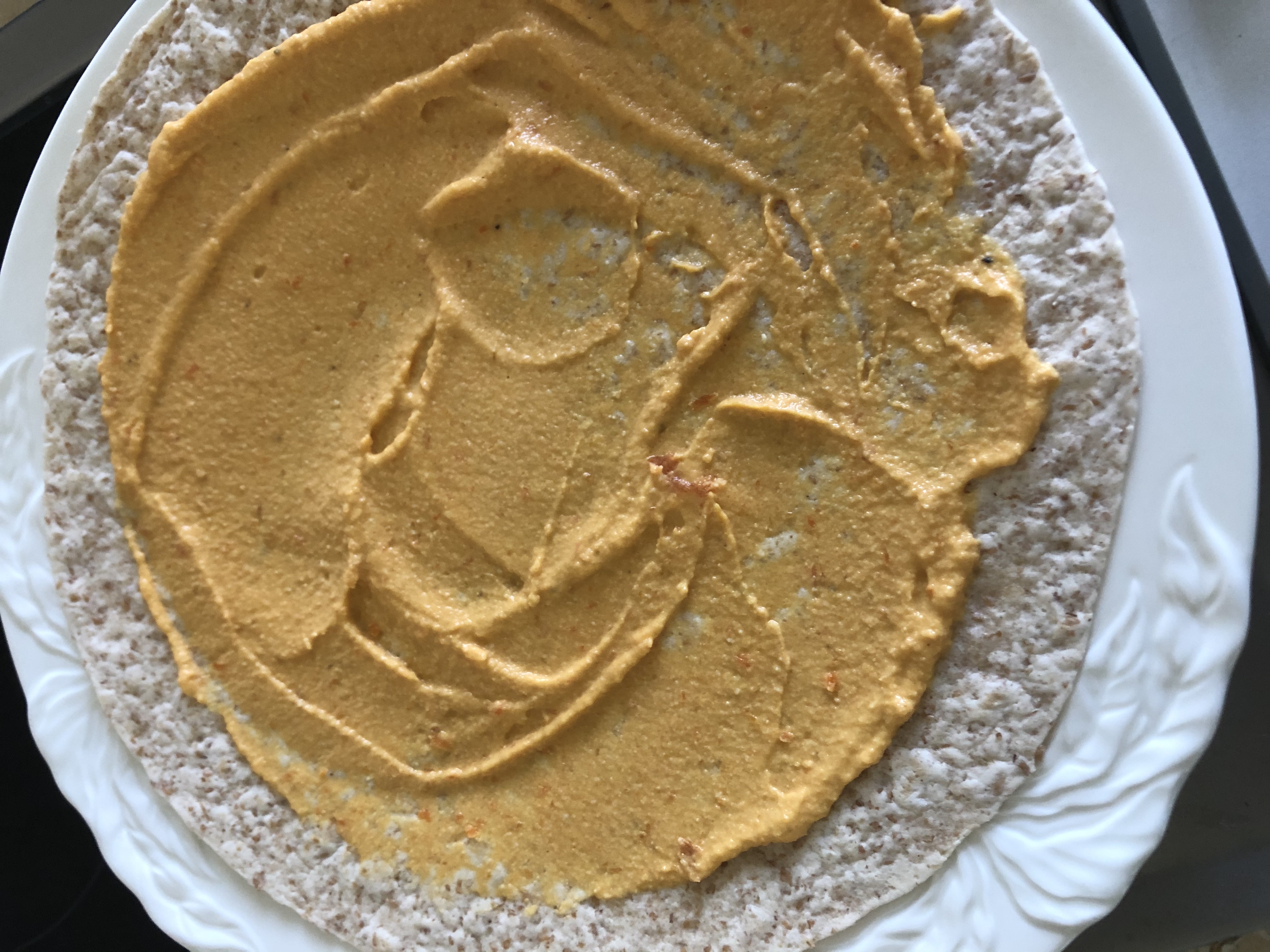 7.  Lay one of the wraps flat on a plate and spread a little of the roasted carrot cream sauce evenly across the entire wrap.  Then one portion of the cauliflower and sweet potato mixture, plus chickpeas, and top with some spinach and avocado.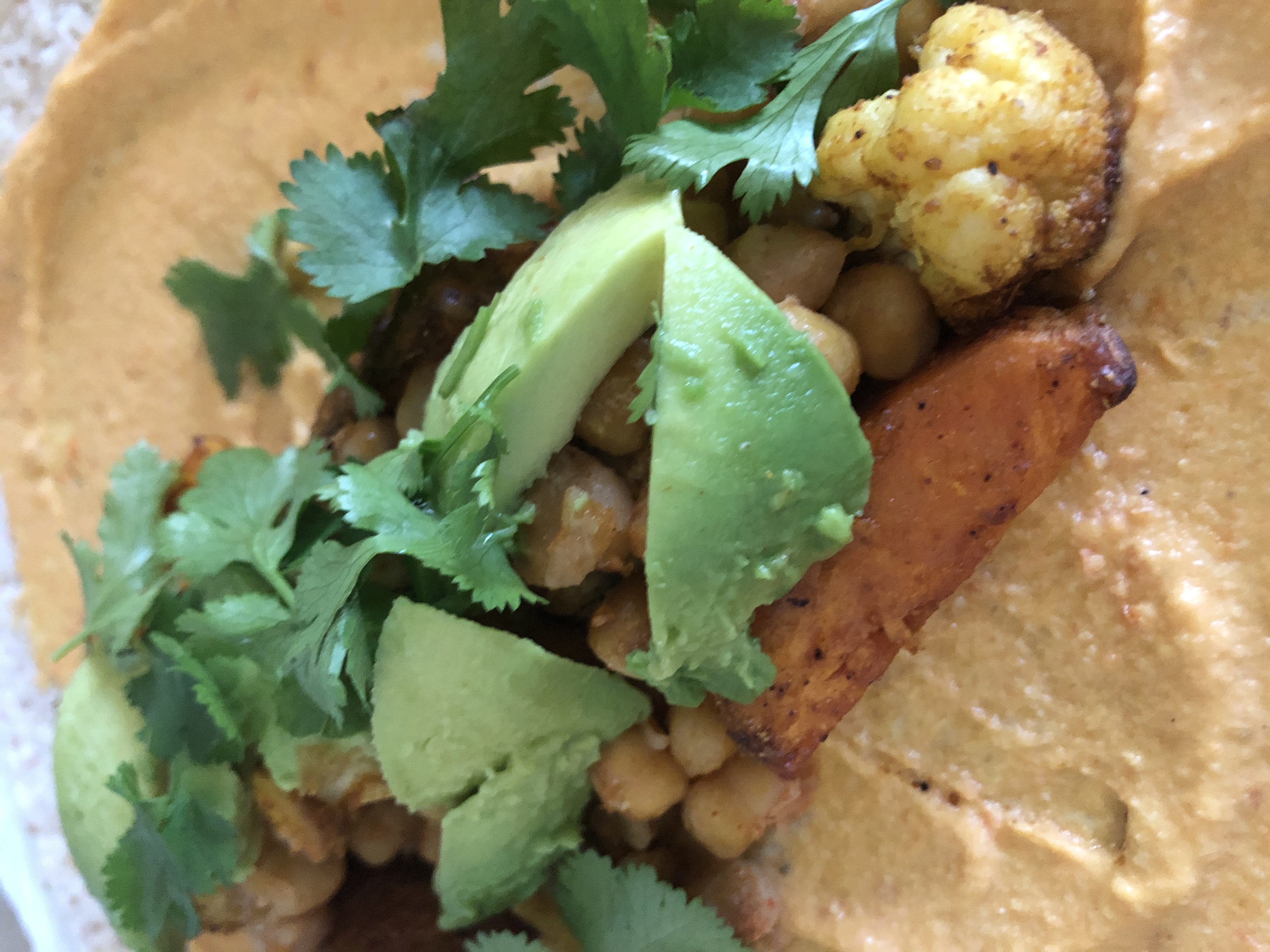 8. Fold in the right and left sides of the wrap then roll it up starting from the side closest to you. End with the seam side down. Repeat these steps with the other 3 wraps.
9. Drizzle a little more of the sauce over the wrap and serve. You can refrigerate any leftover roasted carrot cream sauce for up to 7 days.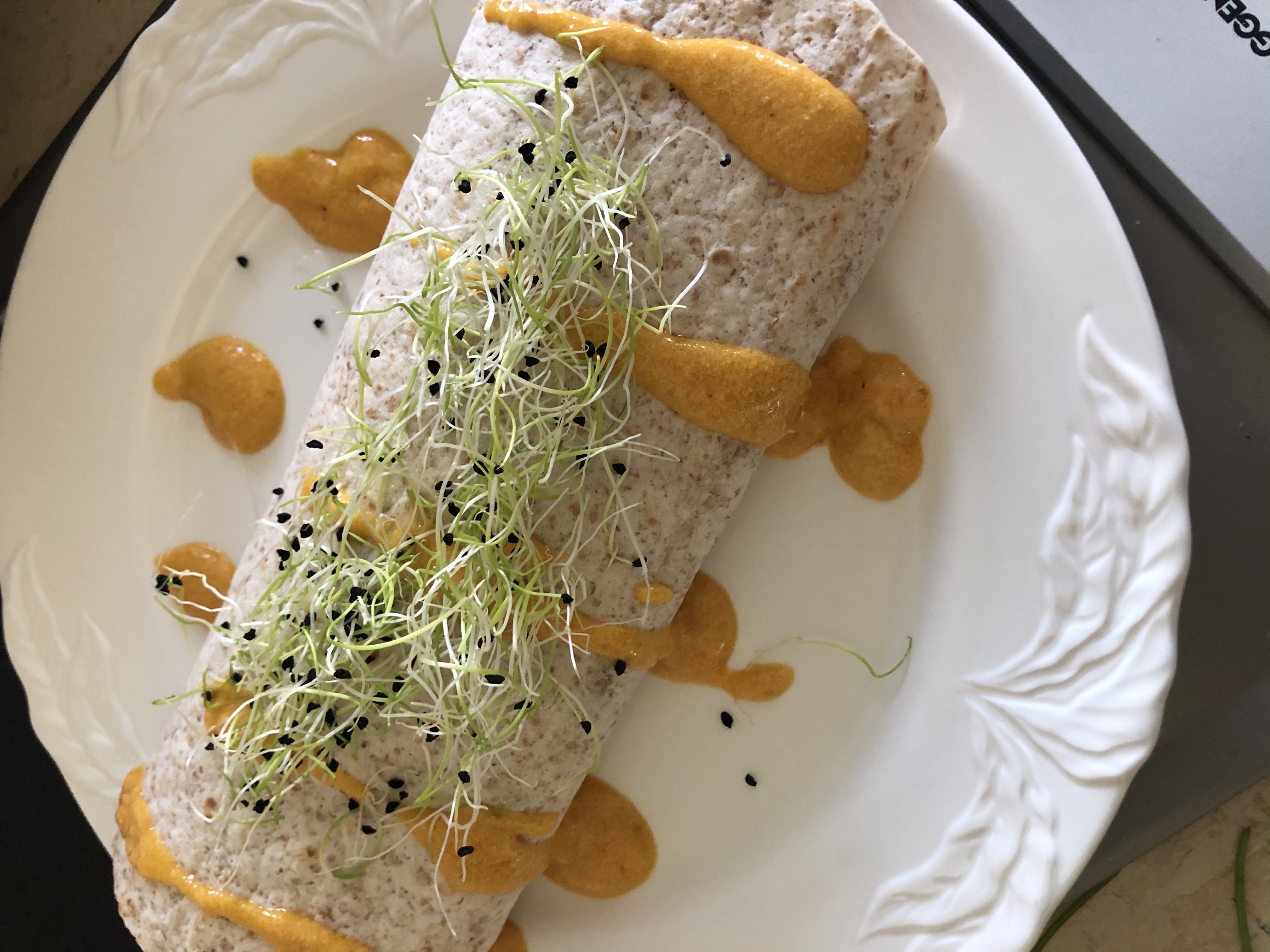 Sheree's Handy Hints
I never buy curry powder instead I make my own in a coffee grinder. This is a mild version, suitable for French palates.
Ingredients
5 tbsp ground coriander seeds
2 tbsp ground cumin seeds
1 tbsp ground turmeric
1 1/2 tsp ground ginger
1 tsp dry mustard
2 tsp ground fenugreek seeds
1 tsp ground black pepper
1 tsp ground cinnamon
1/2 tsp ground cloves
1/2 tsp ground cardamon seeds