As a keen home cook, one of the things I love about where I now live is the availability of  wonderful local, artisan products. While we have our own olive grove in the Domaine where I live, I buy lots of different local organic olive oils, including from today's company.
My next destination is Oliviers & Co started by Olivier Baussan, a serial entrepreneur with a deep love of Provence. Setting up L'Occitane led him indirectly, to the creation of a company selling olive oil. Let me explain.
How it all began
Returning to France after a trip to Burkina Faso where Baussan discovered shea butter, he asked a local photographer to document the life of an old man from Lurs, a village near Mane, who pressed olive oil. Six years later, after the man died, Baussan decided to continue the project. He asked 20 photographers each to spend a year shooting photos of olive trees and their fruit, and he published the results in a book.
In 1993, Baussan opened a poetry bookstore with a friend, an American poet, on the Île St-Louis in Paris. (Selling part of L'Occitane to investors gave Baussan the time and the means to, as he puts it, "reunite all his favorite poets on one shelf.") The bookshop was a cozy place where people were encouraged to sit and read. That was a problem. Lots of people came and read, but nobody bought anything. So Baussan, who had begun collecting artisanal olive oil, started putting bottles of oil on the shelves to sell with the books. Gradually, the bottles edged out the books. In 1996, he started Oliviers & Co.
The company now bottles and sells 22 different extra-virgin olive oils. Most come from France, Italy and Spain, but there are also oils from Greece, Uruguay and Lebanon. All are made by families or small cooperatives. All the suppliers must follow Baussan's exacting methods of cultivation and production, from the pruning of the trees (thinned so that "a bird could fly freely inside them," to the olive harvesting and pressing (within 24 hours of picking). He says:
The oil should be as pure as freshly squeezed orange juice. The minute it's exposed to air, it begins to deteriorate.
And each of these oils has a story. The Uruguayan oil, Los Ranchos, comes from a property that French immigrants planted with olive trees in the 1950s. A woman from Aix-en-Provence who knew nothing about olives inherited the estate and came to Baussan for advice. He and his team restructured the estate and within two years they were bottling and selling olive oil from the estate.
In Lebanon, Nayla Moawad, the widow of the assassinated president René Moawad, asked Baussan for help in modernising the country's olive oil production as a way of honouring her husband's memory. Oliviers & Co. now sells high-quality extra-virgin olive oil under René Moawad's name, with the profits going to charity.
Baussan has also collaborated with a number of highly respected chefs. Jean-Marie Meulien, the former owner of the two-Michelin-starred L'Oasis in La Napoule, France, helps develop condiments and sauces for Oliviers & Co. Spices such as Moroccan saffron and spreads like an artichoke-and-olive dip have been added to the line.
With Pascal Rigo, of San Francisco's Chez Nous and Le Petit Robert, Baussan worked to bring his global vision of Mediterranean food to San Francisco and New York. Rigo oversees the menus at La Table O&CO in San Francisco and the restaurant in New York City; dishes include a Provençal saffron-flavored fish soup with fennel and a North African inspired dessert in which dates and figs are wrapped in flaky phyllo. Rigo devised recipes to complement the distinctive flavors of Oliviers & Co. oils. He tosses fingerling potatoes with rosemary and thyme, then roasts them in a mild olive oil like Oliviers & Co.'s Clemente. He also adds olive oil to a lemony cheesecake for a bit of fruitiness.
Future development
Olivier Baussan undertook a similar role at Oliviers & Co to that at L'Occitane en Provence,. In 2005 his uncle Albert Baussan acquired the company and oversaw its direction until 2017 when Geoffroy Roux de Bezieux acquired a majority stake through his holding company, Notus Technologies.
In its Mane HQ, the company has its own bottling site and employs over 90 people worldwide and has 85 stores, 35 of which are in France though around 60% of turnover is exported. Under its new leadership, the company is continuing its ascent enjoying seeing a French brand and know-how shine internationally.
Olivier Baussan went off and created L'Eco Musée de l'olivier in Volx in Upper Provence in 2006, a museum dedicated to Mediterranean olive farming and traditional lifestyle. Using interactive and audiovisual tools, visitors learn all about olive oil culture and also get a chance to taste different olive oils and products. Baussan opened the first Première Pression shop at the museum in his native Provence.
Baussan sees Première Pression Provence as a form of commerce where the distributor is not considered as the middle man but more as a link between producer and a consumer Both the domaine and the producer's name are included on the labels of the containers.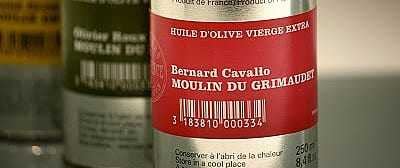 Touch screens with photos, texts and cards take visitors on a virtual trip to Provence, to the region, the producer and the fruit. They learn how the land (terroir), the climate, the olives and the know-how can influence the tastes, colours and aromas of the oil.
What are the traditional Provençal flavours according to Première Pression?
— A slight peppery taste, with an aroma of fresh artichokes with 'fruity green', when the olives are picked early and processed within 24 hrs.
— Aromas of red fruit and a hint of lime with 'fruity ripe' when the fruit is ripe, black and processed immediately.
— A 'fruity black' flavour is obtained when the olives are picked and stored for a few days at the mill before being processed. The aroma and taste are quite different to the other two; this is a sweet olive oil with tangs of mushrooms, dried fruit and even some cocoa.
Producers of fruity black are proud of their oil. One expert Provençal olive oil producer said that fermentation is a delicate process, one of sensuality and intuition where you can't just follow the instructions;
…..you have to feel it in your heart.
Baussan said that although Provençal producers cannot compete with Italian and Spanish producers in terms of quantity, he feels that oils from the Provence will have a niche market in the future. They have the geographic qualities of the Provence, the expertise and the rich Provençal traditions.
Browsing and choosing olive oil is fun at the sleek Première Pression shops; thirty-two labels in thirty-two colours representing the thirty-two producers are on show. Customers bring their own bottles and fill up using the elegant l'orgue aux huiles, designed by Baussan for filling bottles. Made of glass it will hold 10 litres or so of olive oil.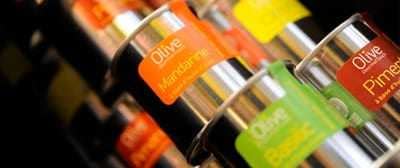 Gift boxes of olive oil are also on offer along with other regional specialties like tapenade made from green and black olives with exotic names such as Pulpe de Salonenque and Pulpe de Picholine.
Premère Pression Provence is following a similar trajectory to Oliviers & Co, with expansion in the Far East, at home in France and in North America.