French fancies: Christophe Robin
This continues my series of looking at French companies some of which you may not have heard about. Today's makes hair products which are responsible for keeping my locks looking lustrous during lockdown.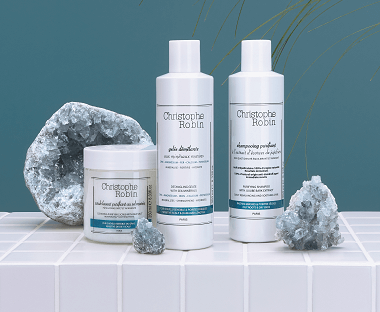 Christophe Robin haircare has been an A-list favourite for over 20 years. Born in one of Paris's most prestigious hairdressing salons, it soon earned multiple beauty awards and achieved iconic status among discerning consumers.
Rooted in colour expertise, the brand has evolved to offer a complete line-up of transformative rituals. Today, its vision reflects its salon heritage providing indulgent, high-performance products that get the best out of all hair types. The brand draws on the precious powers of highly concentrated natural ingredients to deliver truly exceptional results. Since pioneering gentle formulas at a time when harsh chemicals and detergents were still commonly used, it continues to place care and innovation at the heart of its formulas – reaping rewards for your hair and scalp. Christophe Robin puts artistry in the hands of the consumer, unveiling the secret to effortlessly beautiful hair and providing the tools to achieve it. Its mission is simple: to empower joyful confidence, invite a touch of decadence and elevate.
The story began in 1999 when the Christophe Robin Parisian haircare range launched with the ultra-nourishing Hair Oil with Lavender and Cleansing Mask with Lemon. Both products were expertly formulated to treat chemically damaged hair at a time when bleaching and frequent colour changes were widely requested in salons. The success of this cult duo immediately captured the attention of industry professionals, beauty journalists and luxury haircare enthusiasts. From the very beginning, Christophe Robin established itself as a trailblazing brand with an innovative spirit and a passion for powerful natural ingredients.
With a heritage rooted in colour expertise, it was natural that the brand should reveal a major innovation in colour care. The Shade Variation Mask was the first product of its kind on the market, a deeply nourishing alternative to salon toners and colour neutralising shampoos, developed to transform the staying power of carefully crafted hues at home. Thanks to the creamy formula enriched with Buriti oil and almond butter, clients could finally enhance vibrancy, prevent fading and banish unwanted tones without stripping their hair of essential moisture. And with five shades to choose from, Christophe Robin had all colour personalities covered.
Widely recognised for its decadent formulas boasting precious natural ingredients, the brand then launched a transformative new treatment with antioxidant properties – the Regenerating Mask with Rare Prickly Pear Seed Oil. More potent than commonly used Argan Oil, this reparative elixir hailing from the Middle East seals nutrition at the core, reconstructing hair from the inside out. Christophe Robin's miracle mask soon garnered a cult following for its ability to restore glory to dry, damaged hair while offering an indulgent treat for the senses.
As the brand continued to harness miracles of nature, 2017 saw the launch of a sumptuous solution for full-bodied hair. The Cleansing Volumising Paste with Pure Rassoul Clay and Rose Extracts became an immediate sensation, famed for its unique emulsifying clay-to-foam formula that transformed fine hair's resistance, strength and body. Celebrated natural ingredients work together in harmony. The exfoliating shampoo quickly became coveted for its power to detoxify and restore balance to oily and sensitised scalps. Frequently imitated but never equalled, it soothes, draws out impurities and stimulates circulation, for healthy hair from the roots.
After five years in the making, Christophe Robin unveiled the secret to expertly concealing greys between salon appointments, commitment-free. The Temporary Colour Gel soon came to be regarded as a magic wand for emerging grey hairs, empowering clients to blend regrowth seamlessly with their true hue and restore confidence at the touch of a brush. With nourishing natural ingredients providing a welcome alternative to chemicals usually associated with home colourants, it's easy to see why the gel – available in four universally flattering shades – is considered a true ally for maturing hair.
2020 saw Christophe Robin welcome a new addition to the iconic Regenerating range. Harnessing the same rich plant source of omegas and amino acids, the Regenerating Serum with Prickly Pear Oil was developed to bestow sleekness and mirror-like shine upon vulnerable lengths, offer lasting nutrition and deeply reparative benefits. Just a few drops of the light serum provide a lustrous shield against frizz, split ends, free radicals and heat up to 230°C.
The Future
In April 2019, the company was acquired by The Hut Group, one of the world's leading online beauty and wellbeing businesses for a rumoured US$50 million, after its sales increased by 40% year on year. Christophe Robin products are designed to be kind to the scalp and hair, formulated with over 80% natural ingredients – and are free from parabens, silicone, SLS, oxidants, ammonia and are not tested on animals.
The brand also has a strong visual identity linked to its Parisian heritage and epitomises the notion that French women are renowned around the world for their sophisticated approach to beauty. This identity is used to define a new vision of luxury in haircare, based on 'authentic savoir-faire, with a touch of originality'.
With more than 70 products across 10 product ranges, Christophe Robin is stocked in multiple countries and has a strong online presence.