The Musette: individual pineapple tatin
Last week's dinner dish was lightish and therefore I felt it was wholly appropriate to serve a more substantial dessert. I particularly like serving individual ones as generally they're quicker to cook. Despite its appearance, there's not too much cooking involved. You need to buy some puff pastry, several blocks of which I always have in my freezer, and (preferably) a fresh pineapple, though I have made this with tinned pineapple too.
Ingredients (serves 4)
Tatin Caramel
Caramel Sauce
125g (1/2 cup) caster sugar
40g (1 1/2 oz)  unsalted butter
225g  (1 cup) double (heavy) cream
1 vanilla pod (split and seeds scraped out)
Method
1.Make the Tatin Caramel by placing the caster sugar in a medium-sized pan and cooking it to amber caramel. Don't stir, just swirl and watch it like a hawk. The moment you take your eyes off it, it will burn!
2. Remove the pan from the heat, add the water and mix well. Add the butter and black pepper to the caramel and mix until well combined.
3. Fill each individual 9cm mould to 1/3rd with caramel. If necessary, neatly cut and core the pineapple using a pastry cutter so it fits inside the mould and place a piece into each mould.
4. Cut discs of pastry large enough to fit around the pineapple rings. Cover the pineapple with the discs of puff pastry so that they wraps over the fruit rather than sitting on top of the mould. Ensure that it's neatly tucked in.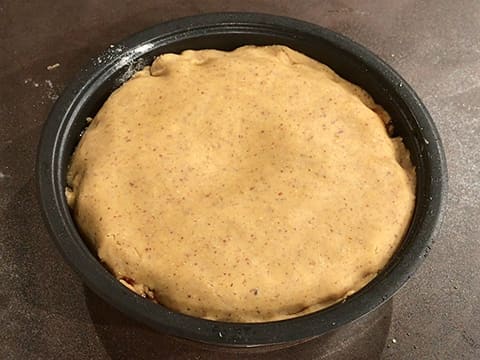 5. Cook in a pre-heated oven at 200°C/180°C Fan/(410°F)/gas mark 7, then reduce to 180C for a further 10 minutes, until the pastry is golden all over. Remove from oven and allow to cool slightly before turning out.
6. While the tatins are cooking, make the caramel sauce. Place the caster sugar in a pan and cook to the amber dry caramel stage. Chop the butter into cubes and add to the caramel, stirring well to combine.
7. Simultaneously boil the double cream and vanilla then slowly add the cream to the caramel. Stir continuously. When the mixture is smooth and all the cream is incorporated, remove from the heat and pass through a fine strainer.
8. To serve, turn the tarte tatin upside down onto the dessert plate. Drizzle caramel sauce onto the plate and place a ball of vanilla ice-cream on top. I often pre-prepare the balls of ice cream, place them on a small tray and pop them back into the freezer to allow for swifter assembly of the dessert.