More beautiful French villages
Following on from last week's list which formed part of a competition on French television, here's a more "classical list." As you may have gathered, while I'm getting out and about, I'm not visiting anywhere new that I can write about. That'll all change at the end of September when we're taking a two-week road trip. Meanwhile here's another list and more food for thought for those of you planning a trip to France., 
From Provence to Bretagne, the Basque Country to Alsace and Normandy to Auvergne, France has a stunning variety of tranquil villages for escaping urban chaos and easing into a slower pace of local life. Whether meandering through ancient alleyways and enjoying a drink in sun-dappled squares or watching fishermen unload crates of lobster, observing everyday life in these hilltop hamlets and picturesque places is the gateway to understanding the spirit of France.
Here are 12 beautiful French villages with dreamy views – a kaleidoscope of red-clay rooftops, pastel façades, centuries-old buildings, golden-hued chateaux, flower-dotted fields and vineyards, plus an array of fine regional wine and food.
Moustiers Saint-Marie, Alpes-de-Haute-Provence
You may remember that last year I visited this lively medieval potter's village, sitting atop the entrance to the spectacular Gorges du Verdon canyon, which is definitely the place to score some famed faience ceramics, but the attraction doesn't stop there. Protected by a suspended five-pointed gold star dangling on a chain between rocky ledges, the town is slashed in two by the Adou river, with steep cobbled paths criss-crossing little stone bridges and limestone cliffs that glow pink at sunset. It's worth taking the time to enjoy a splash-about in the nearby emerald-green Lac de Sainte-Croix and lunch at the bucolic, Ducasse-owned country inn La Bastide de Moustiers.
Villefranche-sur-Mer, Cote d'Azur
Glimpsed from the coastal road, this once-sleepy fishing village has apricot and lemon coloured houses stacked against a painterly curve of shimmering blue sea, with bobbing wooden boats and an imposing trapezoid-shaped 16th century stone Citadel. It's deeply authentic without the trappings of other nearby more touristy towns. Wander through its backstreets to the rue obscure, a dark and mysterious medieval vaulted passageway, then sip an apéro at the quayside Welcome Hotel, Jean Cocteau's former home, just across from the pink 14th century chapel he redecorated with his mystical frescoes.
Ploumanc'h, Brittany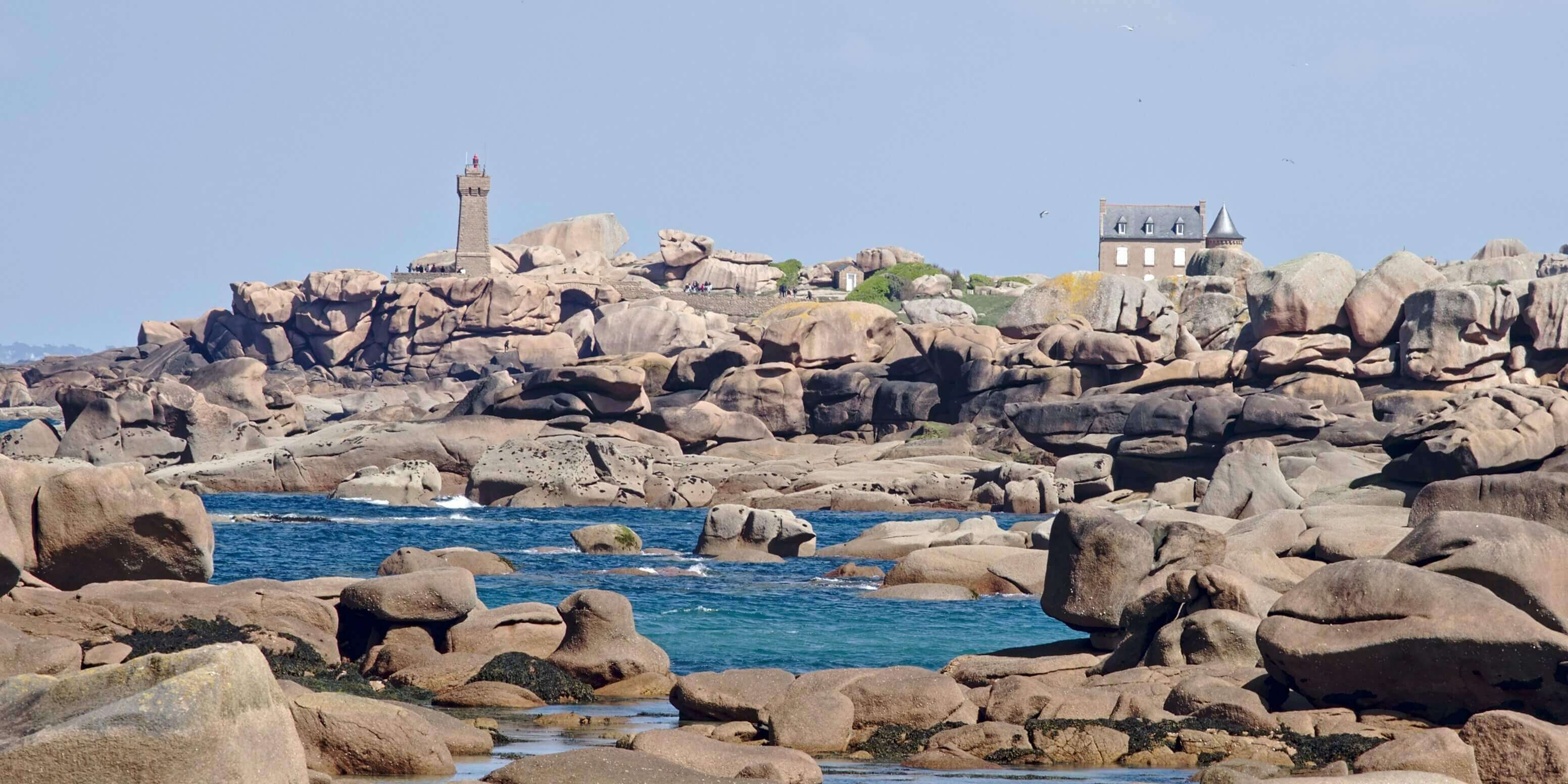 Here you'll find the region's ubiquitous pink granite boulders, piled helter-skelter along the shore, casting a glow on the untamed seascape of Ploumanc'h, a miniature fishing port on Brittany's Côtes d'Armor. Stroll along the GR34 footpath that winds its way around the coast, past the dusty-rose Men Ruz lighthouse at the entrance to the Channel. Further on, in the adjacent village of Perros-Guirrec, enjoy freshly caught roast lobster or grilled octopus at Castel Beau Site, a waterside restaurant with a dreamy view of the neo-Gothic Costaérès castle on the tiny island opposite.
Dome, Dordogne
On a cliff high above the Dordogne valley, this fortified village not only has stupendous views but a rich storied past, beginning in 14th century with the imprisoned Templars (look out for the still-visible prison graffiti etched in the rampart walls) and the turbulent Hundred Years' War between France and England. Explore the buildings lining the streets, then descend to the celebrated caves, a vast network of tunnels under the main square filled with drippy stalactites and stalagmites.
Pigna, Corsica
Thirty minutes inland from Calvi, the road snakes up through the Nervia Valley to this tiny village renowned for its traditional handmade crafts going back to the Middle Ages, with a cluster of rectangular blue-shuttered, honey-hued stone houses. Wander along narrow paths where cats snooze on windowsills, then take the labyrinthine stairs to a shady café terrace to admire the vistas across the surrounding olive groves and the shimmering Bay of Algajola. I should add that Corsica is a great place to cycle.
Saint-Saturnin Puy-de-Dome, Auvergne
The verdant countryside here abounds with royal stories, so history buffs should not miss a pit-stop at this flower-lined village of narrow cobblestoned streets with Renaissance fountains, an impressive Romanesque church and a splendidly restored 14th-century moated castle, the fief of the de La Tour d'Auvergne dynasty since 1281. You can visit the dungeon where Reine Margot was briefly imprisoned and stay the night at the castle, which is also a charming five-room guesthouse where Charles IX and his mother Catherine de' Medici once slept.
Barfleur, Normandy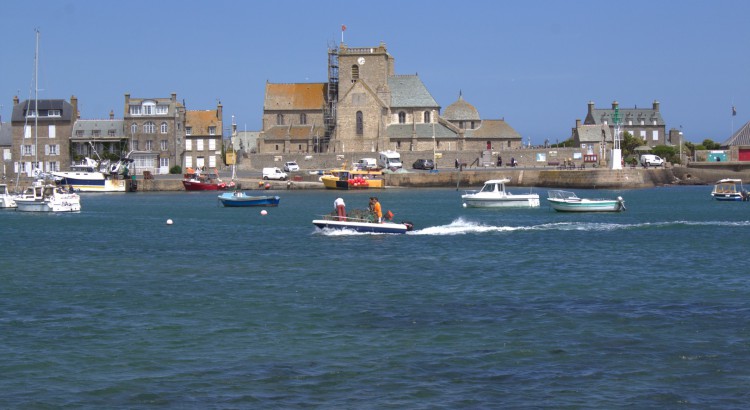 If you enjoy a taste of wild mussels straight from the sea, head to this historic Norman fishing village on the north-eastern corner of the Cotentin peninsula (the very first port in the Anglo-Norman kingdom), famous for its fleshy Barfleur blondes  variety, which you can sample at any of the little harbourside restaurants with a plate of homemade frites and a pitcher of local cider. After a visit to the square-towered Saint Nicolas Church, stroll through the village and look up: the pretty granite houses adorned with traditional red-clay glazed pottery of birds and animals.
Seillans, Var
Here's one that's not too far from where I live and which I've recently visited. Hidden away in the peaceful backcountry near Grasse, Seillans clings to a rocky bluff overlooking a valley that was once renowned for its fragrant fields of perfume-making flowers. No wonder this unspoilt hilltop maze of steep cobbled alleys leading to a medieval castle and 11th century church of Saint Léger became the favourite hideaway of photographer Robert Doisneau and surrealist artist Max Ernst, a 12 year resident together with his wife Dorothea Tanning. You can view their art at the Maison Waldberg, then lunch on the plane-tree-shaded square next to a gurgling fountain at the Hotel des Deux Rocs.
Sare, Pyrennees Atlantiques
This is a delightful spot in my beloved Basque Country at the foot of the Rhune and the Axuria mountains, only 14km (9 miles) inland from the Atlantic coast. The village possesses several open-air pelota courts (the largest is just opposite the town hall), where you can watch locals bounce and smash the ball against the wall while nibbling a delicious black-cherry and custard-filled Gâteau Basque – there's even a museum dedicated to the cake. The white farmhouses, trimmed with pretty red and green shutters, and the fortified church of Saint-Martin with its three rows of carved-oak balconies are delightful, but also you need to make time for walks in the surrounding countryside to prehistoric grottoes and fields of grazing pottoks (Basque ponies).
Menerbes, Provence
Gone are the busloads of Peter Mayle-crazed Provence lovers who once took this postcard-perfect village by storm. Beyond the rugged, austere beauty of Ménerbes, built into the rock with a sweeping view of the Lubéron valley and the blue-grey Alpilles foothills, there's a prehistoric dolmen, a Gothic-meets-Romanesque 16th century abbey, Sainte-Hilaire, as well as a quirky corkscrew museum and rows of carefully restored aristocratic houses, including Dora Maar's former home, now a foundation and residence for American artists.
Kaysersberg, Alsace
Along the 168km (105 mile) Alsace Wine Route, about a 30 minute drive from Colmar, Kaysersberg is the star of storybook gingerbread houses (it was elected France's favourite village in 2017), without the saccharine quaintness of most tourist towns. The long central street, with its shops and cafés, is extremely photogenic – a row of remarkable half-timbered 16th century buildings with carved window frames and flower-filled balconies with façades painted brick red, yellow and lavender. Head up the steps to the ruins of the medieval castle for a bird's eye view of the rooftops and neighbouring vineyards before indulging in some white wine-tasting of the region's aromatic Grand Crus.
I could, of course, make list after list but, if you're really interested, head to this site for even more inspiration.
Images courtesy of the respective Tourist Offices