French Fancies: Baccarat Crystal
France has some wonderful manufacturers of glass and crystal. Here's one of my favourites though sadly it's no longer in French hands.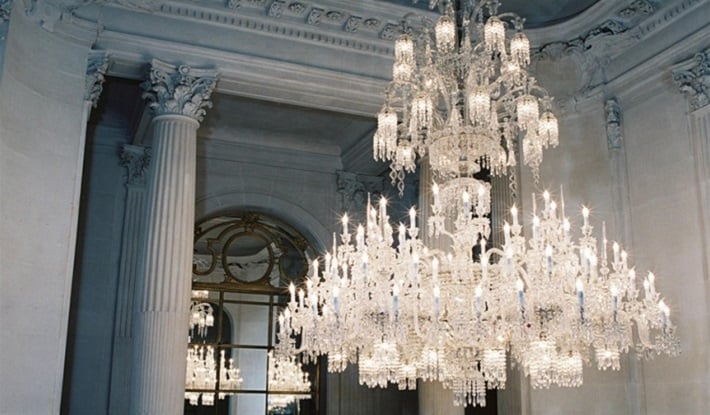 How it all began
Baccarat Glass was established in 1765 by the Bishop of Metz who wanted to encourage industry in the little village of Baccarat, some 400km (250 miles) east of Paris.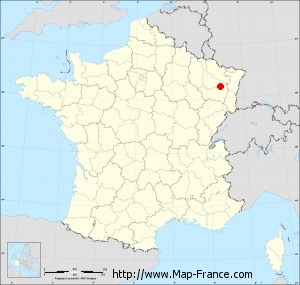 The Verrerie de Sainte Anne at Baccarat made all kinds of utility glassware (windows, bottles, tableware) and flourished for many years. It survived the French Revolution (1789) but struggled through the Napoleonic Wars (1812-1815).
In 1815 the great French glassworks at Voneche in Northern France found itself outside the new French frontier in the newly created country of Belgium – oops! The owner of Voneche, a Parisian named Aime-Gabriel D'Artigues, bought the Baccarat glassworks so that he could re-establish his business in France and continue to serve French customers without paying heavy import taxes. There is a story that he struck a deal with the King of France to reduce his import taxes from Voneche in return for setting up again in France.
The new company Voneche-Baccarat focussed on high quality lead-crystal glass and in the following 200 years Baccarat developed many new techniques in making the finest crystal glass. In 1822 D'Artigues sold the glassworks and the new owners set up the Compagnie des Cristalleries de Baccarat (keeping Voneche as part of the name until 1843).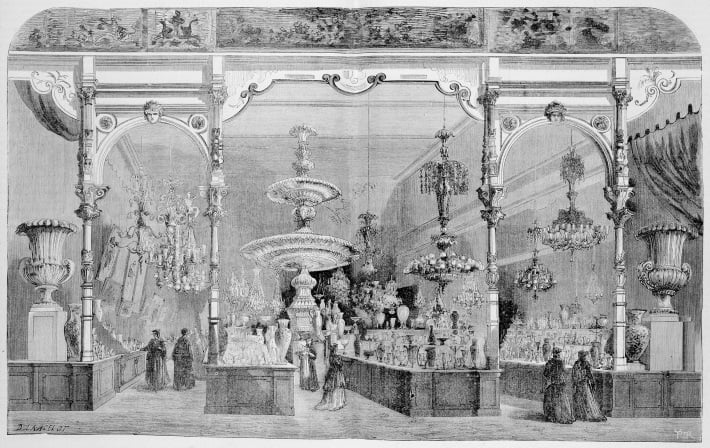 Baccarat received its first royal commission in 1823. This began a lengthy line of commissions for royalty and heads of state throughout the world. In 1855 Baccarat won its first gold medal, at the World's Fair in Paris. Baccarat first began marking its work with a registered mark in 1860.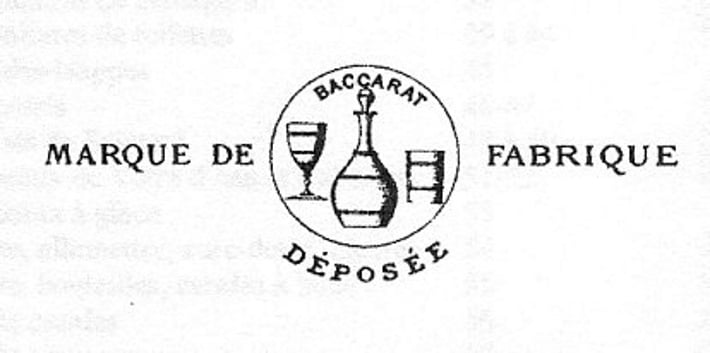 The crystal production expanded its scope throughout this period, and Baccarat built a worldwide reputation for making fine stemware, chandeliers, barware, perfume bottles and crystal paperweights.
The Imperial Era ended in 1870 with the defeat of Napoléon III. Influences outside France began to have a stronger impression on Baccarat's production, particularly imports from Japan. The company was commissioned to produce the world's largest chandelier and a staircase lined with a Baccarat crystal balustrade for the Dolmabahçe Palace in Istanbul.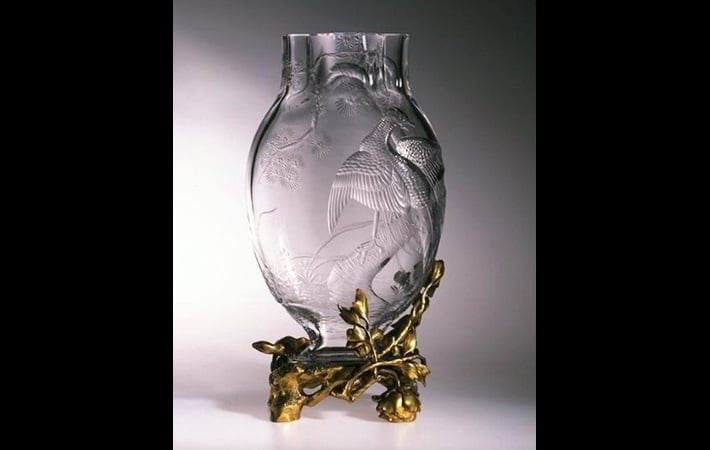 The company enjoyed strong growth in Asia but also at home in Europe, particularly in royal households. The Queen of Portugal, for example, commissioned many decorative pieces and tableware (currently exhibited in the Ajuda National Palace ). One of the strongest production areas for Baccarat was perfume bottles, and by 1907 it was making over 4,000 bottles per day. In 1936 Baccarat began marking all of its works via acid or sandblasting.
Post-WWII, in 1948 Baccarat created an American subsidiary in New York and the company now has many stores in the US, a very important market for its output.
A retrospective was held in 1964 at the Louvre  to celebrate the 200th anniversary of the crystal works. In 1993, Baccarat began making jewelry and by 1997 the company had expanded into perfume and later into hotels!
How the pieces are made
Baccarat crystal glass is made, like any other glass, by adding lead oxide to a mixture containing silica, a 'flux' such as soda (sodium carbonate) and a 'stabiliser' such as lime (calcium oxide). One of Baccarat's great innovations in 19th Century was to devise a method for producing an even clearer, more brilliant crystal glass by adding nickel oxide to the mixture.
The raw ingredients are then heated together in furnaces which reach temperatures of around 1500°C (2732°F). These furnaces take up to a month to get up to full heat, and so are rarely left unheated.
The molten glass is then taken out of the furnace and blown or pulled into a shape. Normally this will be done with the use of a mould. Once the component shapes of a piece of glass have been created, they will then be put back into the furnace so that they fuse together.
After the finished piece has formed and cooled, it will then be decorated. Baccarat glasses are sometimes gilded, or applied with gold powder which is fused onto the surface of the glass.
Very often Baccarat glassware will be engraved. This is achieved by cutting a pattern into the glass either with a stone or copper grindstone or with acid.
Acid engraving involves covering the glass in bitumen, a tough tar-like material, to show the negative of the intended pattern. The glass is then dipped in acid which cuts away at the uncovered part. The bitumen is then washed off and the object polished.
Baccarat: Benenvolent Employer
Another key element of Baccarat's success was its innovative relationship with its employees. The company set rigorous standards for its employees, including an eight-year apprenticeship. But from the beginning, Baccarat proved a model of social enlightenment. When the company was formed, its artisans and workers were given housing within the factory's confines.
In 1827, Baccarat began adding benefits far in advance for its era, including medical assistance for its employees and opening a school for its employees' children. In 1830, the company began offering pensions to certain of its workers; the following year, employees were offered a savings account, with a five percent annual interest rate. In 1850, Baccarat established a retirement fund for all of its employees, paying in one percent of workers' annual salaries. A second retirement fund was established at the end of that decade for the company's engravers. In 1890, lastly, the company established an unemployment benefits fund for its employees.
Ownership of Baccarat
On the financial front, Baccarat went public in 1978, reserving 11% of the company's shares for its employees. Its fortunes soared during the economic boom of the 1980s. Eager to expand its name into new markets, particularly the rapidly developing economies in the Asia Pacific region, it welcomed a capital injection from Société du Louvre, part of the Group du Louvre, a hotel and luxury goods group controlled by the Taittinger family,
Société du Louvre continued to advance its position, building its share of Baccarat's stock before reaching majority control of 51.7% in the late 1990s – even as Baccarat's growth was slowed by the extended economic recession of the early 1990s, and the later collapse of much of the Asian economies in the late 1990s.
In 2005 Groupe du Louvre was acquired by US Starwood Capital Group. In 2012 Starwood announced it would use the Baccarat name for a luxury hotel chain "Baccarat Hotels and Resorts" which would showcase the company's crystal chandeliers, decorative pieces and glasses.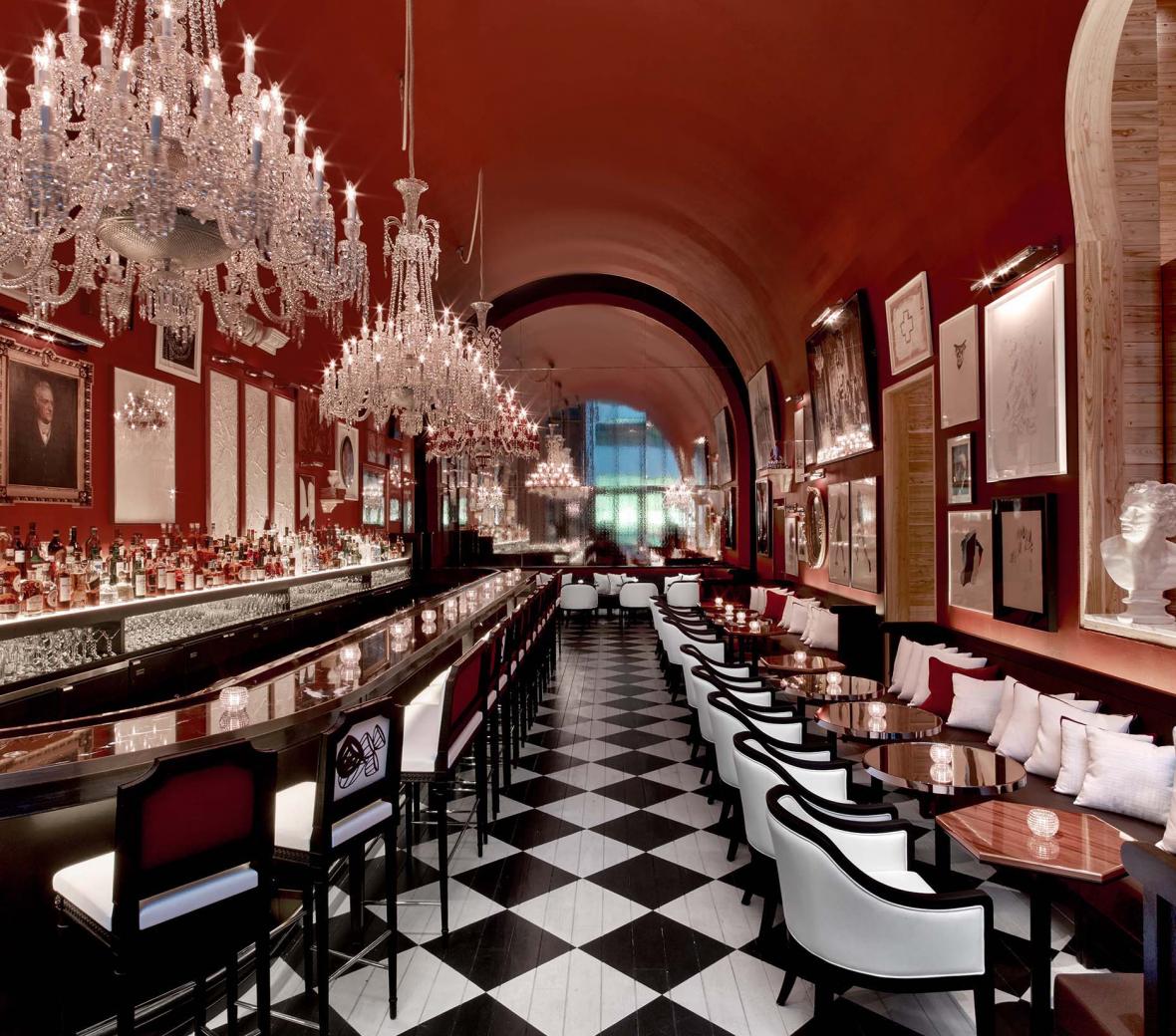 There is one hotel in New York, opposite MoMa with further hotels opening shortly in Doha, Bordeaux and Florence.
The Baccarat hotel made history two months after opening in May 2015, when the Chinese Sunshine Insurance Group purchased the property from Starwood Capital Group paying US$230 million, the highest price per room for a hotel in the United States.
In 2018,  Fortune Fountain Capital, a Beijing-based financial group, finalised the acquisition of Baccarat, acquiring an 88.8 % from Starwood Capital Group through its holding company Fortune Fountain Limited (FFL). FFL defaulted on the interest payments on its loans and in 2020, four financing funds based in Hong-Kong took control of it, including its stake in Baccarat.