It's advisable to leave your car in one of the parking lots below Saint-Jeannet and visit this village on foot. Alternatively, do as I do on two wheels. Like many similar villages in the area, it's laid out in the shape of a snail's shell and its roads are very narrow.
First up is the Place Saint Barbe which has a great view out to sea. But the view is even better if you take a walk up to the top of the Baou. There's a handily placed café-terrace, should you require fortification before tackling the climb.
But before you start your hike, take the time to explore the village. Built of stone polished by the centuries, its houses are high and narrow and form superimposed rows. With several small sun-filled squares, the washhouse and the fountains  – one dating from 1875 – from which flow a cool and pure water from springs on high  – great for filling my water bottle/bidon. It's an absolute delight to stroll along its peaceful and authentic narrow streets. Duck through the low arched passage to admire a view of the surrounding countryside all the way to the Mediterranean from the little overhanging terrace.
Saint-Jeannet is not lacking in religious buildings. On the main square in the village centre is the renovated parish church of Saint John the Baptist, built in 1666 with a bell tower from 1670. Next to it is the Saint-Bernardin chapel (the former White Penitents' chapel) with a beautiful altarpiece from 1652. At the western end of the village stands the Chapel of Saint John the Baptiste, built in 1753. Light and airy with its apse and barrel vault ceiling, it hosts different cultural events, fêtes and exhibitions. heading away from the old village, in its own garden with a fountain is 15th century Notre Dame des Baous Chapel and the nearby 12th century Sainte-Petronille Chapel.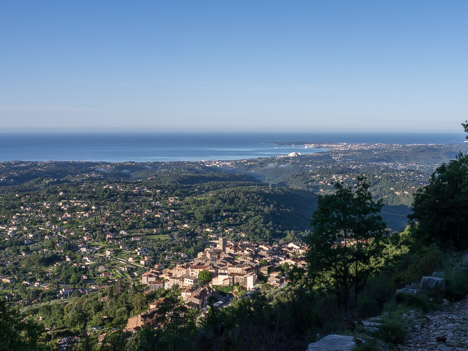 Now head upwards. The climb to the top takes about 2 hours and is accessible to people with little training or fitness. On the ascent you'll pass hidden caves where the villagers sought refuge during troubled times and the ruins of a very large and very old sheepfold. At the very top, 800 metres (2,625 feet) above sea level, is an orientation table and amazing panoramic views that stretch from the alpine peaks of the Mercantour to Antibes, the Lérins islands and the Esterel mountains.
I understand the Baous are famous for slacklining, similar to tightrope walking but frankly I've no intention of trying it!
Saint-Jeannet is also renowned for its wines. In the past, grapevines covered the terraced land, before making way for flowers and orange trees to supply the perfume industry in Grasse. Today, the land below the village is occupied by real estate but one wine-maker, the Rasse family, is carrying on the tradition and producing quality wines, including famous dry fragrant tuilé wine of Saint-Jeannet. When driving up to the village take the right hand turn to the Route des Sausses leading to the Domaine des Hautes Collines, recognisable by the huge flasks full of rosé, for a cheeky degustation