The Musette: Breton Palets
Posted on 25/09/2021 by Sheree
These are really, really good cookies! They are buttery – as they should be, not too sweet and a little salty. And their texture, so delicate, so tender, so sandy, is a little marvel.
How much salt you use is up to you. If you use the smallest amount, you'll catch the flavour now and then; use the greater amount and the salt will be present, as it is in Breton cookies. I also add vanilla though it's not in the "traditional" recipe but I think it's a nice addition. Of course, if you'd like to add a little lemon or orange zest, I won't stop you.
These are easily made without a mixer, especially if your butter is very soft – think soft like an expensive face cream. However, if like me you use a mixer, work on a low speed, you want to blend the ingredients, not beat them into a fluff. Once you've got the dough made, a matter of minutes, you've got to freeze it for at least 2 hours before baking, so remember to build in that time into your schedule.
I bake the cookies in muffin tins. It forces the soft dough to bake into perfect rounds and gives the bottoms and sides of the cookies a gorgeous, deep golden colour. If you bake them on a cookie sheet, they'll spread and be quite flat. They'll be tasty, but they won't be palets.
215g (1 2/3 cups) plain (all purpose) flour

1/2 tsp baking powder

1/4 tsp bicarbonate (baking) soda

225g (2 sticks) very soft (but not oily) unsalted butter

90g (3/4 cup) icing (confectioner's) sugar, sieved or sifted

1/2 to 3/4 tsp fleur de sel or 1/4 to 1/2 tsp fine sea salt (to taste)

2 large organic egg yolks, at room temperature

1 1/2 tsp pure vanilla extract (optional)
1.Whisk the flour, baking powder and baking soda together, then set aside.
2. Working with an electric mixer on low-medium speed or with a flexible spatula or whisk (if your butter is soft and creamy, the dough is very easy to make by hand), beat the butter, sugar and salt together until very smooth. If you're using a mixer, go easy – you're not looking to beat air into the mixture.
3. One by one, add the yolks and beat to blend. Beat in the vanilla, if you're using it. Add the dry ingredients in two additions, beating or stirring them in until just incorporated. You'll have a soft, sticky dough.
4. Divide the dough in half and roll each half into a log that's about 15cm (5 1/2 to 6 inches) long (get the length right and the width will be fine). It's a fussy job because the dough is so soft. I generally put the dough on a piece of cling film (plastic wrap), greaseproof (parchment) or wax paper and use that to cajole it into shape. Or chill the dough for a while and then log it. Either way, freeze the logs for at least 2 hours (or for up to 1 month).
5. When you're ready to bake, position the racks to divide the oven into thirds and preheat it to 180°C/160°fan/350°F/gas mark 4. Have two standard-size muffin tins at the ready. (I usually bake one tin at a time, so I centre the oven rack.) There's so much butter in the cookies that there's no need to butter the tins.
6. Working with one log at a time, unwrap the log and score it so that you can cut 12 rounds. If a round cracks or slivers when you cut it, just press the pieces back into shape. Drop a round into each muffin hole.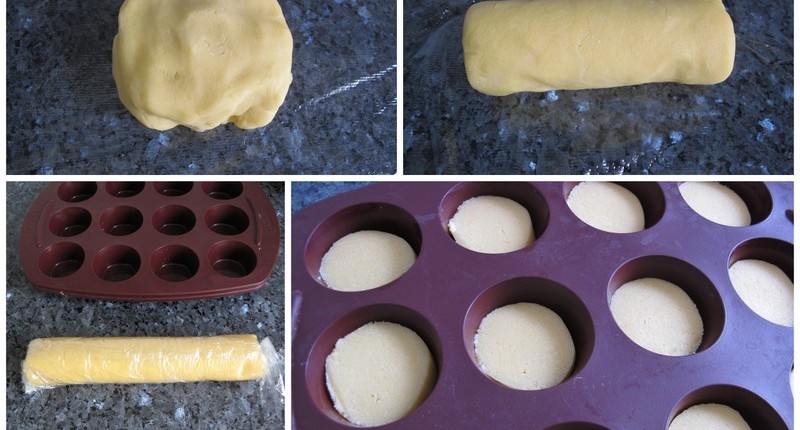 7. Bake the palets for 18 to 20 minutes – rotating the tins top to bottom and front to back after 10 minutes, if you're baking two tins at once. Bake until they are beautifully golden around the edges and just firm to the touch in the centres. Remove the tins from the oven and turn them over onto a rack, tapping the tins lightly, if needed, to release the cookies. The cookies are very fragile, so be gentle with them. Cool to room temperature on racks before serving.
8. Packed in a covered container, the palets will keep for at least a week providing they're well hidden!!!