French Fancies: J.M. Weston
I've featured posts about ladies' shoes but I thought I should address the balance and look at a French producer of predominantly mens' shoes.
J.M. Weston, despite the Anglo-Saxon sound of its name, is a French luxury shoe company, founded by Édouard Blanchard in 1891, in Limoges. It is renowned for its handmade shoes for men though they now also make women's shoes, plus a full line of leather goods ranging from belts and briefcases to luggage items. J.M. Weston shoes are generally sold in its own boutiques.
At the start of 20th century, Edouard was joined by his forward thinking son Eugène, who had his sights firmly fixed on the modern manufacturing methods employed in United States. He went there in 1904, more specifically to Weston, Massachusetts, to learn the latest production techniques. He stayed for three years and learned all about the welting process which makes it possible to resole shoes, thereby making them last longer. (Around 15,000 shoes are returned to the company for repair and resoling each year.) It was also he who, in 1919, on the death of his father Édouard, decided to limit production from six hundred to eighty pairs a day.
In 1922, Eugène Blanchard joined forces with Jean Viard, a Parisian dandy he had met at the racetrack, quite possibly Longchamp. Together they registered the J.M. Weston brand and opened their first Parisian boutique on boulevard de Courcelles, then in 1932 on the Champs-Élysées.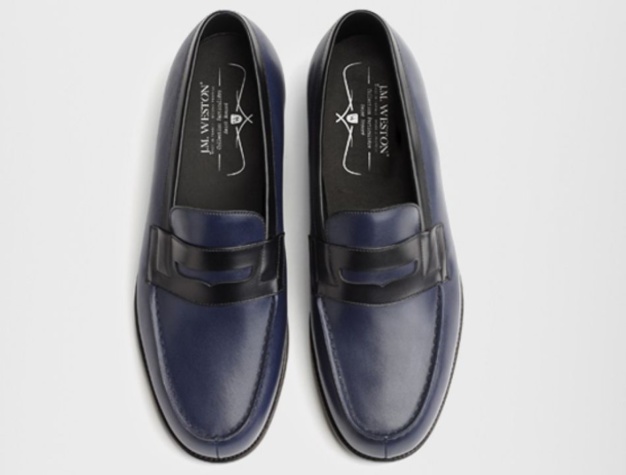 During the iconic swinging sixties, the brand was adopted by the rebel French mods (Bande du Drugstore) who adopted the Weston loafer as their own, wearing it without socks and teamed with jeans. This sparked a massive trend and thereafter France's elite adopted it as their clan uniform, resulting in huge commercial success for the brand.
In 1974, the company bought the trade mark (but not the factory) of Sylvestre Vincent et fils, an old quality footwear company founded in Limoges in 1881, shortly before the creation of the Weston company by Edouard Blanchard in 1891. This acquisition allowed Weston to access a number of captive markets such as the supply of boots for the Republican Guard and the National Gendarmerie and the ceremonial shoes of the army officers
In 1981 Weston bought the tannery Bastin & Fils (located about twenty kilometers from Limoges, in Saint-Léonard-de-Noblat), founded in 1860, whose kiln dating from the industrial revolution is listed as a Historic Monument. This tannery has supplied hides only for the soles since the company's inception. The leather for the upper part of the shoe comes mainly from the French tannery in Puy-en-Velay, acquired by EPI (see below) in 2011 and subsequently sold to the Hermès Group in 2015.
From first cut to final inspection, the shoes go through almost 200 construction processes. It takes a year just to make the leather sole! The shoe hides are cut from calf leather by laser for pinpoint accuracy though tradition and quality is the company's constant ethos with some of the machinery dating back to WWII.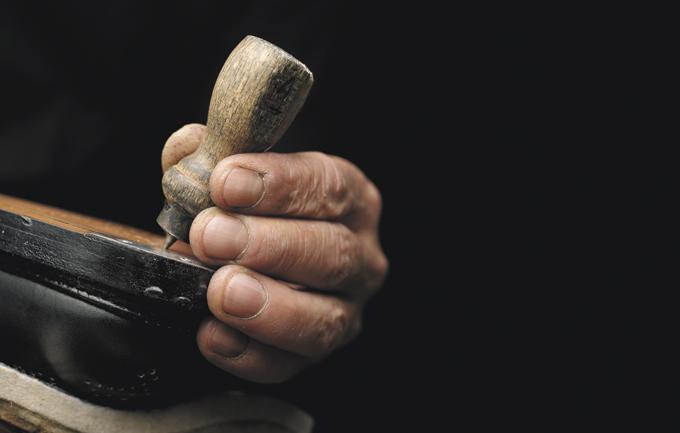 2006 ushered in the introduction of leather goods and luggage. A small, highly curated collection for women followed. The range of leather goods has expanded year on year.
Weston is one of the brands of the privately-held luxury holding company EPI founded by Jean-Louis Descours in 1974, the year it acquired J.M. Weston, and is today managed by the founder's grandson Christopher Descours, who claims:
Today, it is the values of craftsmanship, durability, quality and transmission of French know-how that the EPI group strives to perpetuate in each of its other acquisitions, all inherited from the particular spirit of this brand of shoes.
While the company opened its first store in 1922, it now has over 40 boutiques and two franchises with an annual turnover rumoured to be just north of sixty million euros.
In more recent years, like many upmarket brands, the company has pursued a design-led strategy and collaborated with companies who share its ethos to broaden its product offering.
The Fondation d'Entreprise J.M. Weston
This is tasked with supporting initiatives that encourage manual work and the exchange of outstanding skills in France. It has three main lines of focus, which it hopes to fulfil by through its partnership with the Association Ouvrière des Compagnons du Devoir et du Tour de France:
Support creation and innovation
Encourage skills training
Promote open-mindedness and exchange of ideas
The company has its own on Foundation Awards to perfect the mastery of shoe manufacturing, within the JM Weston factory in Limoges, and an exchange scheme with a similar company in Japan. Essentially the work of the foundation is to ensure a future stream of talent for the company.