The Musette: Halloween treats (vegan)
While we don't generally celebrate Halloween, the local kids occasionally come trick or treating. Consequently, like last year, I will leave two plates of treats (recipes below) in small bags on the table outside my front door, with plenty of hand gel, for fingers big and small to help themselves.
First up are my coconut bars which go down rather nicely with a bedtime cup of cocoa, or indeed a cup of anything!
Ingredients (makes 24 bars)
240g (8 1/2 oz) coconut cream
160g (5 1/2 oz) raw or soft light brown sugar
300g (10 1/2 oz) unsweetened coconut chips
1½ tsp instant coffee powder
½ tsp vanilla extract
½ tsp flaked sea salt
200g (7 oz) (min 70% cocoa) dark (semi-sweet) chocolate, melted
Method
1.Pre-heat the oven to 190C (170C fan)/375F/gas 5, and grease and line a 32cm x 22cm (12″ x 8″) baking tray with greaseproof (parchment) paper.
2. Put the coconut cream and 140g sugar in a medium saucepan on a medium heat and cook, stirring, for two to three minutes, until the sugar melts.
3. Stir in the coconut flakes, coffee powder, vanilla extract and salt until fully combined and the flakes are completely coated, then immediately transfer to the prepared tray and press down all over to create an even layer.
4. Sprinkle the surface with the remaining 20g sugar, then bake for 35 minutes, turning the tray once halfway, until the surface is crisp and well browned. Remove, leave to cool, then refrigerate for at least three hours to set completely (or overnight, if you fancy getting ahead).
5. Once set, transfer the slab to a board and discard the paper lining. With a large, sharp knife, cut it into 24 rectangles – don't worry if some break a little: it adds to the rustic look.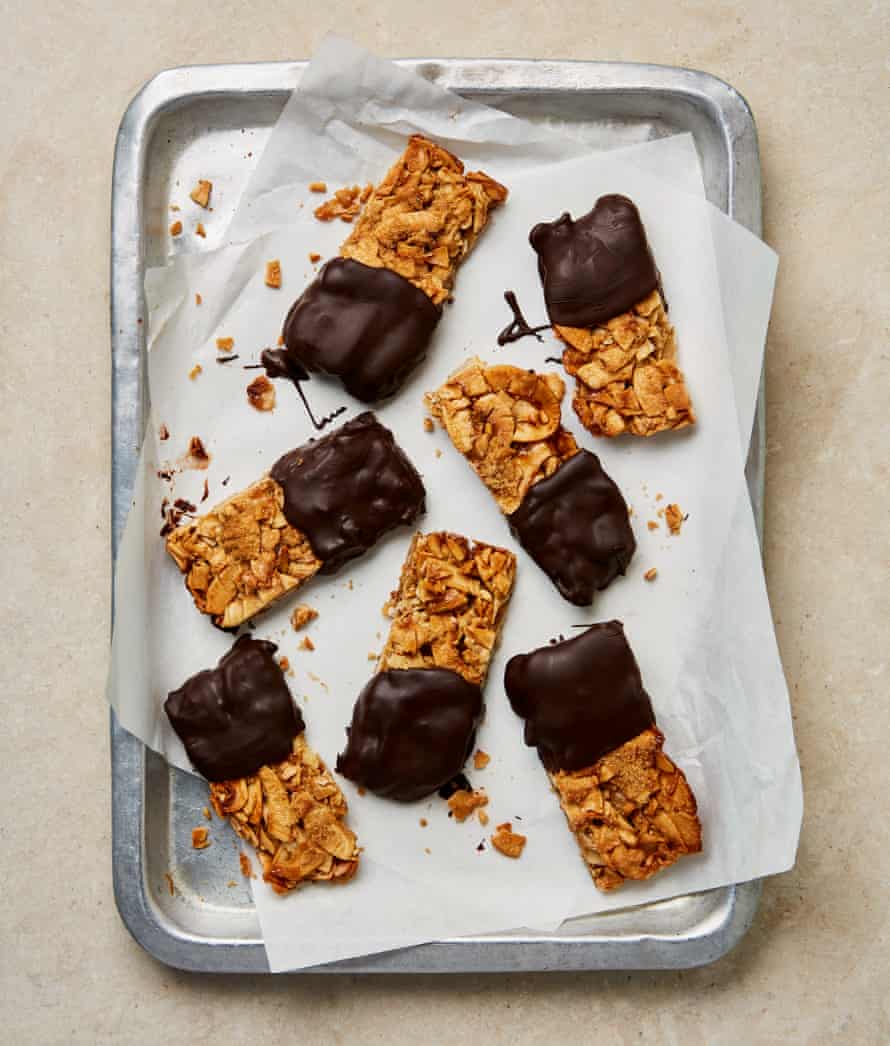 6. Line a large tray with greaseproof (parchment) paper and have ready a bowl with the melted chocolate. Dip one bar halfway into the chocolate, so half of it is coated, then lay it on the lined tray while you repeat with the remaining bars. Transfer to the fridge for at least 40 minutes, to set, and serve from cold.
Chocolate Fudge
Rich, indulgent, and made with just a handful of ingredients, this chocolate fudge is vegan, oil-free and sweetened naturally!
Ingredients
200g (7oz) 70% min cocoa (semi-sweet) dark chocolate
20g (1 cup) pitted medjool dates
160g (2/3 cup) coconut milk
1 tsp vanilla extract
1 tsp instant coffee powder
50g (1/2 cup) cocoa powder
Pinch of sea salt
Crushed and toasted pecans, walnuts or whatever for topping
Method
1. If necessary, soak the dates in warm water for 10 minutes to soften and then drain.
2. Preferably in a liquidiser or blender, blend the dates and coconut milk until very, very smooth.
3. Melt the chocolate either in a bain marie or in the microwave.
4. In a bowl, combine the date paste, cocoa and coffee powders and salt. Then, stir in the melted chocolate.
5. The mixture will stiffen. Press into a greaseproof-lined pan, say 20cm x 12cm (8″ x 5″) and top with the chopped and toasted nuts. Refrigerate overnight.
6. Cut into cubes and enjoy. Any leftovers – as if that's going to happen – should be kept in the fridge.