Fabio: 1st French MotoGP World Champion
Musical Monday has been bumped to Tuesday for a very good reason. Those of us who live on the Cote d'Azur and love MotoGP, including the Mayor of Nice, are celebrating the first ever French MotoGP World Champion, local wunderkind Fabio Quartararo. 
One or two of you maybe muttering that you thought I was a Marc Marquez fan. I am but I am also delighted for Fabio #ELD1ABLO and France and am already licking my lips at the thought of next year's races when Marc will once more be truly competitive after his last injury-plagued 18 months. But enough of Marc, this post is about Fabio and yesterday's race.
With just three races left this season, Fabio had a sizeable but not insurmountable championship points lead over Italian Francesco Bagnaia. The French commentators kept referring to Fabio having a "match point" and that was a good analogy. All sorts of possibilities were examined depending on how the duo finished. It's fair to say that excitement was at an all-time high as the race began.
Yamaha's Fabio got the worst possible start to the race qualifying in 15th position while chief rival Bagnaia secured his fourth consecutive pole and grabbed the holeshot (lead going into first bend) at the start. The front trio of  Bagnaia, Ducati teammate Jack Miller and Honda's Marc Marquez soon found themselves clear of the chasing pack.
Under pressure from Marquez, Miller went down and out at Turn 15 on Lap 4 , meaning Bagnaia's wingman was no longer able to help the Italian. Instead, he now had Marquez swarming all over his rear wheel. Meanwhile, Quartararo was steadily working his way through the bunch up into 10th. With nine laps to go he was up into fifth and baring a disaster, because of the time gaps, that was as good as it was probably going to get. Or so everyone thought!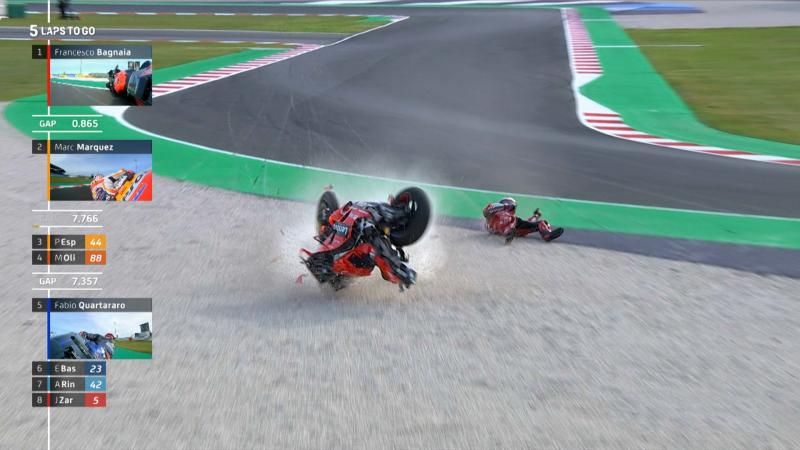 Ducati were to suffer more heartbreak with just five laps to go when Bagnaia, just starting to pull clear of Marquez, lost the front wheel (see above) crashed and conceded the 2021 Championship.
The crash left Marquez in pole and when Miguel Oliviera crashed shortly thereafter, Fabio, the new World Champion, was in a sensational third-place from 15th on the grid.
At the chequered flag, Marc Marquez had won his second race in a row, his third of the season, with teammate Pol Espargaro coming home second to hand Honda a fantastic 1-2. Avintia's Enea Bastianini, with a move at Turn 14, got the better of Fabio on the last lap to cement another rostrum to take the lead in the fight for Rookie of the Year. But just behind him, tears streaming down his face, was the 2021 MotoGP™ World Champion: Fabio Quartararo! Jubilation ensued for the Frenchman and Yamaha – their first title since Jorge Lorenzo in 2015.
While Fabio's title was the main story, Marquez's first victory on a clockwise course since 2019 after his injury hit last 18 months was a sub-plot along with Valentino Rossi's last MotoGP ride on Italian soil.
Even if you're not a fan of MotoGP, you've probably heard of the evergreen nine-time world champion Rossi whose race number and colours – blue and yellow 46 – adorns many. Rossi crossed the line in 10th, a fitting send-off in front of his adoring fans. Two races remain in Portugal and Valencia to enjoy The Doctor doing what he loves best – racing motorcycles.
So there you have it. The 2021 MotoGP™ World Champion is crowned, congratulations to Fabio Quartararo and Yamaha on an incredible season, as I look forward to those final two races of the season.