Postcard from Pordenone
This is an area of Italy we know well because my beloved has a client here with whom he has worked for a number of years. In addition, it's an area that often features in the Giro d'Italia, and I have friends who live nearby in the gorgeous town of Asolo. Although Pordenone is only a few hours from Peschiera, we chose to stop here to catch up with friends and acquaintances. It was also lovely to see how well the renovations in the Old Town are progressing.
Pordenone is a city in the wine-producing region of Friuli–Venezia Giulia in northeastern Italy. It lies along a small tributary of the Meduna River, southwest of Udine.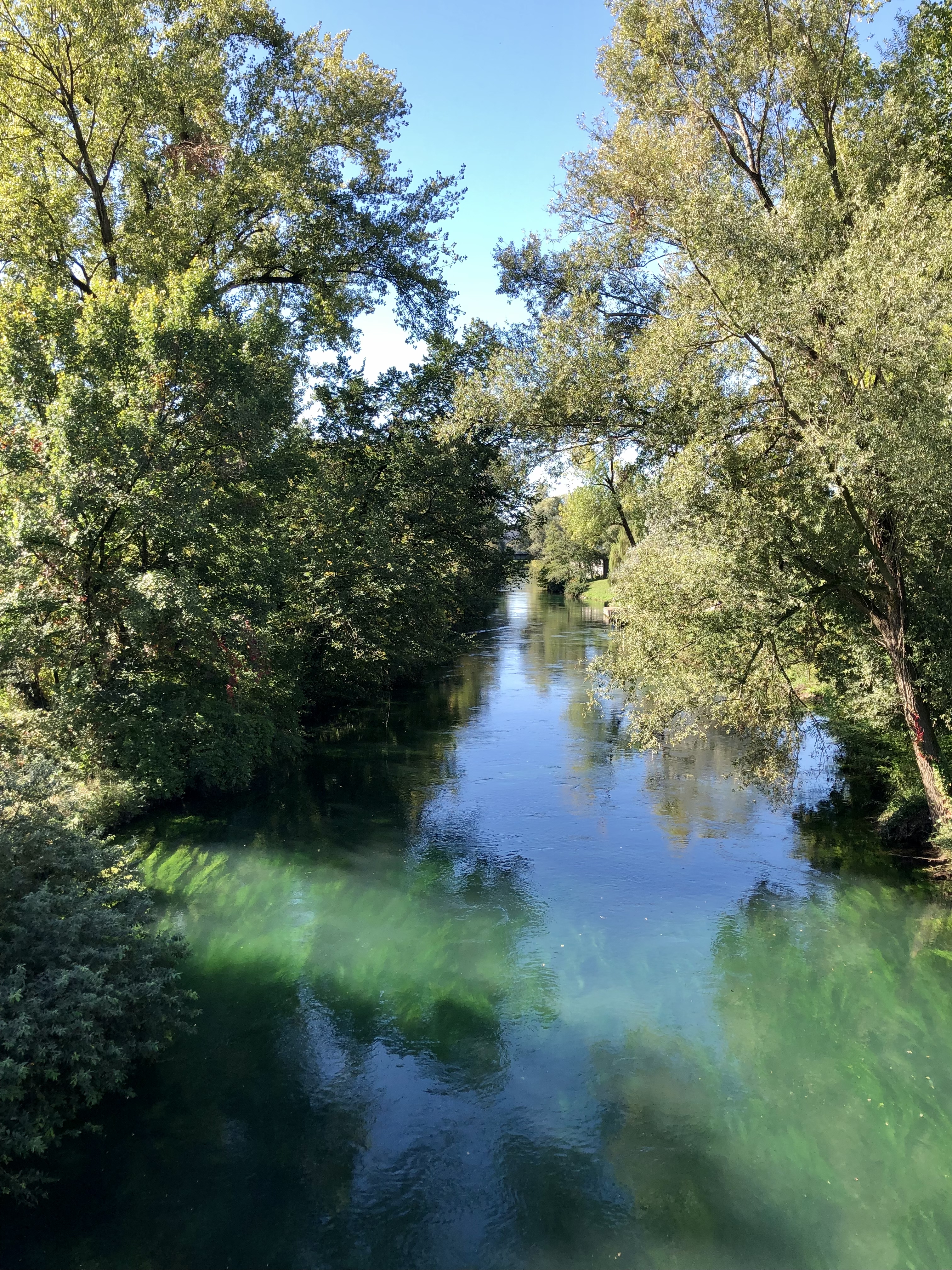 History of Pordenone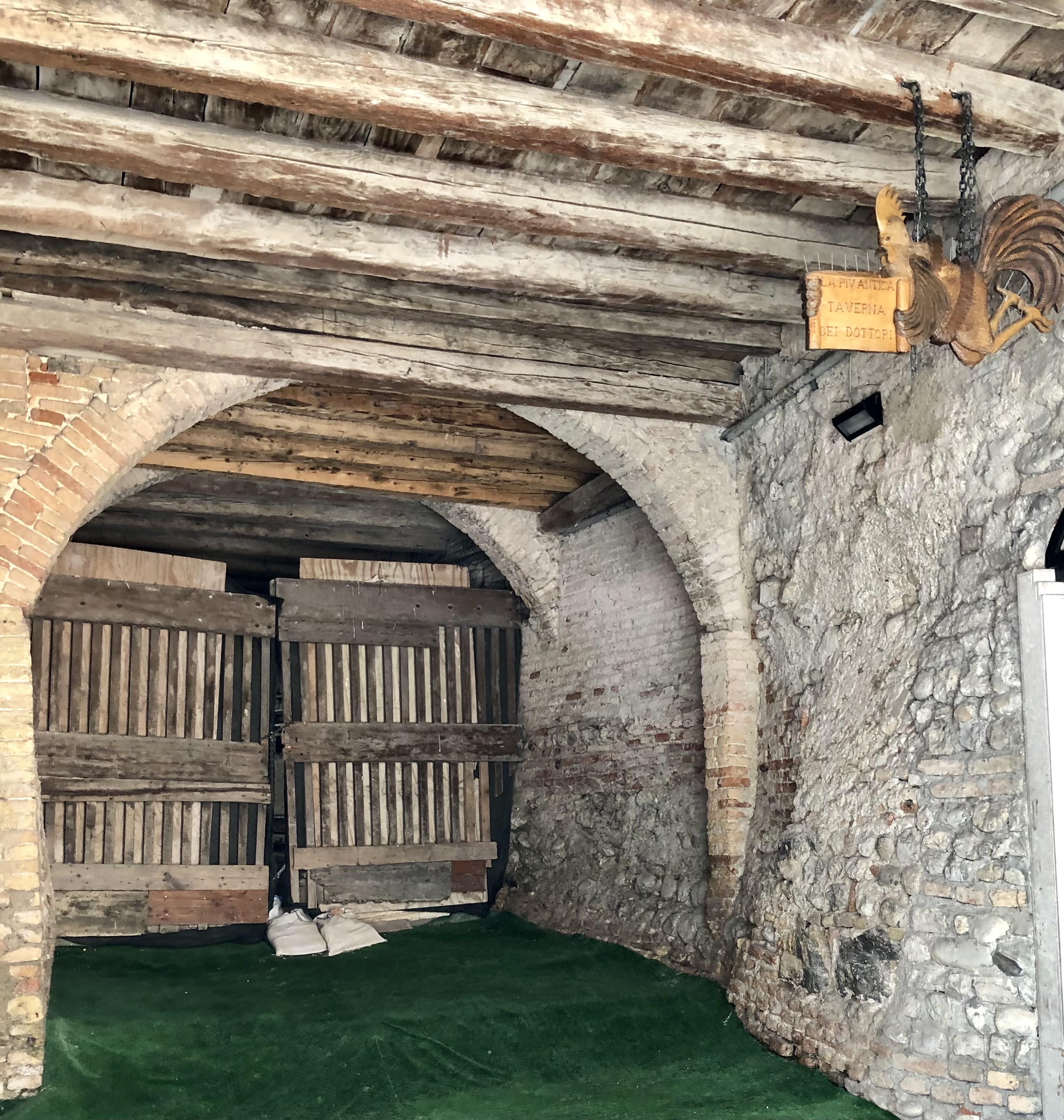 Originally the Roman and medieval river port of Portus Naonis, it was a bulwark of the Trevisani in their war against Aquileia until it was destroyed by the latter in 1233.
In 1278, after having been administrated by several feudatories, the city was handed over to the Habsburg family, forming an Austrian enclave within the territory of the Patriarchal State of Friuli. In 14th century, Pordenone grew substantially due to its flourishing river trades gaining the status of city in December 1314.
In 1508, after the failed invasion of the Republic of Venice by Emperor Maximilian, the city was seized by Venice. Despite temporary Austrian occupation during the subsequent War of the League of Cambrai (1509–16), the Venetian sovereignty over Pordenone was confirmed in 1516. Until 1537, the town was ruled by the feudal family d'Alviano, as a reward for Bartolomeo d'Alviano's military service to the Republic.
After the Napoleonic period, Pordenone was included in the Austrian possessions in Italy (Kingdom of Lombardy-Venetia). The railway connection, including Pordenone railway station (1855), and the construction of the Pontebbana road brought on the decline of the port, but spurred substantial industrial development (especially for the working of cotton). Pordenone was annexed to Italy in 1866.
The cotton sector decayed after WWI and failed completely after the 1929 crisis. Post WWII, the local Zanussi firm became a world giant in household appliances, and in 1968, Pordenone became capital of the province with the same name.
What to see in Pordenone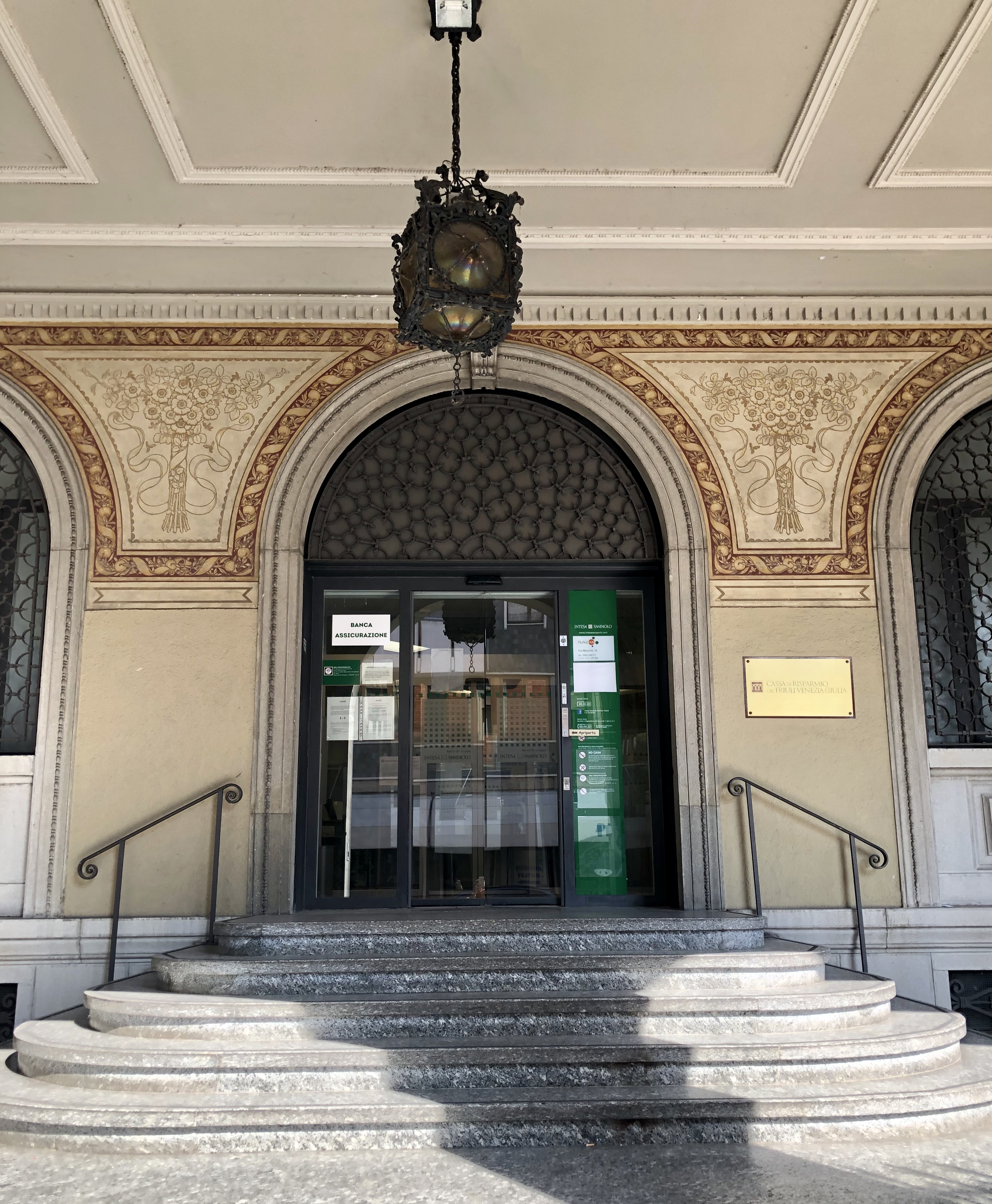 I'm always more than happy potter about the Old Town and do a spot of window shopping. Just as well since my beloved had plenty of work to occupy him. I was sorry to discover that one of a favourite restaurants hadn't not survived Covid and was now up for sale but, fortunately, there are plenty of others to try.
After a generous breakfast in the hotel, we generally skipped lunch but the one day my beloved decided to order a panini at one of the bars and I plumped for a coffee. I generally drink "Americano" which in Italy is an expresso with a small jug of hot water so you can add as much or as little as you want.
Until this day, I'd never had a bad coffee in Italy. But this bar's response for my request for an Americano produced a mug of instant coffee made with – wait for it – Camp coffee!!!!! Needless to say, despite the delicious panini, we shall not be darkening the door of this establishment again.
Of course, dinner was always prefaced by a couple of Aperol Spritzs as we checked out whether any of the newer bars were better than the older ones. And, we now have a new favourite.
But, before I stray too far off course, let's get back to Pordenone's heritage. I'm happy to explore the old town on foot and be seduced by the charm of its historical buildings and porticos as well as its frescoes that seem to tell the story of this town like the pages of a book.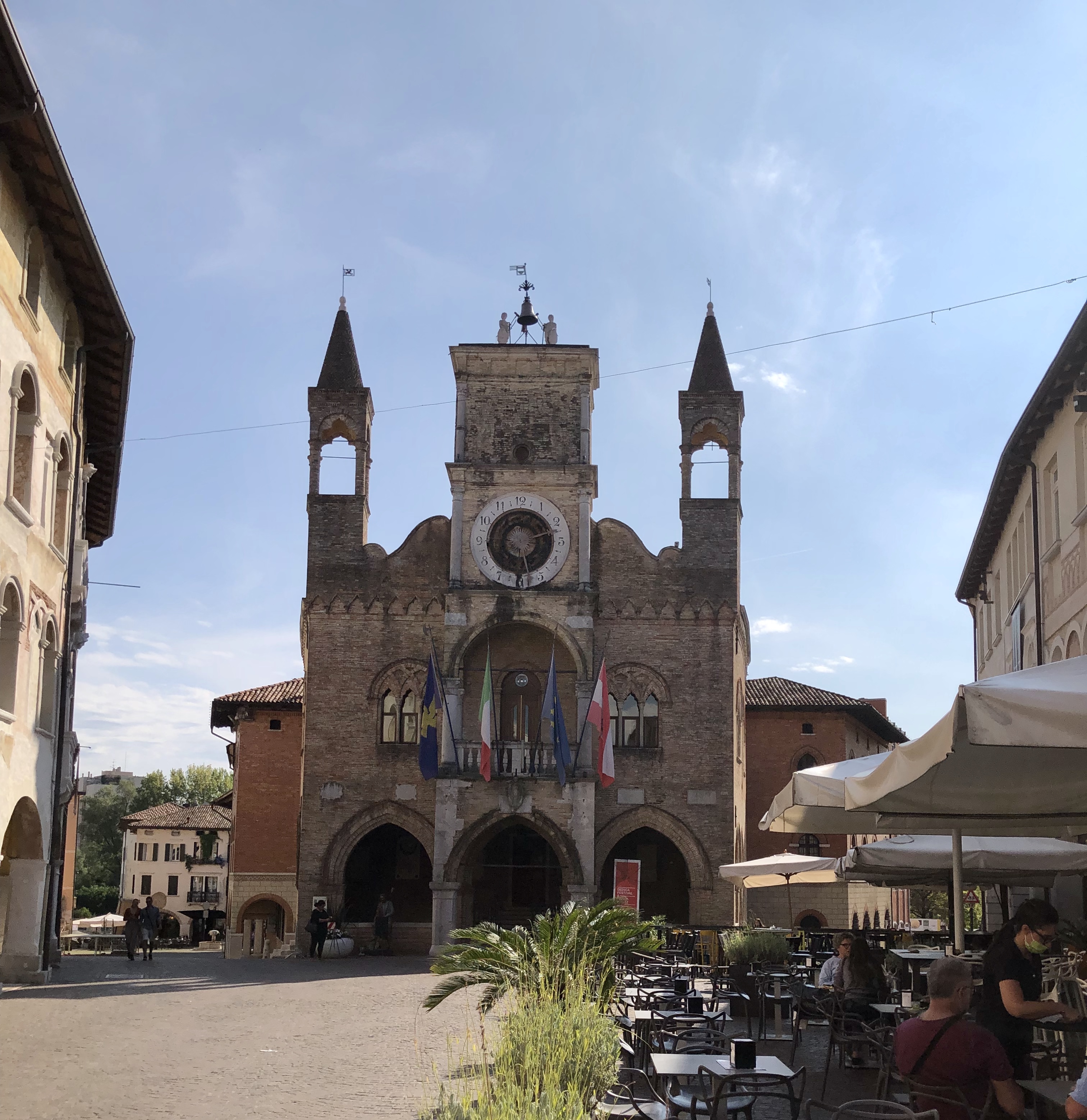 Starting from the old City Hall (Palazzo Comunale – 1291) with its picture gallery. and loggia clock-tower, designed by painter Pomponio Amalteo, added in 16th century. Corso Vittorio Emanuele II, the former Contrada Maggiore, stretches out elegantly flanked by porticos, historical buildings of great artistic interest, carefully-arranged shop windows and cosy cafes.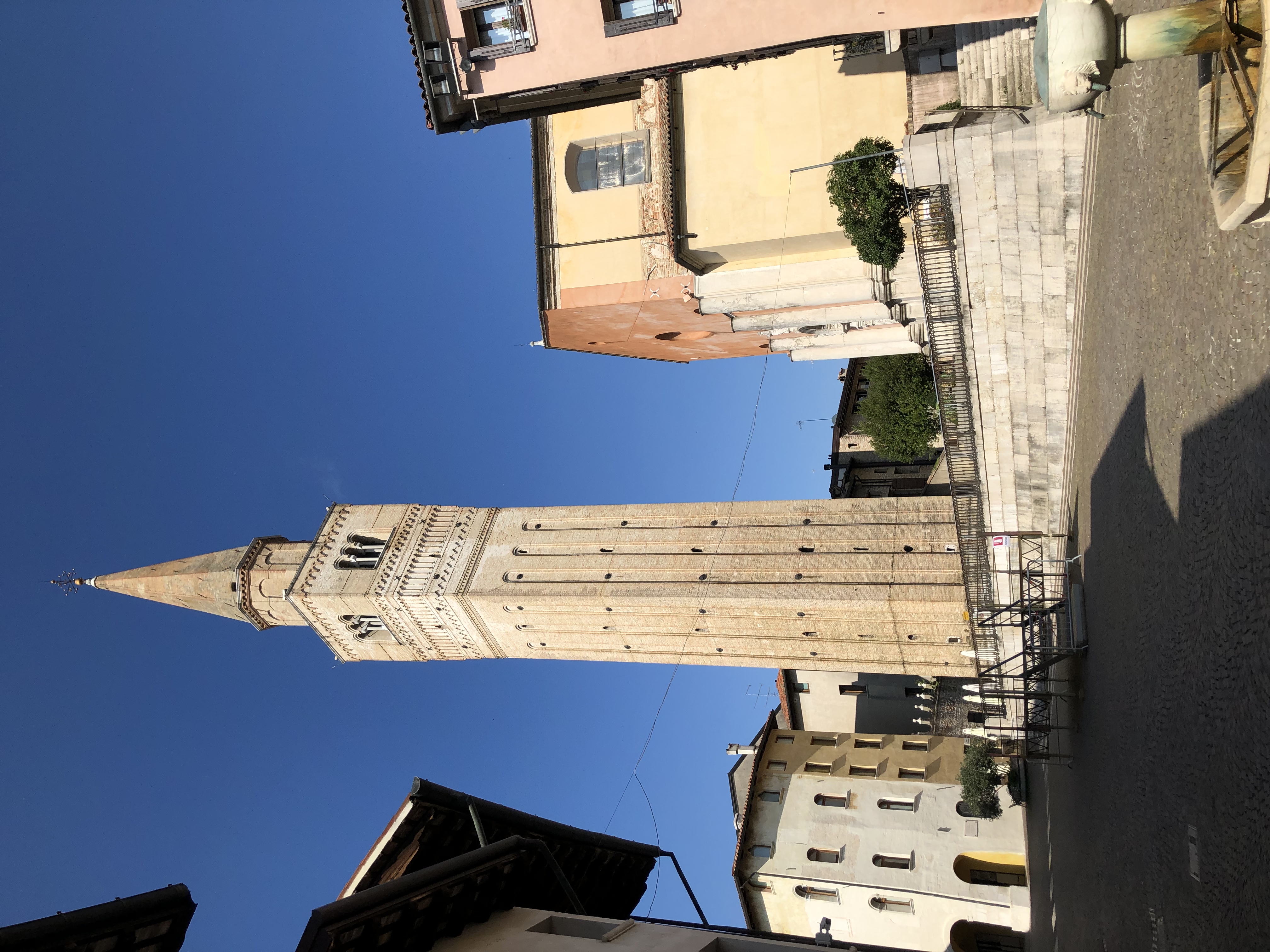 These magnificent buildings are, of course, largely as a consequence of its wealth in the Middle Ages. Its 15th century cathedral has a wonderful bell tower and is now a national monument. Both the cathedral and the City Hall picture galleries contain paintings by the Renaissance artist Giovanni Antonio de Sacchis (1484-1539), who was born in Pordenone.
Here's a few photos and a list of some of the other more important architectural and artistic buildings.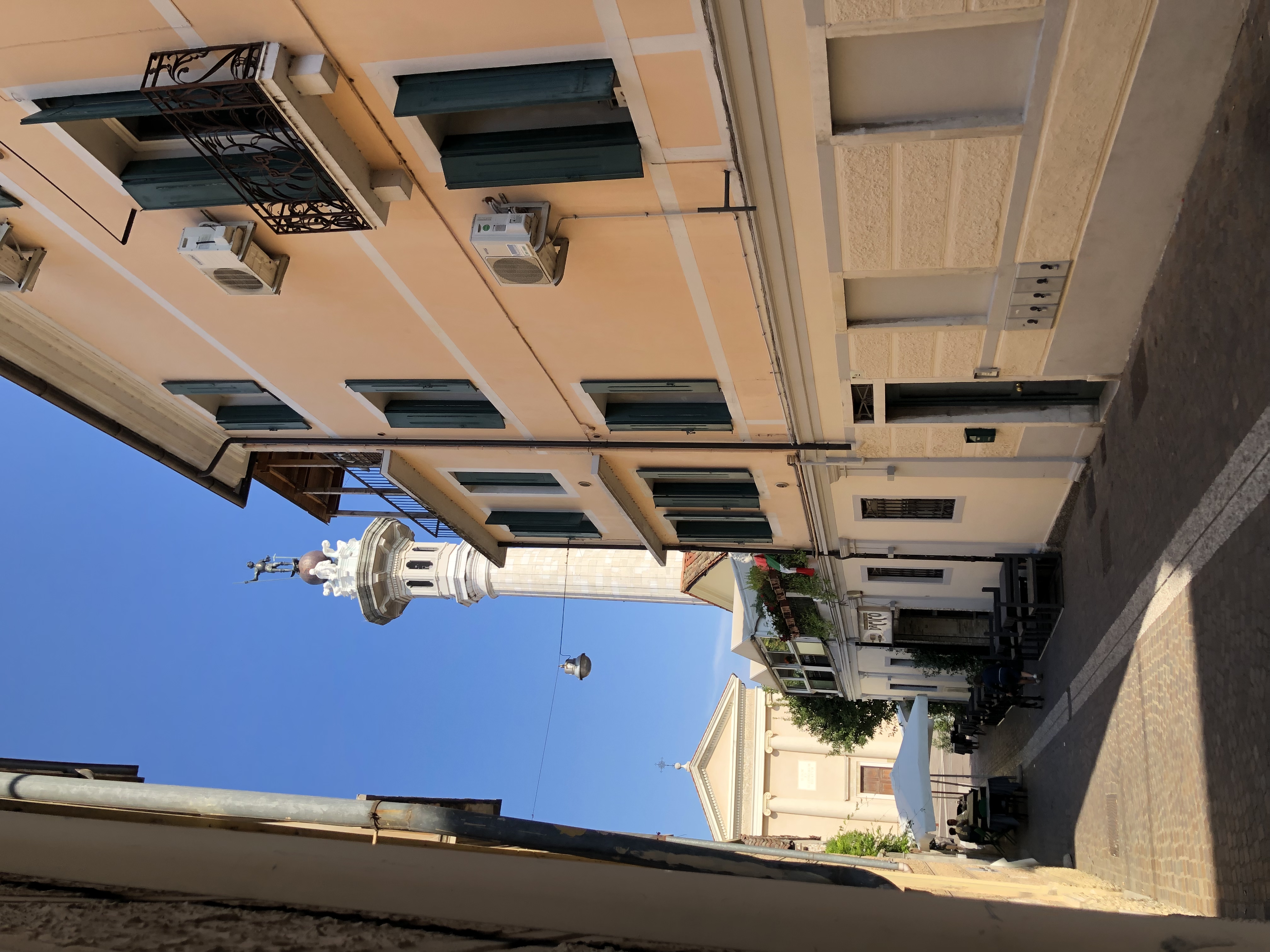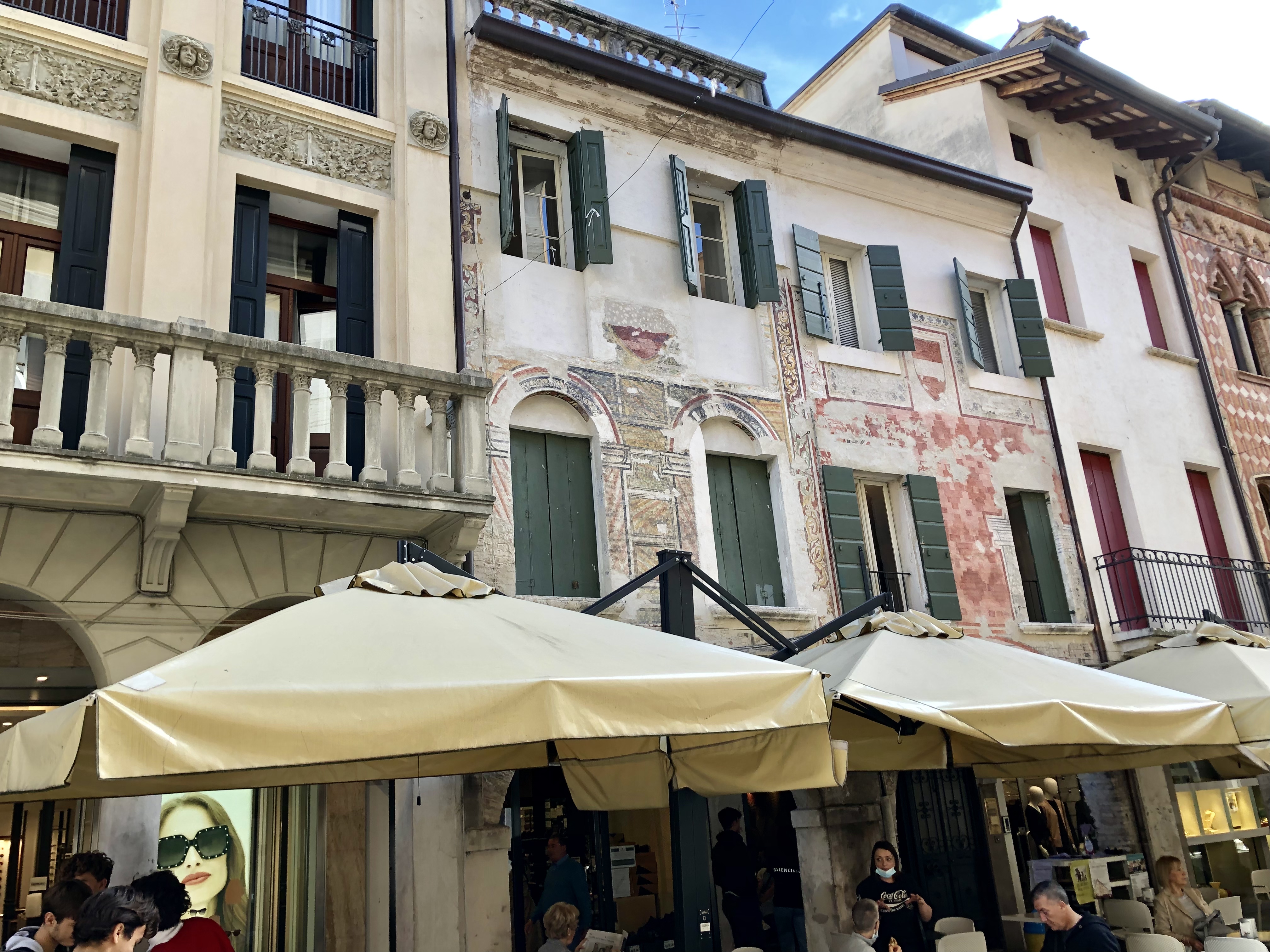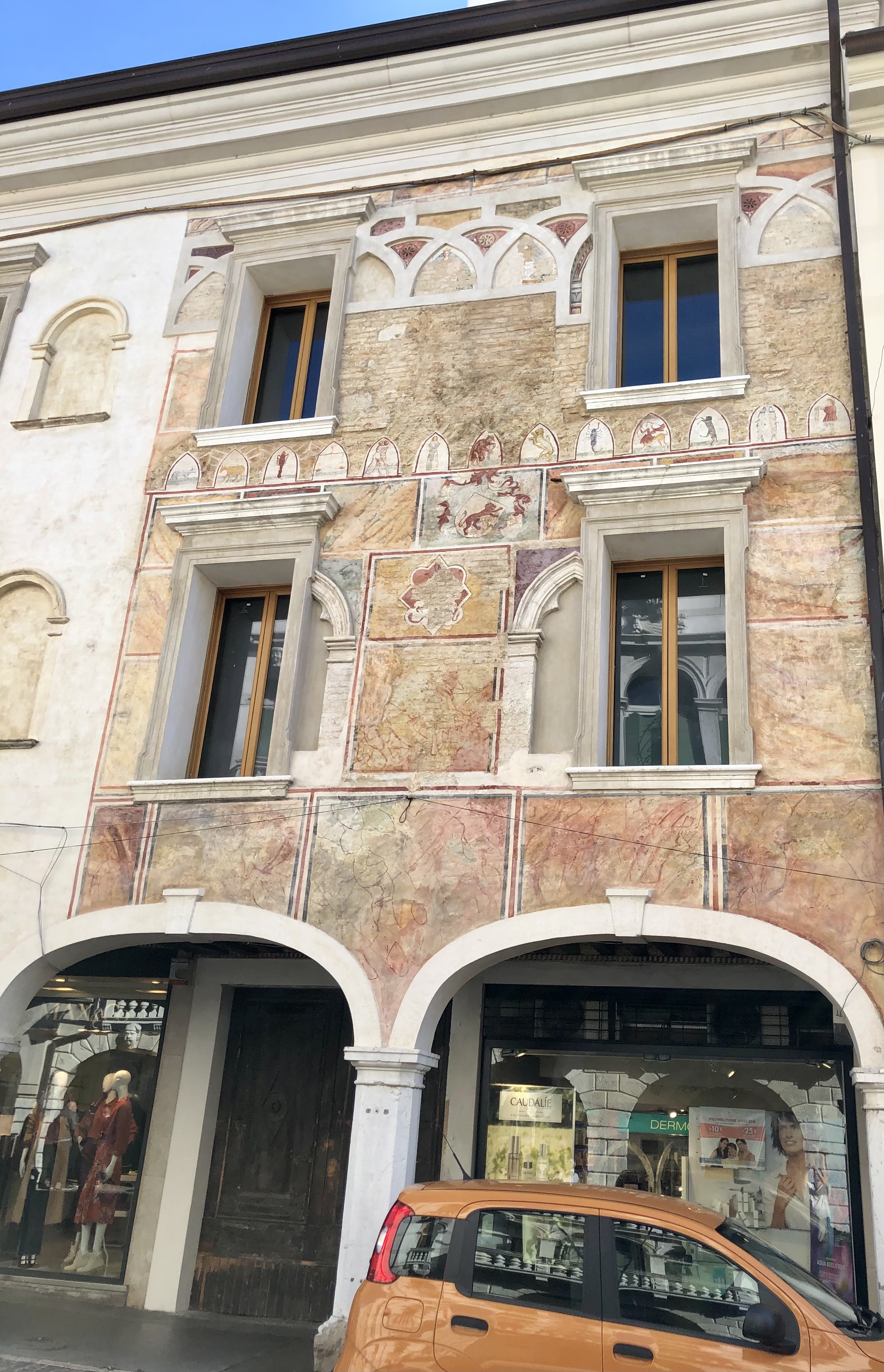 Palazzo Ricchieri was built in 13th century as a fortress with a tower, it was rebuilt to house the Ricchieri family. It now houses the Civic Art Museum.
Palazzo Polacco – Barbarich – Scaramuzza.
Palazzo Rorario – Spelladi – Silvestri, headquarters of the municipal gallery "Harry Bertoia".
Palazzo Mantica – Cattaneo.
Palazzo Gregoris.
Casa Gregoris – Bassani.
Palazzo Varmo – Pomo, also known as House of the Captains.
Palazzo Crescendolo – Milani.
Palazzo Popaite – Torriani – Policreti.
Casa Simoni.
Casa Pittini.
Palazzo Domenichini – Varaschini.
Palazzo Rosittis.
Palazzo De Rubeis.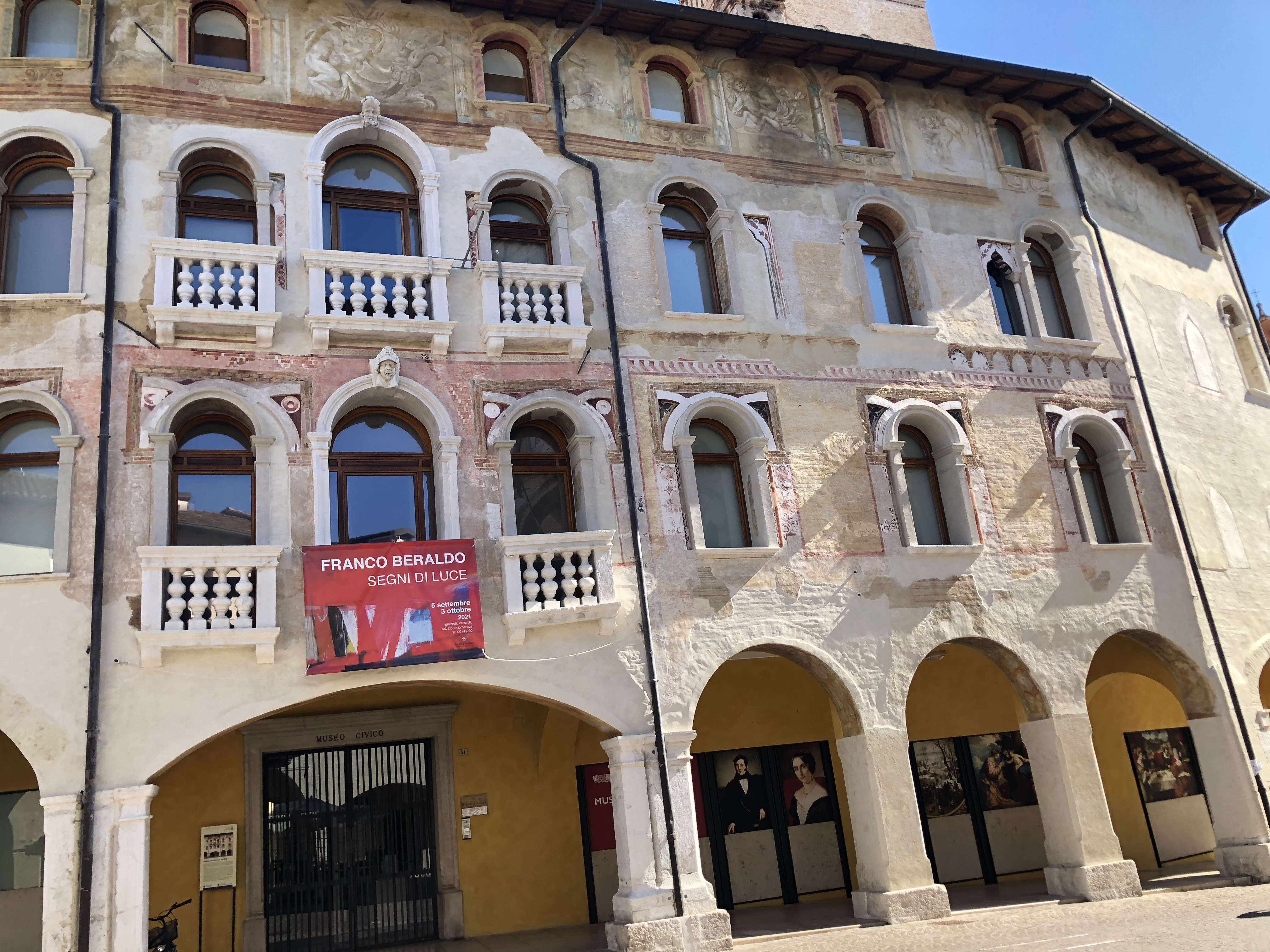 While the city is tied to its past on account of its historical buildings, frescoes and monuments, its dynamic and creative soul is evident from the architectural, artistic, musical and literary productions as well as its numerous international events which have put Pordenone on the map as a culturally rich and original destination at national and international level.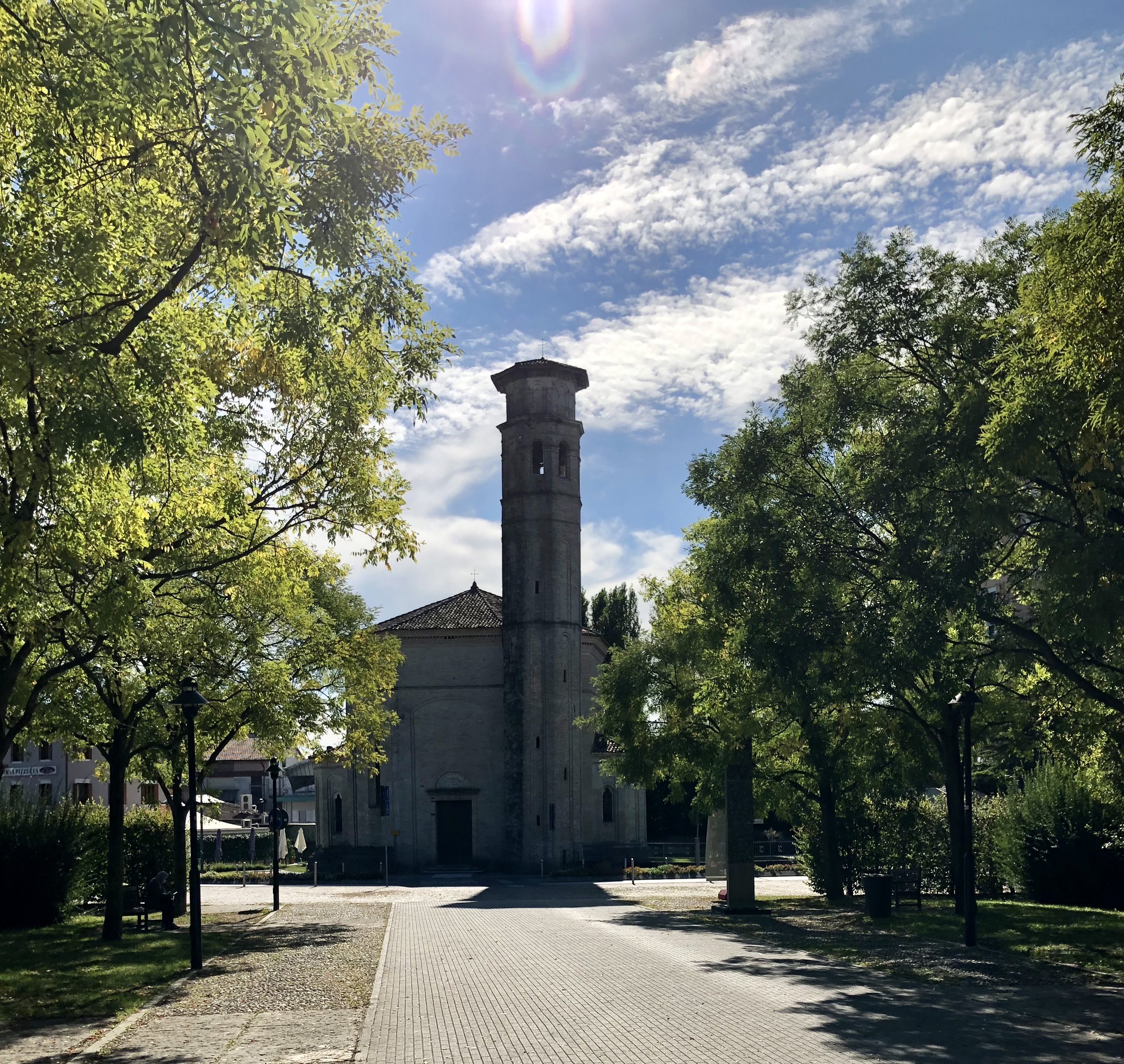 Pordenone also has plenty of green spaces. A few steps away from the old town, the riverside road called Riviera del Pordenone stretches along the right bank of the river Noncello, featuring a bike lane and wide pavement from which you can admire a magnificent green oasis.
Another large green area is Galvani Park, which includes the residence of the Galvani family, built in the late 18th century. The villa has been restored and extended with the addition of a new facility which hosts the PAFF! Palazzo Arti Fumetto Friuli (Building of Comics Museum). The Park is reminiscent of the gardens of Venetian villas, including a pond flanked by MIRA, an open-air museum dedicated to roses.
But if this isn't enough to tempt you to visit, Pordenone is just one of a handful of historic towns in this wonderful wine producing area which typically flies under most people's radar.