The Musette: Pasta bake
While my beloved has been home underfoot and requiring three square meals a day, pasta has been a veritable life saver. Here's a recipe inspired by similar ones from Ottolenghi and Smitten Kitten that's concocted from leftovers. You can make it with pretty much any vegetables but I try to ensure that there's both contrast and harmony in the mix.
This is not a typical pasta bake. Instead I chuck every single ingredient as is into a big bowl for mixing and pour that into a lined springform pan and bake it for 60 minutes. What emerges from the oven is autumnal savoury decadence. The proportions are upended. Depending on your perspective, this has either half the pasta or twice the vegetables of most pasta bakes of this size.
Ingredients (serves 6)
250g (1 cup) ricotta
1 large organic egg
100g (1 cup) finely grated parmesan
85g (1 cup) another coarsely grated cheese
5 tbsp water
3 tbsp olive oil
1/2 tbsp sea salt
freshly grated nutmeg
freshly ground black pepper
1/2 tsp red chilli pepper flakes
6 confit garlic cloves
150g (1 cup) cooked greens, roughly chopped
2 tbsp finely chopped fresh thyme leaves
500g (1lb) cooked and mashed butternut squash, or similar
225g (8oz) dried pasta, broken into smaller pieces
Method
1.Pre-heat oven to 180C/160C fan/350F/ gas mark 4. Line a medium sized springform pan with (greaseproof) parchment paper.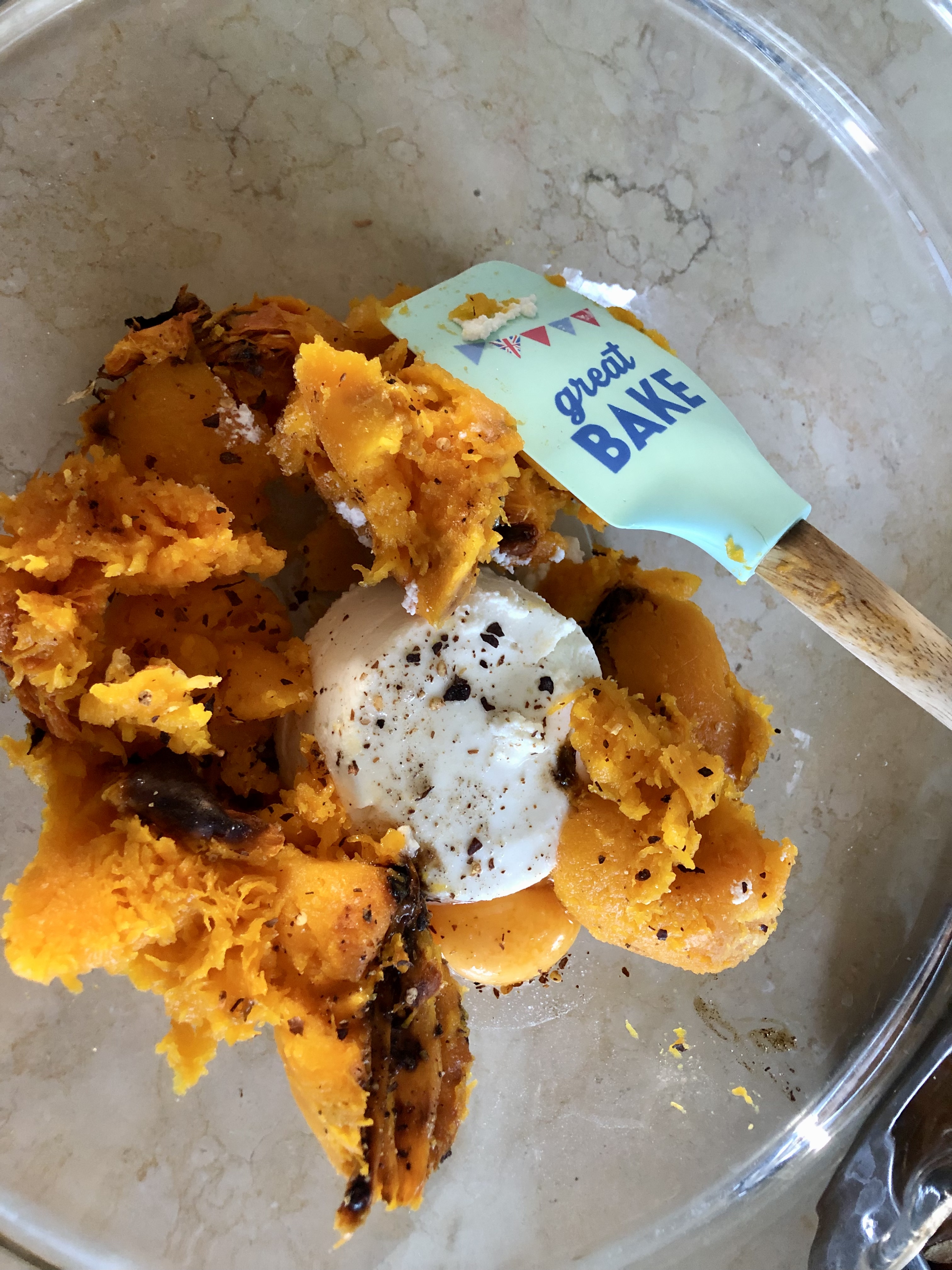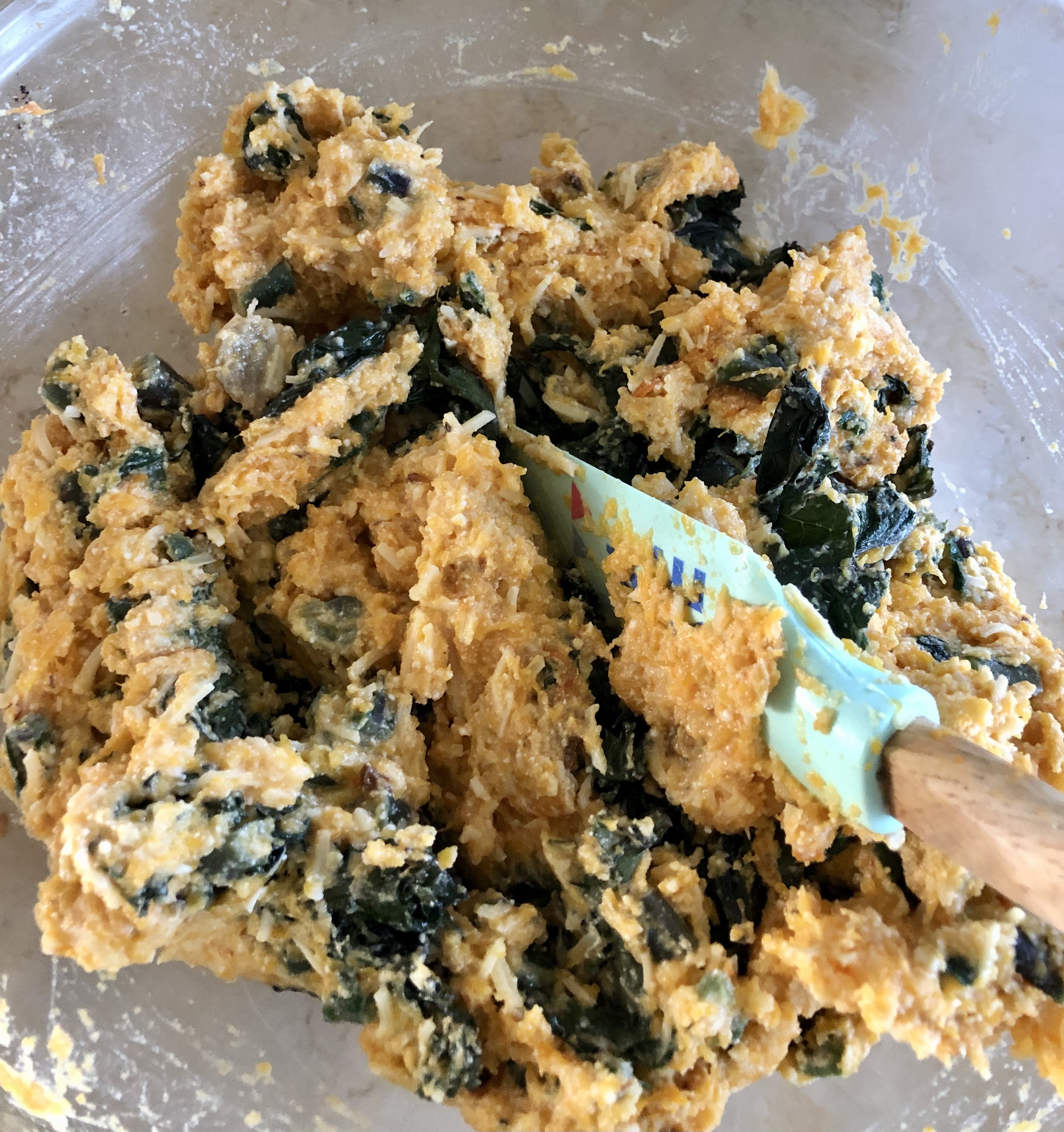 2. Whisk egg and ricotta in a large bowl. Stir in the parmesan, half other grated cheese,  water, 2 tbsp olive oil, salt, a few gratings of fresh nutmeg, lots of freshly ground black pepper, red pepper flakes and garlic. Stir in squash, greens and thyme. Add dried pasta and stir until everything is well coated.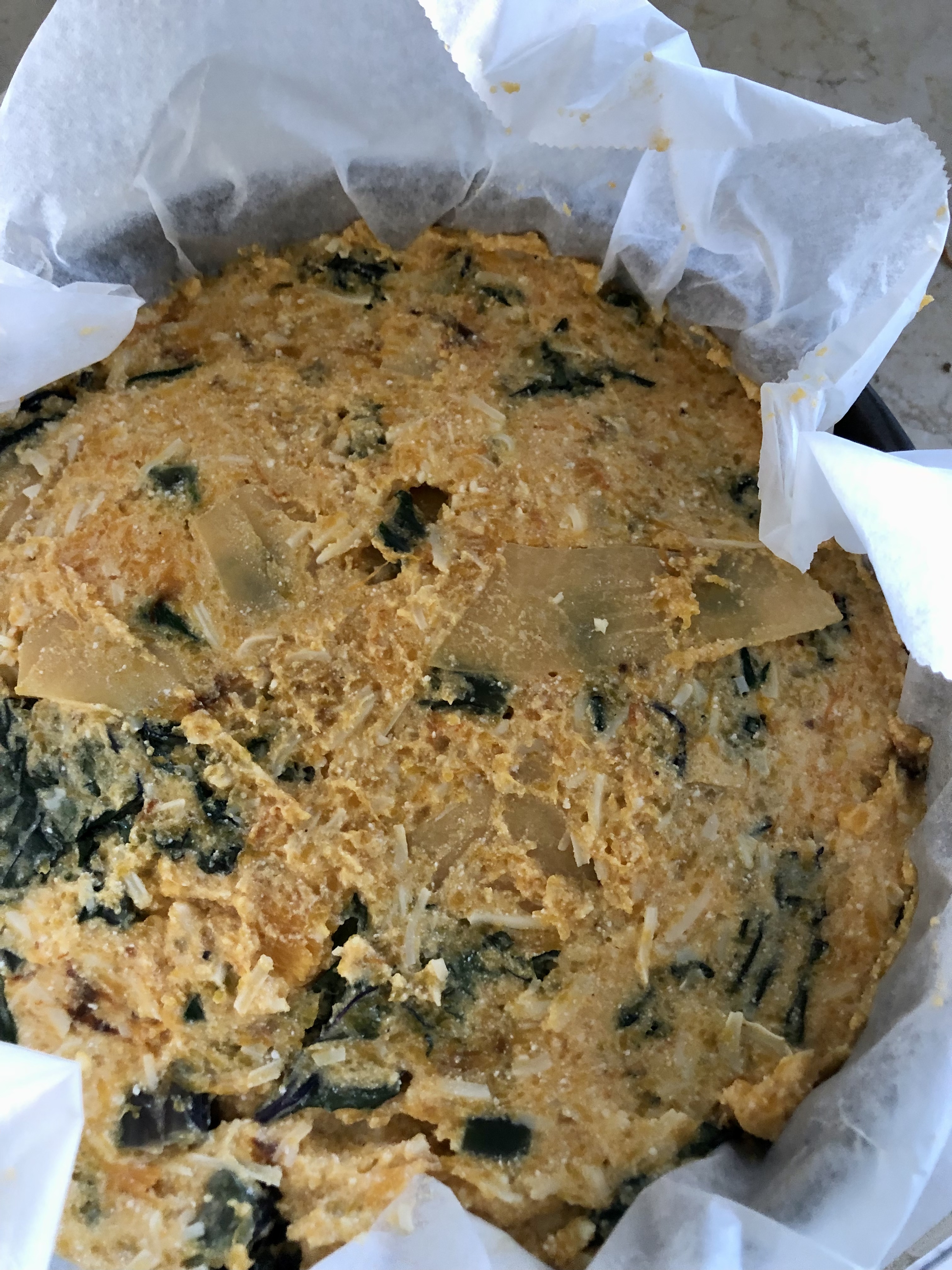 3. Pour into prepared pan and press gently to level. Gently fold any parchment that extends over the rim of the pan into the centre and cover the pan tightly with foil. Bake on a sheet (for extra security against drips) for 45 minutes, then remove foil, reopen the parchment folded over the top, and sprinkle over remains of cheese and drizzle the dish with remaining tbsp olive oil.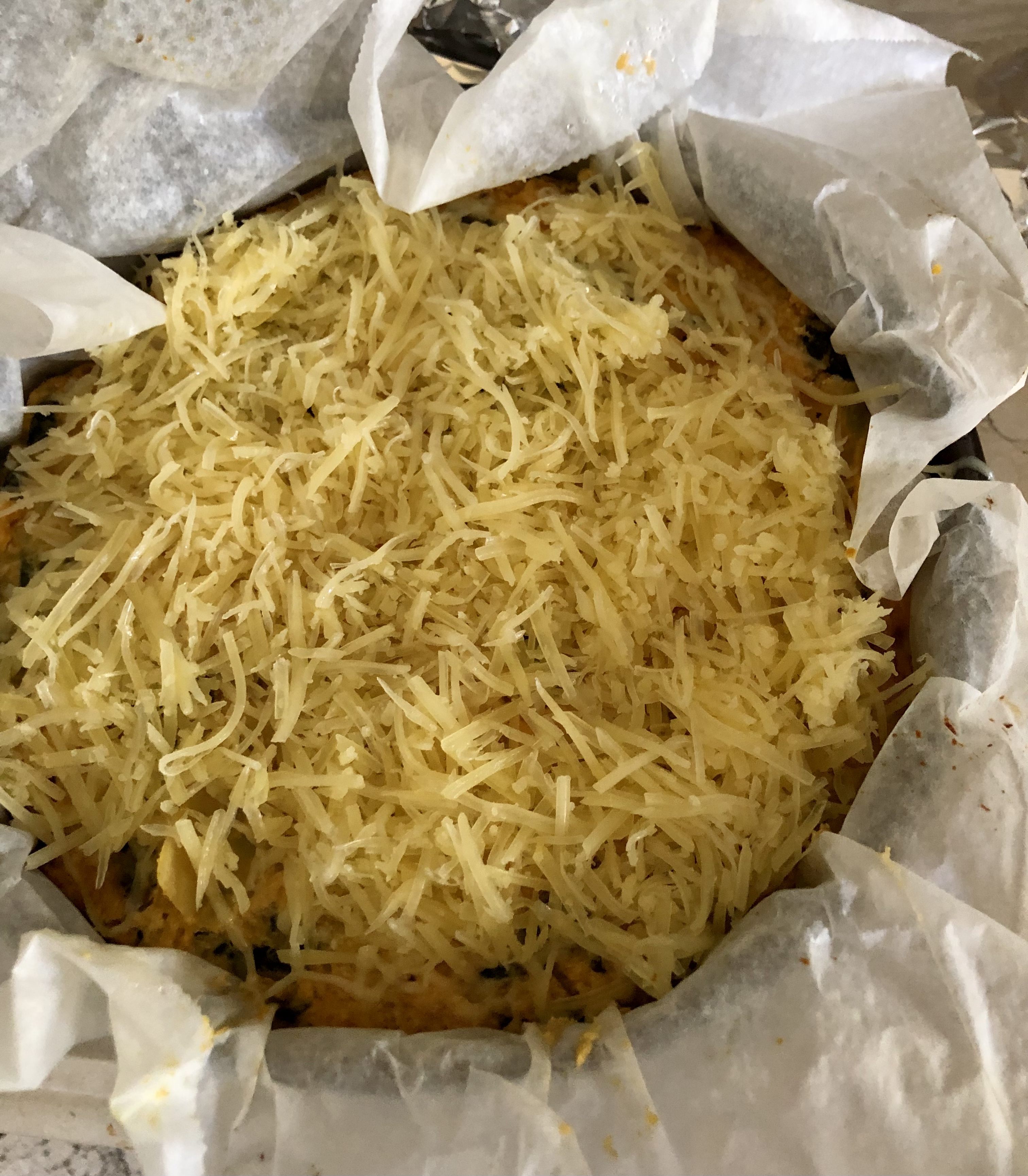 4. Return to the oven uncovered for 15 minutes. Pasta will be baked through and the top will be crisp. If it doesn't have as much colour as you'd like on top, you can finish it under the grill  (broiler) for a minute or two.
5. Cool in pan on a rack for 30 minutes before removing the springform ring, sliding the pasta bake by its paper onto a serving plate, and cut it into wedges.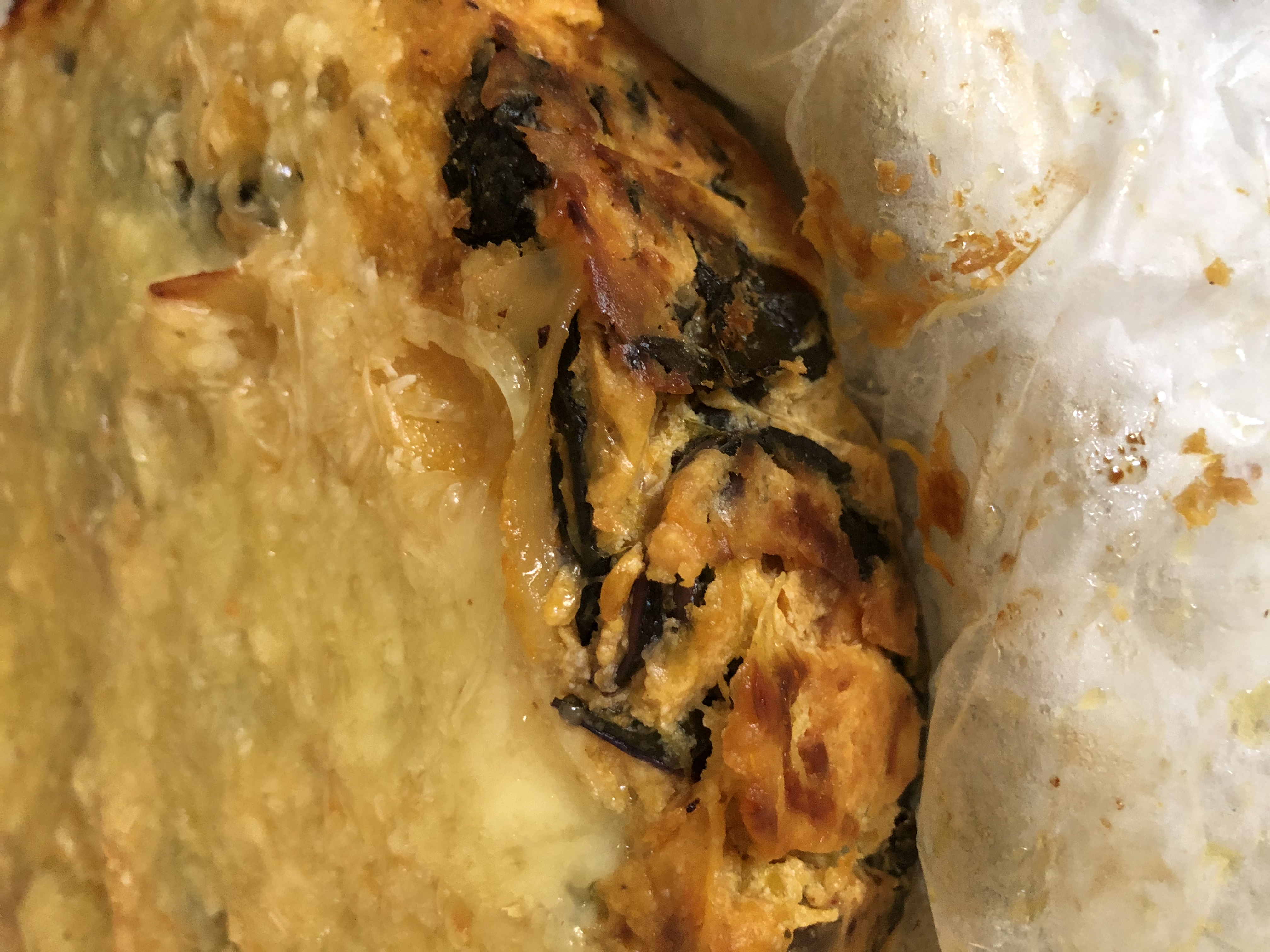 6. This keeps in the fridge for up to 1 week. Rewarm uncovered in a 180C/350F oven. I haven't frozen it, but would expect it to freeze well, tightly wrapped.