French Fancies: Savon de Marseille
Sundays are where I continue to introduce you to French companies big and small which are very much part of my daily life. Some you'll have heard of and some you won't. This time however it's a product you'll find in most French households.
There's a lot to like about savon de Marseille, the French soap made in Provence. Its history dates back nearly 600 years and in 1688 an edict came into effect under Louis XIV that standardised  savon de Marseille; a soap with no artificial additives, no colourants, no perfumes or fragrances, no animal fats, and which must contain at least 72% olive oil, thus accounting for its natural green colour.
The abundance of raw materials in Provence (olive oil in the Alpilles, soda and salt in the Camargue and oils (coconut and palm) coming in from the colonies via the port of Marseille) had facilitated the development of its soap-making industry. The arrival of the railway in 1873 also greatly assisted.
I have however to sound a note of caution here. Like many things in France, there is the original, and there are copies. Everything from Laguiole knives to camembert is based on the originals, but they're not necessarily made the same way or are of the same quality. At one time, there were nearly a hundred soap-makers in and around Marseille but nowadays there is only a handful of "official" producers of savon de Marseille.
The soap is said to have fallen out of favour when washing machines came into use and a large square of soap wasn't compatible with a newfangled machines à lave-linge, unlike when everyone was hand-washing their smalls in the local wash house.
Nowadays, with many people aching to go back to where we were a few decades ago, if you want to use savon de Marseille for laundry, it's sold in copeaux (flakes) if, like me, you'd like to use it for washing your clothes.
Savon de Marseille comes in green, black and white versions. The newer white version contains other oils, including palm oil, but the green must be made with olive oil, and only olive oil, and also contains ash and local seawater. The 72% amount of oil is stamped into each cube and each block is part of a process that takes three weeks, which includes aging the soap in the open air.
The production process for salon de Marseille and its black version is fairly similar except the production process for the latter uses potassium to liquify it. Consequently, while the green and white versions version are for personal care (face, body and hair) and also for housecleaning and laundry. The black version soap is a natural emollient, and is used for household purposes:, an eco-friendly, economic multi-purpose cleaning product, which can replace more than a dozen commercial products.
It's important to remember that all versions of the soap are ecological, biodegradable, phosphate-free and totally in line with sustainable development. They are natural soaps that respect the environment leaving no chemical traces whatsoever in the home.
You can watch the process here:
Many swear the white bars are best for getting out stubborn stains, better even than Vanish. I always have one of the green bars on the go in the laundry and kitchen and they last forever! I also use the black version for many household tasks.
Brands that make traditional-style savon de Marseille include Fer à Cheval, Savonnerie de la Licorne, Savonnerie du Midi, Savonnerie du Sérail, Grand Savonnerie de Marseille, Rampal-Latour and Marius Fabré. But, watch out, there are sound-alike brands, such as Le petit Marseilles, which is manufactured by Johnson & Johnson.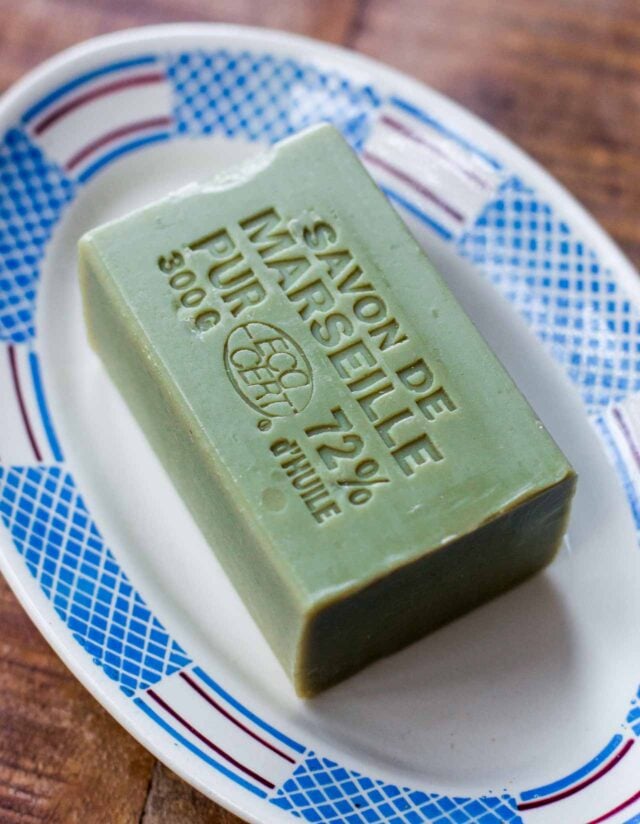 There's a French penchant for organising and naming things (with a slew of accompanying rules) but there's hasn't always been an official designation for Savon de Marseille. The debate in France rages on, but in 2015 the UPSM, the Union des Professionels du Savon de Marseille (the French also love acronyms, and organisations) was set up by a few soap makers to standardise production and maintain quality. In short, savon de Marseille should be a cube with a round stamp, with no colourants, preservatives or fragrances added.