One from the Vaults: Postcard from Manhattan I
In previous years, including last year, we have generally headed to New York in November. Not the best month for a spot of sightseeing but it's rather dictated by my beloved's need to attend a major dental meeting. This post is from way back in 2010. 
It's incredibly cold here. So cold, in fact, that it reminds me more of Chicago, the Windy City. Fortunately, I have plenty of layers, I just didn't expect to have to wear them all at the same time. It is, however, sunny and so I've been roaming around those districts, such as The Meat Packing District, where there are fewer high rises thereby allowing me to enjoy the warmth of the sun.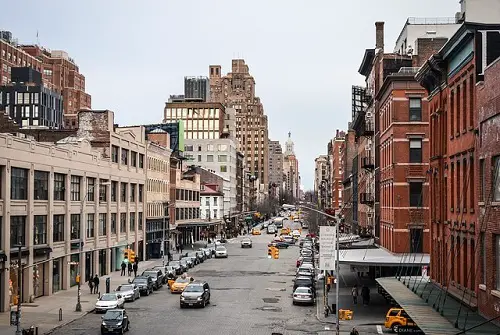 Whenever I hit New York my first port of call is always the book stores. I like to check out all the new releases, particularly in the Cookery Section. This helps me decide how and on what to spend my Amazon Gift Vouchers. I can happily while away days in both Borders and Barnes & Noble.
I spent Saturday with my beloved but he was off to work on Sunday at the Greater New York Dental Meeting, leaving me to my own devices during the day. I have a packed programme planned which mixes Museum and Gallery visits with Xmas shopping and a cycling tour of New York. Yes, New York, a bit like London, has been sprouting bicycle lanes and so I decided to try them out.
It's fair to say that cycling in New York is not for the faint-hearted. New Yorkers are not renowned for their patience and tolerance towards those on two wheels. However, by avoiding periods of peak congestion, I found it was a great way to enjoy the city and its parks.
Over the week end I was a woman on a mission. I'd decided what to buy to wear for my sister's wedding in February, I just had to find one in my size, and I did. I can now order my bespoke hat from Jane at The Hat House and I'm good to go, as they say over here.
I suffer badly from vertigo and the hotel we're staying in has everything I dislike: glass lift shafts, courtyard hotel rooms, glass barriers, wall to wall views. I've not been able to use any of the equipment in the gym which is wall to wall glass, with views into the abyss. My beloved, of course, finds this mildly amusing as I cringe in the corner of the lift and edge along the corridors. To make matters worse, we're on 31st floor. I normally never like being above 7th. But then I didn't pick the hotel, our client did!