The Musette: vegan nutty caramel tart
This is a cross over cake (or actually a tart) somewhere between a Snickers bar and a brittle that has turned vegan/plant based, without gluten or dairy or any added sugars…….but don't worry, this tastes like the real deal!
Before posting any of my recipes I always test them on my beloved and on my friends, often without them knowing they're my guinea pigs. But seriously, no one, no where, says no to cake.
Ingredients (serves 10)
Crust:
165 g (1 cup) salted peanuts
50 g (1/4 cup) almonds
35 g (1/4 cup) rolled oats
8 soft pitted dates (I use medjool dates)
2 tbsp neutral tasting coconut oil
pinch of sea salt
Filling:
15 soft pitted dates (If not soft, soak in hot water)
3 tbsp smooth peanut butter
2 tbsp unsweetened cocoa
2 tbsp neutral flavoured coconut oil
pinch of sea salt
Topping:
handful chopped salted peanuts
Method
1. Preheat oven to 170°C /150°C fan/(335°F)/gas mark 4. Pulse all the crust ingredients in a food processor until it has an even yet crumbly texture. Press the crust into a pie dish or tin, making sure it is even. I often use a small glass to do this.
2. Bake for about 15 – 20 minutes until golden and toasted. It is VERY IMPORTANT that you keep an eye on it, because these peanuts will burn when you least expect them to. Just saying!
3. Remove the crust from the oven and let it cool in the tin.
4. Now make the filling. Combine dates, cocoa powder and salt in the food processor, then add peanut butter and melted coconut oil. This might look a bit crumbly and split – don't worry about it.
5. Getting the filling into the crust is a bit tricky. You need to have patience and use hot water and spoons to help.
6. Place all the filling on top of the crust (still inside the cake dish/tin) use the warm, wet spoons to spread the filling out evenly and smooth the surface with a bit of hot water. Sprinkle with chopped salted peanuts and gently press them into the filling.
7. Place the vegan tart in the freezer and let it set for at least an hour.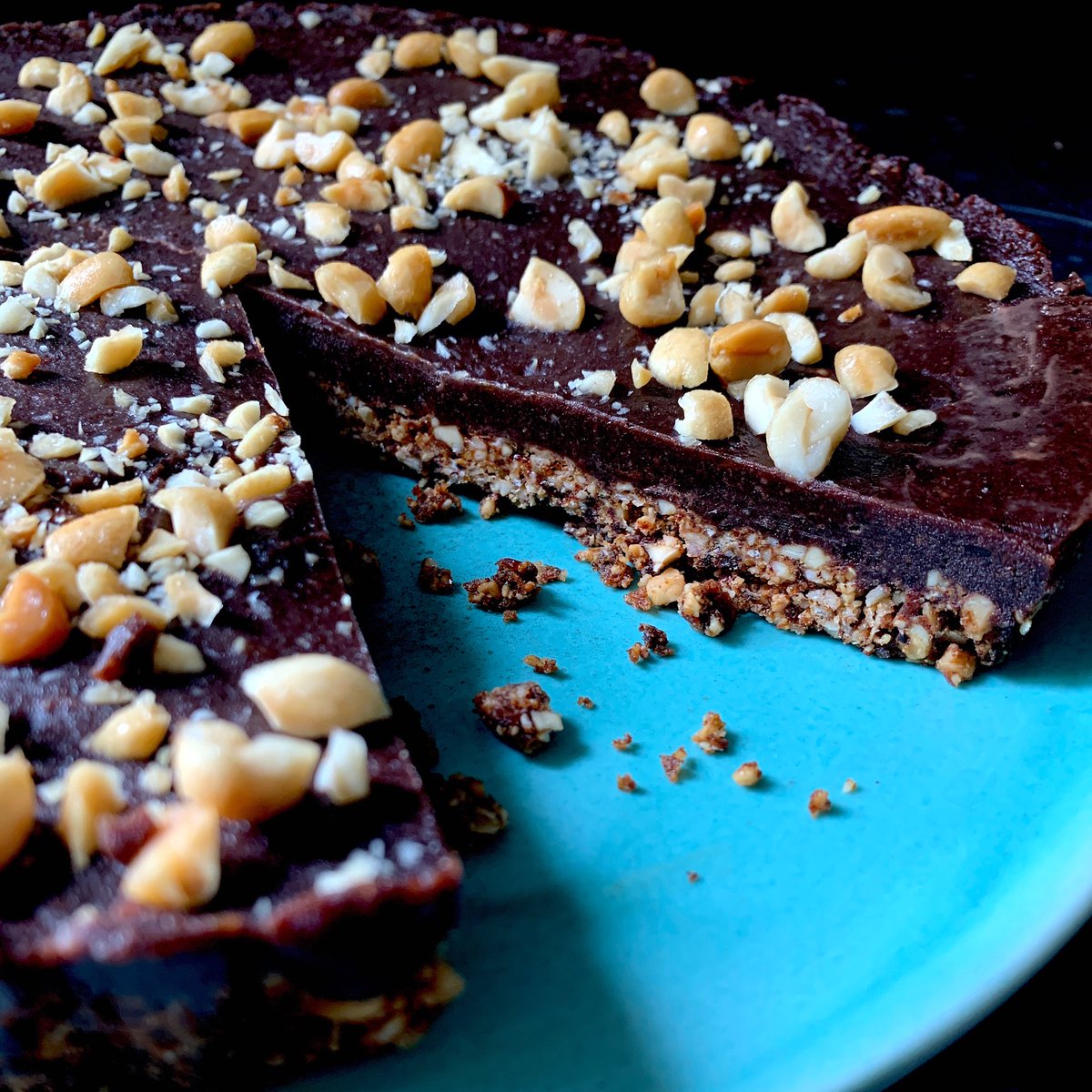 8. Carefully take the tart out of the pie dish, then cut and serve and enjoy!
9.Keep in the fridge for up to 5 days, or in an airtight container in the freezer for up to 3 months. (As if that's going to happen, someone will eat it…)