One from the vaults: Postcard from Dubai – 5 places I visited
Today, after my negative test on Wednesday lunchtime, we're finally (third-time lucky) flying to Dubai. Consequently, I thought I should look back on one of my earlier posts about the place. This is from 2018 where I managed to combine travel with watching a cycle race, the Tour of Dubai – pretty much my idea of heaven.
I've visited Dubai plenty of times, largely for business with a few days of pleasure tacked on. This time my beloved's Dental Exhibition coincided with the Tour of Dubai – how great is that? – giving me my first taste of live racing this season.
I did help my beloved assemble his stand, it's not something you can do on your lonesome but thereafter headed off to watch the cycling where he joined me for its last two stages.
1. Sky Dive Dubai
The six days of racing started each day from Sky Dive Dubai which is near to the Dubai Marina, a 30-45 minute trip by Metro, tram and shank's pony from where I was staying. However, I didn't mind as I had a great view of the ongoing developments en route. I'd not previously visited Sky Dive Dubai which, as its name suggests, is for sky diving – not something I've ever fancied trying. We witnessed an aerial diving show on the Saturday with some divers gently floating to earth while others plummeted out of the sky. The latter have discouraged me from even contemplating having a go.
Each day's stage start was held here. It's a dead-end road beside the Marina, with large grassy areas and an outdoor gym which is popular with joggers, dog walkers and gym bunnies. None of whom seemed much interested in their space being colonised by loads of fit guys in lycra. The teams were all staying in the nearby 5* Westin Hotel having been flown in Club Class on Emirates. A nice treat for guys more used to Ibis, Kyriad – and that misnomer – Premiere Classe hotels and EasyJet steerage.
The area also provided a fitting backdrop for the racing particularly with the skyscrapers looming out of the early morning mist. The facilities in the start zone were excellent and aimed at encouraging families to spend the day watching the action on the big screen while the kids amused themselves on a variety of attractions. There were also plenty of food and sponsors' stands. In truth you could count the spectators on the fingers of one hand in the days leading up to the week-end but the locals came out in their hordes on Friday and Saturday (Arab week-end).
2. Kinokuniya Bookshop – Dubai Mall
Easily one of my favourite shops in Dubai and one of my favourite bookshops worldwide. That's praise indeed as my first port of call anywhere is generally a book store. My two younger sisters would be horrified to learn this was the only shop I visited in Dubai.
Kinokuniya is a Japanese owned group with shops in Japan, USA, Singapore, Indonesia, Malaysia, Thailand, Australia, Taiwan and Dubai. The shop in the Dubai Mall is a whopping 6,500 square metres and it stocks more than half a million books and over a thousand magazines in English, Arabic, Japanese, French, German and Chinese. It also has a wonderful selection of stationery – another of my weaknesses. It has the largest selection of cookery books I have ever seen and I can happily spend – and did – hours browsing through the various sections. I had deliberately left plenty of room in my luggage to bring back a few books which naturally enough included two cookery books – a girl can never have enough!
3. The Ritz-Carlton, DIFC
This hotel is just a block from where we were staying. We ate in one of its many restaurants last time and this time had two very enjoyable meals in its Bar Belge. Now, if I like it so much why didn't I stay in it? Experience has taught me that when I'm watching live racing, and my beloved is working at an exhibition, we spend very little time in the hotel and are unable to enjoy its many benefits. So why pay for them?
Both times we ate early to benefit from Bar Belge's Happy Hour prices and much enjoyed our seafood dinners which were no more expensive than at our own hotel. On our second meal there we struck up a conversation with our waiter who came from Bangalore, a city my beloved knows well, about cricket and his mother's search for a suitable bride for him. He very kindly gave Richard a freebie dessert of Belgian waffles, speculoos ice cream and warm chocolate sauce.
4. City Walk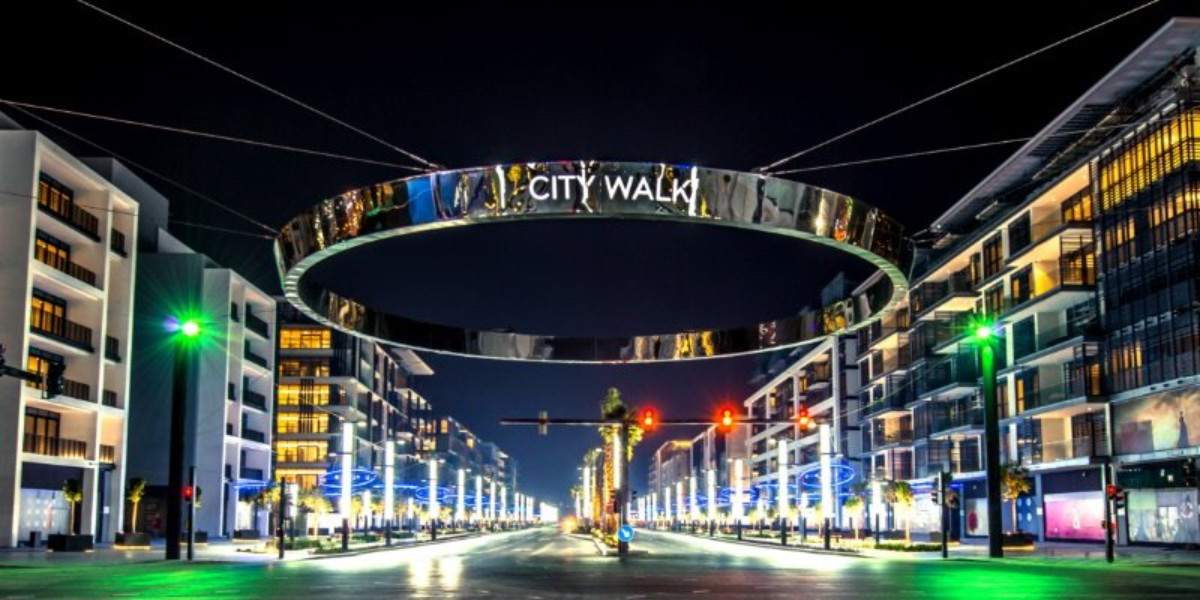 The final day's stage of the Dubai Tour finished in City Walk, an area we'd not previously visited, just a short stroll from our hotel and the Dubai Mall. Walking anywhere in Dubai tends to be tricky, most people drive or take a cab, but I like to walk and am undeterred by the pavements that end abruptly the wire fencing down the middle of many roads.
City Walk has a distinctly European vibe probably catering for Dubai's large expatriate community and I felt quite at home with many familiar names such as Galleries Lafayette, BHV Marais and so on…….Again, it's a family friendly area with plenty of attractions for all ages.
5. Al Hallab
My beloved's clients in Dubai originally hailed from Syria and, last time, they introduced us to a fabulous Syrian restaurant a couple of blocks from our hotel but, sadly, it has moved and neither they or we know where it has moved to. Their default restaurant is a Lebanese one with four locations in Dubai that serves equally fabulous food.
Arabs love groaning tables, do not expect or even try to finish everything. You need to leave something to demonstrate their generosity. Because I don't eat meat, they order me a load of separate dishes which I couldn't hope to finish even if my beloved decided to help me out. Fortunately, my regime excuses me from dessert. We've now eaten at three of the four branches and they're all equally excellent.
Of course, there's loads more to see and do in Dubai aside from the short list above.