Boissier is renowned for three confectionary innovations. Firstly, le marron glacé, a  candied coated chestnut flavoured with vanilla. It is said this idea came to him while looking at a train wagon filled with chestnuts to slow the decomposition process! Wrapped in golden paper, these are a great favourite at Christmas time.
Just as famous are the Bonbon boules. Pearl shaped candies made from sugar filled with fruit pulp in a variety of flavors and colours : apricot, apple, cherry, blackcurrant and raspberry. Highly fashionable in the 1840's, the upper classes loved to enjoy these at the theatre.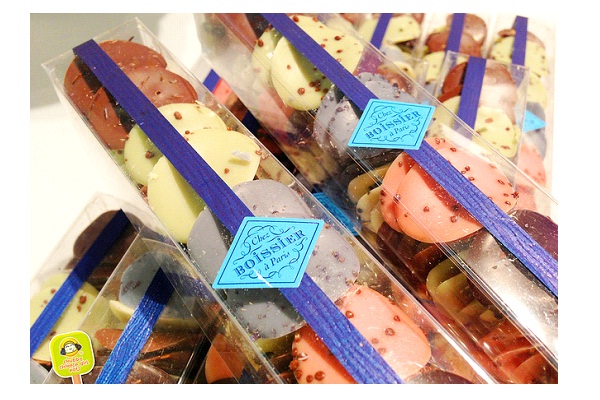 The chocolate petals are another of Maison Boissier's icons.  A classic revisited each season where the delightful packaging just adds to each product's allure.
Carriages would stop outside the Boissier shops to allow Parisians to replenish the stock of their favourite treats. The confectioner made such an impression on the Parisian elite (who clearly all had a sweet tooth) that the likes of Victor Hugo, Emily Zola and Alexandre Dumas were regular clients.
Victor Hugo famously penned these words expressing his love of Boissier's fine creations.
Grâce à Boissier chères colombes, heureux à vos pieds, nous tombons, car on prend les forts par les bombes, et les faibles par les bonbons. (It is thanks to Boissier my dear doves, that we fall happily at your feet, for the strong we conquer with bombs and the weak we conquer with sweets.)
Maison Boissier's identity has been forged through a complex balance between nostalgia and modernity, all in the purest tradition of French refinement. Consequently their products are a favourite gift of ours to give to non-French clients (and ourselves)— the pretty vintage-style packaging is a present in itself and, of course, the confections inside are rather magical.