The Musette: Pissaladière
Pissaladière is a traditional Niçois recipe composed of a thick pizza dough topped with caramelised onions and anchovies (optional). It's as much anchored in the heritage of the cuisine of Nice as salade niçoise, fougasse, socca, daube or ratatouille.
Pissaladière's origins lie in Genoa's 15th century Piscialandrea, the first version of the Italian pizza, named in honour of Andrea Doria, a great condottiere and Genoese admiral. The major difference is that piscialandrea is prepared with tomatoes and garlic. Just like socca (farinata) or fougasse (focaccia), this other Genoese recipe has been handed down from generation to generation in Nicois families.
You can buy pissaladière at pretty much every bakery around here but I used to make it in bulk for cycle club events on a regular basis.
Ingredients (serves 4-6)
The dough
500g (4

cups) plain

 (

all purpose) flour

3

tsp 

active dry yeast

1 tsp honey

6

tbs 

olive oil

2

tsp sea 

salt

300ml (1¼

cup)

warm water
Method
1. To start the dough, add the yeast and honey to the warm water and wait until it bubbles (activates).
2. Meanwhile, mix the flour thoroughly with the salt, then add the yeast mixture and mix to combine.
3. Add the olive oil and knead for 5 minutes until the dough is homogeneous and forms a ball that pulls away from the edges of the bowl. (I generally do this in my food mixer with the dough hook).
4. Cover the dough with a damp tea towel and allow to rest for an hour in a warm place.
5. Now make a start on the topping. In a large pan, cook the sliced onions, ​​in olive oil with the whole garlic cloves and herbs. Cook on a low heat – you DO NOT want to burn or brown the onions – stirring regularly for at least 1h30 – 2hr, until you get a kind of onion jam.
6. An hour into the cooking of the onions, roll the dough to the size of a baking sheet. Place the dough onto the baking sheet and cover with a slightly damp cloth. Let it rest for one hour.
7. Preheat the oven to 210 C/fan 200 C/410 F/gas mark 8. Remove garlic cloves, bay leaf and any herb sprigs from the cooked onions. Add sea salt to taste. Add less if you're topping with anchovies and/or which are already salted.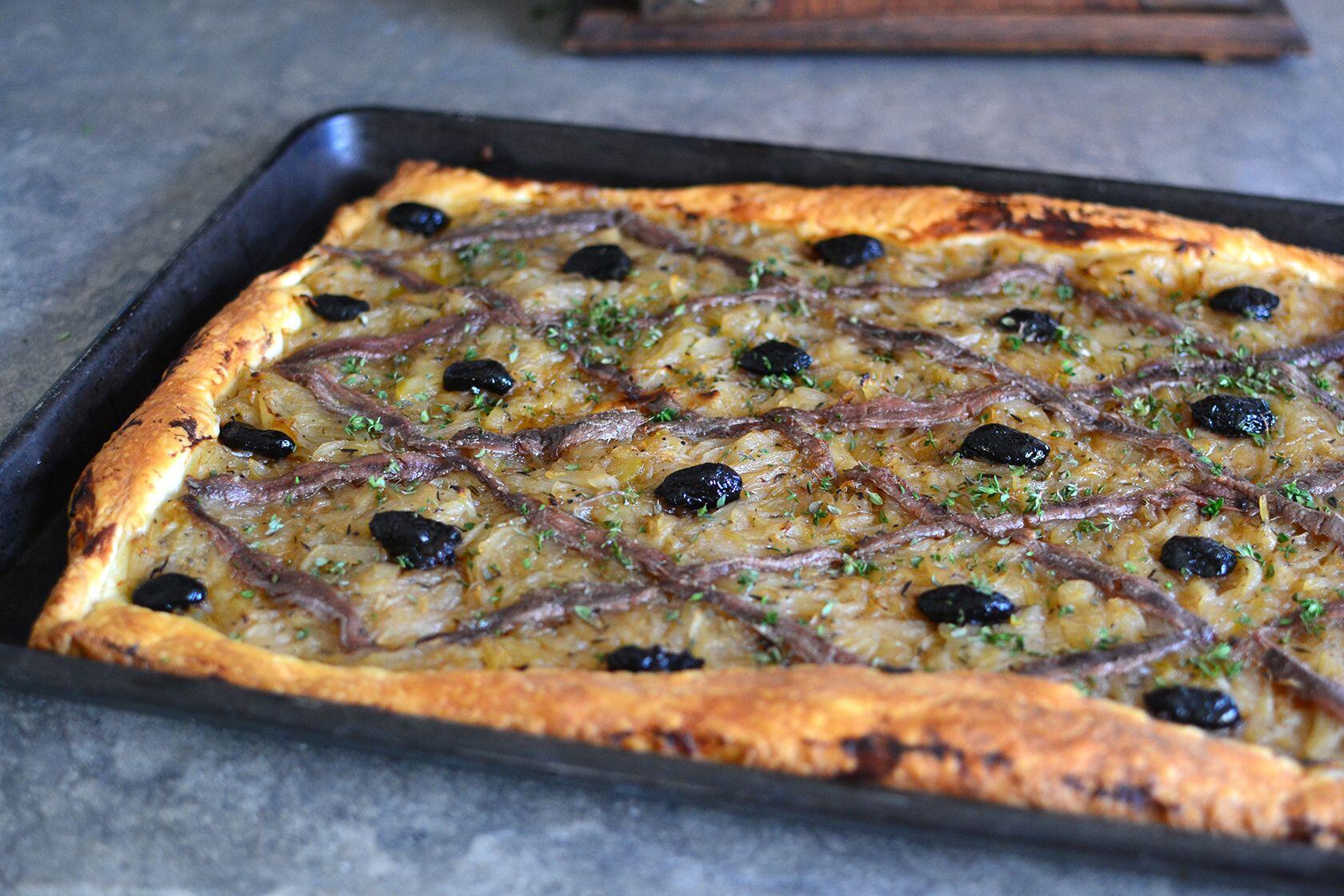 8. Spread the onions evenly on the dough leaving a small margin at the edges, and decorate with anchovies or a handful of black olives or both.
9. Bake in preheated oven for 20 minutes until the dough edges turn golden. Eat hot or at room temperature.
Sheree's Handy Hints
1. You can substitute dried herbs for fresh, 1 tsp of each.
2. I use confit garlic gloves which I cook with the onions rather than fresh cloves.
3. If you can't bear stirring the onions, cover with a circle of greaseproof and pop a lid on the pan.
4. Pissaladière is best eaten on the day it's cooked but it will keep for a day or two in the fridge.