Trip to Sporting d'Hiver, Monaco
Last weekend my beloved and I attended an event at Monaco's new Sporting d'Hiver so I thought I'd look into its history.
The Sporting d'Hiver was built on the site of the old Palais des Beaux-Arts, a stunning building that was inaugurated in 1893 and then (sadly) demolished in 1930 to make way for the former, shown below. I couldn't find the name of the building's architect but it was clearly inspired by its surroundings, The Hotels de Paris and Hermitage and the Casino.
Sporting d'Hiver, designed by Charles Letrosne (1868-1939) and his son Daniel (1896 – 1941), was built in 1932 in the Beaux Arts architectural style. Used to host glamorous parties and exhibitions, by 1974 most society events had moved to the newly built Monte-Carlo Sporting in the Larvotto district. In more recent years, the Sporting d'Hiver was home to a cinema, Société des bains de mer de Monaco (SBM) offices and shops.
In 2008, Prince Albert II of Monaco authorised SBM to demolish Sporting d'Hiver and instead erect postmodern buildings. Many Monegasque subjects and residents objected to the demolition, nonetheless the building came down in June 2015.
Sporting d'Hiver's replacement was designed by Sir Richard Rogers, architect and urban planner, winner of the Pritzker Architecture Prize, in association with Monaco architect Alexandre Giraldi.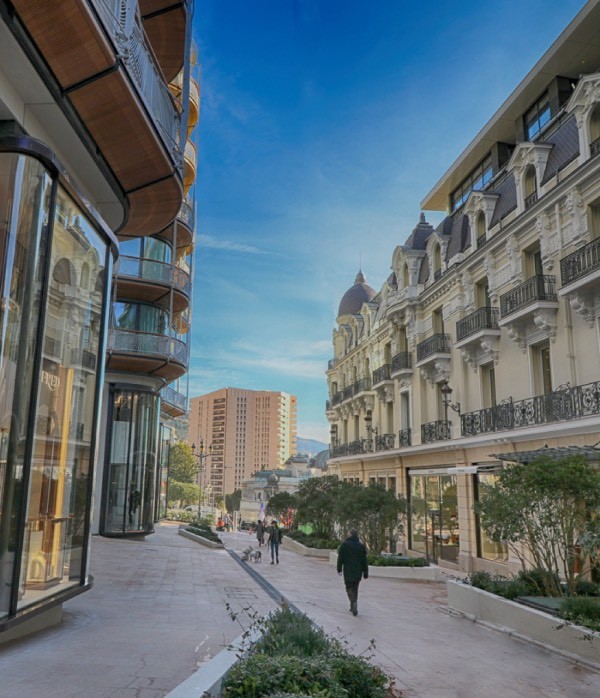 One Monte Carlo
This luxurious mixed-use project redeveloped the site previously occupied by the Sporting d'Hiver building, located next to the Place du Casino in the very heart of Monte Carlo. Bounded by the Hôtel de Paris, the Hôtel Hermitage and the neighbouring Petit Afrique park, the old building block dominated the streetscape but offered little public access through the site.
The architects have designed a series of mixed-use pavilions creating a very permeable new city quarter that provides high-end residential, retail and restaurant accommodation, office and conference facilities as well as an art gallery within a landscaped public realm. This key location in Monte Carlo has reasserted its historical role in the economic, social and cultural development of the Principality.
The renowned Salle des Arts from the original Sporting d'Hiver building has been reinstated as the heart of the conferencing facilities. These facilities comprise a comprehensive suite of rooms providing a flexible multi-use amenity in a central location. The new art gallery, submerged within the Petit Afrique park, can be joined to extend these public facilities further, but operates as an independent destination gallery for most parts of the year.
Sustainable development was taken into account at every stage of the construction of One Monte Carlo, which complies with the highest environmental standards. The project has been awarded the European BREEAM label by the Building Research Establishment (BRE), an industry equivalent to the French HQE and Bâtiments durables méditerranéens certifications.
Images courtesy of SBM