The Musette: Almond cake with ganache
More than anything else, simple cakes are what I'm reaching for most days. Tall layer cakes, intricate designs or highly technical bakes really don't float my boat, or my beloved's. All we really need is a comforting, unassuming cake that still delivers on flavour and makes the perfect accompaniment to that afternoon cup of tea.
This is one of those cakes.  The almond sponge isn't so much light and fluffy, but rather a buttery, dense crumb thanks to just using egg yolks (save the whites and make a pavlova). The creamy white chocolate ganache adds just the right amount of sweetness which is offset by a generous addition of tahini – if you've not baked with tahini (home-made) before in sweet recipes, you're in for a treat. I use it regularly in a similar way to peanut butter and it lends such a unique woody, nutty depth to your bakes.
Ingredients (serves 10-12)
Cake:
125g (1 stick) unsalted butter
150g (3/4 cup) golden caster sugar
1½ tsp vanilla bean paste
4 large organic egg yolks
160g (1 cup) plain (all-purpose) flour
1½ tsp baking powder
60g (2/3 cup) ground almonds
¼ tsp fine sea salt
135ml (1/2 cup + 1 tbsp) full-fat milk
Ganache:
200g (1 1/2 cups) white chocolate, finely chopped
150ml (1/2 cup + 2tbsp) double (Heavy) cream
60g (4 tbsp) Tahini
20g (1 1/2 tbsp) unsalted butter, softened
Pinch of fine sea salt
Method
1.Preheat the oven to 190C/170C fan/350F/gas mark 5. Grease and line a 20cm (8 inch) round cake tin.
2. In a large bowl or stand mixer, cream together the butter, sugar and vanilla for 3-5 minutes until very pale and fluffy, scraping down the sides of the bowl every so often.
3. Add in the egg yolks one at a time beating well after each addition.
4. In a separate bowl, sift together the flour, baking powder, ground almonds and salt. Pour half of this into the butter mixture, beat until smooth and then stir in the milk. Mix in the rest of the flour and pour the batter into the prepared tin, levelling the top.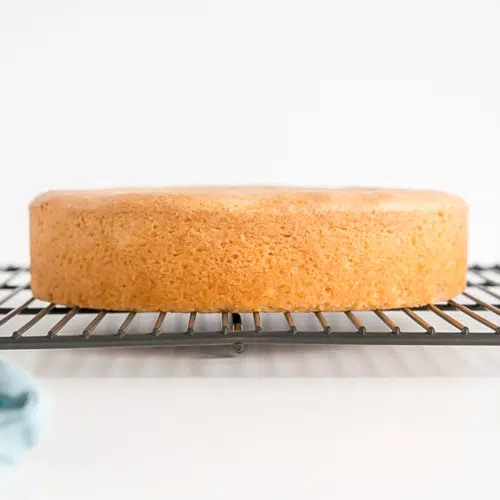 5. Bake for 30-35 minutes until the cake is golden and a skewer inserted comes out clean. Let the cake cool for 10 minutes before removing from the tin to cool completely on a wire rack.
6. To make the ganache, add the chopped chocolate to a heatproof bowl and set aside. Add the cream and tahini to a small saucepan and heat until just simmering. Pour the mix over the chocolate and let it sit for 30 seconds. Gently stir the ganache from the middle outwards until all the chocolate has completely melted. If there are still chunks of chocolate that haven't melted, place the bowl over a pan of simmering water and stir until smooth (or pop it into the microwave). Stir in the softened butter until completely melted. Add a pinch of salt, stir and let the ganache cool completely.
7. Place the ganache in the fridge to chill for 15-20 minutes. It just needs to firm up to a spreadable consistency, not completely firm. Use a stand mixer or electric whisk to whip up the ganache for 1 –2 minutes until it aerates and lightens in colour. Be careful not to overwhip as it may split.
8. Spread the ganache evenly on top of the cake and (optional) sprinkle some sesame seeds around the edges of the cake before serving.
Sheree's Handy Hints
1. All ingredients should be at room temperature.
2. When I'm baking I always use a timer as it's so easy to lose track of time. Once you've put the cake in the oven, put the timer on for 5-10 minutes less than it should take to cook and then check regularly.
3. If you think the cake is browning too quickly, particularly at the edges, cover it with an aluminium-foil tent.