The Musette: Basque Food
As I'm celebrating all things Basque for the following week or so in honour of next week's cycle race, I'm going to be talking about its food rather than giving you a recipe today.
Basque food is one of the most iconic regional cuisines in Spain, and indeed the world. So it's no wonder that on my many trips to the Basque Country, I've made it a point to seek out the best local dishes, restaurants and bars, from San Sebastian to Bilbao and beyond.
Consequently, I've learned a bit about the incredibly unique culture of this region, and how that culture is reflected in its cuisine. There's something special about the way people cook here, with local ingredients and time-tested recipes. They demonstrate not only admirable culinary expertise but also immense pride for local traditions and history.
The Evolution of Basque Cuisine
In the Middle Ages, the Basques enjoyed a humble diet of locally grown grains, beans and fruit. Over time they started to consume more seafood and, after the colonisation of the Americas, they began to integrate foods like corn, tomatoes and peppers into their cooking.
During the Industrial Revolution, Basque cuisine was heavily influenced by French chefs. It didn't develop much during the Franco regime (1939–1975), as the dictatorship sought to erase the unique Basque culture. But once democracy was established in the 1970s, a new era of innovation began.
Despite its worldwide prestige, Basque cuisine stays true to its roots. Visiting the Basque Country could mean eating Michelin-starred creations while standing shoulder-to-shoulder with locals in a crowded bar, picking pintxos off the counter to pile on your plate, or digging into hearty dishes that are a far cry from the minimalistic masterpieces ofArzak or Akelarre.
Local Basque Products
Basque food includes everything from tuna stew and salt cod to burnt cheesecake  (recipe coming next week on The Musette) and sparkling wine. It's a unique and eclectic cuisine. But one thing that all Basque dishes have in common is locally sourced, seasonal ingredients. Many of which come from its Atlantic coastline.
Meat also figures prominently on Basque menus, particularly beef and pork. I once even speculated at length whether the Basques invented BBQs.
Lots of local recipes rely on seasonal produce like peppers, potatoes and cherries. The Espelette pepper is so integral to Basque cuisine that it has its own festival, held in the French town of Espelette each October.
Finally, there's the iconic Idiazabal cheese. This rich and smoky cheese is made from unpasteurized sheep's milk and named after the town of Idiazabal in Gipuzkoa.
Traditional Basque Dishes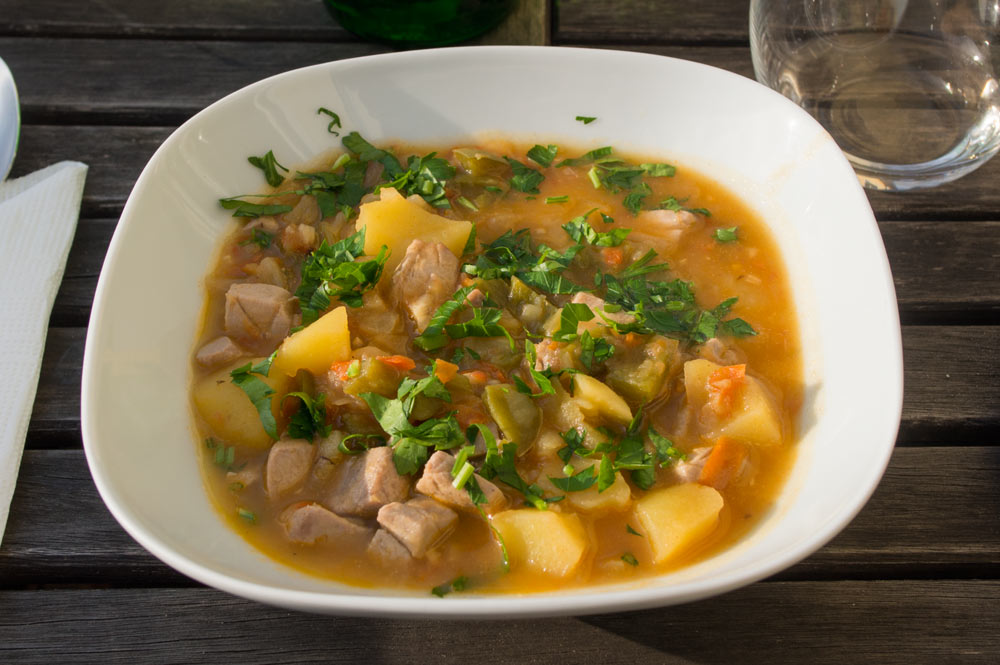 The high-quality local products of the Basque Country are integral to its most famous dishes. To start with, there's marmitako, a stew that combines tuna with potatoes, peppers, tomatoes, and a splash of local sparkling  txakoli wine.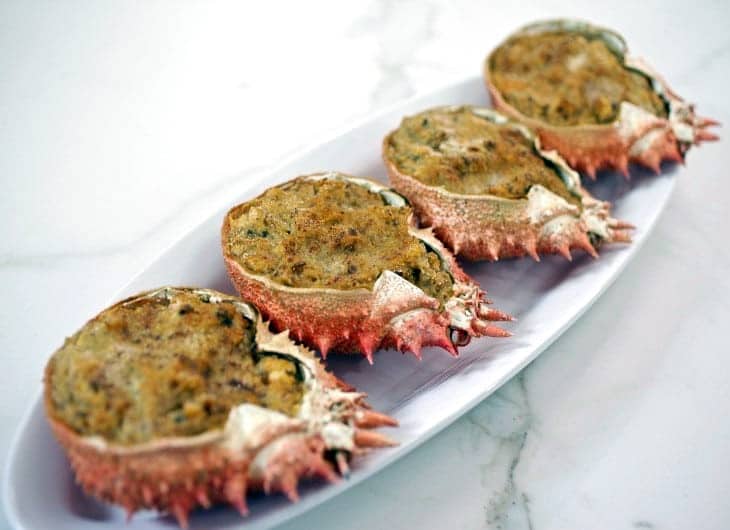 Other seafood specialties include kokotxas (hake cheeks), bacalao a la Vizcaína (cod in a red pepper sauce), bacalao al pil pil (cod cooked in olive oil and garlic), merluza en salsa verde (hake in green sauce), txipirones (baby squid cooked in squid ink), ttoro (fish soup), angulas (baby eels), percebes (goose barnacles), txangurro (spider crab – above photo), and many, many others.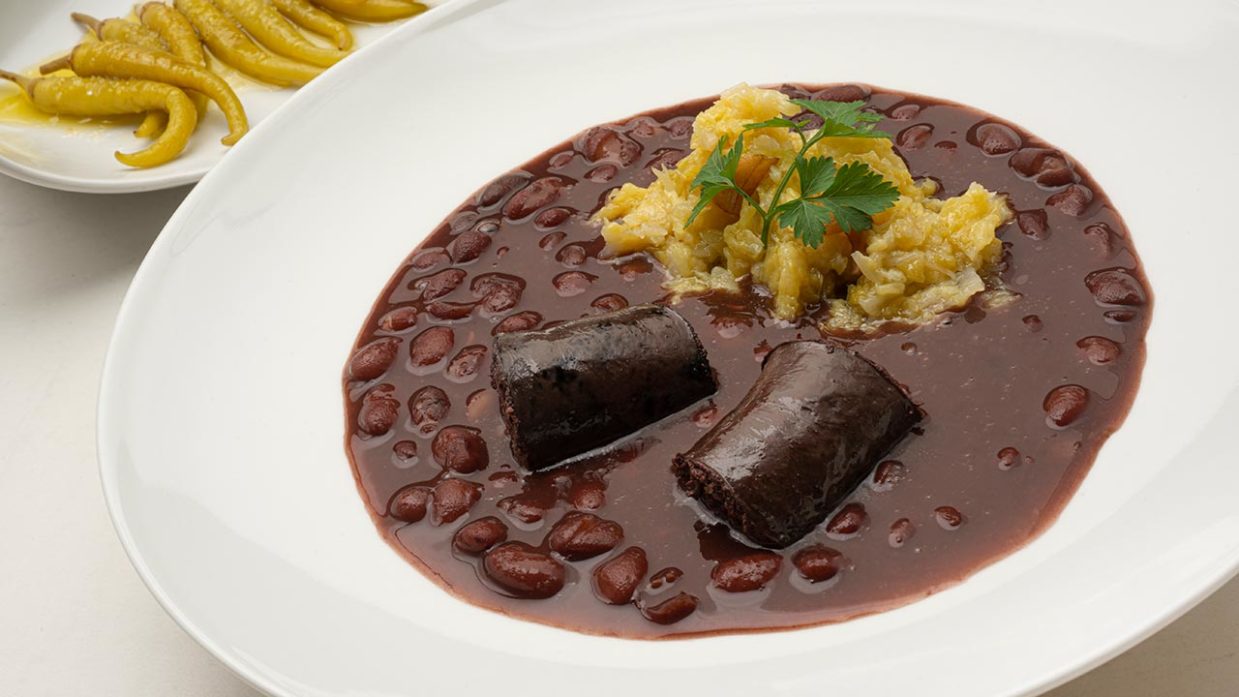 Apart from seafood, there's pollo al chilindrón (chicken stew with peppers, tomatoes, and cured ham), alubias de Tolosa (black beans with onion, pepper, pork and blood sausage) and lamb stew. Noticing a pattern? Warm, hearty dishes are definitely a staple of Basque cuisine and if you've ever visited the region, you'll know why.
However, some of the most recognisable local specialties are exactly the opposite. Pintxos (tapas) are small plates that allow you to try a bit of everything, instead of filling up on just one dish. They can be hot or cold, prepared to order or pre-made…….but they're always delicious.
Finally, there's the wonderful world of Basque desserts. The most legendary is burnt Basque cheesecake (recipe coming next week), which has become a pop-culture phenomenon. But there's more to Basque sweets than cheesecake; take Gâteau Basque, a custard or cherry compote filled cake with a pastry crust, or mamia, made of curdled sheep's milk (it's better than it sounds).
Basque wines
Wine-making is nothing new to the Basques who have tended vineyards since the Iberian Peninsula was part of the Roman Empire. There are currently four Denominaciones de Origen or DOs.
Rioja Alavesa
A sub-area of the famous Rioja wine region which accounts for around 20% of the area of the Rioja Qualified DO is located on the southern tip of the Basque Country along the French Route of the Camino de Santiago.
Most of the vineyards in Rioja Alavesa are situated at the foot of the Sierra de Toloño Mountains. The soil is poor and contains a high content of clay and limestone, so the vines are planted farther apart. Wines produced here have a fuller body and higher acidity than the other Rioja sub-regions. The primary varieties used in red wines of the area are Tempranillo and Graciano, while Viura grapes are used in the white wines. Most Rioja Alavesa wineries use Tempranillo, combined with small amounts of Viura grapes (less than 15% is permitted), which lowers the color and increases the acidity of the wine.
An unusual characteristic used often in the wine-making process of the area is that of carbonic maceration, or maseración carbonica, where the grapes are not destemmed or crushed before fermenting. In Rioja Alavesa, the grapes are placed into large open vats intact and with stems on. Some berries then burst and their juice sinks to the bottom. The yeast that is naturally present on the surface of the grape starts the fermentation. This carbonic maceration process is said to produce wine that is "soft and fruity."
There are 125 bodegas or wine producers in the Rioja Alavesa DO that belong to ABRA (Association of Wineries of the Rioja Alavesa), founded in 1990 whose wineries produce over 30 million litres of wine annually.
The Txakoli DOs
Txakoli vineyards are typically located above sea level so as to enjoy the mild coastal climate. It's a young, year-old sparkling wine, usually made from the Hondarribi Zuri grape, that has been made in the Basque Country for many centuries. There are three different Txakoli DOs – Getaria Txakoli, Bizkaia (Vizcaya) Txakoli and Alava Txakoli.