Trip to Château et Villa La Coste
Before I get started on our most recent trip to US, to try and help my beloved keep his agenda clearer post-semi-retirement, I've been organising trips out on Thursdays. Here's a place we visited back in April on a rather overcast day.
Paddy McKillen, the Irish property magnate, whose global portfolio includes holdings in London's Claridges, The Berkeley and The Connaught hotels, purchased Château La Coste in 2002 from a family who had owned the 600-acre estate for 70 years. The owners wanted to sell to someone who would "look after" their heritage which he's certainly done.
Positioned in southern France's gently undulating countryside between Aix-en-Provence and the Luberon, McKillen's acquisition is the region at its best: vineyards, chestnut forests and olive-tree fields encircle the original 17th century rose-stone bastide manor house and a collection of traditional barns finished with Provençal tiled roofs. A series of Roman pathways crisscross the terrain.
To upgrade La Coste's white, red and rosé wines to organic status and introduce biodynamic processes required state-of-the-art technology and somewhere to house those purchases. So McKillen reached out to his friend the Paris-based architect Jean Nouvel. Completed in time for the grape harvest of 2008 and connected underground, Nouvel's pair of sleek half cylinders in aluminum and stainless steel make no effort to blend into the storybook setting, a juxtaposition that stimulated McKillen's inspiration.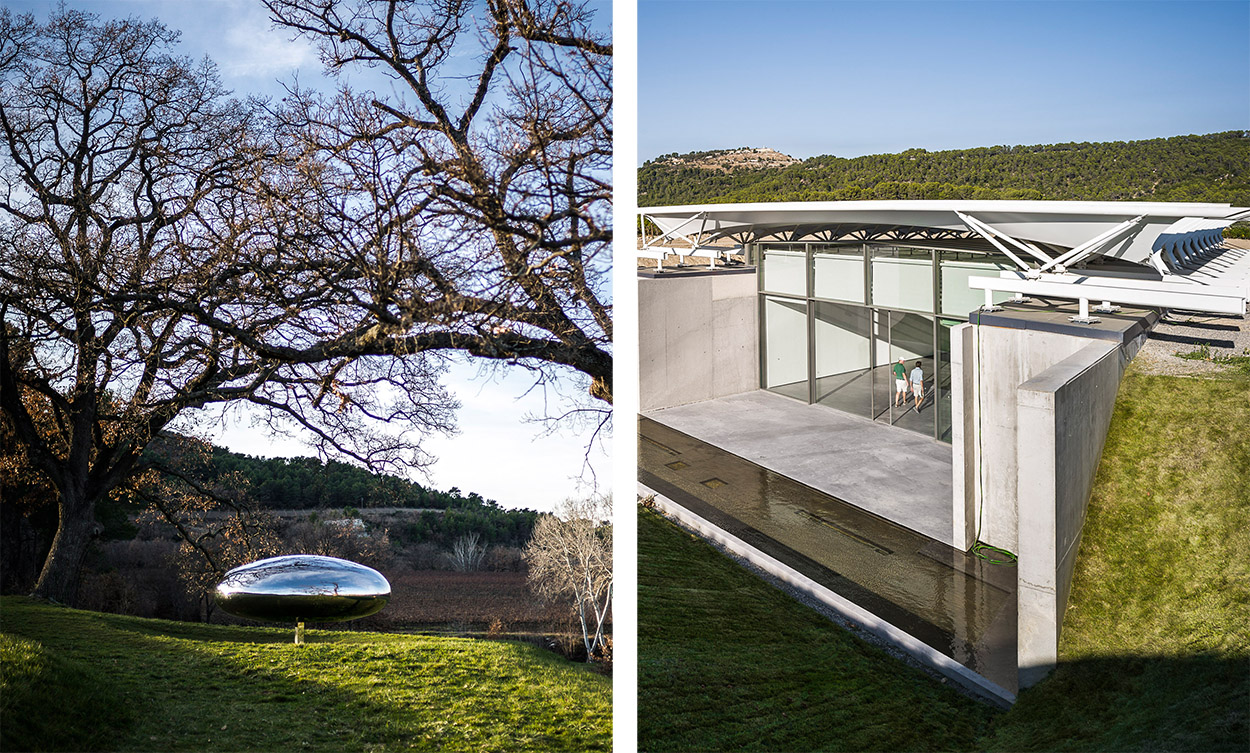 Nouvel's Nissen huts ushered in, over the next decade, more than two dozen invitations extended by McKillen to international architects and artists, most of whom he considers personal friends. Each has since come to Château La Coste to create site-specific permanent installations within the naturally forested landscape.
Preferring not to hoard the works for himself, in 2011 McKillen opened his burgeoning art park to the public. Visitors enter the property through Tadao Ando's stark, unadorned "Gate" one of five works here commissioned from the Pritzker Prize–winning Japanese architect. Designed around a Louise Bourgeois "Crouching Spider" (2003), Ando's Centre d'Art brazenly slices through the pastoral backdrop with its smooth concrete surfaces, monumental glass panes and the reflective pool where the massive metal arachnid lives.
Even the grounds have received the star treatment. Louis Benech, best known for redesigning the Tuileries in Paris, created the château's gardens, an orderly grid of organic eggplants, apricots and pear trees, and Ai Weiwei laid down a sinuous walkway of cobblestones recycled from Marseille's recently renovated ports. Titled "Ruyi Path," after the ceremonial Chinese scepter that symbolises power and good fortune, it zigzags through the landscape, connecting two Roman-era routes.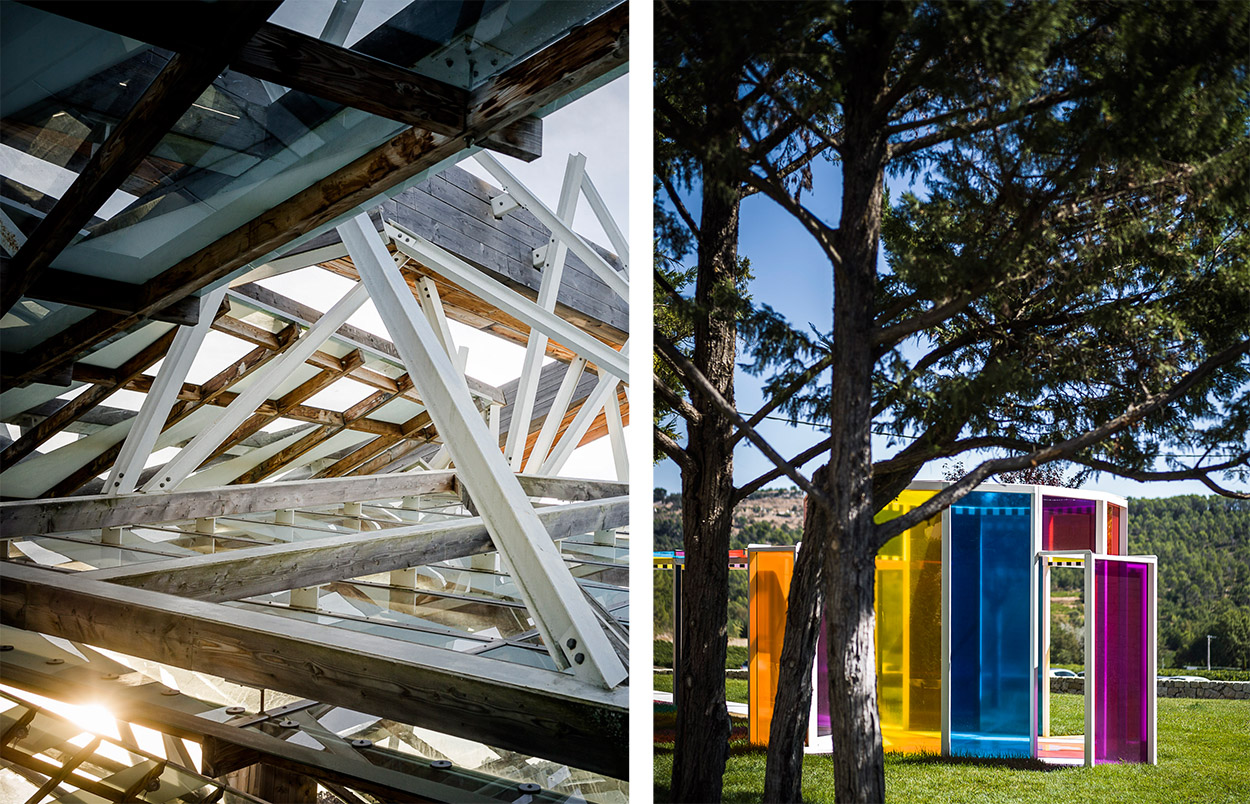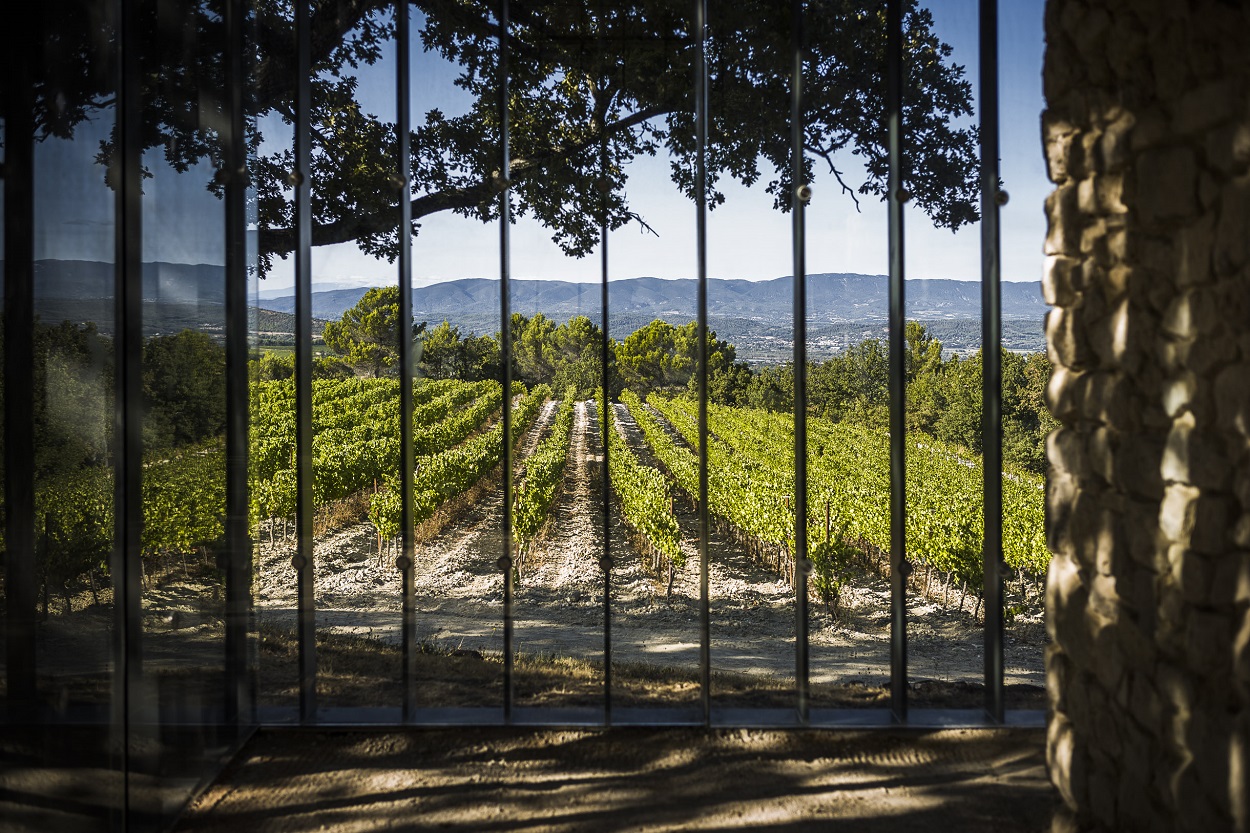 To view it all, visitors follow the Art & Architecture Walk, a two hour veritable artistic treasure hunt. This is not simply a collection of works from famous artists – it's a genuinely thoughtful curation by McKillen himself who is a passionate collaborator in the process. Though the Irishman is quick to remind everyone that their creations are ultimately accessories. For McKillen, the grapes are the real artworks at La Coste.
Among the most impressive of the many buildings is the Château La Coste Art Gallery by Renzo Piano, carved directly into the vineyards. Under an origami-inspired white-sail roof, its folds aligned with the surrounding grapevines, a naturally lit photography exhibition space is perched above the château's wine cellars.
One of the more recent names added to the La Coste roster is Hong Kong–based architect André Fu, who designed a bar, library and 12 room spa for Villa La Coste. The 28 suite hotel which opened in 2017 on a summit overlooking the property's Cabernet Sauvignon, Chardonnay and Vermentino vineyards. Its clean lines, local stone finishes and Luberon-framing views the work of French architecture firm Tangram. Though geographically removed from the public park, the retreat shares its spirit of artistic engagement. McKillen himself chose all the art here too.
We ate luncheon in the hotel's restaurant which is overseen by multi-Michelin starred French chef Hélène Darroze – it was sublime! We also took away some of the estate's liquid bounty: wine and olive oil.