Postcard from USA: Part I
Before I blog about the details of our recent US trip, here's a two-part summary of where we went and what we did, before I get down to the nitty-gritty.
We generated a frisson of excitement when we arrived at Nice airport for our flight to NYC as our regular driver had all the relevant accreditations on his vehicle for the Cannes Film Festival. You could see a few onlookers trying to determine who we were. I told my beloved we should've worn dark glasses and hats. However, we pitched up at the same time as Anne Hathaway and interest in us quickly evaporated in the face of genuine Hollywood royalty. To give Ms Hathaway her due she posed for a number of selfies and gave a few autographs before being waved through Security and Customs. She wasn't in the misnamed VIP lounge so obviously there's a real VIP lounge where she relaxed before her flight.
Once again airport staff were impressed with our my state of readiness and paperwork, carried as usual in my rather weighty dossier. To be fair this also holds all of our hotel confirmations, museum and restaurant bookings, maps, insurances etc etc . You know me: never knowingly underprepared!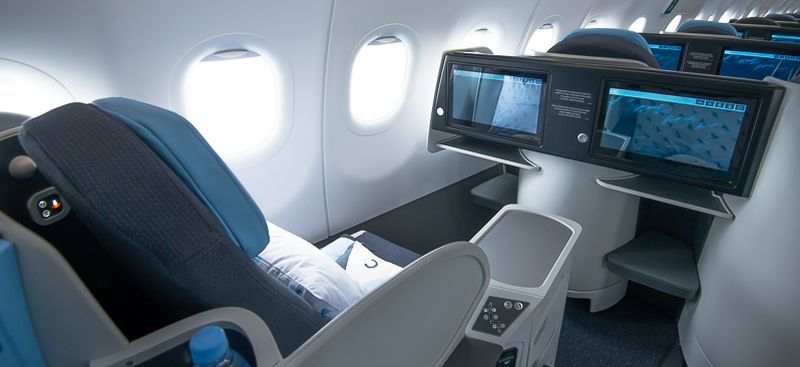 This was the first occasion we've flown with all business-class, French airline La Compagnie which has a weekly flight from Nice to Newark during the summer months. The rest of the year we'd be obliged to fly from Paris. Previously we've flown BA but last time (Nov/Dec 2019) we were very disappointed with its tired Club offering. We've rather been rather spoilt by Emirates! However we now have a viable, reasonably priced and fun alternative.
I confess I spent most of the flight over watching the airline's excellent selection of movies and listening to my choice of music. The time flew past. The meals were also very good but, let's be honest, no one ever flies for the food.
I wasn't sure how long it would take us to clear US Customs, it can sometimes take hours. Consequently I'd elected to stay overnight in the hotel airport before we picked up our hire car the following morning and setting off for Philly – not too far to drive on our first day.
We spent four delightful days in Philadelphia enjoying its heritage and wonderful gardens. Indeed our visit had been prompted by a television programme about some of its gardens. We were not disappointed and, due to the lovely weather, spent more time in Philly's gardens than its splendid museums. The city is an architectural delight with lots of interesting historical buildings, with gorgeous doors, entranceways and wrought iron lights, which we much enjoyed visiting on foot.
We stayed in the French Quarter (naturally) close to Rittenhouse Sq, near to a number of good restaurants and lovely historic buildings. It was only a short stroll to most of the latter. Trips to the various gardens however required the car, most of which were on the route to Washington, largely close to one another, and mainly the provenance of the Du Pont family who subsequently established foundations to manage their not insignificant legacy.
I could easily have tarried longer in Philly but my beloved had expressed a desire to visit Washington DC. The latter two initials stand for District of Columbia but it might as well have been Doric Columns which adorn pretty much every building, or so it seemed.
Washington was wet, overcast and muggy but we were content to wander around looking at the exterior of various public buildings, monuments, gardens and museums. I had booked to visit the Library of Congress which was totally amazing and, given our limited amount of time, a great choice. Foodwise, we continued plundering the East coast's stock of seafood. I managed to secure tables in two fully booked restaurants after what my hubby described as Oscar worthy performances. Maybe, I've missed my forte?
We drove part-way back from Washington, catching the ferry from Lewes to Cape May to shorten our journey. Cape May was pretty much as expected – fabulous beaches, cute craft shops, lovely historic clapboard properties and plenty of restaurants. The Cape was naturally busy over the Memorial Day weekend nonetheless we managed to secure reservations at our chosen restaurants. We walked and/or cycled all over Cape May which was (thankfully) much quieter on the Monday and Tuesday.
When we left Cape May to drive to Long Branch, we veered off the highway to visit more of the seaside towns, many of which were not to our taste being more of a mash-up between Blackpool and Benidorm on steroids. Still I appreciate that this may be other's idea of holiday heaven. There was plenty of property porn en route to pique my interest.
We spent a week in Long Branch only because it was convenient for my beloved's work. The weather during the week was generally sunny and while my beloved was working I enjoyed relaxing with a good book or three.
Neither us had appreciated just how much inland water there is in the "Garden State" of New Jersey this ensures many properties have a waterside view and their own dock, with boat. We're not boat people but love being near water and enjoyed several evenings out on the water oohing and aching at the frolicking pods of dolphins, plus a day long bbq at a magnificent property right on the water's edge.
(Part II which covers the rest of the Jersey Shore and NYC is tomorrow).