French Fancies: Hermès
We're back from our trip across the pond and once again embracing some of my favourite French companies. Today's the turn of Hermès, a name I'm sure many of you will know. This luxury fashion brand known for its leather goods and lifestyle accessories has been around for over two centuries. 
How it all began
Hermès was founded in a harness workshop in the Grands Boulevards quarter in 1837 by German-born Thierry Hermès whose family had moved to Paris. He created high-quality wrought harnesses and bridles for the carriage trade, winning several awards including first prize in its class in 1855 and again in 1867 at the Expositions Universelles in Paris.
Hermès's son, Charles-Émile, took over management from his father in 1880 and moved the shop to 24 rue du Faubourg Saint-Honoré, where it remains today. With the help of his sons Adolphe and Émile-Maurice, Charles-Émile introduced saddlery and started selling his products retail to the élite of Europe, North Africa, Russia, Asia, and the Americas.
After Charles-Émile Hermès's retirement, sons Adolphe and Émile-Maurice shared leadership and renamed the company Hermès Frères. During a trip to Canada, Émile-Maurice was fascinated by the American opening and closing system on the hood of a military car. He subsequently obtained the exclusive rights to this system, known today as the zip or zipper, to use on leather goods and clothing. In 1918, Hermès introduced the first leather golf jacket with a zipper, made for Edward, Prince of Wales.
Throughout the 1920s when he was the sole head of the firm, Émile-Maurice added accessories and clothing collections. He also groomed his three sons-in-law (Robert Dumas, Jean-René Guerrand, and Francis Puech) as business partners. In 1922, the first leather handbags were introduced after Émile-Maurice's wife complained of not being able to find one to her liking.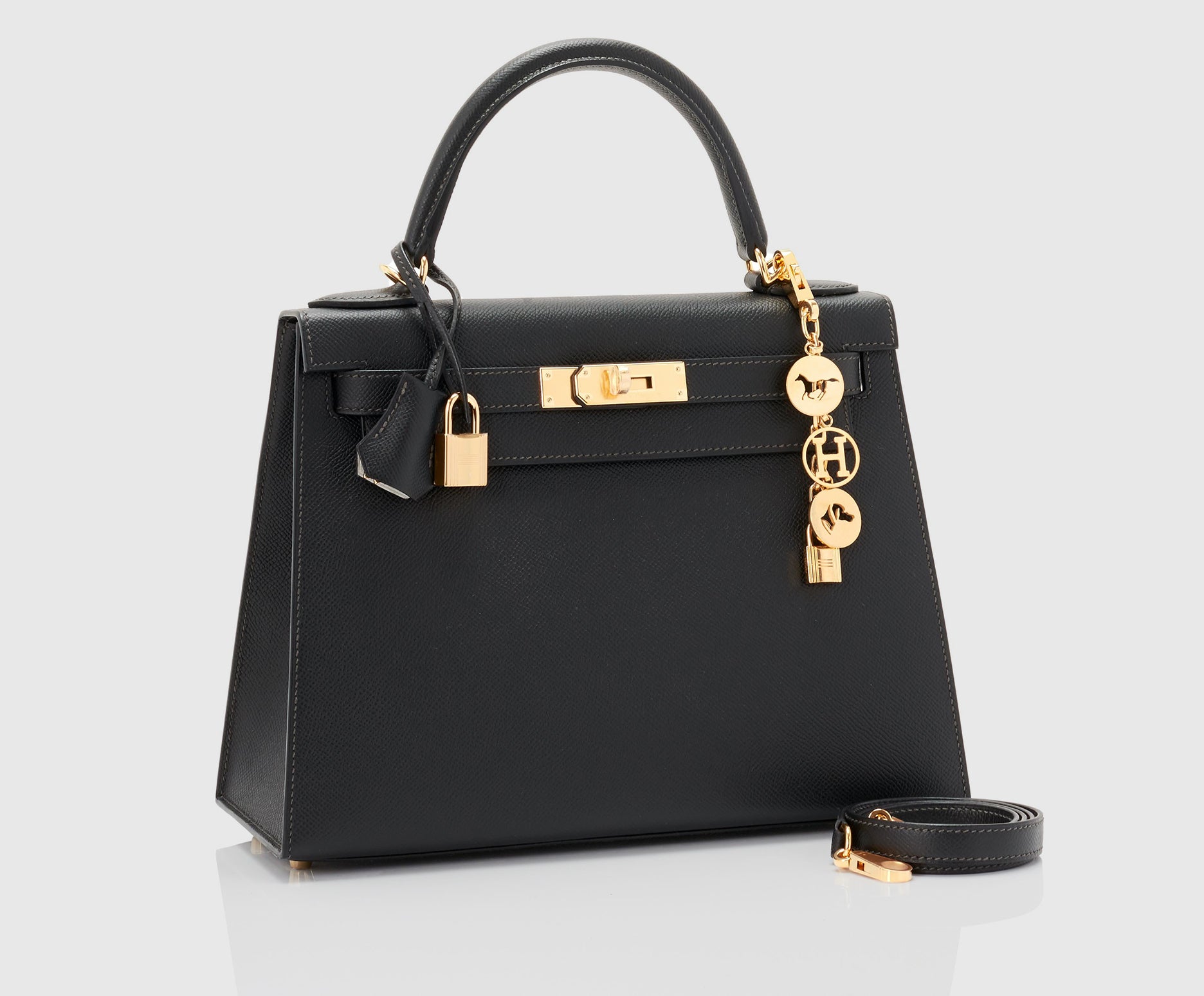 During the 1930s, Hermès introduced some of its most recognized original goods such as the leather "Sac à dépêches" in 1935 (later renamed the "Kelly bag" after Grace Kelly, pictured above) and the Hermès carrés (square scarves) in 1937.
The 1930s also witnessed Hermès's entry into the United States market by offering products in a Neiman Marcus department store in New York; however, it later withdrew. In 1949, the same year as the launch of the Hermès silk tie, the first perfume, "Eau d'Hermès", was produced.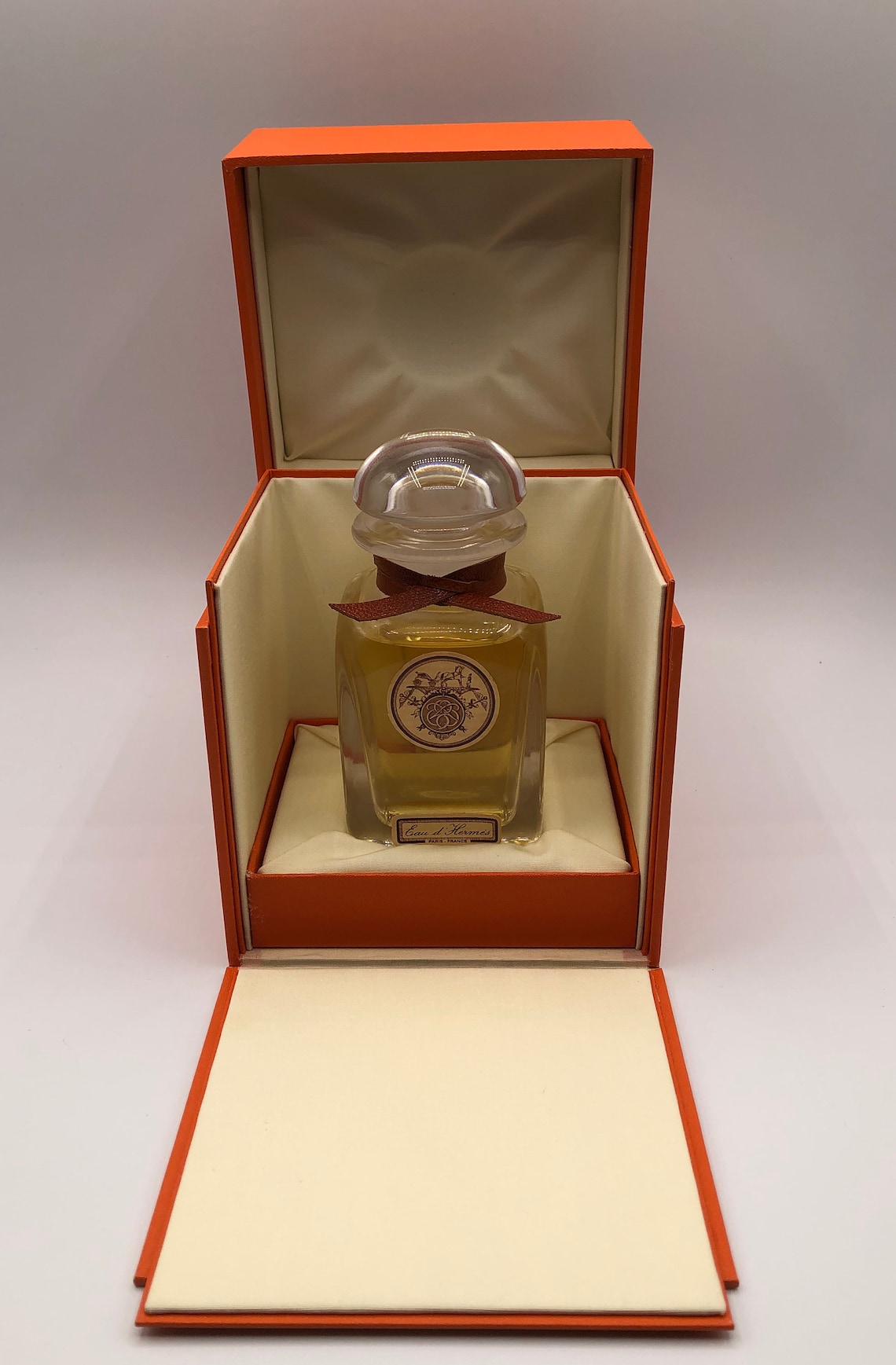 Robert Dumas-Hermès succeeded Émile-Maurice after his death in 1951, becoming the first man not directly descended from Hermès père to lead the company because his connection to the family was only through marriage. Thus, he incorporated the Hermès name into his own, Dumas-Hermès. Thereafter, the company also acquired its Duc-carriage-with-horse logo and signature orange paper boxes.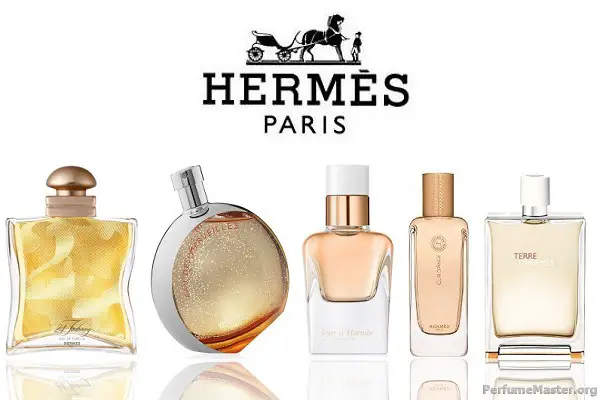 Despite apparent success in the 1970s, Hermès declined relative to its competitors. Industry observers attributed this decline to Hermès' insistence on exclusively using natural materials for its products, a differentiation from competitors that were using new, synthetic materials. Fortunately a market shift from artificial ingredients back to natural materials renewed demand for Hermès' fragrances and improved the company's prospects, contributing to the re-establishment of Hermès as a major player in the fragrance industry.
Jean-Louis Dumas, the son of Robert Dumas-Hermès, joined the family firm in 1964 and became chairman in 1978. He concentrated the firm on silk, leather goods, and ready-to-wear, augmenting traditional techniques with new product lines. This transition was instrumental in turning around Hermès' decline, particularly by broadening the label's appeal to the younger generation.
Throughout the 1980s, Dumas strengthened the company's hold on its suppliers, resulting in Hermès's gaining stakes in prominent French glassware, silverware acquiring venerable tableware manufacturers such as Puiforcat, St. Louis, and Périgord, which subsequently became a strong segment for the firm.

In the following years, Dumas decreased the number of Hermès franchises and increased company-owned shops to better control sales of its products and increase profits long-term. He also pursued a policy of hiring well-known designers to supervise  men's and women's ready-to-wear.
After 28 years as head of the firm, Jean-Louis Dumas retired in January 2006. Patrick Thomas, who had joined the company in 1989 and who had worked with Jean-Louis as the co-CEO from 2005, replaced him. Thomas became the first non-Hermès family member to head the company and continued its growth and expansion in key markets such as the Middle and Far East. More recently, the company has expanded into cosmetics.
Hermès' Success Relies on its Philosophy
Hermès doesn't support mass production or outsourcing. It believes that every product should reflect that each product is manufactured by hand, by a single craftsman who's undergone a rigorous in-house training programme. Thus, it can be said that Hermès' greatest strength lies in its quality craftsmanship. Impressively, it hasn't wavered from these firm principles in close to two centuries.
Ownership
The Dumas family, descendants of Thierry Hermès, owns the company's majority stake. Cousins Pierre-Alexis and Axel Dumas are co-chairmen of the brand, with Pierre-Alexis serving as its creative director and Axel serving as CEO.
Hermès went public in 1993, allowing non-family members to purchase shares but the Dumas family and other heirs from Thierry Hermes' family tree still own the majority.
The Hermès Foundation
Since 2008, the Fondation d'entreprise Hermès has worked to ensure the necessary conditions are in place to create new works of art, transmit skills and know-how, protect the environment and encourage gestures of solidarity.
These four pillars guide its commitment to serving the public interest, which is put into action through nine major programmes. In this way, the Foundation accompanies those whose efforts on the ground contribute to the creation of a better world.
According to Olivier Fournier, President of the Foundation:
In a complex, unpredictable world where globalisation all too often means standardisation, an impoverished world view and bland, homogenised tastes, the Fondation d'entreprise Hermès reflects the distinctive voice and deep artisan roots of the house of Hermès, with its long history of social solidarity based upon mutual support and collaboration.
In 2010, it launched the biannual Emile Hermès Prize that rewards an innovative project in the field of design. 
The Foundation operates several contemporary art spaces, including La Verrière in Brussels, Belgium,Le Forum in Tokyo, Japan, and Atelier Hermès in Seoul, South Korea.
All images courtesy of Hermès