There are a lot of variations of tabbouleh out there but, IMHO, this recipe has the perfect parsley to bulgur ratio. It has enough lemon to keep it dressed but not turn it soggy. And it has crispy cucumbers that add a nice contrasting bite. It'll happily sit in the fridge for a few days.
I started making this on a regular basis to use up my parsley and mint from my small herb garden. The recipe uses a load of parsley to make a refreshing and surprisingly simple salad that's more herb than grain. We love to eat it by itself, with hummus, stuffed into a pita with falafel, or as a bed for grilled fish.
Of course, feel free to increase the greenery or grain-ery according to your own preference. Make sure you use the called-for fine bulgur, not coarser bulgur or cracked wheat, neither of which would cook up in the same way.
When it comes to the other ingredients, now is the best time to get the good stuff: a tomato that's so ripe it's ready to burst; a cucumber that's equal parts crisp and sweet; and, perhaps most importantly, the most delicious olive oil you can get your hands on. I love to use our local olive oil which is quite peppery.
Ingredients (serves 6)
180g (1 cup)

fine bulgur

2 bunches flat-leaf

parsley

12

large mint leaves
half cucumber

5 spring onions (

scallions)

3

medium ripe tomatoes
seeds from half pomegranate (optional)

2 organic

lemons, juiced (about 6 tbsp)
120ml (1/2 cup) extra-virgin olive oil

sea

salt and freshly ground pepper, to taste
Method
1.Put the bulgur in a bowl, cover it with an inch of just-boiled water, and let it sit for at least 20 minutes. (It will double in size.)
2. Wash and dry the parsley and mint. Remove the stems, finely chop the herbs together, and put them in a large mixing bowl.
3. Peel and deseed the cucumber half. Slice it lengthwise into thirds, then chop. Chop the scallions and tomatoes and add them, along with a handful of pomegranate seeds, to the cucumber, parsley, and mint.
4. Drain any remaining water out of the bulgur and add it to the vegetables.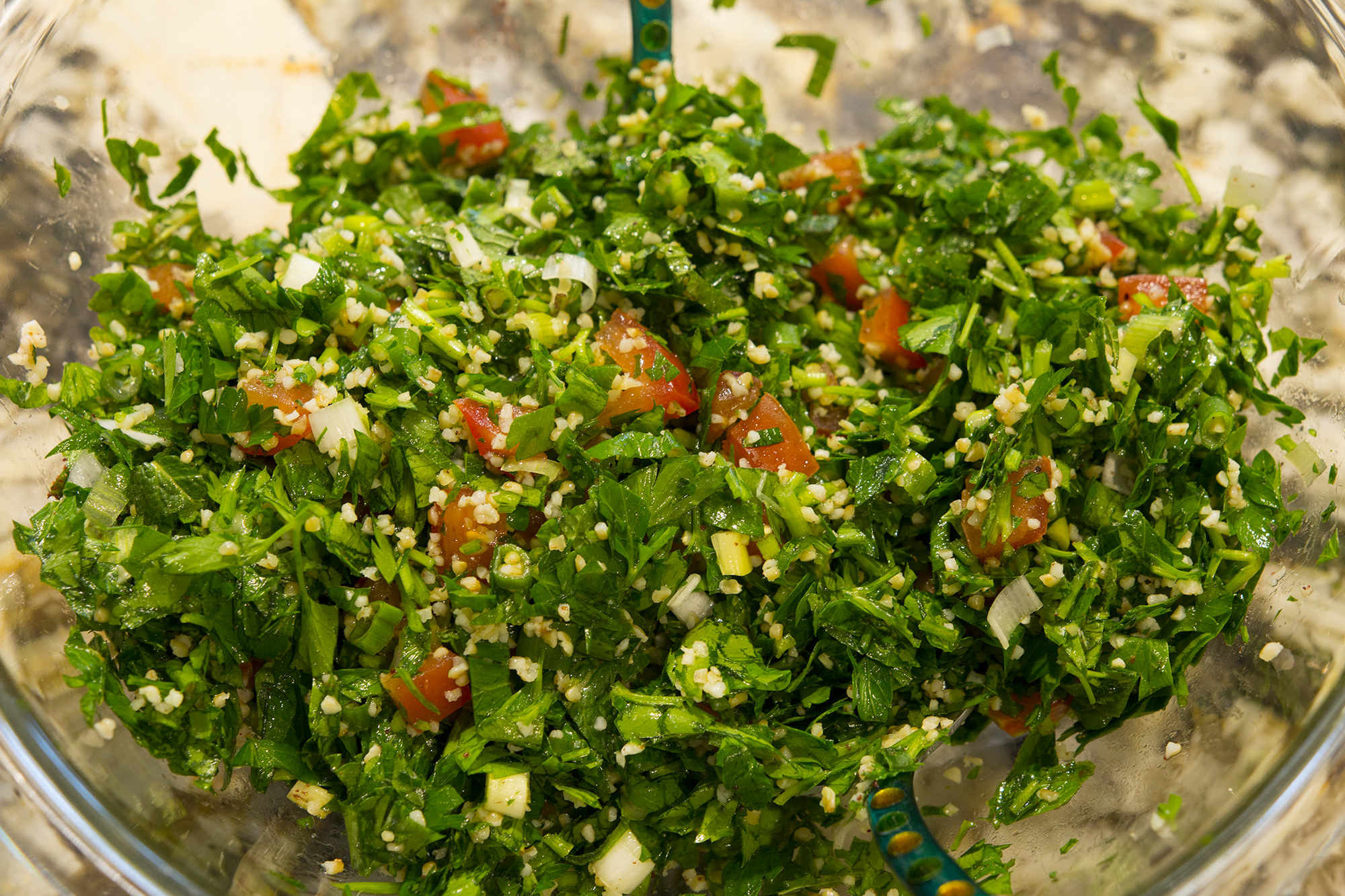 5. Add the lemon juice, olive oil, salt, and pepper to the salad. Mix well, taste, and adjust the seasoning and olive oil as needed.