French fancies: Etam
French women love lingerie, particularly matching lingerie. Consequently, there are plenty of brands at every price point. Today's company started life in Germany but then became French! Let me explain how this came about.
Etam Developpement SA is Europe's leading designer and retail distributor of women's lingerie and ready-to-wear fashions for the women's and young girls' markets. The company operates an international network of more than 1,100 retail stores as Etam and as 1,2,3. Etam represents the company's core lingerie and ready-to-wear brand and head of its largest segment of stores.
Etam's store formats range from the petite Etam Lingerie shops to its mega, all-in-one stores. The company has retail operations in all major global markets operating through franchise agreements with local partners.However, it only recently made it across the pond to open shops-in-shops at Nordstrom.
This delay, according to Etam's Chairman Laurent Milchior (left), the grandson of one of the founders, was due to an effort over the past 10 years to build more content, narrative and purpose into the brand, with an annual blowout fashion show during Paris Fashion Week among its boldest marketing statements. Etam has also stepped up its traceability and sustainability actions and social engagement in support of women.
How it all began
Etam was launched by Max Lindemann, a German stockings' manufacturer. In 1916, Lindemann decided to venture into the retail arena, launching his own line of lingerie and opening his first store in Berlin. Lindemann chose the name Etam for his retail activity, a name taken from the etamine fabric used in much of his undergarment production.
By 1920, Lindemann was ready to expand the Etam brand internationally. Rather than risk his fortune by opening company-owned stores in new foreign markets, Lindemann set up a network of local partnerships who in turn developed the Etam franchise in their own markets. As such, the Etam brand was introduced to the UK in 1923, with its first store on London's Oxford Street. Through the rest of the decade, Etam stores opened in other markets, including France, Argentina, the Netherlands and finally Belgium in 1928.
By then, Martin Milchior, founder of Milchior et Cie of Belgium, had launched his own chain of retail lingerie stores. The first Milchior store opened in 1925 and Milchior quickly expanded the store format throughout Belgium. In 1929, Milchior himself went international, opening a boutique in Paris. Over the next 25 years, Milchior's expanded deeper into France and the Milchior family eventually transferred its headquarters to Paris. A major step in this transition came in 1933 when Milchior acquired a chain of 21 stores. The company transformed its new chain of stores into lingerie boutiques, then adopted the Setamil store and brand name in 1941.
Pierre Milchior joined his father's business in 1955 and took over the lead of the company when Martin Milchior died in 1958. The younger Milchior was to prove the chief architect of the company's success, transforming the relatively small company into the European leader in its segment by the end of the century. Meanwhile, Etam had continued to establish itself as an important brand name, especially in the UK.
Back in France, Setamil and Etam France, operated under parent company Elan SA, were preparing to join forces. This process started in 1961, when Milchior acquired Elan, taking control of the Etam France network. By 1963, Milchior had reached an agreement to merge his operations into Etam parent Max Lindemann, and the two companies began the process of merging the Etam, Elan, and Setamil store brands, resulting in the 49-store Etam chain. At the same time, the newly enlarged company launched a line of Etam-branded ready-to-wear clothing for the French market. Milchior was placed at the head of the company, now known as Groupe Etam, and became its principal shareholder.
The development of the Etam brand remained country-specific, with each local market partner operating as a separate company with operations independent of the largely French-market-focused Groupe Etam. As such, the Max Lindemann family retained control of the Etam Belgium franchise.
In France, Milchior and Groupe Etam continued to develop the Etam network, reaching 120 stores by 1980, with sales of more than Ffr 200 million per year. The company launched a new retail franchise format, Kiosk, that same year. The Kiosk operation led Etam into extending its operations from the retail sphere into the wholesale market. In 1981, Groupe Etam bought out the Lindemann family's stake in Etam Belgium.
The 1980s marked a transition period for the Etam brand. By 1985, the company had more than doubled its revenues, and by 1990 sales had topped the FFr 1 billion mark. During this time, Etam stopped looking to Hong Kong for its garment manufacture–and instead began contracting for much of its clothing needs from manufacturers in France. This policy enabled the company to react more quickly to fashion trends, while also giving it better oversight on quality.
Another important move came with the birth of the company's 1,2,3 store format, launched in 1983. The 1,2,3 store allowed Etam to branch out from its mid-market position to capture a higher-end lingerie and ready-to-wear clientele. These moves helped Etam outpace its competitors, and by the end of the decade Etam had captured more than 10% of the French lingerie market.
Groupe Etam restructured its organisation in 1991, now grouping its operations around its core brands. This restructuring led the company to exit the wholesale market. From 1992, Etam moved to extend its store format internationally, including China.
By late 1997, Groupe Etam was preparing to go public. The company had come under pressure from the arrival of a number of foreign clothing groups, notably H&M, Gap, and Zara, which were attracting growing numbers of Etam's traditional customer base. The public listing, under the name of Etam Developpement, was a step toward achieving Etam's newly developed international expansion goals, which aimed at balancing the company's domestic operations. Despite competitive pressures, Etam remained France's leading women's clothing retailer.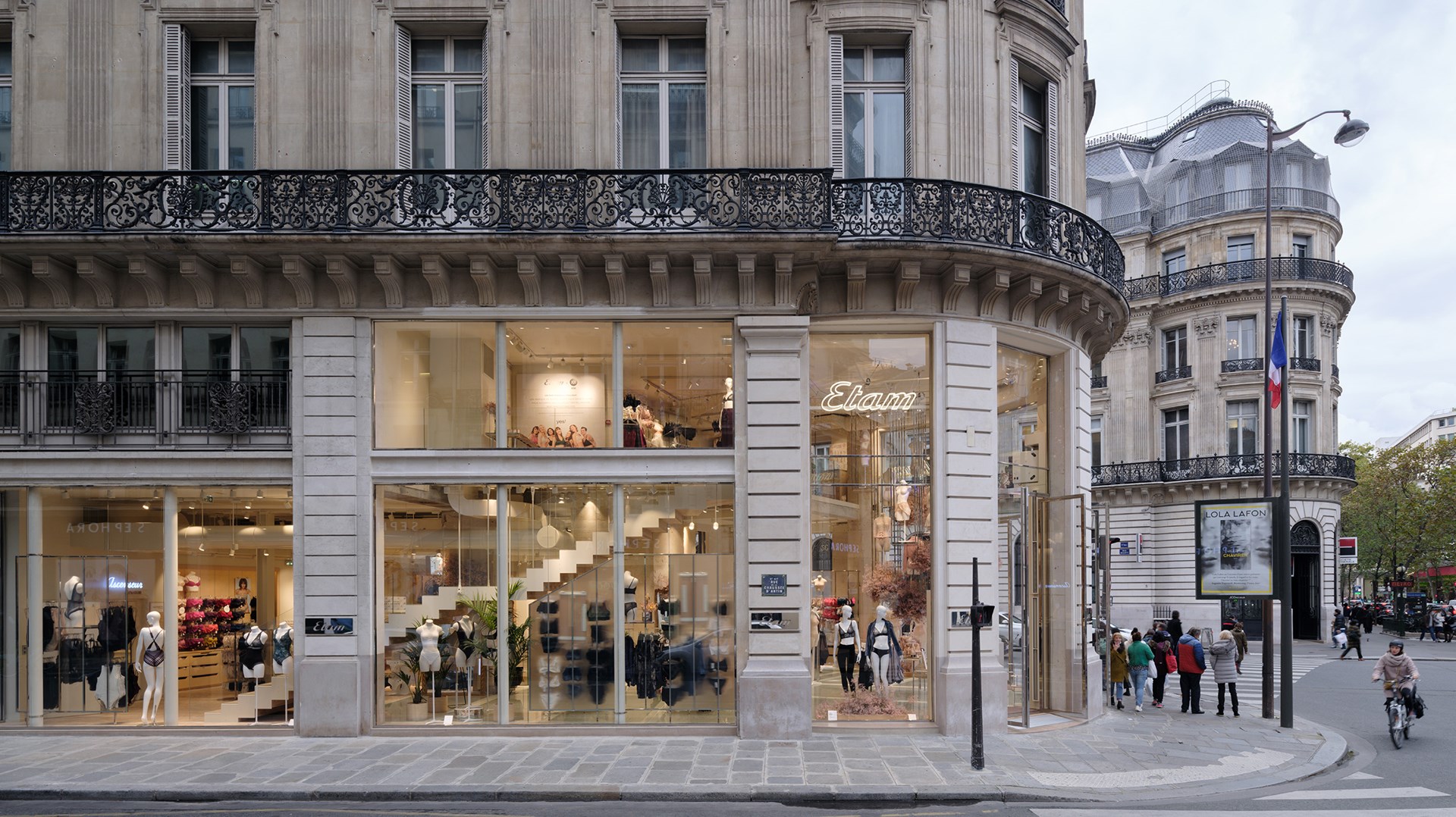 Only three years later, the company had slipped into losses for the first time, largely as a result of its heavy debt burden, and issues with its  new large-scale "megastore" format. Despite these short-term difficulties, Etam Developpement continued to invest in its long-term growth, particularly internationally and has certainly turned a corner.
All images courtesy of ETAM